Supporters of stronger gun control measures chanted "protect kids, not guns!" as the March for Our Lives descended on downtown Bloomington on Saturday.
Bloomington's rally was one of many marches taking place across the nation in the wake of last month's elementary school shooting in Uvalde, Texas.
Alexandra Shirley, a rising senior at Bloomington High School North, was one of the event organizers.
"Really what it's all about is stricter gun laws, gun control, universal background checks," she said. "Really just making it harder for the people that would commit the school shootings to get the guns they need to do it."
Bloomington elementary school teacher Nicolas Peterson marched with a sign that read "Stop the merchants of death." He used to teach fourth grade in San Antonio and said the Uvalde shooting really gets to him.
"Seeing the faces of kids that look like kids I've taught before," he said "you know, I'm getting emotional just thinking about it."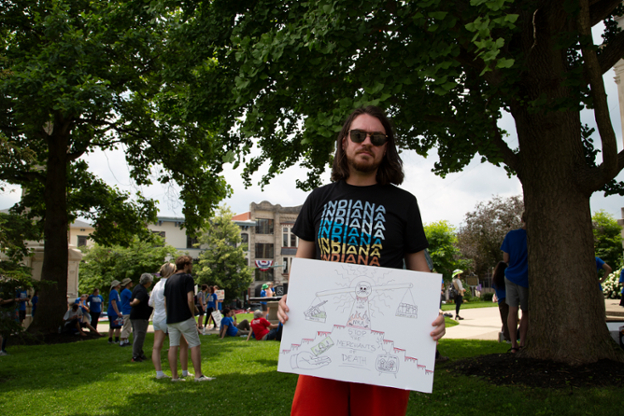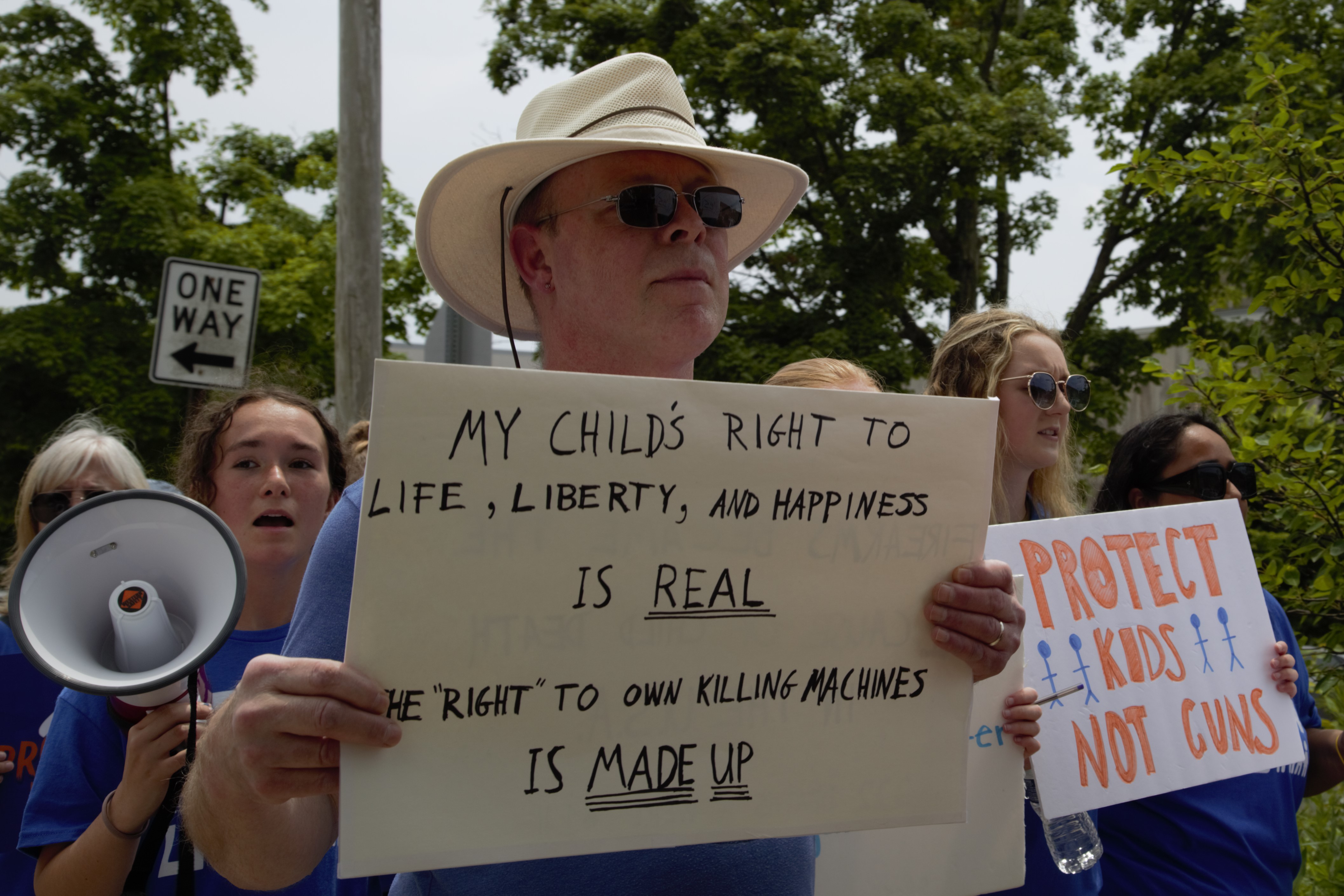 Stay-at-home dad Nels Boerner marched with a sign that read: "My child's right to life, liberty and happiness is real. The right to own killing machines is made up."
"It's my belief that the Second Amendment does not entitle people to have machines which were made just for killing people," he said. "It's a construct of the NRA and vested interests in the gun industry that we are entitled to have such weapons -- and it's not real," he said. "There's nothing in the Constitution that says you're allowed to have something that can kill 50 people in five minutes. That's not real."
The student-led March For Our Lives was born out of the 2018 shooting at Marjorie Stoneman Douglas High School in Parkland, Florida. A national assault rifle ban, universal background checks, raising the age limit to buy a gun, "red flag laws", and legislation reigning in manufacturers of banned weapons are changes the organization works toward, according to its website.
But since 2018, the United States has only racked up more shootings. There were more gun related deaths in 2020 than any other year on record, according to the Centers for Disease Control and the Pew Research Center.
So far in 2022, 256 mass shootings have been reported in the U.S., according to the Gun Violence Archive, a non-profit data collection organization.
And every year, 1,839 children and teens aged 1 to 17 die from gun violence, according to the Brady Campaign to Prevent Gun Violence's analysis of CDC data.
Molly Barwick is the Bloomington community lead for Moms Demand Action, a national nonpartisan organization advocating for responsible gun ownership. Speaking at the march, she not only advocated for stronger gun laws, but said the public needs to be better informed about existing "red flag" laws. Indiana is one of 19 states with "red flag" laws.
"A lot of people don't know that if your loved one is struggling and could be a harm to themselves or others, you can work with law enforcement to have guns temporarily removed," she said.
But calls for more "red flag" laws and other gun control tactics haven't found traction with lawmakers.
The U.S. House has passed bills to raise the age limit to buy semi-automatic weapons and establish federal "red flag" laws. A bipartisan group of senators had hoped to reach agreement this week on a framework for addressing the issue and held talks Friday, but no deal was announced.
Alexandra Shirley says voting in more "gun sense candidates" will turn the tide of inaction.
"We've really had a large majority that was all for guns and no gun control, and I think switching that is the biggest thing. Really getting people out to the polls to vote is what will make the change."
Speaking to the crowd, event co-organizer Igrid Pendergast encouraged her peers to register to vote as soon as they are able. She also called out U.S. Senator Todd Young and others who take millions from the gun lobby.
"I hope you're hearing this Eric Holcomb, Todd Young, and Mike Braun," she said. "We will vote you out!"
The Associated Press contributed to this story.