The Bloomington City Council supports expanding bus service to Ivy Tech and Cook Medical, but the mayor and Monroe County Commissioners must strike an agreement to make it a reality.
Council Wednesday passed a resolution supporting a proposed expansion of Bloomington Transit (BT) to Daniels Way, which is less than one mile west of city limits. Municipal code locks BT within city boundaries, but the transit service's board of directors and city council can vote to expand routes. 
Councilmember Steve Volan authored the resolution, which he said has no real impact and serves as a commitment to county colleagues.
"We have talked about this for a long time and never actually have done anything to move the ball," Volan said. 
Council is now sending the issue over to city and county executives to strike a deal.
"If anything, this is a signal to the mayor and to the county commissioners," Volan said. "It's time to come to an agreement. We all think we need this." 
Director of city relations for Indiana University Student Government, David Wolfe Bender, said expanded bus service would help students taking classes through Ivy Tech. 
"Expanding this line would allow for students who might be double listing at IU to have another way of getting to Ivy Tech that wouldn't be with a single occupancy vehicle," he said.  
Which bus routes could go to Daniels Way?
It is ultimately up to BT to propose a route to Daniels Way.
Currently, route three serves the far west side. BT could alter this route to include stops at Cook Medical and Ivy Tech. On the other hand, BT is looking to implement an express east-west express route proposed during the local income tax discussions in the spring. This route would partially overlap the existing route three.
Volan suggested route three could serve as an immediate extension to Daniels Way, considering it's likely to take several years to implement the express route.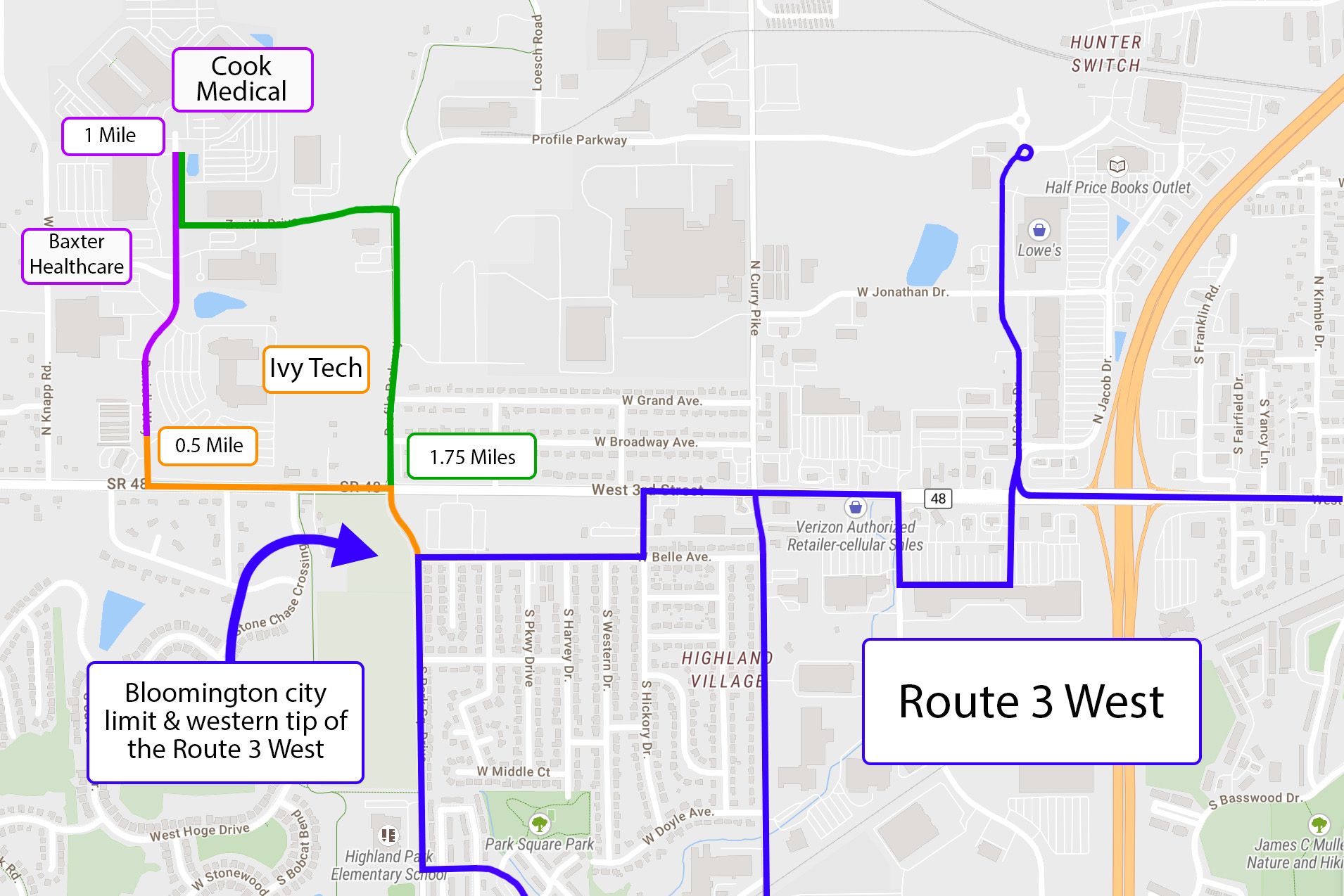 How much would Monroe County pay? 
It's unclear exactly how much either extension option would cost the county.
During the local income tax process, BT estimated the new express line would cost $1.7 million per year to operate. Volan said he couldn't imagine the county paying more than $300,000 each year.
As for the more immediate option, councilmember Ron Smith said BT general manager John Connell previously estimated $75,000-$100,000 a year to expand the existing route three.