More than 175 people showed up at Indiana University's Sample Gates on Friday to protest the Russian government's attack on Ukraine.
Protesters sang the Ukrainian national anthem and chanted "Long live Ukraine" in English and Ukrainian at the event, which was organized by students belonging to IU's Ukrainian Studies Organization.
Cars passing by the event honked their horns and Ukrainian flags waved over the group. Attendees carried signs reading "Hands off Ukraine" and "Putin, hands off Ukraine."
Sarah Phillips, director of the Robert F. Byrns Russian and Eastern European Institute, spoke to the crowd calling for NATO to send troops, for community donations to the Ukrainian military, and help from humanitarian organizations.
"The Ukrainian people have been subjected to a war not of their own making. They have been attacked by the Russian military mercilessly," she said. "There is absolutely no safe place in Ukraine right now for people to flee to."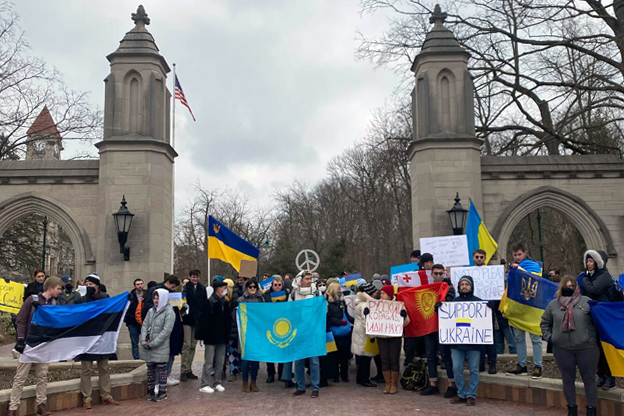 For many of the students at the protest, the issue hit close to home. According to Phillips, some in attendance were born and raised in Ukraine and others were from the Ukrainian diaspora in Canada. She says students have been using Facebook, WhatsApp and Telegram to contact their families in Ukraine, but they fear a total media blackout in the next days or week.
Sofiya Bodnar is a graduate student in Germanic studies at IU from western Ukraine.
"It's been a lot of sleepless nights, a lot of looking at news articles and just doom scrolling through all the possible sources we can find, and finding very conflicting information, but also, just talking to my parents," Bodnar said. "I just came back from the phone talking to them for an hour and they're scared."
Bodnar's family is not alone. Phillips says several students in her department haven't been able to sleep over the past several days.
But for Bodnar, the gathering at Sample Gates offered comfort.
"This is the best I've felt in a very long time seeing the community get together. It really warms my heart knowing that we have a community here, that we can't really do anything, but it feels like we are doing something. We just don't sit at home and wait for the wars to happen."