Tim Molinari always wanted to be a pilot. But he hasn't been flying much recently.
Trudging through shin-deep snow, the pilot and Indiana State graduate student reminisces about the hours he'd spend at Freeman Municipal Airport in Seymour, which is really just a small terminal building and pair of asphalt runways.
"My dad would take me out here and we'd check out the planes and just whatever was out on the tarmac," he said.
As he grew older, he learned the history of the airport, and was surprised to discover during World War II, it was home to an air base and Tuskegee Airmen who set the example for Black Americans fighting segregation – right here in Indiana.
"I noticed a plaque outside the museum (across the street) and I realized that that plaque wasn't enough to honor the Tuskegee Airmen," Molinari said. "It was good that the plaque was there, but it just really didn't bring out how significant the Tuskegee Airmen were."
For his Eagle Scout project, Molinari constructed a plaza outside the airport honoring the Airmen, and is now collecting funds to place two life-size statues nearby.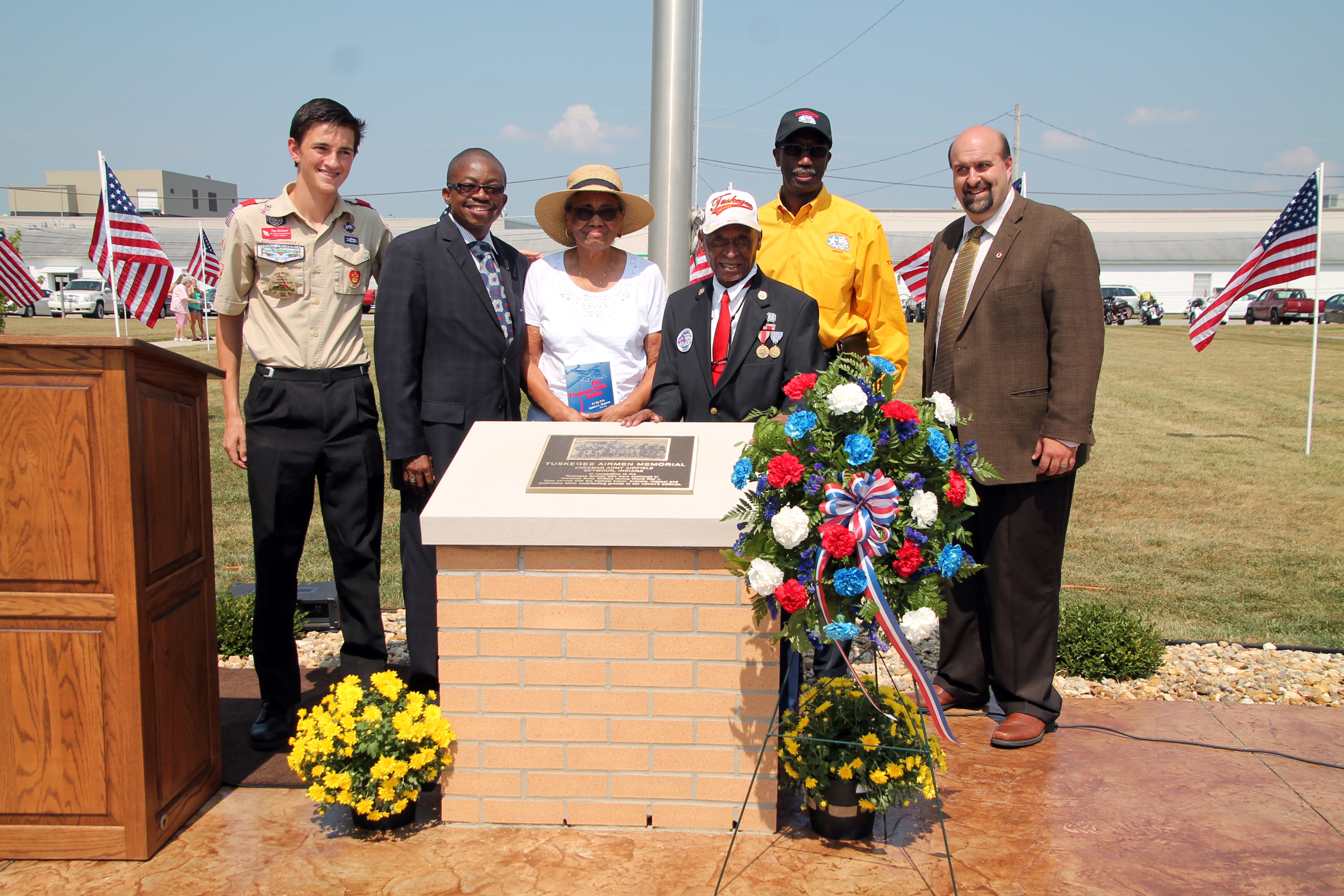 In March of 1945 a Black air unit, the 477th Bombardment Group (Medium), was stationed at Freeman Army Airfield to learn to fly large bombers.
"The story was, Black men can't fly," Reginald DuValle says. He was a logistics and maintenance officer in the Air Force and is currently president of the Indianapolis Chapter of the Tuskegee Airmen. "But not only can they fly, what they did and how well they did, it is the standard for the Air Force today."
As the Airmen arrived in Seymour, they found themselves at yet another base where they were unwelcome. 
"In reality, everything was widely segregated," said Larry Bothe, curator of the Freeman Army Airfield Museum. "So no base really wanted these guys."
There, inadequate training continued, and members of the 477th were told not to step foot in the officers' club for "supervisors" – who were white – and instead, use the club for "trainees." But Army regulations prohibited segregation of military buildings "for the accommodation of any self-constituted special or exclusive group," something the 477th was aware of.
"Some of these guys were combat veterans, they had flown in Europe already," Bothe said. "And they didn't want to hear any of this crap about segregation or inferior facilities, so they decided it would be a good idea to integrate the white officers' club."
Over the course of days, Black soldiers attempted to enter the club and were denied, leading to the arrests of 61 Airmen. Base leadership then demanded the soldiers sign an order saying they understood they were not allowed in the club. One hundred and one refused and were arrested.
"There's a deliberate calculation taking place here: trading blood for citizenship, right? Service for citizenship," Cornelius Bynum, Purdue University history professor, said. "How do you deny basic constitutional rights to people who fought to defend the Constitution?"
News of what became known as the "Freeman Field Mutiny" quickly spread across the country, making the Army look hypocritical at home as it fought for freedom overseas.
"Those commanders were replaced; Benjamin Davis was selected, and it became the first time an African American was in charge of a military base in the continental United States," said DuValle.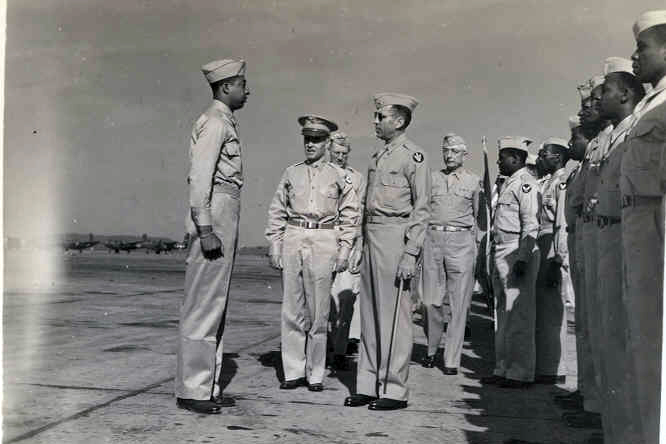 The mutiny was key in the desegregation of the military, which would occur three years later under President Harry Truman. It was also one of the earliest and best examples of African Americans using nonviolent protest in their fight for racial justice.
"Freeman Field Mutiny was an example of nonviolent protest that became a model for the Civil Rights movements in the '50s and '60s," DuValle said.
Now that many Airmen are no longer with us, DuValle is working to keep their legacy alive and highlight the heroes' deep ties to the state – 28 Hoosiers graduated from the Tuskegee Advanced Flying School, and were instructed there by Dr. Lewis Jackson, who was born in Angola. And the connections go even deeper than that.
"There was 996 pilots but there's 14,000 other folks (who are also Tuskegee Airmen)," DuValle said. "And that's the part of the story that I think we're going to still be learning about for some time to come."
With his leadership, a stretch of I-65 near Seymour was designated the "Tuskegee Airmen Highway" in 2016. He's currently working with the Indiana Historical Bureau on historical markers around the area and has offered to help guide Molinari's efforts on the statue project.
"This isn't a matter about what someone else did wrong. This was a matter of what the Airmen did that was right and having the courage to do what's right, regardless of what they thought could happen," said DuValle. "They did the right thing without expecting an immediate reward."
As things currently stand, Molinari has collected half the funds needed for the statues – there's still about $40,000 to go.
"The story is much greater than just flying airplanes," DuValle said.
He says the Airmen continue to give Americans something to strive toward today: putting the greater good of the country above oneself, in the name of liberty and justice for all.
READ MORE: Black History In Southern Indiana: New Albany's Town Clock Church
Have a story idea? Find Mitch on Twitter @ByMitchLegan or email him at mitlegan@iu.edu.