As the price of beef continues to soar, many consumers are feeling it in their wallets, but the extra money restaurant goers and those hosting summer cookouts are shelling out isn't going to farmers.
Tim Schwab is one of them.
He raises about 200 cattle in Batesville, and days like these are what he looks forward to.
"This is kind of relaxing for me," he says on his pasture surrounded by cattle.  "I'll come out here in the evenings and check cows and mill around through them."
Schwab has been raising cattle all of his life. In spite of recent market downturns, he has a hard time picturing himself doing anything else.
"We might alter some of our inputs, or, or do something different like that, but we would probably always have cattle."
Schwab sells some of his cattle to 4-H students for shows, but some end up traveling to other farms where they'll be prepared for processing.
"We'll get them to about 900 pounds before we sell them," he said. "Then they go to the feedlot for their finishing ration, and then those guys will take them to about 1300 pounds."
Off-Farm Factors Play A Role In Declining Profit For Farmers
While the per pound price of beef has increased more than 25% in the past two years, farmers haven't realized those profits. Some experts and farmers argue that's because of the country's processing infrastructure.
According to the most recent data from the United States Department of Agriculture, four firms: JBS, Tyson, Cargill and National Beef, process nearly 70 percent of the nation's meat.
The US Department of Justice is currently investigating whether the packers have engaged in price fixing or other illegal measures, but there's no timeline on when the investigation will conclude.
Washington has considered regulation, but that's something many ranchers—including Schwab—are hesitant to fully support.
"We don't need government in here yet," he said. However, he admits "it might come to that point."
Currently Schwab receives about $1.35 per pound for each cow he sells, up from the prices just over $1 per pound he was getting earlier this year, but that's still lower than the $1.40 he was getting before the pandemic. 
He says to counter that, farmers may begin thinning their herds to decrease the number of cattle on the market.
"Instead of having 200 or 250 cows, we might go back to 180 cows, so we're not producing quite as many calves."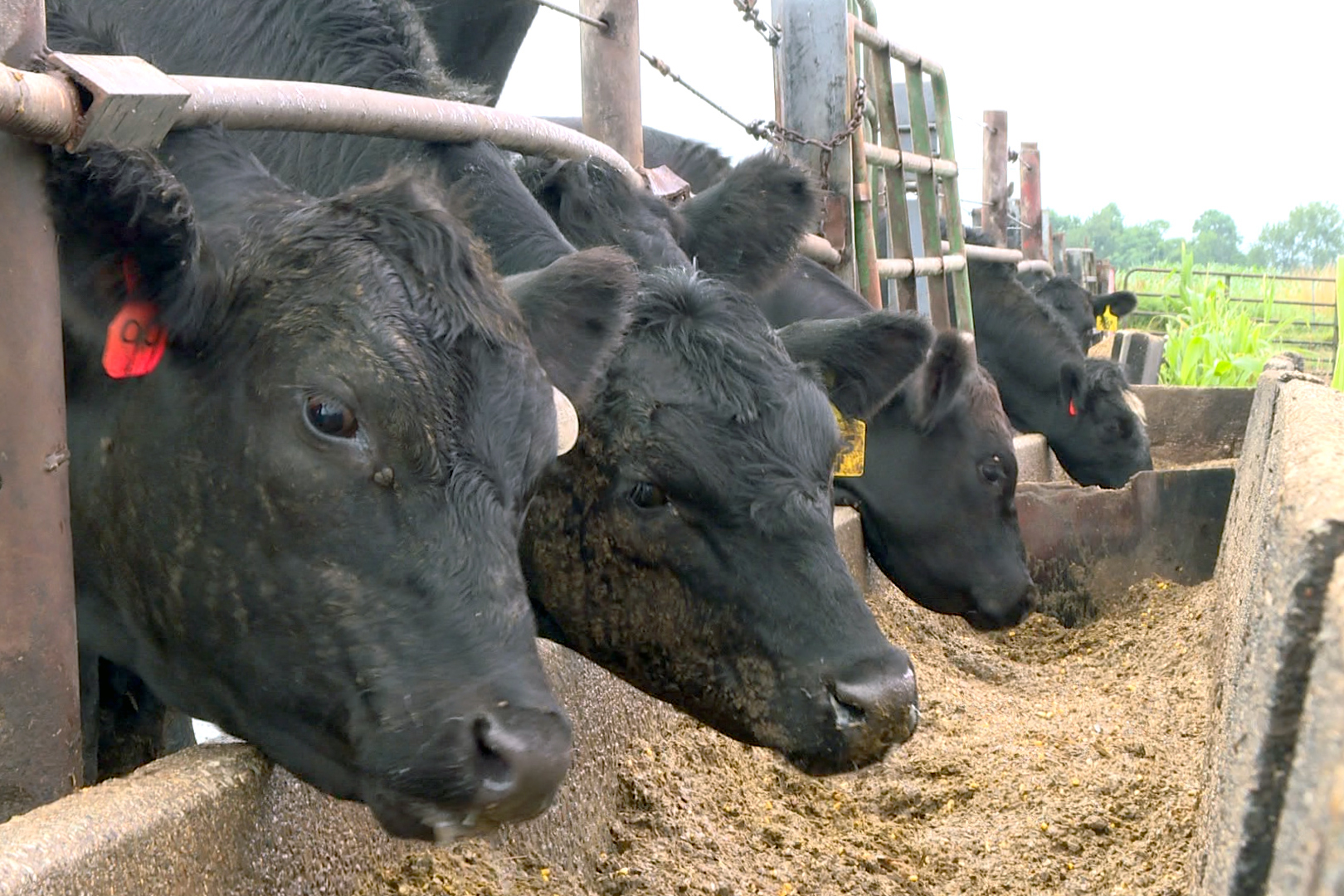 He believes the market will eventually balance out.
The lobbying organization that represents the big four packers and others submitted testimony to the Senate Judiciary Committee last month stating the industry benefits from, and depends on competitive markets. They deny there's any collusion.
"The four-firm packer concentration ratio for fed cattle slaughter has not changed appreciably in more than 25 years," it read.
Packers say the increased demand for beef, paired with labor challenges due to COVID-19 have reduced their capacity to process beef. The supply of cattle is starting to decline, according to a recent analysis.
"There's plenty of cattle, there's plenty of supply of cattle and there's a big demand for cattle. But, because of the workers not being at the packing plants, and they can't run at 100% capacity, there's getting to be a backlog right there."
Other Sectors Forced To Absorb Price Increases
That backlog is inflating prices for anyone seeking to put a burger or steak on a plate.
"Anecdotally, what I'm told on a day-to-day basis, is 40 to 60 percent—that is a significant price increase," Patrick Tamm, president of Indiana's restaurant and lodging association said.
He says some restaurants have chosen to raise their prices, while others are absorbing the losses in hopes of attracting more customers.
"Restaurants have grappled with that issue, and have made some significant decisions," he said. 
"Initially, I think a lot of restauranteurs and decision makers were like, 'look, maybe we can ride this out for two weeks?' Well, two weeks is turned into months."
David Smith, president of the Associated Wholesale Grocers told the Senate Judiciary Committee last month.
Schwab and other cattle farmers insist they're inherently optimistic, even when the deck appears to be stacked against them.
"I think we need to kind of come together and figure out why there's such a disparity in the price that [packers]are getting and the price we're getting," he said. "I think there there's enough there to for everybody to get a little piece of the pie."