Bennett looks forward to his fourth term in office after a close election night, the casino proposal takes another step forward, and the downtown conference center undergoes some design changes.
On this week's installment of Ask The Mayor, Terre Haute Mayor Duke Bennett addresses these issues and more. Listen to the full conversation with Indiana Newsdesk anchor Joe Hren by clicking on the play button above, or read some of the questions and answers below. A portion of this segment airs 6:45 and 8:45 a.m. Wednesday on WFIU.
This conversation has been edited for clarity and conciseness.
Hren: Let's just start with your election bid for a fourth term in Terre Haute, does the number 216 mean anything to you?
Bennett: As I tell everybody, every election is different. This one was very unique having four candidates in it, so you knew the votes were going to get split up somewhat, just don't know how things are going to shake out. I felt pretty good to win again, but experience tells you you're in pretty good shape as long as you're up, but there are so many unknowns, you just want it to be over.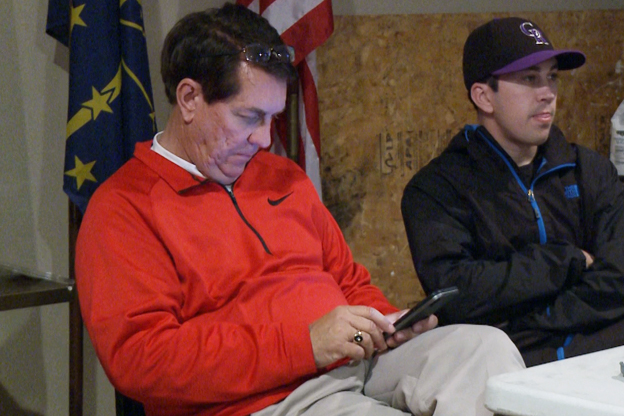 Hren: We've covered a lot in Terre Haute including the city's financial troubles, some big business leaving Terre Haute, lawsuits, jail overcrowding – though that's not directly under you, why run again and why did voters elect you?
Bennett: I ran again because the financial stuff is behind us. That's been a real key. Back in 2015 was our toughest year and we've since recovered from that. Five straight years of balanced budgets. I wanted to be here when I didn't have to worry about the finances. Then just the projects we have going on, from the convention center, the police station, the new casino.
I think the voters decided the same thing. They're like, Terre Haute is moving and shaking, I really feel like we're on a roll and so people stepped up and said, let's let the mayor continue to do what he's doing. I'm just thankful for that support.
Hren: So it's back to work, let's talk about the next step for the casino now that the referendum passed?
Bennett: Operators have until December 1 to submit to the gaming commission. I haven't heard a lot of noise in that arena, I think what's going on in Illinois with multiple opportunities for casinos, so we'll see. I know Spectacle Entertainment will do that, but don't know about others. Hopefully they'll made a decision in January or February, then once that's awarded then I think construction would start quickly - late spring early summer.
Hren: Who gets to decide where the casino gets to go?
Bennett: If Spectacle Entertainment gets the license, it'll be out on the east side on 46. They already said that's where they want to locate it. As part of their package, they have to say where they're going to put it. Do you have the land acquired or not, it's all part of that process. That's up to the operator.
Hren: What about people that may live to a proposed location concerned about crime, traffic, noise - do they have a say?
Bennett: No, not really. It's up to a private company buying a piece of private property so we can't interject in that. But knowing that east part of town, I think it will be a perfect fit because it'll be right in the middle of a huge retail area and interstate. There are very few homes around it.
Hren: There've been some changes to the design of the conference center such as a decrease in the parking garage size and renovation and addition to a current building to be made into the hotel. Why now after ground has been broken?
Bennett: We're still figuring out that parking garage, who's going to own it - the hotel would like to own it, but they don't want to build it right now. So there's still some negotiating right now that will be worked out.  Our parking garage came in right at budget, so still have things to work out on that second parking garage.