Mayor Goodnight says good-bye after 12 years on "Ask The Mayor."
On this week's installment of Ask The Mayor, Kokomo Mayor Greg Goodnight addresses these issues and more. Listen to the full conversation with Indiana Newsdesk anchor Joe Hren by clicking on the play button above, or read some of the questions and answers below. A portion of this segment airs 6:45 and 8:45 a.m. Wednesday on WFIU.
This conversation has been edited for clarity and conciseness.
Hren: This is our last show with you because the December show falls on Christmas Day, so we'll wrap up today. I bet you're busy finishing up things and transitioning to the new administration.
Goodnight: I met with the incoming mayor and meeting with him later today to brief him and bring him up to speed and work on that transition. So far so good, it went really well. I gave him a lot of information and also gave him veto power if he doesn't want information on this. I've been in his shoes 12 years ago so he's getting hit from all directions.
I think he's been very grateful that we're sharing as much information as possible. I think it's likely he's going to keep some of the key staff, whether that's 20% or 75% - I don't know.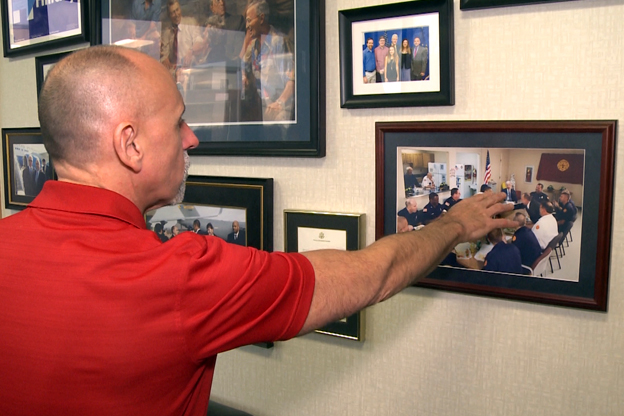 Hren: One of the things you'll have to hand off is the construction of the conference center. Where is that right now?
Goodnight: There's two pieces, the parking garage to be built across from city hall, the ground will be broken in the next couple weeks. The hotel conference center, we're finishing up the final details of financing. Ground probably won't break until late February. 
Hren: How about a quick update on the start of the Frozen Sandlot - the ice arena at the stadium. I know it's been delayed?
Goodnight: I think it opens today or tomorrow. It was supposed to open last weekend, but we had some warm weather and a couple of technical problems with the chillers. And that will go through the first part of January.
Hren: As you look back at your 12 years as mayor, what's the one thing you'd say, wow, I'd never ever have planned or guessed for this?
Goodnight: I was told this at our new mayor orientation by Bluffton Mayor Ted Ellis who didn't run this year, he talked about how weather would have such an impact on your day to day job. You kind of laugh at that, but it's exactly the truth. From leaves blocking the sewer grates from costs when you have the snow and ice and how it can bust your budget pretty quickly.
That's what I was not prepared for. Weather is one thing you have zero control over and you just have to deal with the situation.
Hren: Would you say the tornadoes were the most trying times as mayor?
Goodnight: Yes, I would say the second tornado with no disrespect to the people who suffered through the first tornado. The second one, because it was less than three years and took a very similar path. And that one was just emotionally tough not just for me, but for so many people because it was the same neighborhoods.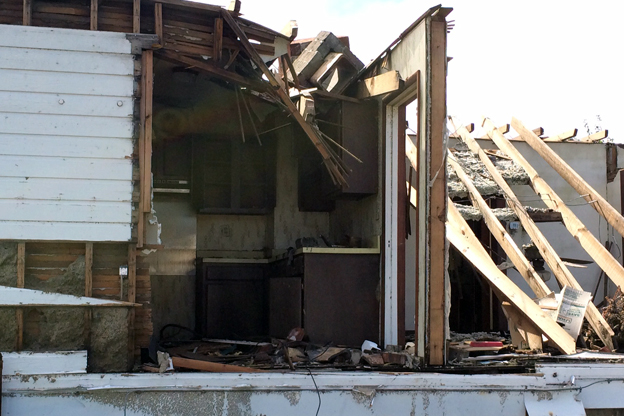 Hren: We've also talked to you about statewide politics since you've been mayor for some time and involved with state organizations, what do people need to address or think about to keep the state moving in the right direction?
Goodnight: A third of Indiana counties are growing in population while two-thirds of the counties are losing or stagnant in population growth during relatively good economic times. Basically it's talent attraction, Indiana has to compete with other states and the rest of the world in attracting the top talent to our community. The majority want to live in urbanized areas, in nice, safe, clean, vibrant cities that offer a lot of different amenities and we have to create those spaces.
Hren: What should the people of Kokomo continue to address after your term is over?
Goodnight: I've tried to communicate in Kokomo, sometimes getting pushback, we have to be able to adapt as a community. What gave us a lot of success in the 1920's and 1950's and the 1970's and the turn of the century, we're going to have to change how we look at ourselves. How we connect and how we respond to he challenges that come in front of us.
Hren: If we were to bury a time capsule today that represented your tenure here in Kokomo, what would you put in it for those 50 years from now to dig up?
Goodnight: We've done pretty well, we've overcome a lot of challenges, it's being open to adapt, being open to change, and with all things, that we continue to be a kind, caring city. I hope that's how people recognize us now and I hope that's how they would see us in the future.
Hren: Any updates on what you'll be doing next?
Goodnight: I've been lucky to have a lot of opportunities come in front of me. I'm 54. I'm not saying I would never run for an office again, but right now I want to take two or three years off and do something different. On a personal side, I love working with cities so as I'm finalizing opportunities, it's going to be dealing with cities, communities, small towns maybe, and trying to help them be the best they can be.