The city is submitting permits to regulatory agencies to continue development of the riverfront, Exhibit Columbus is in full swing, and it's budget time.
On this week's installment of Ask The Mayor, Columbus Mayor Jim Lienhoop addresses these issues and more. Listen to the full conversation with Indiana Newsdesk anchor Joe Hren by clicking on the play button above, or read some of the questions and answers below. A portion of this segment airs 6:45 and 8:45 a.m. Wednesday on WFIU.
This conversation has been edited for clarity and conciseness.
Hren: Exhibit Columbus is underway, we know it will bring in a lot of people to visit, but what's does it do for the community, the people who live here?
Lienhoop: Well, what we saw two years ago when we did this the first time, was a renewed sense of appreciation for the architecture that exists here in this community. It's very easy to get, oh for everything to become accustomed, right? I've always seen the North Christian Church, it's always there, right?
So it's an opportunity for people to realize this really is a special community from a number of perspectives. And to see the interest that others have in coming here and displaying there work is a point of pride.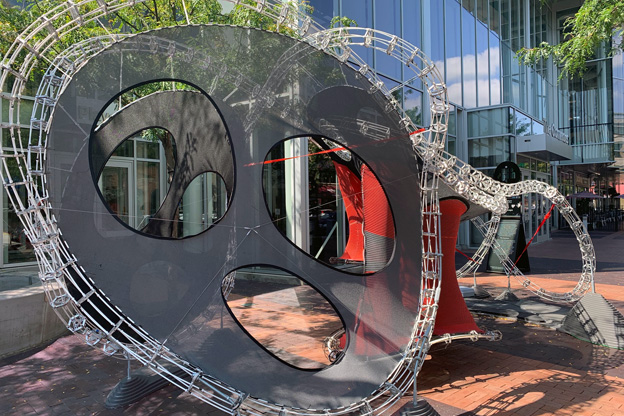 Hren: I see the city is also not charging for ColumBike through October so people can see the installations throughout the city, has that bike-share program been working out?
Lienhoop: Not really, we just really haven't gotten the volume we thought we could get. I think we're going to have some tough decisions to make on whether or not it goes forward. You've got a significant investment in the bicycles themselves and the people who move them around. So there are some costs for maintaining the program.
Hren: The city is getting ready to apply for permits to move forward on the riverfront project in downtown Columbus, this is a major waterway so the city has to follow a few regulations with the DNR, how's that coming along?
Lienhoop: We will have a formal submission that will go in the middle of October. Part of what we found that was a little bit surprising to us is we're early in trying to utilize our waterway. There are few other communities in Indiana that tried to embrace their waterway so I think it's been a challenge for the DNR to understand that people want to get in the water, not just on it. 
We've redesigned the program four times. The notion is to be responsive to wildlife, some fish like fast water, some fish like slow water. We also want to incorporate this into the life of Columbus.
Hren: It's budget time as we sweep through the mayors this round, the thing that popped out to me was salary adjustments, is that the main change item this coming year?
Lienhoop: A couple of years ago, we did a salary study. Part of what we realized was we might have a janitor in one department making different money from a janitor in another department. The question is, is that really fair and do we want to give people an incentive to leave from one department within the city and transfer to another department in the city. 
Secondly, we find ourselves in a competitive environment. There's industry that's very happy to poach some of our people. So our responsibility is to pay fairly with what the market is. It's going to be about a $750,000 adjustment for 2020 to implement year two salary study, but I think it's the right thing to do.