To Reverend Forrest Gilmore, having public restrooms open all night downtown is all about dignity.
"It really provides an acknowledgment of a basic human need that all of us have," said Gilmore, the executive director of Beacon Inc., a non-profit organization combating poverty and homelessness in the city. "Every single one of us needs to use the restroom, go to the bathroom. And it just shouldn't be a privilege of those who have a home."
The two public restrooms in the Fourth Street Garage have been available for use during the day since the garage opened in August.
But they've been locked overnight. Until now.
"Even though we had gotten the garage operational, we hadn't gotten all the security functions and locking mechanisms line up perfectly," said Adam Wason, the city's director of public works. "Everything's working, and we're now fully operational."
Wason said public restrooms were among the recommendations by the downtown outreach commission back in 2017. That year, a rash of overdoses and other issues led the city to clear people who were experiencing homelessness out of Peoples Park.
"As we were under design considerations for these garages, it was clear from a lot of residents, constituents and the city council and others that, hey, if we're going to build these structures as public amenities, let's put some public amenities in there, including the bathrooms," Wason said.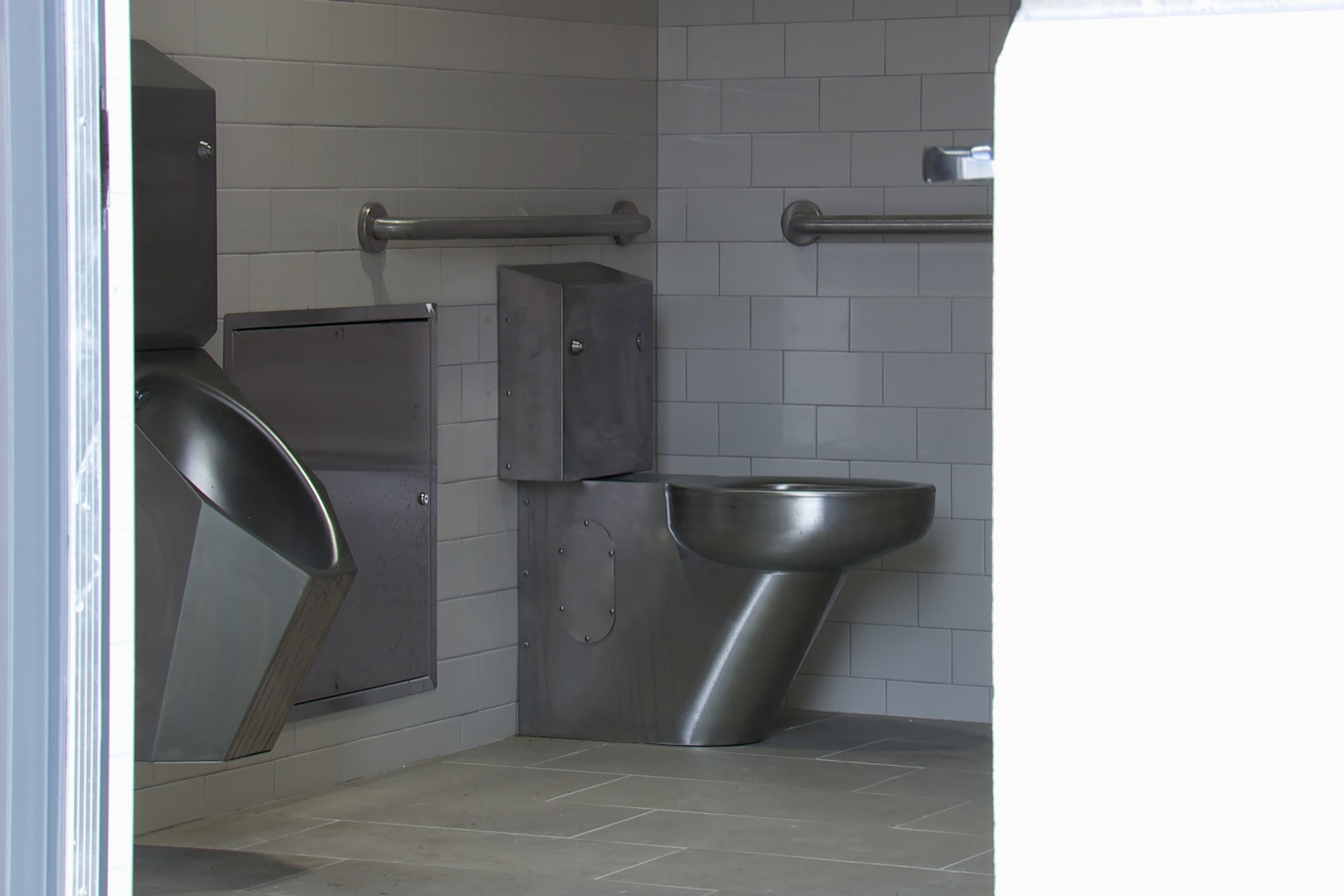 Connie Peppler is the deacon of Trinity Episcopal Church on Grant Street, about four blocks from the Fourth Street Garage. She first heard about the plans four years ago, when overnight shelters transitioned from churches to the Wheeler Mission.
"I've wondered about it more than once, especially during the holidays and Christmas and New Years and Thanksgiving when the library's closed," Peppler said. "Shalom and those places; they're open some of the day, but not the whole day. So, what are people supposed to do?"
One thing is not use church property as a restroom.
"We have issues with I think students also leaving human waste around" Peppler said. "We have a big stone sign in front of the church, and at one point we had some shrubbery around it. We had to take the shrubbery out because students were going behind the stone and using the bathroom."
She says her church leaves outside doors unlocked to allow access to two bathrooms on its ground floor, but having a 24/7 public restroom downtown is a necessity.
And she and Gilmore both agree it's been a long time coming.
"We've been hearing about bathrooms for a long tme," Gilmore said. "So, this is a huge advance. And so my hope is they're successful."
But Gilmore acknowledges the hazards of having an accessible secluded space like a restroom open overnight.
"One of the challenges, I think, with the design is that there could potentially be a problem where they're not able to have a sense of who's in there and how long they've been in there," Gilmore said. "And if there's any safe conditions related to that, or unsafe conditions related to that, so, yeah, that's a worry."
Wason said the city monitors the garages throughout the day and will start doing that at night now that the restrooms are open 24/7.
He said staff will also have the ability to access the restrooms if they're locked.
"It's not just the traditional, lock-it-from-the-inside," Wason said. "If there's an emergency or if someone tries to stay in there for an extended period of time, we've got the ability to announce ourselves (and go in)."
Along with the two public restrooms now open at the Fourth Street Garage are two more at the Trades District Garage at 11th and Morton streets. That garage opened in April.
The restrooms at each garage are not what you'd find in a traditional home.
"We actually went for more industrial type fixtures and things like that," Wason said. "So it's not going to be your nice porcelain toilet stool, for example, it's more of the industrial metal and for good reason."
Gilmore says having public restrooms available at those locations is a good first step in dealing with the plight of those experiencing homelessness.
"It's really important that we offer dignity for every person, including, for lack of better words, the least of those in our society," Gilmore said. "So I'm grateful for this step forward.