We're sorry to share that the current health crisis means there won't be a Jazz in July series in 2020. We hope you enjoy the performance videos we have archived here. And, let's keep looking forward to more summer sunsets together.
7 PM • Every Friday, July 2019 • Conrad Prebys Amphitheater, IU Bloomington • FREE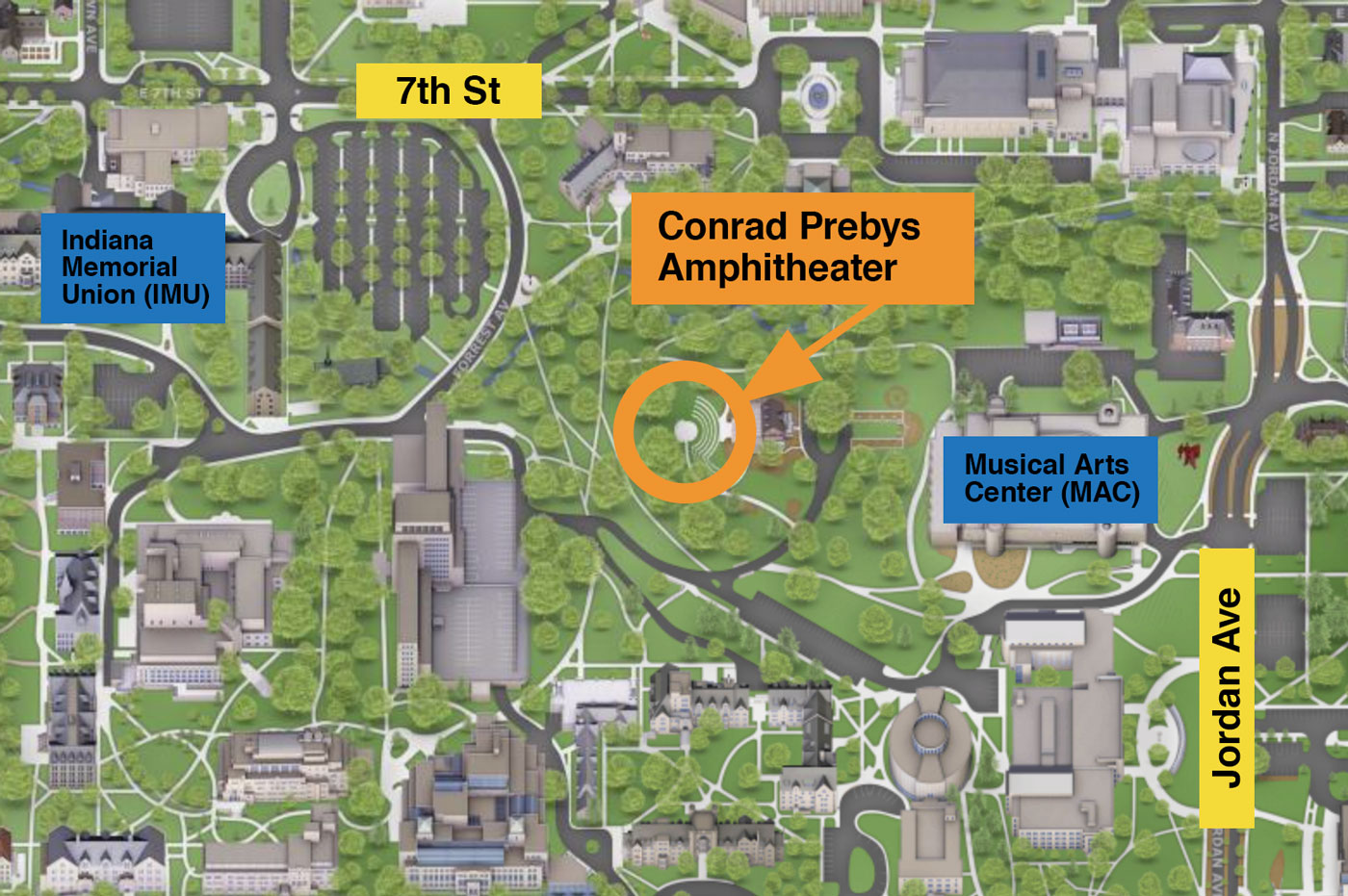 Summer in Bloomington is here. That means warm days, cool nights, and the best free concert series of the year: WFIU Public Radio and the Department of Jazz Studies at the Indiana University Jacobs School of Music are proud to present the 2019 return of Jazz in July.
This free outdoor concert series is bringing you more of the best jazz from around Indiana. We encourage guests to bring lawn chairs, blankets or even a picnic!
July 5
Jamaal Baptiste & Descarga Five
Watch the complete concert video »
Pianist Jamaal Baptiste grew up on the island of Aruba, a nexus for the music of the Americas and Europe. His instinctive feel and musicianship delight listeners and dancers alike.
Descarga 5 performs a myriad of music genres from Caribbean and Brazilian folkloric music to contemporary trends in jazz and Latin jazz. This Bloomington-based ensemble consists of Indiana University Jacobs School of Music alumni and graduate students. More »
July 12
Amanda Gardier
Watch the complete concert video »
Saxophonist, recording artist, and composer Amanda Gardier has been described as "a uniquely talented jazz composer and soloist" (Nuvo). With influences stemming from Miguel Zenon, The Bad Plus, Walter Smith III, and Bjork, Gardier is an alto saxophonist who juxtaposes the calmness of lush harmonies and cyclical melodies with the intensity of complex rhythms and fiery improvisation. More »
July 19
Elena Escudero
Watch the complete concert video »
Elena Escudero, hailing from West Lafayette, Indiana, received her B.M. in Jazz Studies from the Indiana University Jacobs School of Music in May 2019. She performs regularly in Bloomington and surrounding areas, both with IU-affiliated ensembles, such as the Plummer Quintet, led by Walter Smith III, as well as independently run groups of the jazz, RnB, and fusion genres. More »
July 26
Tucker Brothers
Watch the complete concert video »
The Tucker Brothers Group was founded by brothers Joel and Nick Tucker in 2015 with the mission of creating thoughtful and positive instrumental music. They are now working on their third record, with plans for a late summer 2019 release. More »
• • •