"Hot dogs have so much personality to me, that adding a face or some legs or something doesn't seem that far off. They are already so expressive."
Today on our show author and illustrator Emily Wallace talks with producer Josephine McRobbie about her new book exploring roadside foods in the south. 
And now that the weather has turned, we can talk about persimmons again! Jackie Bea Howard has some recipes, and spoiler--it's not your mother's persimmon pudding (see the story and recipes below). 
---
Across from a tire store and next to a coin laundry in Smithfield, North Carolina, stands Hills of Snow, a tiny building shaped like a bright blue snowball. The colorful shaved ice concoctions are available in an endless set of flavors, and wild strawberry was Emily Wallace's flavor of choice when she was growing up in Smithfield. But Hills of Snow was more than a place to get a sugar rush. The audacity of the building's shape would prove to have a bigger impact. "It's funny how much I think about it," Emily says. "I think it just showed me a really what was possible with your imagination in an otherwise kind of rural spot where we didn't have a giant museum to go to and see all this artwork that you could create. We had a giant snowball stand. That meant a lot to me, and it still does."
Today, Emily is a writer and illustrator whose work focuses on Southern food - its traditions, cultures, and histories of labor and industry. Her new book is Road Sides: An Illustrated Companion to Dining and Driving in the American South. It's an A to Z guide, with each letter of the alphabet focusing on a concept and corresponding place. She wanted it to be different from a complete guide to southern foods stops. She writes that Road Sides is "a handbook that examines the signs that bait, the burgers that sate, the maps that guide, and the mixtapes that score the ride."
Chapter Z, for instance, is about zealots. She knew she had to talk about barbeque. But rather than wade into the style wars of her own home state of North Carolina, she visited Franklin Barbeque in Austin, Texas, a place where "people line up there for five or six hours to wait for a tray." In B, for billboards, she turns her attention to South of the Border, the Mexico-themed roadside attraction on the border of the Carolinas. It advertises via nearly 200 billboards on Interstate 95. The tourist attraction was founded by a man who traded in stereotypical imagery, but who also supported racial integration during Jim Crow. In Emily's words, the stop holds a lot of meanings all at once. "South of the Border has long straddled this place between being kind of forward-thinking in some ways and backwards and others," she says. "Or family-friendly in some ways, like we have these rides for children, and (also had) some illegal gambling places or, like, a softcore porn store."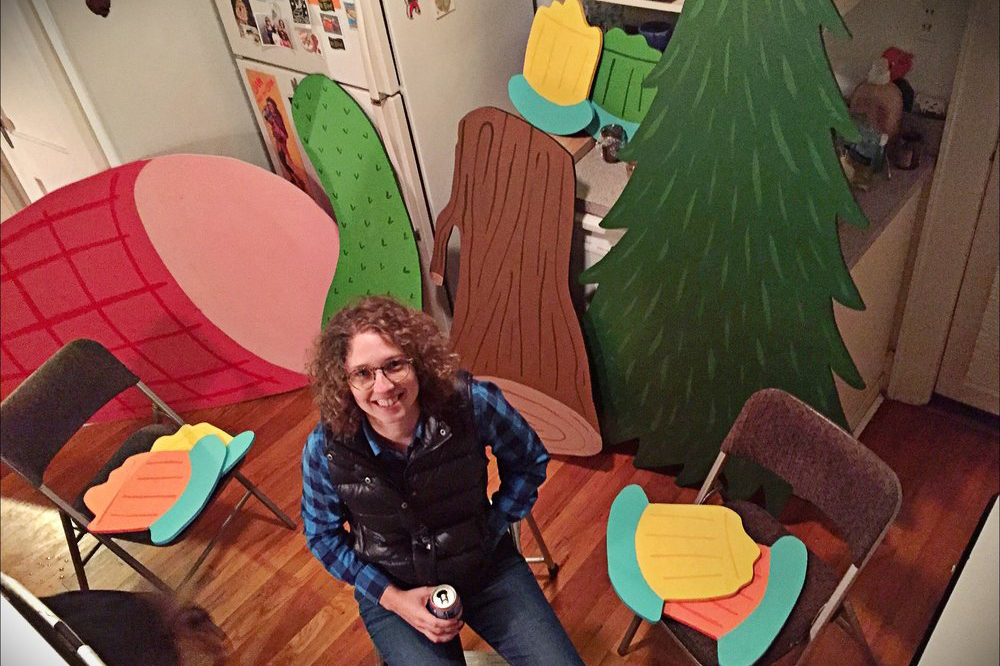 To explore directions, the subject of chapter D, Emily visited the Official Florida Welcome Centers, another state-straddling phenomenon with a surprising history. "A lot of folks that worked there … for 30 or plus years, and just have these amazing stories of how they help travelers," she said. "They give out a free cup of hundred percent Florida orange juice, but they also have to pass this 167 question test about Florida history. You have to be able to read a map upside down." And it's more than just directions. Emily heard stories about Welcome Center Staff "helping deliver a baby, or helping a man who got bitten by a snake in the parking lot." 
Emily's mother worked as an English teacher, and her parents also owned a farm equipment retailer in Smithfield which a gathering spot for local farmers. Between these two environments, she gained a love for storytelling. After studying creative writing and studio art, she went on to pursue a Master's in Folklore at the University of North Carolina. Emily was interested in music history, but her path shifted dramatically when she took a class focused on food writing. The students were tasked with documenting a specific person or place. "I chose this little pimento cheese factory that was about 30 minutes from where I went to school," she says, recalling what would come to be her Master's thesis."And just realized how many stories you could tell through just that one food and fell in love with the process ... I was thinking about the ingredients and followed those down different paths. And then I've just kept going from there." 
Emily's illustrations have both the frank documentary composition of a William Eggleston photograph, and the warm whimsy of a hand-painted carnival sign. Her imagery covers the Southern dining canon - items like Duke's Mayonnaise, doilies, grits. Some products, like hot dogs or pickles, lend themselves to a cartoon style. Just like the Hills of Snow stand, they capture her imagination. "I think this is gonna sound hokey, but ... hot dogs have so much personality to me that, you know, adding a face or some legs or something doesn't seem that far off," she says. "They're already so expressive."
Music on this episode:
Music Box & Sunshine by Daniel Birch, from the Free Music Archive
ablaut, and Yasuhiro Mori via SoundCloud CC.
The Earth Eats' theme music is composed by Erin Tobey and performed by Erin and Matt Tobey.
Stories On This Episode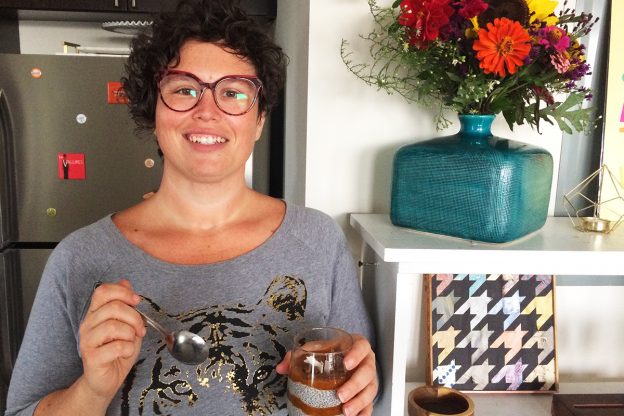 You've heard of persimmon pudding, maybe a sweet bread or some cookies, but did you know you can use it in savory dishes too?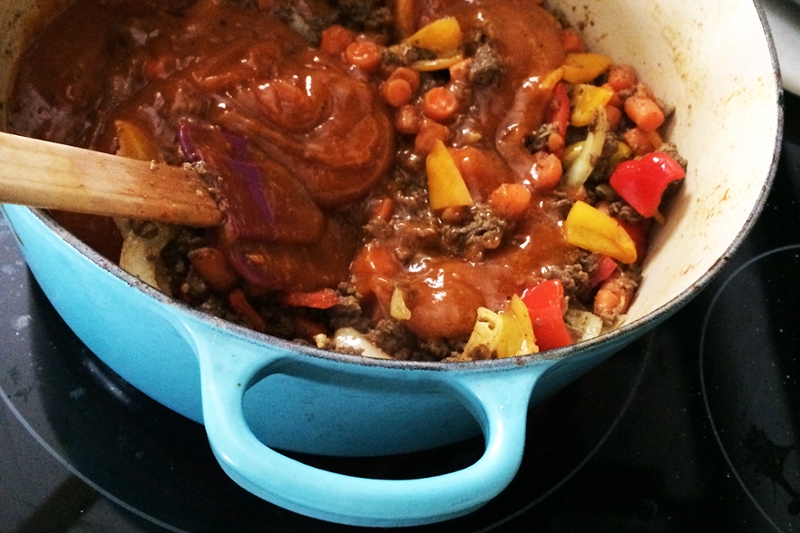 Try adding persimmon to this lamb and veggie stew!
This dressing is well paired with bold-flavored ingredients.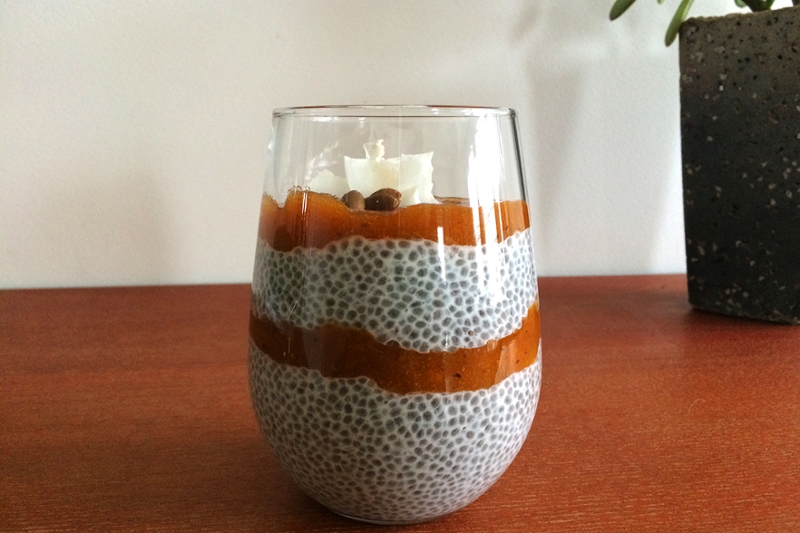 If you have never had chia seed pudding, you are in for a treat.