On a Thursday afternoon at Western Middle School in Louisville, Kentucky, a group of teenagers huddle in a classroom. They're not talking about Fortnite, or the latest SnapChat filers.
They're talking about vegetables.
Meet the Aquapunx, a group of teenagers in the state-wide Student Technology Leadership Program (STLP), an afterschool, project-based learning program. They're working on a unique project: an aquaponics system.
"Aquapunx is a play on the word aquaponics, because we have the 'aqua' in there, but at the end, 'punx' is where it gets a little feisty," laughs energetic 8th grader Brionna Woods. "Because we're punks! Even though we're saving the world, we're cool while we do it."
If you're thinking, "aqua what now?" you're not alone.
Aquaponics is an ancient but sophisticated method of growing food that combines aquaculture with hydroponics, and has recently had a major comeback in urban agriculture.
As the Aquapunx say, aquaponics is "the process of turning fish poop into vegetables."
Eighth-grader Rylee Stansbury explains: "So basically, we have a fish tank, and then on top of our fish tank there's a media bed, which holds clay pellets instead of soil."
When the fish produce waste, it goes through a tube into the media bed, where the clay pellets filter it and turn it into nutrients for the plants. The plants then take up the nutrients, and the clean water is pumped back into the fish tank.
"So it's a sustainable system and natural filter," Stansbury finishes, with a smile.
The Aquapunx arrived at this project with purpose. Western Middle is located in the Portland neighborhood of Louisville's West End. The West End is a huge area of the city, made up of 8 neighborhoods and around 65 thousand people.
By now, you've probably heard the term "food desert" - places with little to no access to fresh foods - which definitely describes the West End.
The Aquapunx supervisor, Michael George, knows this particular food desert well. He grew up in the Shawnee neighborhood, just west of Portland, and went to Western Middle himself.
"This food desert is for real," George says. "We're on 22nd, the closest grocery store is on 28th and Broadway, or 34th and Portland Avenue.
"You can go to McDonald's, Dairy Queen, Indi's Chicken, and all these other places," George adds, referring to nearby fast-food chains. "But if you want some broccoli or some greens, you've gotta put some work into it."
So when George taught the kids about food deserts, there was no turning back.
"It was something once you opened your eyes you could start seeing," Woods says. "It's not just what's going on at Western, it's what's going on in the community."
The Aquapunx worked hard all school year to build their own aquaponics systems, and to educate as many people as possible - from local restaurants and gardens, to other middle schools in Eastern Kentucky and beyond - about food deserts and the benefits of aquaponics.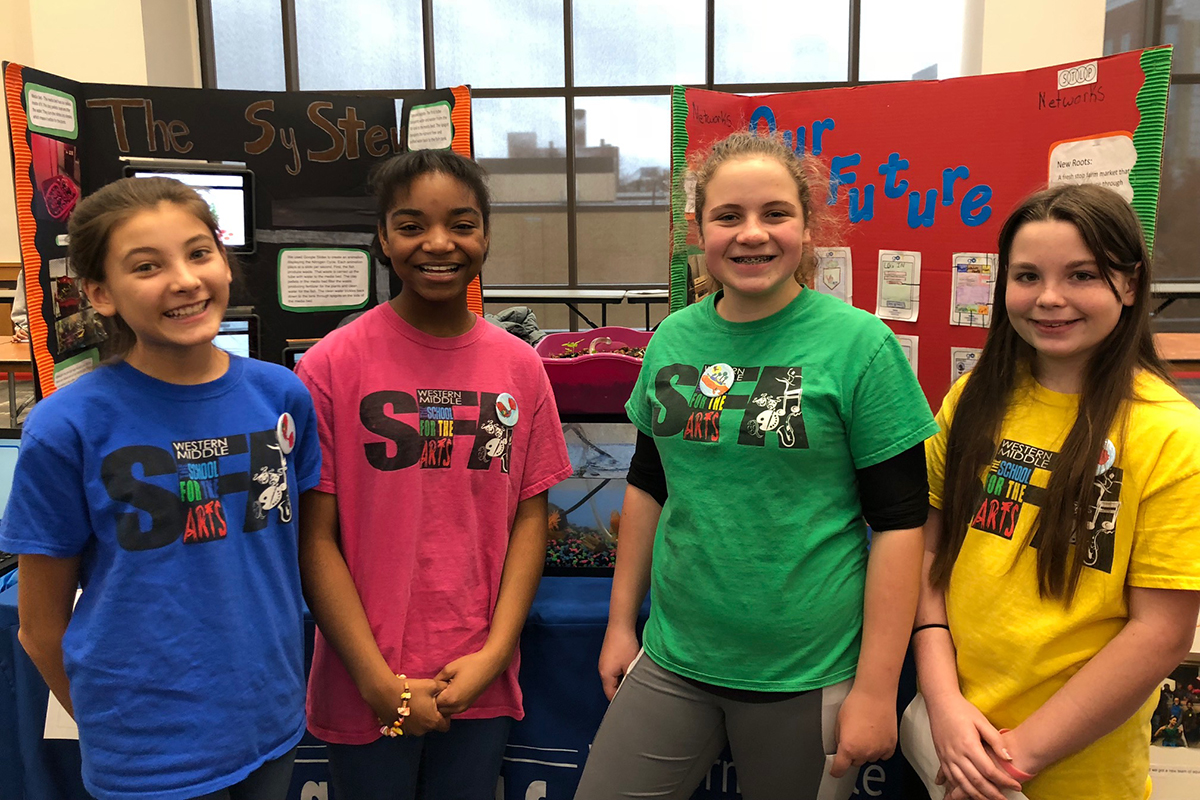 The group made it to the Kentucky state STLP competition in April, with high hopes of making it to nationals, to spread the message of aquaponics across the country.
"We want our project to be known, we want aquaponics to be known," Stansbury says. "If our idea is known, we feel like it can be used throughout the country in areas that are food deserts.
"We want to help a lot of people," she adds. "It's really important to us."
Though the Aquapunx came in second at the state competition, which means they won't go to the national competition this year, they did receive the highest-ever STLP score in Jefferson County Public Schools history.
And Woods says being a part of this group changed her in ways bigger than winning competitions.
"Since joining this club, I've learned so much. I always think now, 'should I use this plastic?' or, 'should I use these straws? Or should I use this extra water?' because aquaponics has taught me about the footprint that I'm leaving," Woods says. "It's just made me a well-rounded person."
"And it's really sad that I have to leave this year because if I could stay here and just be an aquaponics farmer, I really would," Woods adds. "That's what I'd do all day."
Read More:
Can indoor farming fix food deserts? These Louisville students think so (Courier-Journal)
Aquaponics Takes Root At Middle School In Food Desert (Spectrum 1 News)
Salmon and Baby Chard, Brought to You by a Brooklyn Farm (Bloomberg)