Adding Jackfruit to these vegetarian enchiladas gives them a meaty texture, similar to pulled pork. Add butter for that rich mouth-feel, and you might even make a dedicated meat-eater happy.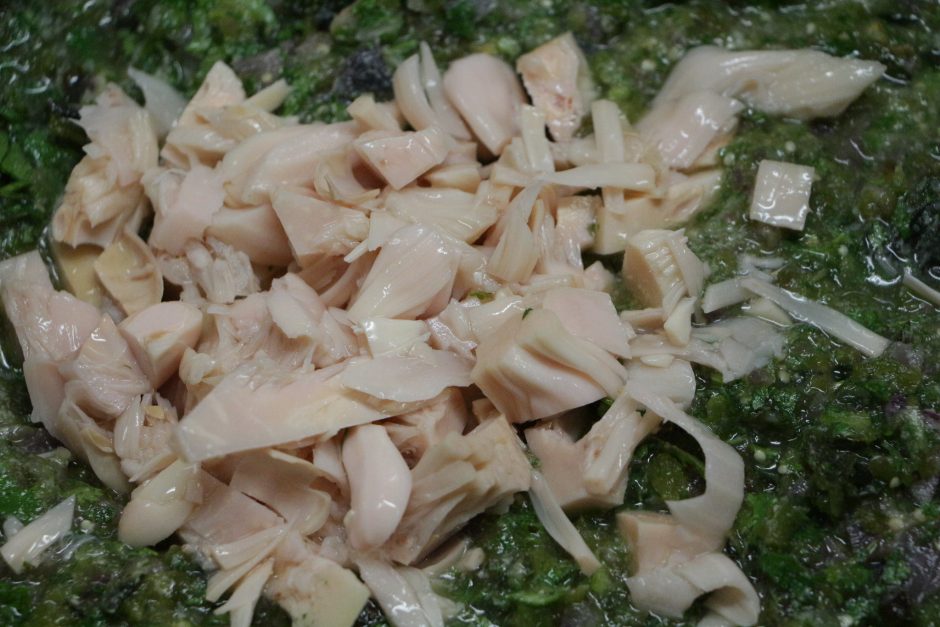 Jackfruit is a large tropical fruit with a thick, rough outer peel. Inside the fruit has a chewy, stringy texture that resembles pulled pork or shredded chicken. For this reason it has become a popular meat substitute for dishes like sloppy joes, bar-b-que sandwiches, and in this case, chile verde. The meat-like qualities only extend to the texture. The fruit is not high in protein. Adding beans to this dish and serving it with rice makes it a complete meal.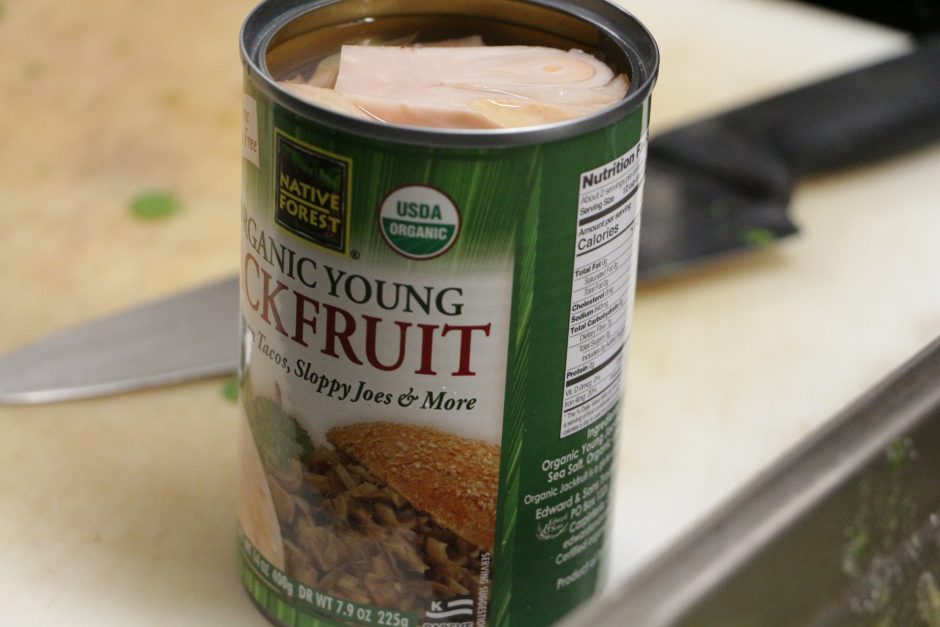 You can purchase fresh jackfruit in grocery stores with extensive produce sections, or you can find it in some specialty food shops. However, the fruit is large, so you will have a lot to process, and the flavor and texture vary widely depending on the ripeness of the fruit. To make this dish, you want fruit that is slightly underripe, firm, and less flavorful than the fully ripened fruit. Jack fruit in a can is more predictable and consistent, and the fruit is ready to absorb the flavors of the sauce.
Chef Arlyn's Vegetarian Chile Verde Enchiladas With Jackfruit
Yield: 
approx 10-12 cups of chile
Ingredients
1 ½ lbs (24oz) tomatillos
3 large poblano peppers
1 large white onion
3 Tbsp butter
2 cups water
1 cup chopped cilantro
2, 14oz cans jackfruit, drained and chopped into bite-sized pieces
2, 15oz cans cannellini beans, drained, rinsed well, and drained again
3 Tbsp garlic powder
2 tsp sea salt
For the Enchiladas
1 package of medium -sized flour tortillas
2 cups pepper jack cheese, shredded
Instructions
Preheat oven to 400 degrees.
Immerse tomatillos in a large bowl or pot of water, remove their husk, and rinse. Cut in half. If tomatillos vary widely in size, cut larger ones down into pieces resembling the size of the smallest halves.
On a parchment lined baking sheet, place tomatillos cut side down. Place poblanos on a second parchment lined baking sheet.
Roast peppers and tomatillos until pepper skin is charred and raised up from the pepper flesh and until tomatillo flesh is starting to brown – 20-40 minutes depending on the size of the vegetables. Peppers or tomatillos may be done first and should be removed from the oven while the other is allowed to keep roasting.
Allow roasted vegetables to cool completely. Remove charred skin from poblanos and roughly chop into bite-sized pieces.
Meanwhile, dice onion and saute in a large stock pot with onion over medium heat until onion is thoroughly translucent but not caramelized.
To onion pot, add poblanos and tomatillos and water. Bring to a boil and allow to simmer on low for 20 minutes. Stir in cilantro and blend pot contents with an immersion blender (or blend in batches in a traditional blender).
To the pureed mixture, add jackfruit and allow to keep simmering until chile has desired thickness. Stir in beans, garlic powder, and salt. Season to taste.
To Make Enchiladas
Spoon chile down the center of a flour tortillas and top with a sprinkling of pepper jack cheese. Roll up tortilla and place in a greased casserole pan.
Once all enchiladas are assembled, sprinkle more pepper jack over the top.
Bake at 400 degrees until cheese is melted and verde oozing out the sides of the enchiladas is bubbling.
For a complete meal, serve with sauteed sweet peppers and spinach and either a side of brown rice or a poached egg.