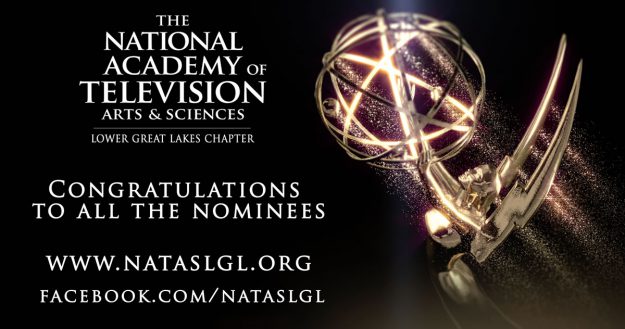 The NATAS Lower Great Lakes Chapter announced yesterday that WTIU received 22 regional Emmy Award nominations for its locally produced series and documentaries.
WTIU's travel series, Journey Indiana, earned seven nominations, including for best magazine program, best editor (news/sports), and best features in news, environment/science, arts/entertainment, and societal concerns. 
The Friday Zone, WTIU's children's series, earned three nominations in the children/youth/teen and writer categories. WTIU's web series [indi]android received one nomination in the arts/entertainment category for its feature on graphic novelist Nate Powell.
Ernie Pyle: Life in the Trenches earned four nominations for best historical documentary, best writing, best editing, and best research. Crooked Stick: Songs in a Strange Land is nominated in both the musical composition/arrangement and audio categories. Feel of Vision, Amen! Music of the Black Church, and A Rural Revolution: Indiana's Round Barns each received one nomination for best documentary in the respective categories of health/medical, historical/cultural, and nostalgia.
In addition to the nominations for the station's three series and five documentaries, WTIU staff members John Timm and Saddam Al-Zubaidi are also individually nominated for best photographer in short-form content.
The Lower Great Lakes Emmy Awards recognize excellence in television among its members in Indiana, Ohio, and Pennsylvania. A complete list of this year's Emmy nominees is available on the NATAS website.