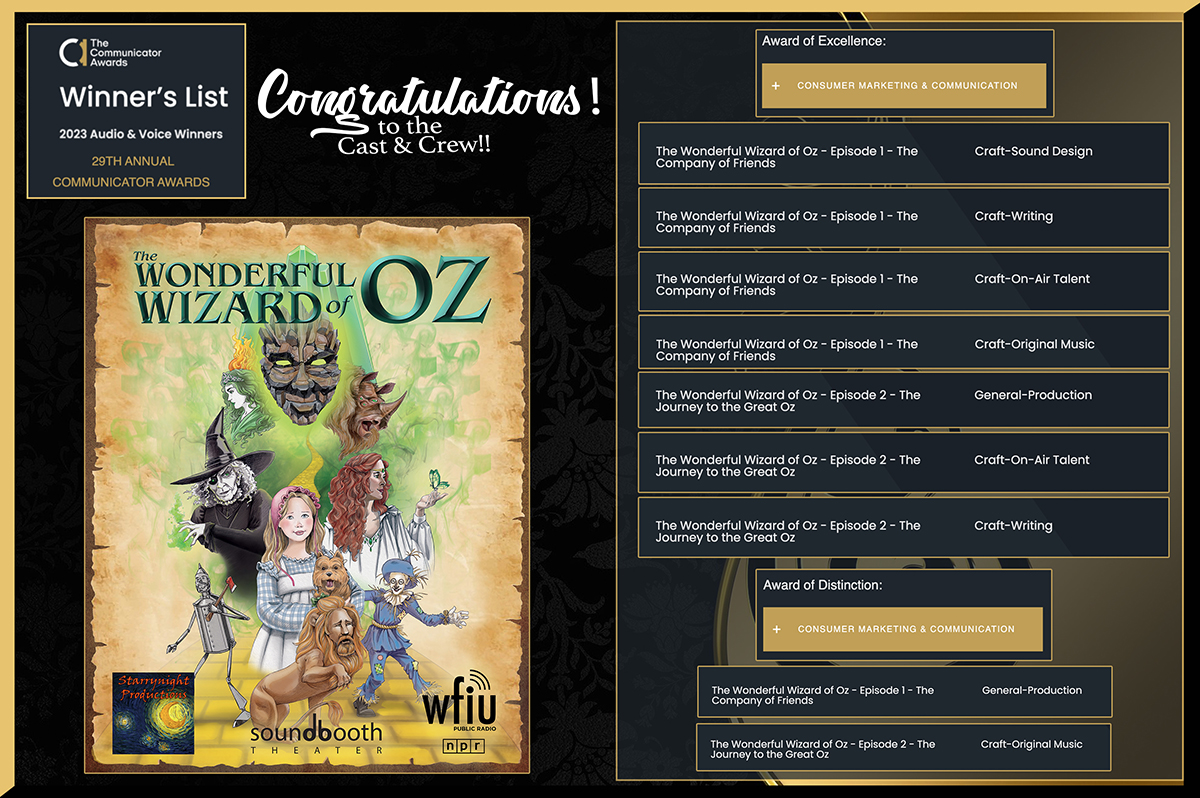 Episodes 1 and 2 of The Wonderful Wizard of Oz audio play, which aired on WFIU Public Radio this past February, received nine Communicator Awards on May 2.
WFIU partnered with Starrynight Productions and Soundbooth Theater on this four-part series adapted from L. Frank Baum's book The Wonderful Wizard of Oz. Writer/director Russell McGee (Big Finish Doctor Who plays) and producer/actor Michael Brainard (All My Children) collaborated with Soundbooth's Jeff Hays to produce The Wonderful Wizard of Oz as both a radio series and podcast. Previously, McGee and Brainard worked with WFIU on the podcast and radio series The Ernie Pyle Experiment!, released in 2020.
The Wonderful Wizard of Oz received two Communicator Awards of distinction for general production and craft original music and seven awards of excellence for craft writing, craft original music, craft sound design, craft on-air talent, and general production.
The Communicator Awards is an international awards program recognizing excellence in communication across a spectrum of industries, championing effective and meaningful work. The Communicator Awards receives almost 5,000 entries from companies, agencies, studios, and boutique shops of all sizes, making it one of the largest awards shows of its kind globally.
The Wonderful Wizard of Oz follows the adventures of young Dorothy Gale and her dog Toto. After their Kansas home is swept away by a cyclone, Dorothy and Toto find themselves in a strange land called Oz. Here Dorothy meets the Munchkins and joins the Scarecrow, Tin Woodman, and the Cowardly Lion on an unforgettable journey to the Emerald City, where lives the all-powerful Wizard of Oz. Along the way, Dorothy and her friends must fend off the Wicked Witch of the West.
The audio series features the talents of actors Franc Ross (Breaking Bad, Better Call Saul, Deadwood), P.J. Ochlan (Emmy nominee for Young Sheldon, Little Man Tate, Police Academy: The TV Series), Greta Lind (Rudy, All My Children), Bert Rotundo (Silicon Valley, Marvel's Agent Carter), and Leraldo Anzaldua (Gatchaman, Highschool of the Dead, Starship Troopers: Invasion), among others.  
The Wonderful Wizard of Oz is made possible with support from Indiana Public Broadcasting Stations.