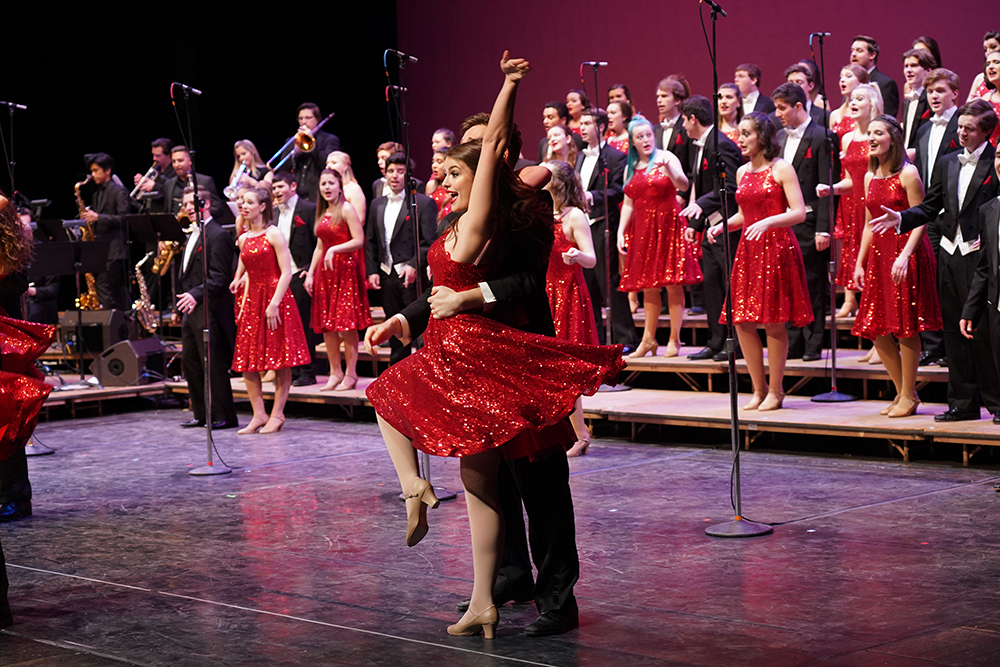 Spend your evening listening to songs and skits from the group known as Indiana University's "Ambassadors of Song." 
The IU Singing Hoosiers will present its first-ever radio show, "Hoosiers Live at Home," Sunday, February 28 from 6-8 p.m. on WFIU. 
The cancellation of the Singing Hoosiers' spring and fall concerts due to the COVID-19 pandemic compelled director Chris Albanese to figure out a new way to share live music while keeping in mind the safety of performers and audiences. Inspired by the radio variety series A Prairie Home Companion, he developed the idea for "Hoosiers Live at Home."
The show was recorded asynchronously this fall with the help of students in the audio engineering program at the IU Jacobs School of Music. Groups of six to twelve singers met twice a week for three weeks to rehearse and record a set of three small group numbers and one large group number.
The radio program includes classic and contemporary favorites, such as John Prine's "Angel from Montgomery," Cole Porter's "Let's Do It," Irving Berlin's "Steppin' Out," and other solos, skits, and narrations. 
The Grammy-nominated Singing Hoosiers wrapped up their 70th year of performances in 2020. The group carries on traditions of the Great American Songbook while simultaneously exploring contemporary music. In recent years, the group has collaborated with artists such as Zeshan B., Sandi Patty, and Sylvia McNair.
The approximately 80-member ensemble is composed of students from all majors across the Indiana University campus.