We're celebrating National Radio Day this year by turning the mic over to our listeners and hearing stories of why you listen to WFIU.
Visit wfiu.org/whyilisten on a mobile device and send us a video message about why you choose to listen to WFIU. It can be a story of connection that stands out from recent months, or simply your favorite programs.
We're so grateful to you for listening, especially over the last year-and-a-half of the pandemic. You trusted us to bring you essential updates and thoughtful analysis on some of the biggest stories of our time. You found comfort in our daily music shows and laughed along with our weekend programming. Thank you for being there with us through it all.
We look forward to hearing your stories of why you listen to WFIU and sharing some on air in the future.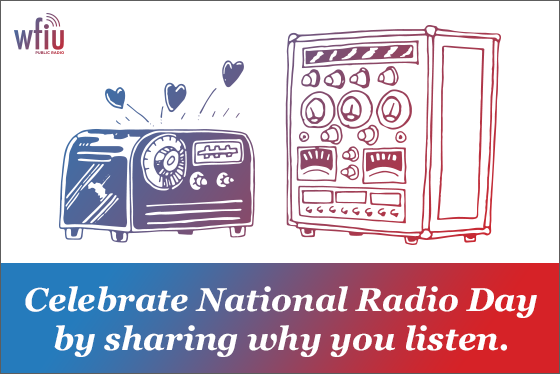 Send My 'Why I Listen' Video Message
(accessible on mobile devices only)
---
BONUS: National Radio Day Giveaway
Another way we're saying thanks today is with a giveaway! Win one of our popular WFIU baseball tees along with an Eton multi-purpose emergency radio in honor of National Radio Day.
Enter to Win the T-Shirt and Radio
---
Support Essential News, Music and Entertainment on WFIU
We'll continue to be here for you every day with the news, music and entertainment you need to stay connected. But it takes support from listeners like you to make it happen. Make a new or additional gift to the station today in honor of why you listen and help ensure WFIU is here for your community for years to come.
Yes, I'll Make a Gift in Honor of National Radio Day
Can't access Why I Listen on a mobile device or prefer to send a typed message instead of video? Send in your comment via the giveaway link above.