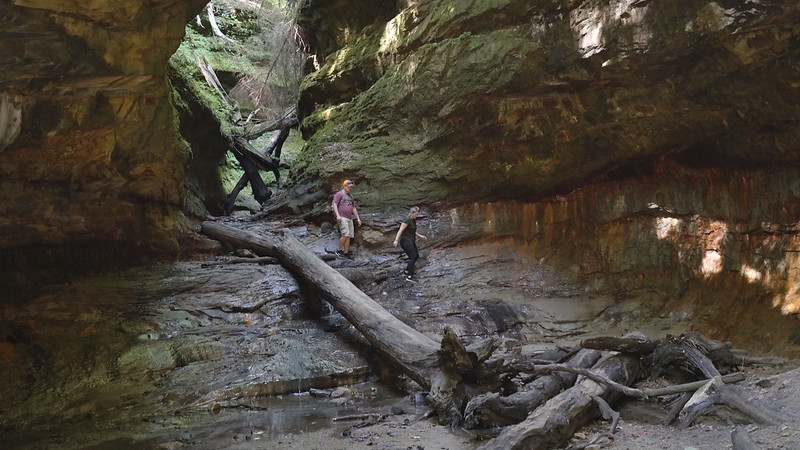 Our newest local documentary, The Hoosier Way: Trails of Indiana, premieres Monday, February 28 at 8pm on WTIU. Producer Mark Gibson discusses the making of the program and some of his favorite trails to visit in this interview:
Approximately how many trails did you visit for the making of this documentary?
I hiked or biked some 30 trails across the state over the summer and fall of 2021, and couldn't even begin to estimate the number of miles covered. That included hiking nature trails in a handful of state parks, biking a few rail-trails like the Pumpkinvine, Monon, Cardinal Greenway, and B-Line, and walking some urban trails like the Indy Cultural Trail and the riverfront trail in downtown Fort Wayne. But there are so many more trails across Indiana that I just wasn't able to get to. So the trails filmed are merely representational. Trails are quite literally in every corner of the state. And with the Indianapolis Cultural Trail in downtown Indy, they're at the center of it too!
What was your favorite trail to visit and why?
A single favorite trail is hard to pick. Indiana's trails can be so different and each offers something unique. In terms of nature trails, Turkey Run trails 7, 5, and 3 are pretty tough to beat for sheer scenic interest within the state. Indiana Dunes' trails 2 and 10 offer experiences unlike anything else in the state. The Hike-Bike Trail is a fantastic paved ADA-accessible trail through Morgan-Monroe State Forest, so it's pretty remote in terms of distance from traffic or cities. For urban trails, the Monon and B-Line are pretty great with the businesses and shops along the way being so fun. Every trail offers its own unique experience to enjoy. There's something to be said for the range and variety we have here.
What new trails did you discover while making the program?
The Paul H. Douglas Trail in Miller Woods in Indiana Dunes National Park was a pleasant surprise. It passes through some really diverse habitats for Indiana with a lot of changing scenery.
And I had hiked at Clifty Falls before but hadn't taken Trail 2 along the riverbed to get to the base of the falls before. It was extremely rocky and rugged with big boulders to climb over, which was a little tricky while carrying a camera and tripod.
What surprising fact did you learn while working on The Hoosier Way?
During background research, I came across an Indiana railroad map from the late 1800s. Rail lines crisscrossed the entire state with main routes and trunk lines connecting not just the bigger cities, but hundreds of small towns. Rails were everywhere. But as the primary mode of transportation shifted from locomotive to automotive, thousands of miles of rail line fell into disuse and disrepair. During the 1980s between 4,000 and 8,000 miles of rail were abandoned every year. These abandoned rail corridors were ideal for connecting towns with the emerging trail system we see today.
Which trails would you recommend visiting in spring, summer, fall, and winter?
You can't go wrong with ANY trail in spring! Coming off the cold, grey winter months, you just appreciate the living beauty and splendor of Nature so much more when wildflowers and wildlife really come alive in the springtime.
For the ultimate summertime experience, I've got two suggestions: the trails at Indiana Dunes are great with the Lake Michigan beachfront and waters as a reward at the end. Summertime hiking in Indiana can get pretty hot, but hiking the canyons of Turkey Run Hollow and Trail 7 at Turkey Run State Park can offer shade and a reprieve from the heat.
In the fall, there are all the popular (i.e. crowded) spots in the state parks to catch autumn colors, but if you want to take the path less traveled, check out Indiana state forests. They're a bit more remote, and you're surrounded by just the colorful trees to maximize the autumn experience.
Trails in winter offer a different type of quiet solitude you just don't get the rest of the year. For me, it's just more melancholy and contemplative as nature itself seems to hibernate in the cooler weather months. Several state parks (and Hemlock Cliffs in Hoosier National Forest) allow winter hikers a chance to see frozen waterfalls during the colder months.