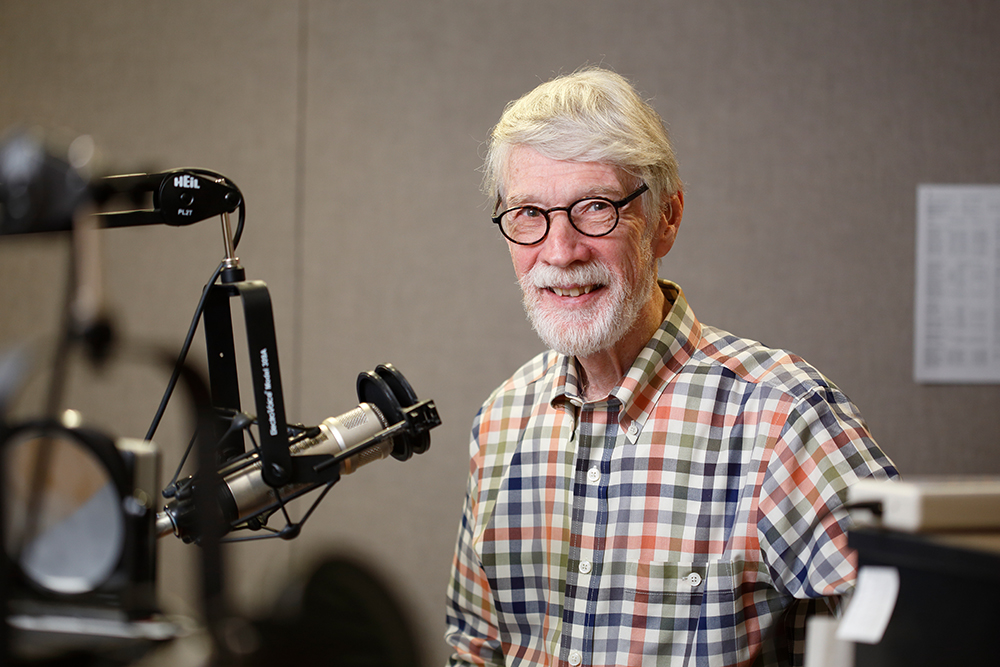 When George Walker first arrived at Indiana University in the fall of 1966, he was not planning to spend more than 50 years on the radio. The University of Michigan graduate originally came to IU for a master's program in teaching English. But Walker's intended career path changed after he heard about an opportunity at WFIU.
"In the first year as a graduate student at IU, someone visited one of my classes to let us know that there were auditions for news announcers at WFIU. I tried out and wound up being hired, not as a news announcer, but as a part-time classical music announcer," Walker said.
Although he completed his graduate degree in teaching, the part-time position he took at WFIU while he was a student led to a long and successful career in radio. He will celebrate his 45th anniversary as a full-time employee of the station on July 25.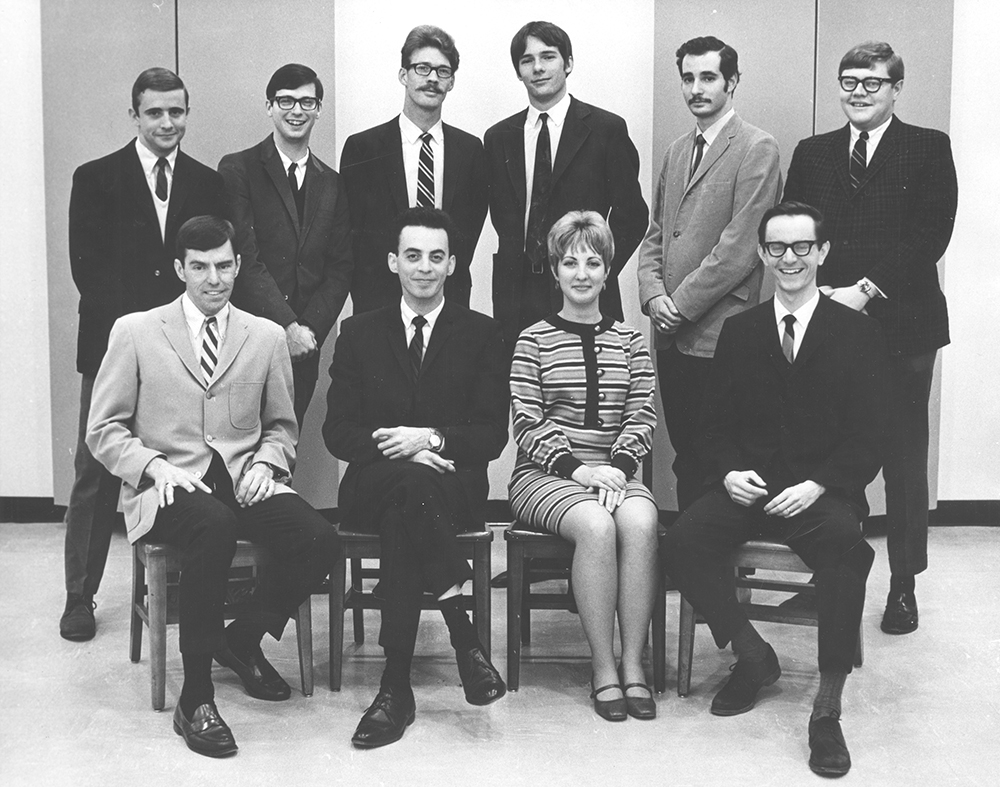 WFIU staff in 1967. Front row (left to right): John Harrell, Larry Kroenberger, Debbie Shriner, Don Glass. Back row (left to right): Dave Smith, Tom Gray, George Walker, David Kennard, Elliot Oring, and Dave Champaigne.
Throughout his time at WFIU, Walker has witnessed how both the station and his job have evolved from their classical music beginnings. He was present for the creation and growth of the NPR network, which wasn't in existence when he first began working at WFIU as a student.
"For many years, I had the longest (by far) weekday airtime at any NPR station. In those years, the only network program during my 6:00 a.m. to 3:30 p.m. air time was Adventures in Good Music with Karl Haas. No NPR news—I took it off the wire or it came from our news staff," Walker recalled.
His position expanded to covering the arts in south central Indiana, including reviewing hundreds of stage productions and concerts and interviewing performing artists.
"I've been fortunate to interview so many creative and talented musicians, dancers, actors, directors, writers, and scholars—from Yo-Yo Ma to Buckminster Fuller, to Twyla Tharp, to Yefim Bronfman, the Canadian Brass, Maya Angelou, and Bill T. Jones. I take great pride in having known the remarkably warm and talented Dave Baker and Josef Gingold (who always called me 'dear boy') and knowing Menahem Pressler," said Walker.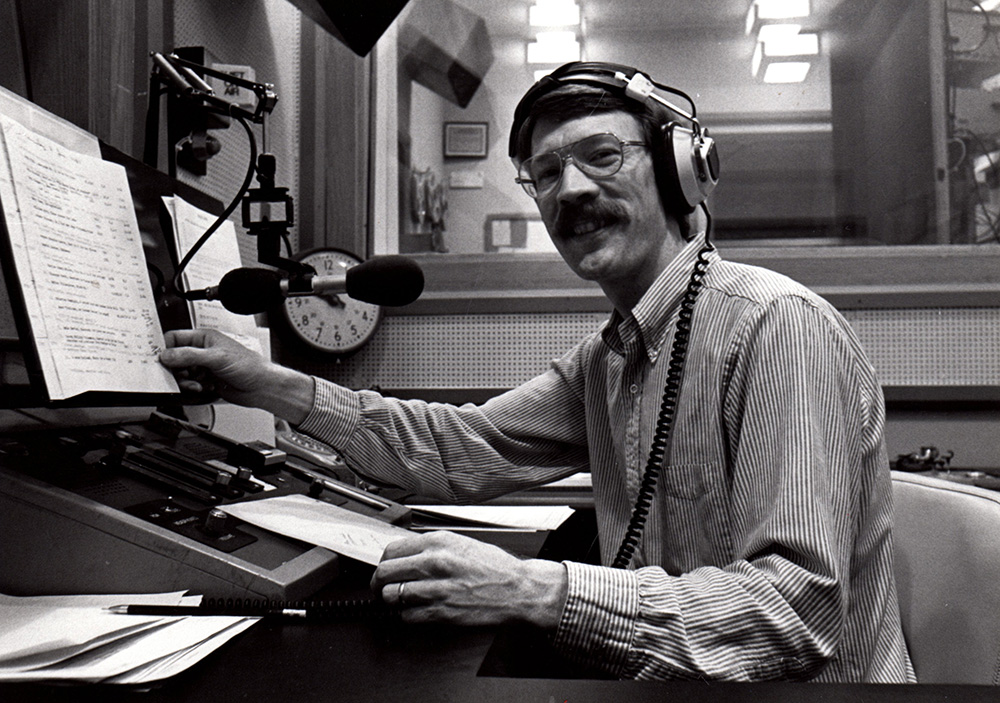 Shortly after his 45th anniversary as a full-time employee of WFIU, Walker will retire on July 29. He wants listeners to know that he will miss being with them, but made the difficult decision to leave WFIU after recently being diagnosed with progressive frontotemporal dementia, which affects his ability to speak.
Station operations director John Bailey says, "In an industry that seemingly finds some people coming and going within 45 days, the milestone of 45 years is no small cause for celebration. I'll never forget what a one-time manager at this station told me: 'George Walker is the sun. In the morning, he's always there.' Now that we're on the brink of sunset, we know we'll miss his institutional memory, his stellar wit, and his sunny disposition."
We invite you to share your good wishes for George Walker by filling out this form (requires a Google sign-in) or by emailing wfiu@indiana.edu.