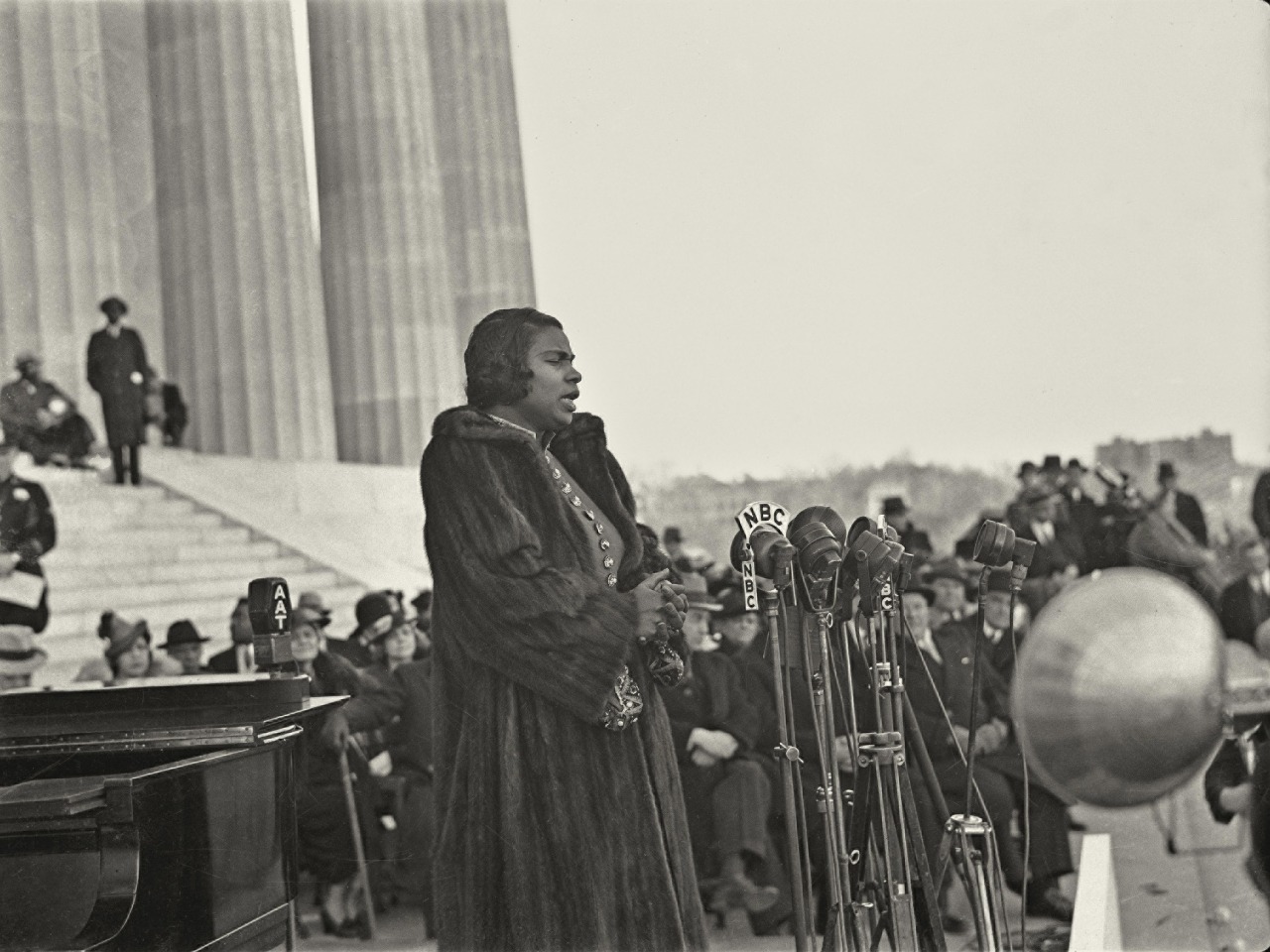 This February for Black History Month, tune in to WTIU and WFIU for special programming and stream 26 documentaries on WTIU PBS Passport.
WTIU PROGRAMS
In Their Own Words: Chuck Berry
Tuesday, February 1 at 10pm
Take a riveting ride on the Chuck Berry train, exploring the life, the legend, the music, and the man. This program features interviews with Berry's widow, son, and grandson, along with colleagues and musicians who idolize him, including Keith Richards, Robert Cray, Slash, Darius Rucker, and more.
Amen! Music of the Black Church
Thursday, February 3 at 9pm
Sunday, February 6 at 11pm
Dr. Raymond Wise leads the Indiana University African American Choral Ensemble in a performance of sacred music derived from African traditions.
Muhammad Ali – Round Two: What's My Name (1964-1970)
Friday, February 4 at 9pm
Sunday, February 6 at 1pm
Cassius Clay publicly joins the Nation of Islam and takes the name Muhammad Ali. When he refuses induction into the Army, he is stripped of his title and forced into exile. After three years he returns to the ring, but he's lost a step.
Shaw Rising
Sunday, February 6 at 3pm
Shaw University started in December 1865 with a bible class for newly freed slaves in Raleigh, NC. Fighting vicious prejudice in the aftermath of the Civil War and the Jim Crow south, Shaw rose to become a co-educational college, a medical school, law school, and divinity school.
From the Streets to the Stage: The Journey of Fredrick Davis
Sunday, February 6 at 7pm
Explore the story of a ballet dancer who overcame tremendous odds to achieve his dreams of dancing on stages around the world. Through intimate conversations with Fredrick Davis, as well as with the teachers, family, and friends who helped shape his career, the film chronicles Davis's journey from his earliest and most difficult childhood memories to his busy life as a professional dancer.
Independent Lens – Owned: A Tale of Two Americas
Monday, February 7 at 10pm
Is the "American Dream" of homeownership a false promise? While the government's postwar housing policy created the world's largest middle class, it also set America on two divergent paths—one of perceived wealth and the other of systematically defunded, segregated communities.
American Masters – Marian Anderson: The Whole World in Her Hands
Tuesday, February 8 at 9pm
With unprecedented access to the Marian Anderson Estate, this documentary draws on rare archival footage and audio recordings and Anderson's extensive personal correspondence to family and friends, including Martin Luther King, Jr., W.E.B. DuBois, Duke Ellington, Shirley Chisholm, and Langston Hughes, to reveal the woman behind the icon.
Through the Banks of the Red Cedar
Thursday, February 10 at 9pm
Sunday, February 13 at 3pm
In 1963 Michigan State head coach Duffy Daugherty and 23 African American young men seized the opportunity of a lifetime. The daughter of Minnesota Vikings football legend Gene Washington deepens her connection to her father as she uncovers how the first fully-integrated college football team in America changed the game forever.
Muhammad Ali – Round Three: The Rivalry (1970-1974)
Friday, February 11 at 9pm
Sunday, February 13 at 1pm
Muhammad Ali battles his fiercest rival, Joe Frazier, and the U.S. government, as he attempts to regain the heavyweight title. He first loses to and then defeats Frazier, but to become champion again, he will have to beat George Foreman.
Crooked Stick: Songs in a Strange Land
Sunday, February 13 at 7pm
Friday, February 18 at 1pm
Vocalist Marietta Simpson and composer Dr. Tyron Cooper perform contemporary arrangements of standard Negro spiritual music infused with modern jazz, Latin, and African rhythms.
Stone of Hope: Moving the Dream Forward
Sunday, February 13 at 11pm
Wednesday, February 16 at 1pm
Explore the first decade of the Martin Luther King, Jr. Memorial on the National Mall in Washington D.C. Now the fifth most visited memorial averaging 3 to 5 million visitors a year, the King Memorial uniquely serves the country as the only memorial on the National Mall honoring an activist, a preacher, and a man of peace.
Alabama Black Belt Blues
Thursday, February 17 at 9pm
From cotton fields, to church pews, to prison spaces, to juke joints, follow the refrain of the region's blues through the cultural landscapes of Alabama.
Muhammad Ali – Round Four: The Spell Remains (1974-2016)
Friday, February 18 at 9pm
Sunday, February 20 at 1pm
Muhammad Ali shocks the world by defeating George Foreman and winning back the heavyweight title. After retiring in 1981, he travels the world spreading his Islamic faith, and becomes a symbol of peace and hope.
Beyond the Baton: A Conductor's Journey
Sunday, February 20 at 3pm
Wednesday, February 23 at 1pm
Born to a single mother on welfare, Thomas Wilkins grew up to become one of the few remarkable African American conductors leading a major orchestra—the celebrated Omaha Symphony. This film documents Wilkins' experience as a Black conductor and his larger impact on the musical world.
This Little Light of Mine: The Legacy of Fannie Lou Hamer
Sunday, February 20 at 7pm
Thursday, February 24 at 11pm
Friday, February 25 at 1pm
A poor, Mississippi sharecropper escapes debilitating abuse to become an indomitable force against the political elite and a voice for millions fighting for the right to vote in 1964.
Kindred Spirits: Artists Hilda Wilkinson Brown and Lilian Thomas Burwell
Sunday, February 20 at 7:30pm and 10:30pm
Friday, February 25 at 1:30pm
Lilian Thomas Burwell recounts the life story of her aunt, unsung artist and educator Hilda Wilkinson Brown, and the influence she had on Burwell's own career as an abstract expressionist artist. Their lives, works of art, and sources of inspiration are presented against the backdrop of a segregated society where marginalized Black artists created their own venues to exhibit their work.
The Voodoo of Hell's Half-Acre – A Blues Poetry Opera
Sunday, February 20 at 11pm
Thursday, February 24 at 9pm
This live multimedia theatrical presentation chronicles the story of Mr. Wright from his migration from Mississippi to the decade he spent in Chicago from 1927-1937. The performance involves a 10-piece ensemble that features spoken word poetry, singing, saxophone, piano, upright bass, and drums.
Fannie Lou Hamer's America: An America Reframed Special
Tuesday, February 22 at 9pm
Explore and celebrate the life of a fearless Mississippi sharecropper-turned-human-rights-activist and the injustices in America that made her work essential. Fannie Lou Hamer's America features rare artifacts from Hamer's activist career and foregrounds such themes as white supremacist backlash to Black voter registration, police brutality, and access to quality healthcare and affordable nutrition.
Miles Davis: American Masters
Friday, February 25 at 9pm
Discover the man behind the legend. With full access to the Miles Davis Estate, the film features never-before-seen footage, including studio outtakes from his recording sessions, rare photos, and new interviews.
Henry Louis Gates, Jr. – Uncovering America
Saturday, February 26 at 4pm
Courtney B. Vance hosts this celebration of the renowned, respected and popular historian, author and filmmaker. Features appearances by distinguished guests seen in Gates' work including Jodie Foster, Ken Burns, Jelani Cobb, and LL Cool J.
Buddy Guy: True to the Blues
Saturday, February 26 at 8:30pm
Explore the life and career of George "Buddy" Guy, a living legend and blues master who transcended his early years as a sharecropper in Louisiana to become one of the most influential guitarists of all time. In the 1950s, Guy quickly rose to prominence as the guitarist for Muddy Waters and Howlin' Wolf in the iconic Chicago blues scene, directly inspiring The Rolling Stones, Jimmy Page, Jimi Hendrix, Eric Clapton, Stevie Ray Vaughan, and many more.
Tina Turner: One Last Time
Saturday, February 26 at 10:30pm
In 2000, Tina Turner's final UK concert was filmed at London's Wembley Stadium with a state-of-the-art stage set, 18 cameras, and one of the world's top directors. Turner's inspiring, powerful performance made it an unforgettable event. Blasting out hit after hit and taking the audience through her amazing four-decade career, Turner once again proved herself to be "simply the best."
The Black Church: This Is Our Story, This Is Our Song, Part 1
Sunday, February 27 at 2pm
Henry Louis Gates, Jr. explores the roots of African American religion beginning with the trans-Atlantic slave trade and the extraordinary ways enslaved Africans preserved and adapted their faith practices from the brutality of slavery to emancipation.
---
WFIU PROGRAMS
Afterglow
Brother Ray Sings Standards!
Friday, February 4 at 8pm
We're celebrating Black artists all month for Black History Month. On this episode, we turn the spotlight onto the genius of Ray Charles. We'll hear his interpretations of jazz standards, including "Come Rain or Come Shine," "Georgia on My Mind," and many more.
Night Lights
Portraits in Black: Jazz Tributes to African American Heroes
Friday, February 4 at 9pm
Music tributes to African American figures such as Paul Robeson and Joe Louis from Count Basie, Clifford Jordan, Charles Mingus, and others.
Pipedreams
Color Abounds
Monday, February 7 at 10pm
African American performers, composers, and themes enrich our experience of the King of Instruments.
Afterglow
The Two Williams: Spencer and Clarence
Friday, February 11 at 8pm
We explore the songs of two unrelated Black jazz composers from the early 20th century: Spencer Williams and Clarence Williams. These two Louisiana natives wrote early jazz standards like "Basin Street Blues" and "Baby Won't You Please Come Home."
Night Lights
Into the Smooth: The Roots of Smooth Jazz
Friday, February 11 at 9pm
Music from jazz artists such as Wes Montgomery, Grover Washington, Jr., George Benson, and others who paved the way for the rise of the much-maligned genre.
Afterglow
Billie Holiday and the Big Bands
Friday, February 18 at 8pm
We usually think of Billie Holiday as a small-group singer, but she was a product of the swing era who worked and recorded with several big bands. We'll hear her recordings with Duke Ellington, Benny Goodman, Count Basie, and more.
Night Lights
The Teacher: Billy Taylor
Friday, February 18 at 9pm
Billy Taylor was a jazz pianist, educator, broadcaster, composer of a civil rights anthem, and the man who dubbed jazz "America's classical music." We'll hear his story and some of his recordings, plus excerpts from his work as a television music director and jazz journalist.
Afterglow
Carmen McRae on Decca
Friday, February 25 at 8pm
Carmen McRae was one of the most respected jazz singers in the business for four decades. We'll explore her recordings for the Decca label in the 1950s.
Night Lights
Black Composers in Hollywood: Duke Ellington and John Lewis
Friday, February 25 at 9pm
The first in a recurring series of shows explores Duke Ellington's music for the 1959 film Anatomy of a Murder and John Lewis' score for Odds Against Tomorrow, released the same year.
The Metropolitan Opera
Celebrating Black History Month: Groundbreaking Artists on the Air
Saturday, February 26 at 1pm
Broadcast highlights from some of the Met's most revered African American stars.