"Spirit of Greene County," WTIU's newest documentary, takes you through the rolling hills, tight-knit communities, and beloved traditions of the southern Indiana county. But why not take your own drive and experience it firsthand? 
Make your own day trip using the map and suggested itinerary below to explore just a few of the places featured in the documentary. Whether you're a Greene County resident or an Indiana local looking to see more, this is a great place to start exploring.
Watch or stream 'Spirit of Greene County' starting August 16, 2021. 

Become a member of WTIU and support local, independent films like this. Your gift makes a difference. Give Now >
---
'Spirit of Greene County' Day Trip Itinerary
Morning: Sample the Flavors of Greene County
Start your day at one of the county's popular morning stops.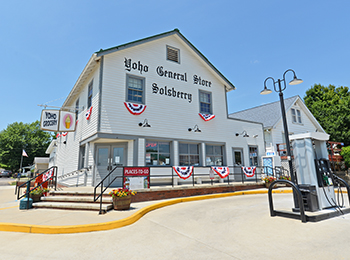 Yoho General Store in Solsberry is the place to go for a hearty breakfast steeped in tradition. The shop has been around since the 1930s and underwent a major renovation in 2012. You can get a deli-style breakfast to start your day, or start the fun early and get one of their popular ice cream cones.


Linton Farmers' Market is a prime example of how a new generation of farmers and food growers are championing the region's locally-grown produce. The market takes place every Saturday mid-May through September at Humphreys Park in Linton. Grab some fresh fruit and baked goods for breakfast plus some snacks for the rest of your day.
---
Afternoon: Explore the Beauty 
Greene County has so many nature experiences to offer. After your breakfast stop, pick one or two of these places to craft your perfect afternoon outdoors.
Goose Pond Fish & Wildlife Area in Linton is the largest and one of the most successful wetland restorations of its kind in U.S. history. The 8,000-acre prairie and marsh habitat hosts about 12,000 wildlife watchers each year. Fishing and wildlife (especially bird) watching are some of the more popular things to do here. But you can also do a little good while you visit by checking out a bucket from the Good Pond FWA Visitors Center and filling it with any trash you see while you're exploring the public land. 
Sculpture Trails Outdoor Museum is three miles of primitive hiking trails decorated with more than 100 large-scale sculptures by artists from around the world. The wooded trail is located near Solsberry and is open seven days a week for self-guided tours. You can also plan ahead and schedule your visit for one of their blacksmith workshops or iron pours.


Canyon Forest Nature Preserve, one of Greene County's true hidden treasures, is a stunning 68-acre property operated by the Sycamore Land Trust. Along the 1.6 mile loop, you can discover unique sandstone outcroppings, uncommon plant life, and the peaceful sounds of seasonal streams and waterfalls.


Shakamak State Park in Jasonville has 400 acres of water for fishing, boating, and family aquatic activities. Plus, there's hiking and camping options. If you want an active afternoon, this state park should be on your list to visit.


Tulip Trestle, located east of Bloomfield and west of Solsberry, is one of the longest steel-girded railroad trestles in the world still in use today. It was built in 1906 across the Richland Creek Valley and is a beautiful scenic stop. Take a few minutes in your afternoon to see the 2,307 feet long and 157 feet tall trestle, and maybe you'll get to see a train cross while you're there.  
---
Evening: Relax with the Locals
After a day of exploring, hit the local hot spots and relax!
Feed Store Beer Co., one of Bloomfield's newer additions, is a great spot to spend the night on their outdoor patio and grab one of their locally made craft beers.


Shawnee Theatre, also in Bloomfield, is another great place if there's a show happening on your visiting day. It began in 1960 and is now Indiana's longest running summer theatre. 
---
P.S.
These are just a few of the places featured in "Spirit of Greene County" that you can explore on your own. Find even more of what Greene County has to offer plus photos and bonus videos from the film at wtiu.org/spirit/greenecounty.
Many local Greene County establishments and points of interest are ready to safely welcome you. But be prepared to be flexible, practice Greene County Health Department and CDC protective steps, and consider calling ahead to your destinations to confirm operating hours and any capacity restrictions.
---
About The Film
Nestled in the rolling hills of southern Indiana, Greene County brings together the Hoosier state's natural beauty, small-town hospitality, and beloved traditions in a way few places can. Explore the heart of this vibrant, tightly-knit community in "Spirit of Greene County," a new production from WTIU premiering August 16, 2021. Learn more at wtiu.org/spirit/greenecounty.