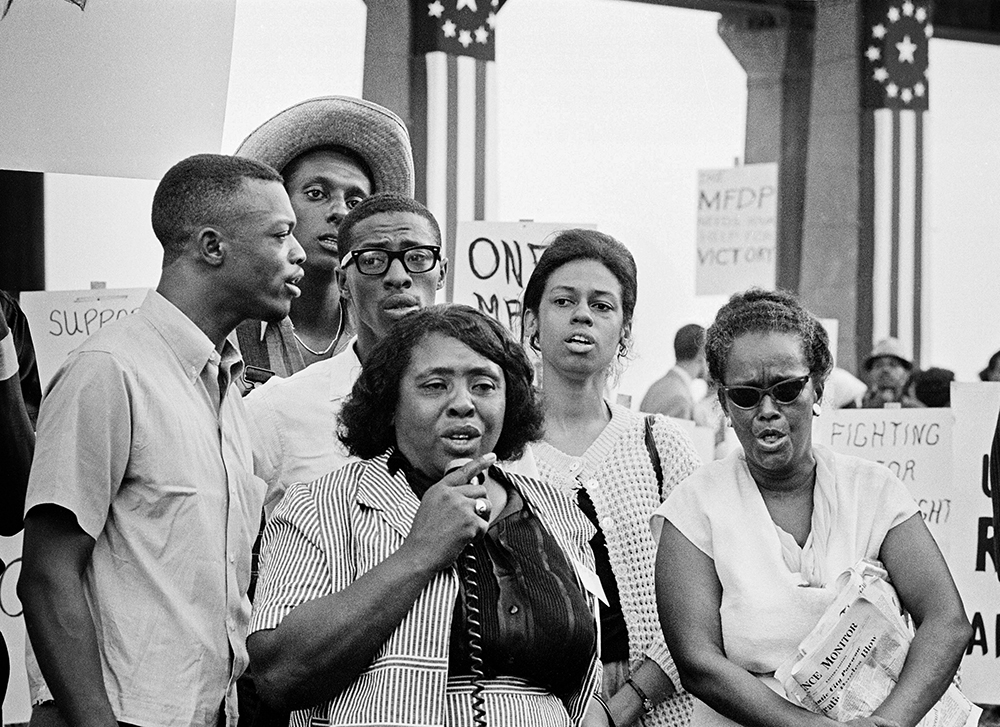 Celebrate Women's History Month on WTIU! Watch these 23 programs to learn more about important women in history. In addition to airing on WTIU, these shows are also available to stream on PBS Video and with WTIU PBS Passport.
IRMA: MY LIFE IN MUSIC
Saturday, March 5 at 11:30pm
Learn about the Soul Queen of New Orleans. Although Irma Thomas didn't experience the same kind of commercial success as her contemporaries, Aretha Franklin and Gladys Knight, her impact on R&B music is just as great. The program features archival concert and interview footage culled from decades of performances filmed at the New Orleans Jazz Heritage Festival.
THIS LITTLE LIGHT OF MINE: THE LEGACY OF FANNIE LOU HAMER
Sunday, March 6 at 11:30pm
A poor, Mississippi sharecropper escapes debilitating abuse to become an indomitable force against the political elite and a voice for millions fighting for the right to vote in 1964.
BETTY WHITE: FIRST LADY OF TELEVISION
Tuesday, March 8 at 9:30pm
The definitive look at Betty White's life and career. Thanks to exclusive access, you'll see Betty behind the scenes at work, entertaining at home, and interacting with her close friends, one of whom is a 900-pound grizzly bear.
Stream now with WTIU PBS Passport
ANNIE OAKLEY: AMERICAN EXPERIENCE
Tuesday, March 15 at 9pm
Meet the Ohio sharpshooter who won fame and fortune in a man's world for never missing a shot. Born into poverty, the self-taught Oakley picked up a gun at age 15 not to become a superstar, but to save her family from destitution.
MARIE SUIZE PANTALON: ITINERARY OF A PIONEER
Wednesday, March 16 at 1pm
Marie Suize came from France in 1850 during the Gold Rush in California. In a cosmopolitan and essentially masculine universe, she became a successful gold miner and winemaker. She was arrested many times for wearing men's clothes. She decided to appropriate this as part of her identity and claims her nickname: Marie Pantalon. She was forgotten until 2004, then Amador County celebrated its 150th anniversary, and decided to honor the memory of Marie Pantalon by naming her Sesquicentennial Woman of the Year. Historians, researchers, and authors, describe the outstanding and entertaining life of this daughter of both France and California.
POETRY DEAL: A FILM WITH DIANE DI PRIMA
Wednesday, March 16 at 1:30pm
An impressionistic documentary about legendary poet Diane di Prima, the most famous female poet of the Beat Generation, di Prima was named Poet Laureate of San Francisco in 2009. This is the only film exclusively about her and it showcases her fierce, funny, and philosophical essence while featuring many archival and live poetry readings. Di Prima's life and work have been celebrated around the world. When di Prima passed away in October 2020, worldwide memorials and media coverage commemorating her work demonstrated how many lives she touched.
SECRETS OF THE SURFACE: THE MATHEMATICAL VISION OF MARYAM MIRZAKHANI SYAM
Thursday, March 17 at 9pm
This program examines the life and mathematical work of Maryam Mirzakhani, an Iranian immigrant to the United States who became a superstar in her field. In 2014, prior to her untimely death at age 40, she became both the first woman and the first Iranian to be awarded the Fields Medal, the most prestigious award in mathematics, often equated in stature with the Nobel Prize.
Stream now with WTIU PBS Passport
AZADI
Friday, March 18 at 1:30pm
AZADI centers on a workshop where seven refugee women gather for two weeks to learn multimedia skills in an effort to improve their employability. Simultaneously, three of these women open their lives to explain where they came from (and how they arrived), but more importantly how they are embracing their new home and striving to contribute to their communities.
BEYOND THE CANVAS – WOMEN OF WONDER
Friday, March 18 at 10:30pm
Honor five trailblazing women in the arts. The legendary Dolly Parton, Julie Andrews, and other creative females reveal how the road to success wasn't just one they walked, but one they paved themselves.
DARING WOMEN DOCTORS: PHYSICIANS IN THE 19TH CENTURY
Sunday, March 20 at 2pm
Hidden in American history, all women's medical schools began to appear in the mid 19th century long before women had the right to vote or own property. "Daring Women Doctors" highlights the intrepid, pioneering, and diverse women who faced hostility and resistance in their pursuit of medical education. This documentary examines how these women physicians greatly impacted their communities around the United States and internationally. It also demonstrates how women doctors exerted a long-lasting influence on the movement towards women's rights.
MARY BATEMAN CLARK: A WOMAN OF COLOUR AND COURAGE
Sunday, March 20 at 3pm
This program tells the inspiring story of a woman who was a warrior for freedom, focusing on the Indiana Supreme Court case in which Clark fought for her freedom. The 1816 Indiana constitution stated that "There shall be neither slavery nor involuntary servitude in this state." Nevertheless, slavery and involuntary servitude did exist in Indiana after 1816. Led by Governor William Henry Harrison, Hoosiers created subterfuges (principally indenture) that enabled them to maintain what they believed were their property rights. Within this context, Mary Bateman Clark and her lawyers challenged the indenture system, and she won her freedom. This ruling contributed substantially to ending involuntary servitude in Indiana.
LIFE IN SYNCHRO
Sunday, March 20 at 7pm
Synchronized ice skating is a cold and unforgiving world, but to the women and girls who find family here, it's home. Beauty, brutality, grace, and guts; the ice reveals all in this largely overlooked, but electrifying sport. Journey alongside incredible women around the country as they push their teams and themselves beyond the routine and up towards greatness.
DREAMS OF DARAA
Sunday, March 20 at 11pm
If you were robbed of your home, the love of your life, and the future you were promised, how would you continue? From emerging director Reilly Dowd and Emmy award-winning producer and editor Juli Vizza, DREAMS OF DARAA tells the story of 25-year-old Hanadi, a young Syrian mother who refuses to accept the cards she's been dealt. The partly-animated film follows her five-year journey through Syria, Jordan, and Germany in search of justice for her kidnapped husband and safety for her three daughters.
BRING HER HOME
Monday, March 21 at 10pm
BRING HER HOME follows three Indigenous women—an artist, an activist, and a politician as they fight to vindicate and honor their missing and murdered relatives who have fallen victims to a growing epidemic across Indian country. Despite the lasting effects of historical trauma, each woman must search for healing while navigating racist systems that brought about this very crisis.
IN THEIR OWN WORDS – ANGELA MERKEL
Tuesday, March 22 at 10:30pm
Follow Merkel's meteoric rise from pastor's daughter to Time Person of the Year. As a young woman emerging from East Germany, she successfully navigated the male-dominated sphere of German politics to become the first female chancellor of Germany.
Stream now with WTIU PBS Passport
EXPERIMENTAL CURATOR: THE SALLY DIXON STORY
Thursday, March 24 at 9pm
EXPERIMENTAL CURATOR: THE SALLY DIXON STORY is a documentary that delves into the life of experimental film curator Sally Dixon. Her story began in the 1960s when she received a small hand-held movie camera from her father-in-law and started making films, that she later called "Film Poems." Sally is known as a trailblazer in the "film as art" movement and created the film program at The Carnegie Museum of Art in 1970. She founded the program with the purpose of "promoting a greater understanding and appreciation of film as an art form and the filmmaker as an artist." It was one of the first museum-based film programs in the country.
GREAT PERFORMANCES – THE CONDUCTOR
Friday, March 25 at 9pm
Follow Marin Alsop's journey to becoming the first female music director of a major symphony despite repeated rejection by the classical music industry. Features footage with her mentor Leonard Bernstein set to a soundtrack of her performances.
ANTIQUES ROADSHOW RECUT – WOMEN'S WORK, PART 2
Friday, March 25 at 10:30pm
ROADSHOW continues to spotlight lasting contributions from outstanding women in Part Two of this RECUT special! Standout finds include a Madam C.J. Walker beauty book, Jackie Cochran-signed photos and WASP Wings, and a Maria Koogle needlework.
Stream now with WTIU PBS Passport
CARRIE CHAPMAN CATT: WARRIOR FOR WOMEN
Sunday, March 27 at 1:30pm
CARRIE CHAPMAN CATT: WARRIOR FOR WOMEN tells the story of Carrie Chapman Catt, the women's suffrage movement, and the passing and ratification of the 19th amendment. Catt, raised in Charles City, Iowa, devoted most of her life to the expansion of women's rights around the world - and is recognized as one of the key leaders of the American women's suffrage movement.
ANGELS ON HORSEBACK: MIDWIVES IN THE MOUNTAINS
Sunday, March 27 at 7pm
Explore the driving force, trials, and triumphs of the women of the Frontier Nursing Service. Founded in 1925 by Mary Carson Breckinridge, the Frontier Nursing Service brought unprecedented healthcare to rural Appalachia.
Stream now with WTIU PBS Passport
INDEPENDENT LENS – WRITING WITH FIRE
Monday, March 28 at 10pm
Meet the women journalists of India's only all-female news network, who risk everything in a male-dominated world to uncover their country's political inequities.
DISCOVERING NEW YORK SUFFRAGE STORIES
Sunday, March 27 at 11:30pm
The 70-year fight for suffrage began in Central New York, an epicenter of reform. Success depended on many women whose stories are often forgotten. Meet Matilda Joslyn Gage, Paulina Wright Davis, Mary Burnett Talbert, and Hester Whitehurst Jeffrey, diverse suffragists who tirelessly navigated religious intolerance, sexism, politics, and racism as they fought for the vote and women's equality.
VOTES FOR WOMEN: THE HISTORY OF WOMEN'S SUFFRAGE THROUGH SONG
Wednesday, March 30 at 1pm
Learn of the woman's suffrage movement as you listen to Women in Harmony of Portland, Maine sing songs of suffrage and hear of the history of the long battle for the right to vote through narrated segments illustrated by historic archival material.