The coronavirus pandemic led to an abrupt end to in-person classes in March, when IU sent students home.
With in-person classes resuming this fall, both the university and City of Bloomington are planning for thousands of out-of-town students to return. But without a vaccine for COVID-19, the question is how to bring students back safely to protect the campus community and Bloomington residents.
"Generally, we are advising students to not come back until we begin instruction and they are here for classes," says IU spokesperson Chuck Carney.
IU junior Jack Romer never left Bloomington. His family decided it might be safer for him to stay in place than move back home, since his sister's job put her in contact with many people. But he says a lot of his friends are planning on coming back early after being stuck at home all semester.
"I think that we're going to see probably more and more people return to Bloomington," Romer says. "Especially if they're from Chicago, New York, where a lot of people that go to IU are from and where it's probably more of like the epicenters they're talking about."
IU Bloomington had more than 33,000 students enrolled in in-person classes this spring. Nearly 30,000 of them were from outside of Monroe County.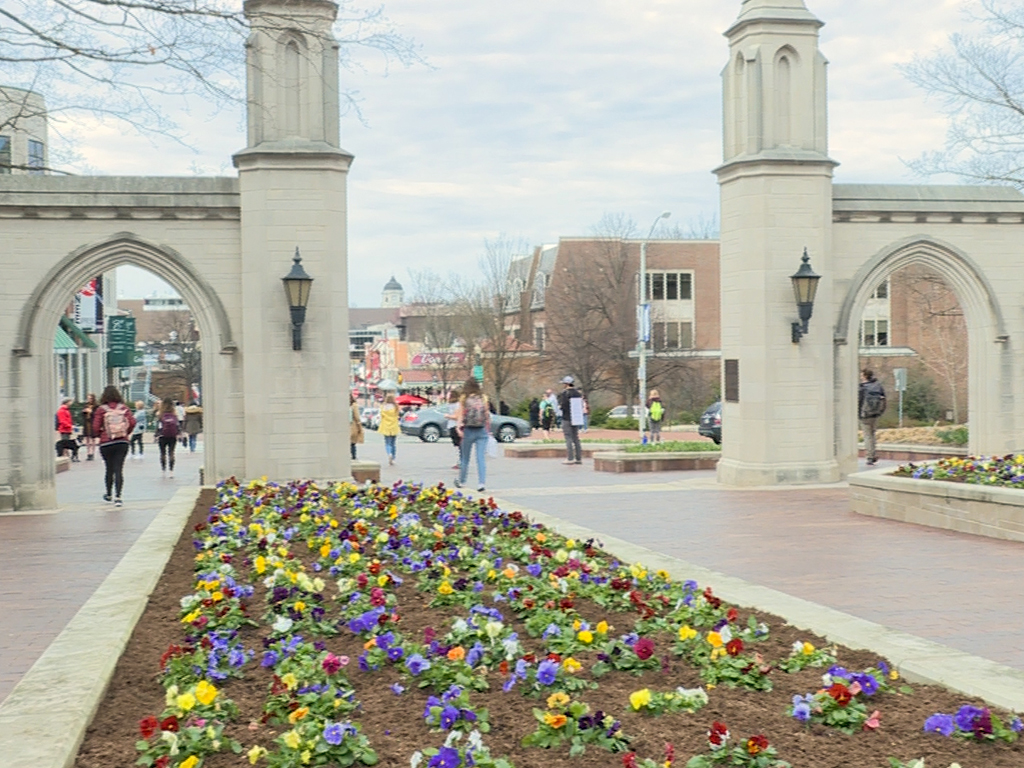 "When you have many thousands of people returning from all over the country, that's gonna be a source of risk and we need to be ready for that," Bloomington Mayor John Hamilton says. "It's kind of like when your weather looks good right now but the radar forecast says there seems to be a big front coming in. You got to be ready for it."
The mayor has spent time speaking with leaders from other cities that are home to Big Ten universities, including Madison, Wisconsin and Champaign-Urbana in Illinois.
"Most of it is sharing things like, 'Well, how do your public safety, police departments work together on these issues?'" Hamilton says. "There's some email exchanges with College Park, Maryland, for example, about, 'How are you thinking about the boundaries of campus and behaviors on one side or the other?'"
Bloomington is encouraging social distancing and recently launched a campaign to encourage people to wear masks, but there's no requirement.
"As students return to campus and our county grows with activity so does the need to practice prevention," Penny Caudill, the Monroe County health administrator, wrote in an email. "Maintaining physical/social distance and wearing face covering when we are in crowds, regardless of the crowd size, needs to continue in order to reduce our [chances] of a surge."
The university is still working on the details but there's been talk of a strict mask-wearing policy and a required class on safe practices.
"IU still is going to have to be calibrating what is the prevalence of the disease in August, in September, in November," Hamilton says. "And that will necessarily drive some of the behavior and decisions that they take."
Another part of IU's plan for the upcoming semester involves removing the fall break and shifting the final stretch of the semester after Nov. 30 to online learning only.  The same will be done with the spring semester, except classes leading up to Feb. 7 will be strictly virtual. IU will also add an online-only winter session from Nov. 30 to Feb. 7.
"And a lot more details are still to come," Carney says. "But simple things such as not having more than 50 in a classroom space allows us – we can space people out enough so that that will provide the safe social distancing."
In addition to physically spreading out students, the university is adjusting the class schedule to create a longer passing period between classes so there won't be as many people walking around campus at the same time. IU's also making all of its residence hall rooms single occupancy.
"Being mindful of new recommendations and requirements, and being supportive of others as we all take precautions is vital," Caudill writes. "There will likely be specific times and instructions for move in, new ways of managing our daily routines, and social gathering will change. Being flexible will be key."
"This is going to be something where we truly are going to be relying on each other," Carney says. "And we're going to be asking students and faculty and staff to make a commitment to each other because that's really how we're going to be able to do this in this forum and move through this particular time."
Still, both city and university officials stress there's only so much that can be done. When it comes down to it, slowing the spread of the coronavirus will be up to individuals to take the proper precautions and ensure everyone's safety this upcoming schoolyear.
For the latest news and resources about COVID-19, bookmark our Coronavirus In Indiana page here.