In Indiana, basketball is a big deal. You can earn bragging rights for having a star player, the most wins or the most championships. Even having the biggest gym is something to brag about.
For years New Castle has been known as the biggest, not just in Indiana, but in the country.
But the most recent count shows that's not correct, Seymour, not New Castle is the new number one.
"Wherever you go, if they know anything about Seymour, they're going to usually ask about a couple of different things," Seymour Athletic Director Kirk Manns says. "They're going to ask about John Mellencamp and they're going to ask about our gymnasium."
High school gyms: By the numbers
Richard Tekulve is a self-proclaimed professional seat counter, armed with a tape measure and with blueprints in hand he's been doing this for over 20 years. He's been in every county across the state counting, measuring and helping rewriting the Indiana High School Basketball record books.
"When we add all of these numbers up, we have 8,228 seats in this gym," Tekulve says.
8,228 Indiana high school basketball fans can fit in the Lloyd E. Scott gymnasium in Seymour.
"That's what I counted March 14, 2015, approximately four and a half years ago. So, they are pretty comparable," Tekulve says. "New Castle doesn't have far to go to catch Seymour. Looks like it's 7,924 and 8,228. We're talking 304 seats, which would tie it, 305 seats and you could keep the sign up at New Castle."
The long-held belief by basketball fans was that New Castle could hold 9,325 fans, which made it the home of the largest gym in the country, not Seymour, but, decades of careful counting changed the landscape of high school gyms and sent Seymour to number one and New Castle to number three and it all had to do with New Castle's temporary seating.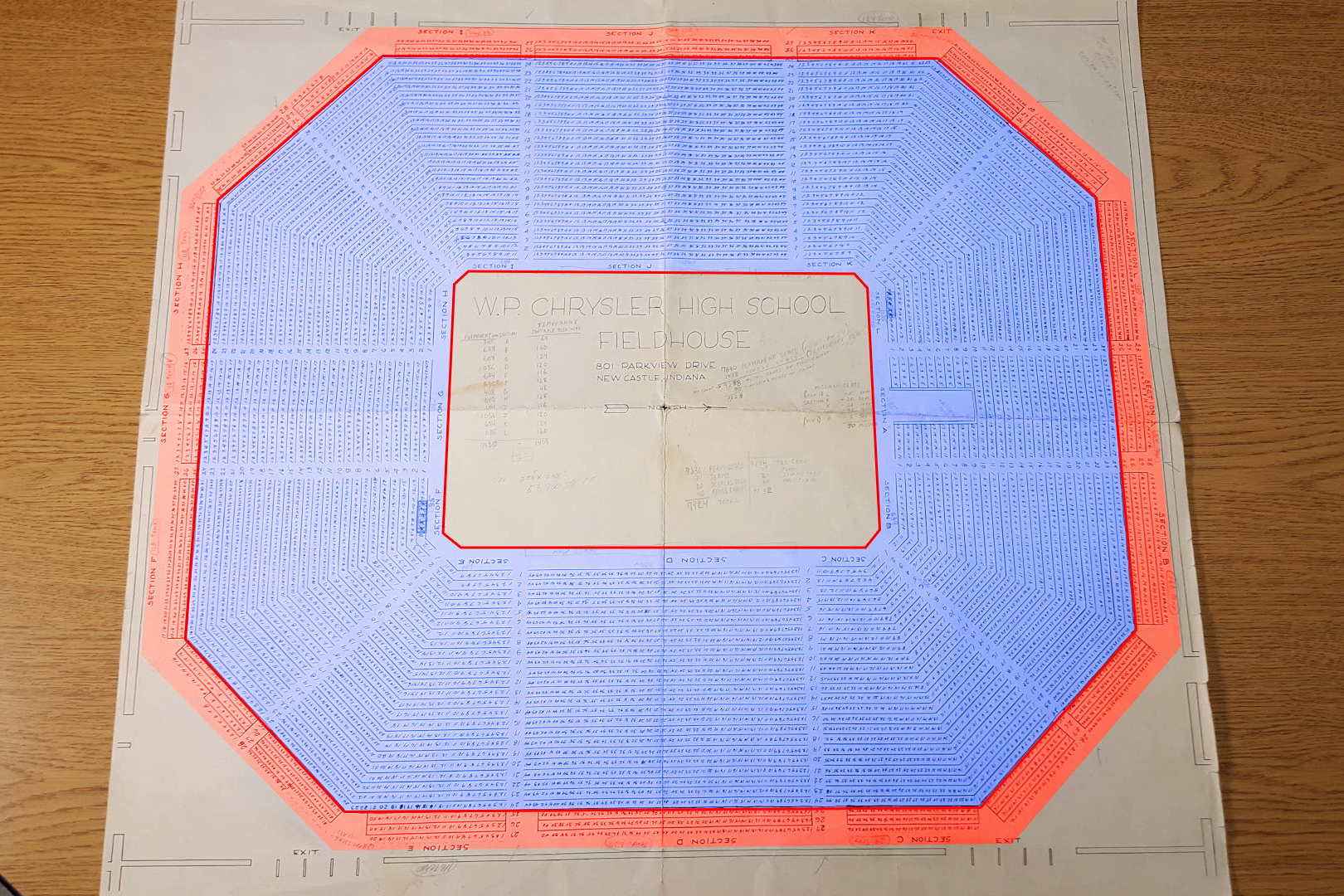 "The red line here on this seating chart is where the permanent seats are at and all of these seats above here are your 1,408 seats that haven't been used in a long time," Tekulve said gesturing to the blueprints of the New Castle Fieldhouse. "And that is where the debate comes in, if you want to call it that word."
Setting the record straight
The Indiana High School Basketball Historical Society is an organization dedicated to documenting and preserving the game's history. That is why Tekulve claim's he spent hour after hour counting, to set the record straight, because ticket sales were New Castle's key to number one, not permanent seating. Former historical society president, John Ockmon, wanted the decades of counting to finally matter and encouraged member Doug Bradley to set the record straight.
"He (Bradley) kept saying, 'New Castle isn't the largest gym anymore in seating capacity.' So I said, 'Let's do something about it, let's go on record," Ockmon said.
Ockmon then called Leigh Evans at Hickoryhusker.com to say he could trust Bradley's work.
No one really said much, until it was put on Facebook.
When the news spread on social media it was met with great fanfare from Seymour fans and disdain from the New Castle faithful.
Hall of fame basketball coach Tom McKinney teaches a class at Indiana University on the history of Indiana High School basketball and explains why big gyms matter.
"Certainly there is a lot of community pride in saying, 'We have the biggest,'" McKinney says. "I think in New Castle, they are probably saying, 'I think we still have the largest high school gymnasium.' but in Seymour they are saying, 'Yeah, but all of yours aren't permanent bleachers.' So there is a source of pride."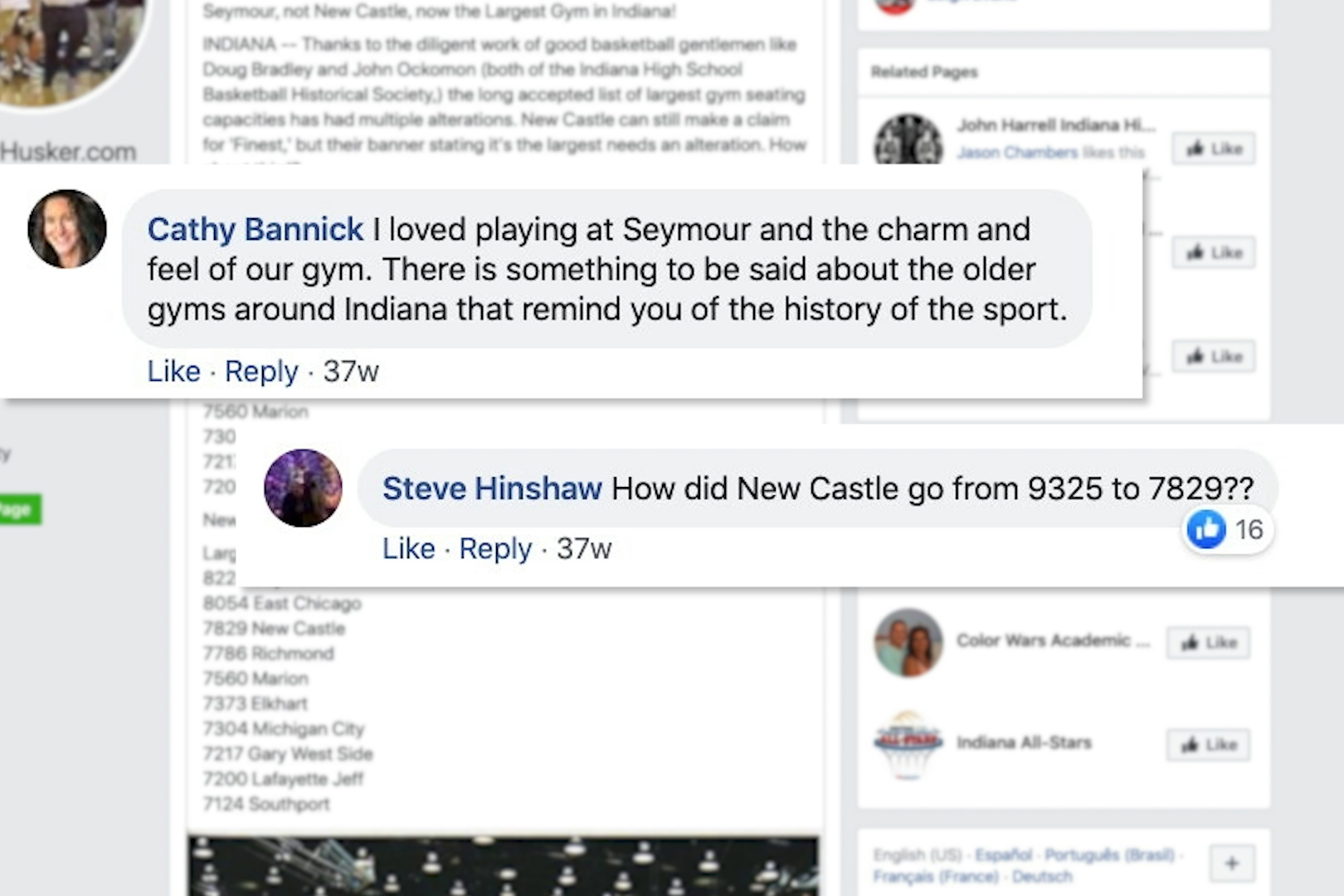 McKinney also sees an advantage in the postseason if a school has a larger gymnasium.
"The IHSAA will award you with a sectional and possibly a sectional and a regional and just the fact that you are playing there all of the time, I think does give you an advantage when it goes to the tournament," McKinney says.
Former Michigan State guard and current Seymour Athletic Director Kirk Manns is in his first season as the boys' basketball coach.
"It's really neat to see somebody that hasn't been in this gym. To walk in and watch their eyes get big and say, 'This is a high school gym?' and I say, 'Yeah, it's a high school gym.' and then I get to tell them about the games we are able to host here and all of the history. So, it's a pretty neat deal. It's a place our community takes a great deal of pride in," Manns says.
Indiana basketball legends on display at Seymour
And radio voice of the Owls, Bud Shippee, has seen a lot of that history first hand from his perch in the corner of the gymnasium.
"We had a game in a regional where Damon Bailey played against Pat Graham," Shippee says. "Both are IU players, both Mr. Basketballs, all three of the Zeller boys played here during the tournament, both Bloomington South player's, Jordie Hulls and John Holmes played here, both regular season and tournament games and then of course you have, Romeo."
J.R. Holmes, the game's winningest coach, has paced a number of sidelines across the state and knows what a trip to Seymour means.
"Usually when you are in the big gyms you are chasing tournament success and going down the trails. Seymour has been good," Holmes says. "We've won a lot of games there and lost some games there in regional finals and different regionals, but, great gym, great facilities. They've got the floor redone, the lighting is good, it's really lighting the place up.
"Obviously if you have Romeo or Damon in those years they filled it up. Last year we were there it wasn't filled up for the regional. You have to have a special player that the town went crazy over like Bedford did Damon and New Albany did Romeo that sold every ticket in the place. Great place, great venue, great atmosphere."
The Anderson High School Wigwam was one of the largest gyms in the state with a purported capacity of 8,996, but, it closed in 2011.
New Castle Community Schools declined to comment on this story.