Brain Rexing has spent his entire life milking cows. Currently, he and his team milk 1,200 of them, but they've never experienced anything quite like this.
The coronavirus is impacting nearly every industry, and agriculture is no exception.  
A Blizzard That Hasn't Ended
"The only time we ever really experience a major influx in the market is when a winter snow storm or a blizzard is going to hit," Rexing, the owner of New Generation Dairy in southwestern Indiana says. "Everybody [usually] rushes to the store to get an extra gallon of milk or two and a loaf of bread. But this blizzard has went on a long time," he says. "Nobody has prepared for this length of an event."
Many stores are limiting the amount of milk people can buy, because grocers can't keep up with demand. Dairy farmers say that's no longer necessary and the problem lies within grocery logistics.
You'd think all of that demand would be good for Rexing's business. However, that's far from the truth.
"We've dumped five semi loads on this farm," Rexing says. "We hope to not have to again. We don't see anything in the near future saying that's going to happen." 
The problem lies in the supply chain. State regulations prohibit farmers from bottling and selling raw milk for human consumption. It has to be pasteurized, and most dairy farmers don't have the equipment to do that. 
Most producers and farmers have contracts to send a specified amount to a processors. However, when a processor isn't accepting milk it leaves farmers with little choice. The supply chain was full with milk that wasn't used by restaurants and schools.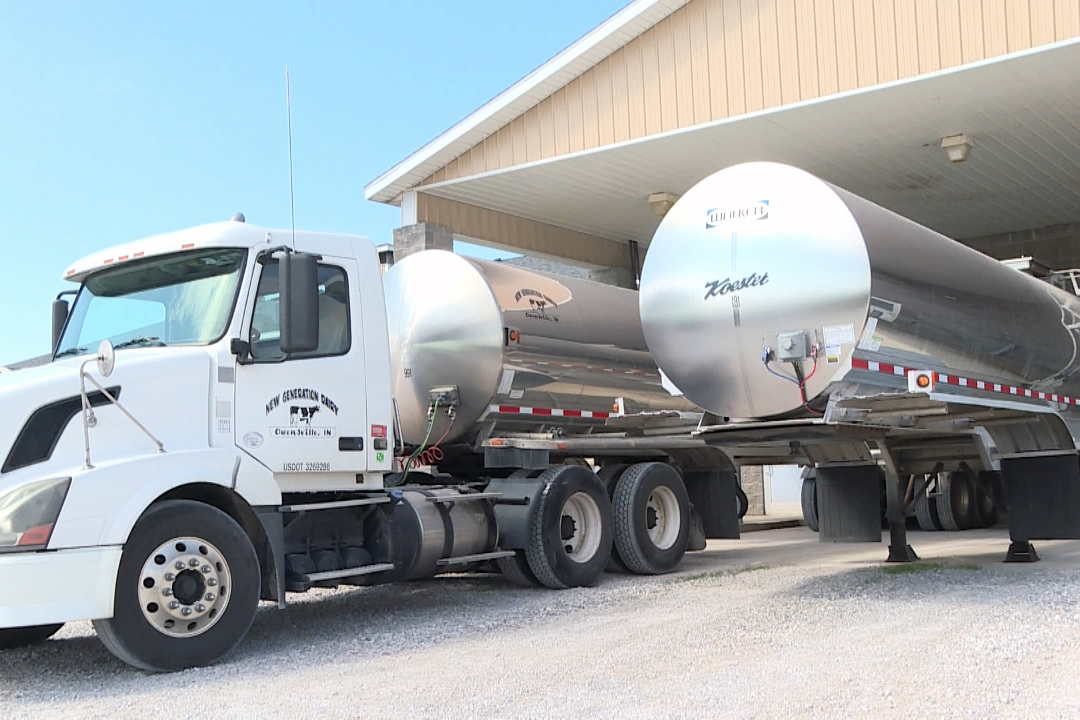 Panic buying forced grocery stores to place limits on quantities purchased and that left processors with an over-supply.  
"The last thing we want to do is see that milk left here," Rexing says, speaking from an office in the dairy he and his wife founded 11 years ago. For the entirety of New Generation's existence, he's never had to dump — that is, until now.
"We want to see it in the stores and see a finished product where people can enjoy consume and nourish their body," he says.
Producers Deal With Financial Consequnces Of Market Changes 
Rexing isn't alone. Dairy farmers across the state are concerned about their finances. After years of economic struggles, the market was finally starting to rebound in 2020, but a global pandemic has sent the industry into another tailspin.  
"It's looking like right now we could be in an oversupply situation in the neighborhood of 10 to 15 percent, and in the dairy industry that's pretty large," says Doug Leman, president of the Indiana Dairy Producers.
According to Leman, changing consumer habits have upended the market.
"We went from looking at a really good year to completely tanking in what was probably a three week period," Leman says.
Farmers are paying more for feed and supplies, prices are down due to uncertainty and many outlets no longer exist. They say there isn't a shortage at all, rather a market misallocation.
Restaurant business is way down and schools across the country have been closed for a month or more.
"Normally at this time of year when schools start closing, we deal with a little bit of an oversupply situation," Leman says.
But this is different: "It came on suddenly it come on when it wasn't expected," he says.
Leman estimates schools account for 7 percent of all milk purchases. While some have continued distributing cartons to students, demand has dipped significantly. 
"A lot of those milk cartons sitting in warehouses that have been just packaged, filled and packed ready get on delivery truck and the schools closed down and they're not needed," he says.
In Face Of Pandemic, Economic Downturn A Ray Of Hope 
Rexing has worked out an agreement with his processing cooperative, Dairy Farmers of America, that allows him to donate some back to the local community. 
His wife and daughter went to a local butcher shop to give a free gallon to the first 100 customers.
"The last thing we want to hear is that somebody couldn't take a gallon of milk home, and we're here sitting with milk on our farm," he says. "To me it's a little bit of a tragedy if somebody couldn't go home with the gallon of milk we produced."
Rexing is optimistic, and believes he'll weather this storm. Finances are challenging throughout the industry, and he worries about his peers. Since 1997 two out of every three Indiana diary farms have closed.
"We were just starting to see our way out of it," Leman says. "Guys were really encouraged going in to 2020. It looked like a year that that were finally going to be able to cover up some of those holes they dug over the past couple of years."
Leman was a dairy farmer himself and can relate to farmers' struggles. He admits he's worried about their mental health.
"It's just really disheartening," he says. 
"We've had a rough go for a few years, and we were getting on top of that," Rexing says acknowledging the challenges. "We were just kind of climbing that mountain and getting back on top and this was a gut punch—it really was." 
However, both believe there are better days to come. In time, Rexing believes this will make everyone stronger, and he still wants to pass New Generation Dairy onto his next generation. 
"We'll make it, we'll survive, we'll get through it," he says. "I want to pass this farm onto the next generation.  What doesn't break you will make you stronger."
For the latest news and resources about COVID-19, bookmark our Coronavirus In Indiana page here.