Most of the cemeteries Hoosiers are familiar with are large and well-established, containing acres of headstones. But there are more than 12,000 cemeteries in Indiana, and you might be surprised by where you'll find some of them.
They can be as small as just one headstone, and many are in hard-to-reach locations. 
As funding for cemetery maintenance dwindles, volunteers are playing an increasingly large role in ensuring historic cemeteries across the state aren't forgotten.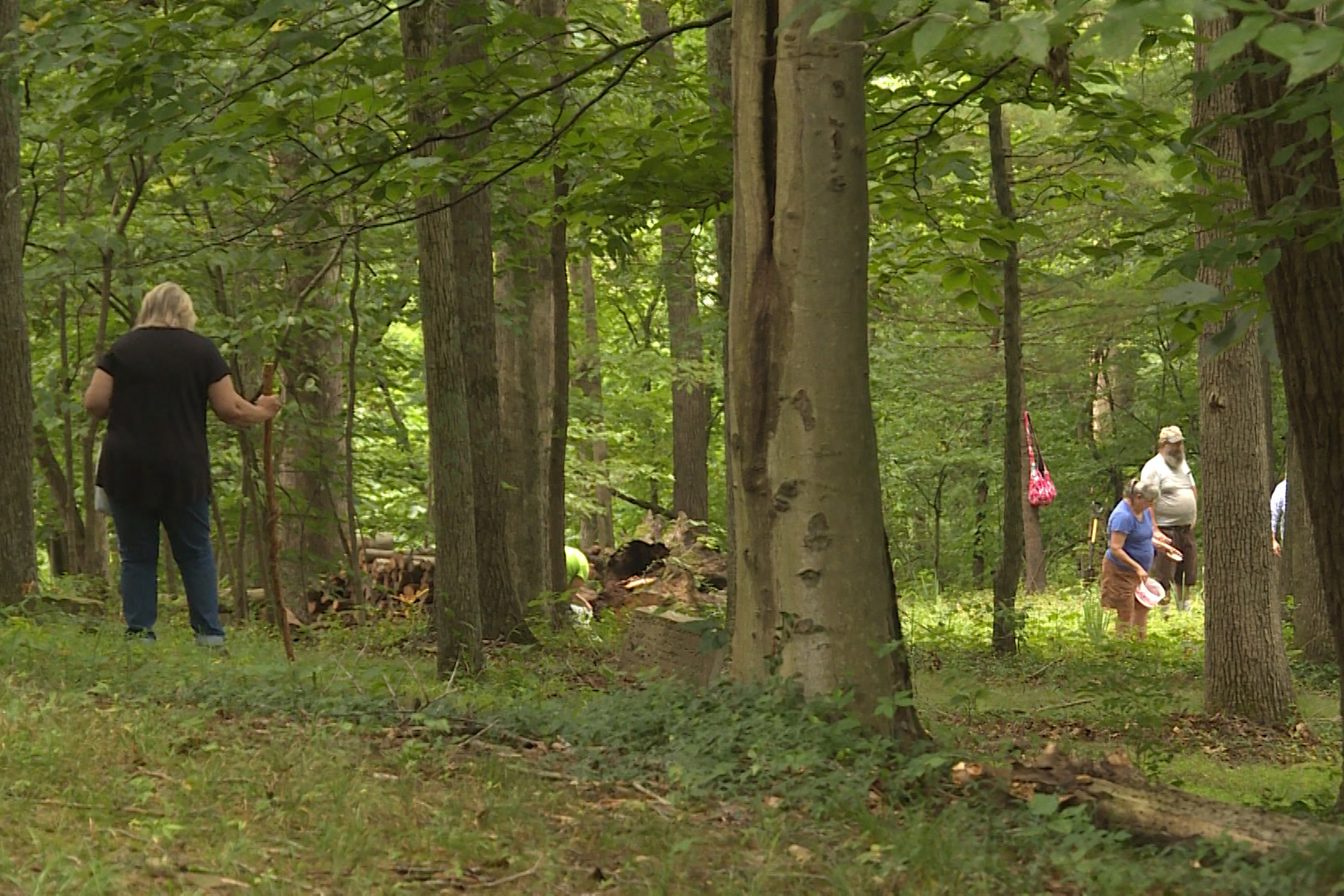 Brown County Group Uses Grants, Donations To Restore Rural Cemeteries
Vivian Wolff is hiking back to a hidden Brown County cemetery near Jackson Branch Road. The route requires crossing a creek or getting permission to walk across private property to reach a sprawling, hilly clearing in the middle of the woods that's dotted with tombstones and monuments. What's now known as Southview Cemetery used to be three separate cemeteries, until their boundaries became indistinguishable. 
"It was referred to as the lost cemetery and it was Oak Hill, Calvin and Southview," Wolff says. "Now the GPS map just refers to it as Southview."
For many years, Southview appeared to be forgotten. Wilderness overtook many of the stones, and shifting land buried others.
Wolff and other volunteers from the Brown County Cemetery Preservation Society are helping unearth the history beneath the soil. The non-profit repairs and restores historic cemeteries, many of them in rural areas of the county. 
"We become attached to the cemeteries and some of our members just simply have a passion for going and trying to work on them and get them restored and get them in better shape," Wolff says.
The group's work includes clearing old trees and overgrown vegetation, cleaning and repairing headstones, and sometimes even unearthing headstones that somehow got buried over the years. They've also gotten headstones for veterans who never had one.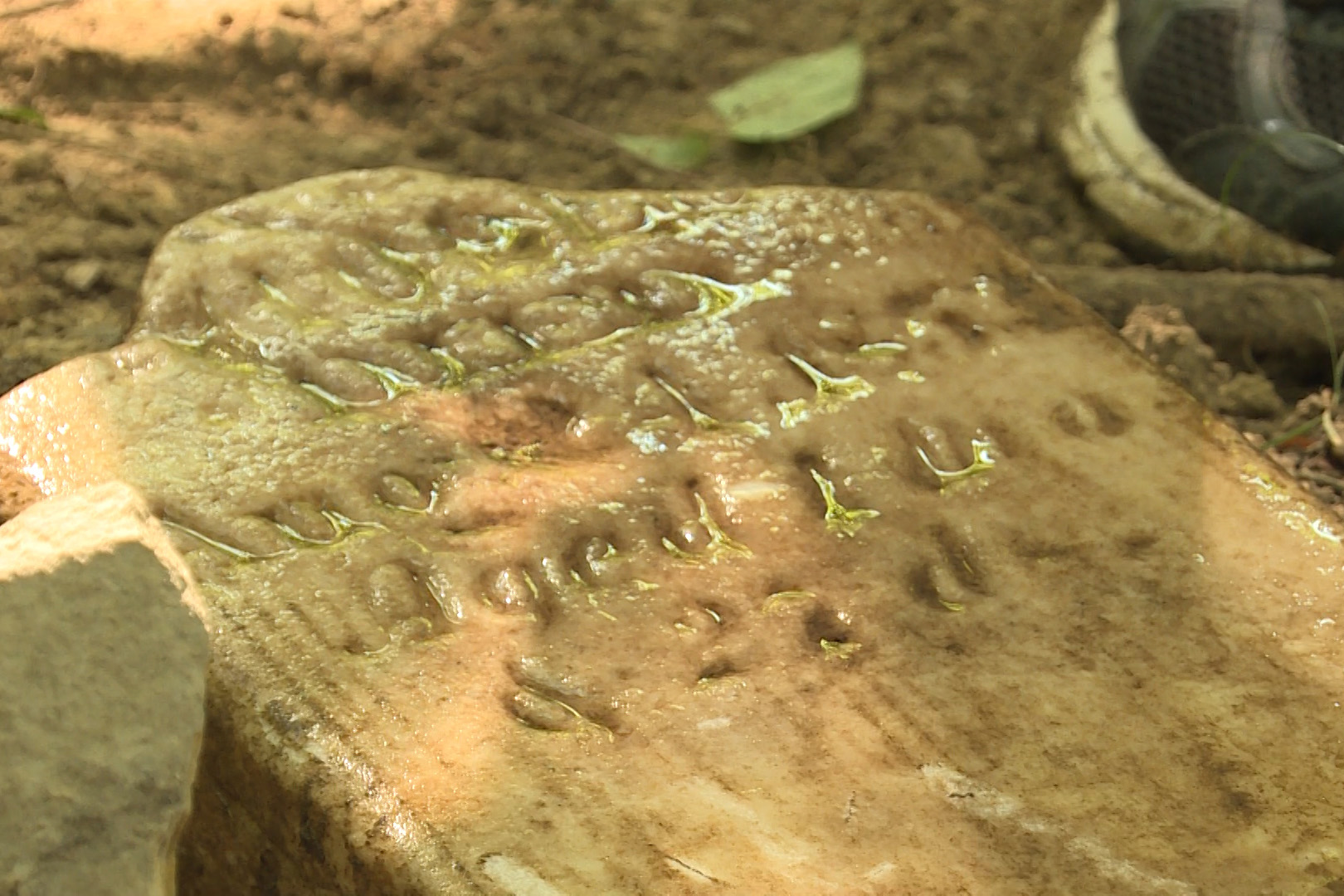 On this day, volunteers dug up parts of a broken headstone that appears to mark the grave of a baby. It says the baby only lived for one month and 27 days. 
"Once you start going to them and you do some research and you find the people and their relatives, then you can find bits and pieces of their stories," Wolff says. "And, for me personally, I've just loved old stories." 
The work is a labor of love for the volunteers. Their projects are financed strictly through donations and grants. 
Who's Responsible For Maintaining Indiana's Cemeteries?
Indiana law stipulates that the owner of a cemetery is responsible for maintaining the property. But that's not always easy to figure out when it comes to cemeteries that date back to the 1800s. 
"Let's say it was a church cemetery, but the church is no longer there. That becomes the responsibility of the township trustees," says Jeannie Regan-Dinius, director of special initiatives for the Department of Natural Resources' Division of Historic Preservation and Archaeology. 
That's the case for one of the oldest cemeteries in the state, near downtown Mooresville. 
But a lot of township trustees have limited funding to work with and can't afford to do much more than mow the grass. 
Some cemeteries may also be on private property that changes hands over the years, like a historic home. Regan-Dinius says it's up to those property owners to maintain the sites, but the law is vague. 
"There's nothing in the law though that says how they have to maintain that cemetery," she says. "There's things they're not allowed to do. They can't build on top of it. But it doesn't say how they have to care for it."
That's why non-profit groups play such a crucial role in cleaning up cemeteries and preventing them from falling into total disrepair. It's the reason the Brown County group got started. 
Restoring Southview is just their latest project. The sprawling nature of the cemetery means they've got a lot of work ahead. And, it's about more than cleaning the place up. They also want to help raise awareness so other people might get involved. 
"These people came before the people that are here, and they created a story," Wolff says. "And, those stories should be told, and they should linger on."
Wolff says they're working with the county to make Southview more accessible to the public.
Maybe then it won't be so easily forgotten again.