2018 has been a year of tragedy and activism in Indiana, and our news team has been there to capture it all.
This year problems at the Department of Child Services erupted into the headlines. For the first time in a century, alcohol sales became legal on Sundays. And Hoosiers across the state took to the streets in protest to make their voices heard. 
Here are the stories that got your attention in 2018:
Kavanaugh Classmate speaks out
The most-clicked news story this year was about a professor at IU who lived on the same dorm floor as Brett Kavanaugh. The Supreme Court Justice (then just a nominee) was in the middle of an investigation and public hearings about allegations he sexually assaulted several women. 
IU Prof. Bill Scheuerman reached out to the FBI to offer any information, but he says the FBI never returned his calls. 
IU opens Title IX investigation into Maurer School professor
The second most-clicked story in 2018 is still developing: Indiana University is investigating a professor at the Maurer School of Law under Title IX. Ian Samuel started just this semester. 
INDOT considers closing portiong of SR-37 during I-69 construction
Hoosiers have been following the construction of I-69 for years - and the announcement that the Indiana Department of Transportation might completely shut down a section of 37 through Martinsville easily made the list of most popular web stories this year. 
Noblesville school shooting
A story we're continuing to cover started back in June: the shooting at a Noblesville middle school that left a student and a teacher with severe injuries. The news that 13-year-old Ella Whistler would remain at Riley Children's Hospital indefinitely spread widely. Happily, Whistler is now home and recovering well. 
Here are some stories you might have missed in 2018:
Hoosier students walk out of school
Students in Indiana joined hundreds of thousands across the country in walking out of school to protest gun violence. 
But some Indiana schools decided on a different approach. In the rural town of Bloomfield, students focused on "walking up" instead of walking out. 
Student leaders here organized a school assembly. It honored the victims of the Parkland shooting, with empty chairs symbolizing the loss.
Listen: high school students talk about political activism on a special episode of Noon Edition
Sunday alcohol sales legalized
State lawmakers and Gov. Eric Holcomb rushed through a bill to legalize the sale of alcohol on Sundays - something that hadn't been possible in Indiana for decades. 
Hoosiers lined up that first Sunday to be part of the historic day. 
Legislators passed several other significant measures during the 2018 session, including legalizing cannabidiol for everyone. 
Braun unseats Donnelly & Republicans sweep elections
The November election brought an unsurprising sweep of Republican candidates in statewide elections. Plus, businessman Mike Braun unseated incumbent Sen. Joe Donnelly (D). Hoosiers had the best voter turnout for a midterm in more than two decades. 
Two popular stories on our website this year focused on the May primary election, when women swept every contested race in Monroe County and women broke the US House candidate record both in Indiana and nationally. 
Get more results and analysis from the 2018 election at indianapublicmedia.org/election
Bloomington's armored vehicle purchase sparks months of protests
Many Bloomington residents said the city's purchase of a new armored vehicle for the police department wasn't transparent enough. 
After several protests, city officials held several public meetings and conducted a survey - and ultimately decided to go ahead with the purchase. 
Attorney General Curtis Hill accused of sexual misconduct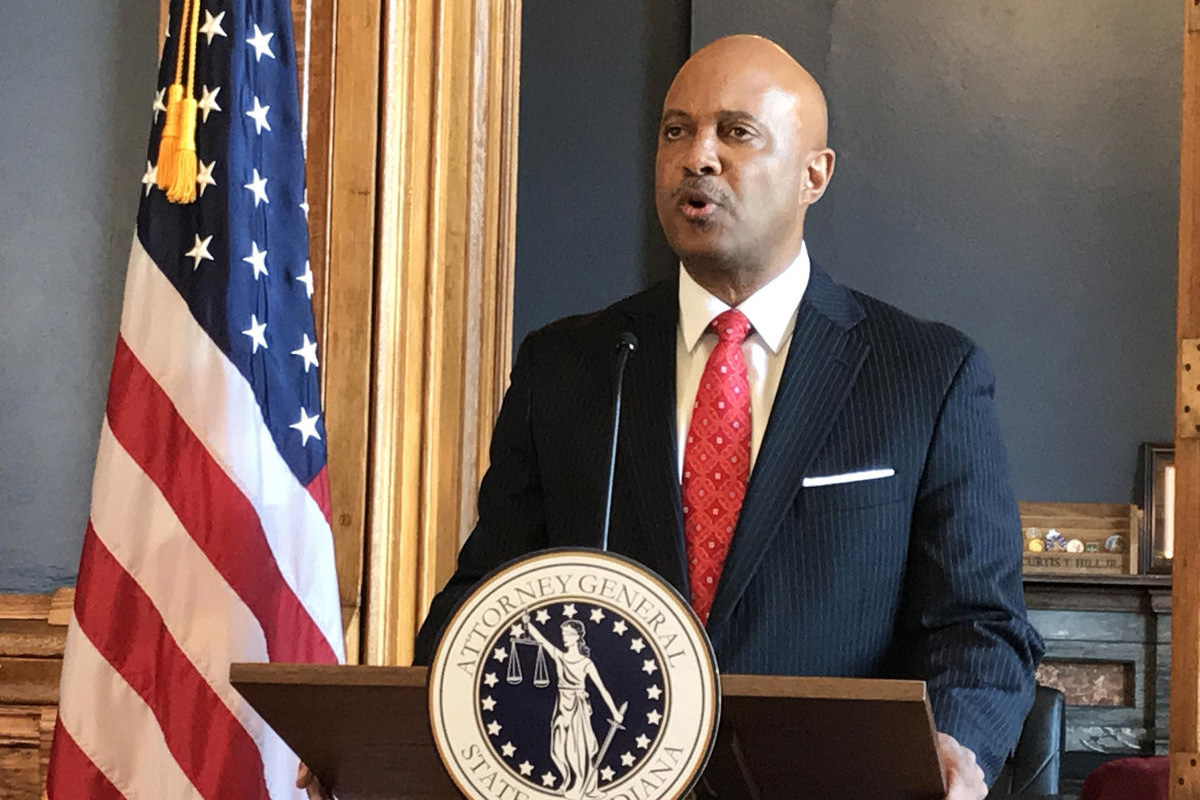 Four women have accused Hill of groping them at an end-of-session party in March. Hill denies the allegations and says he will not resign, despite nearly all state leaders asking him to step down. 
An Inspector General investigation found the allegations credible, but a special prosecutor said there wasn't enough evidence to bring criminal charges. Republican legislative leaders say it's very unlikely the General Assembly will take any steps to remove him from office through impeachment. 
I-69 Section 5 is done...right?
INDOT says the section of I-69 that runs from Bloomington to Martinsville is "substantially complete." After years of financial problems and more than two years behind schedule. Not all commuters agree. 
A Hoosier's fight against civil forfeiture goes all the way to SCOTUS
An Indiana law allows police to seize thousands of dollars worth of property if they think it's involved in a suspected crime – regardless of whether the person who owns it is ever convicted.
The country's highest court is considering a challenge to one aspect of that civil forfeiture law based on man from Marion. 
Bloomington purchases IU Health hospital site
As IU Health makes progress on construction of a new hospital site, the City of Bloomington is making plans for what to do with the old site downtown. Here's what some residents told us they want to see there: anything but luxury student housing. 
From scooters to sports
Electric scooters took the state by storm.
Bloomington leaders sparked outrage by publishing a map with addresses of residents who died of a drug overdose.
The IU Women's basketball team won the national WNIT championship.
Mold problems at two IU dorms caused health problems and sparked a class action lawsuit, and closing those dorms for renovation puts the university in a tight spot for housing everyone next year. 
More than 770 Hoosiers have been diagnosed with hepatitis A this year, as part of a multi-state outbreak of the highly contagious liver disease. 
What did we miss?
What are some of the other major news stories in Indiana from this year? 
Let us know at news@indianapublicmedia.org or Tweet us at @WFIUNews and @WTIUNews.