Pamela Davidson loves a lot that Indiana University brings to Bloomington.
"So much," she says. "Lectures, music, people I've met in town who are associated with the campus, the beauty of the campus, the excellence of the faculty…those students bring vibrancy, they volunteer in town, we are all the beneficiary of so, so much."
But she's bothered about something. IU covers nearly three square miles inside the city of Bloomington and doesn't pay property taxes on it.
"We all know IU is tax-exempt, so there's no changing that," she says. "But we know there's no such thing as a free lunch, so I have long been interested in how Indiana University contributes to the cost of their being here. I see a panoply of issues all about can we sit down at the table with them and say, 'Look, there are costs to all this activity, we expect some kind of user fee contribution.'"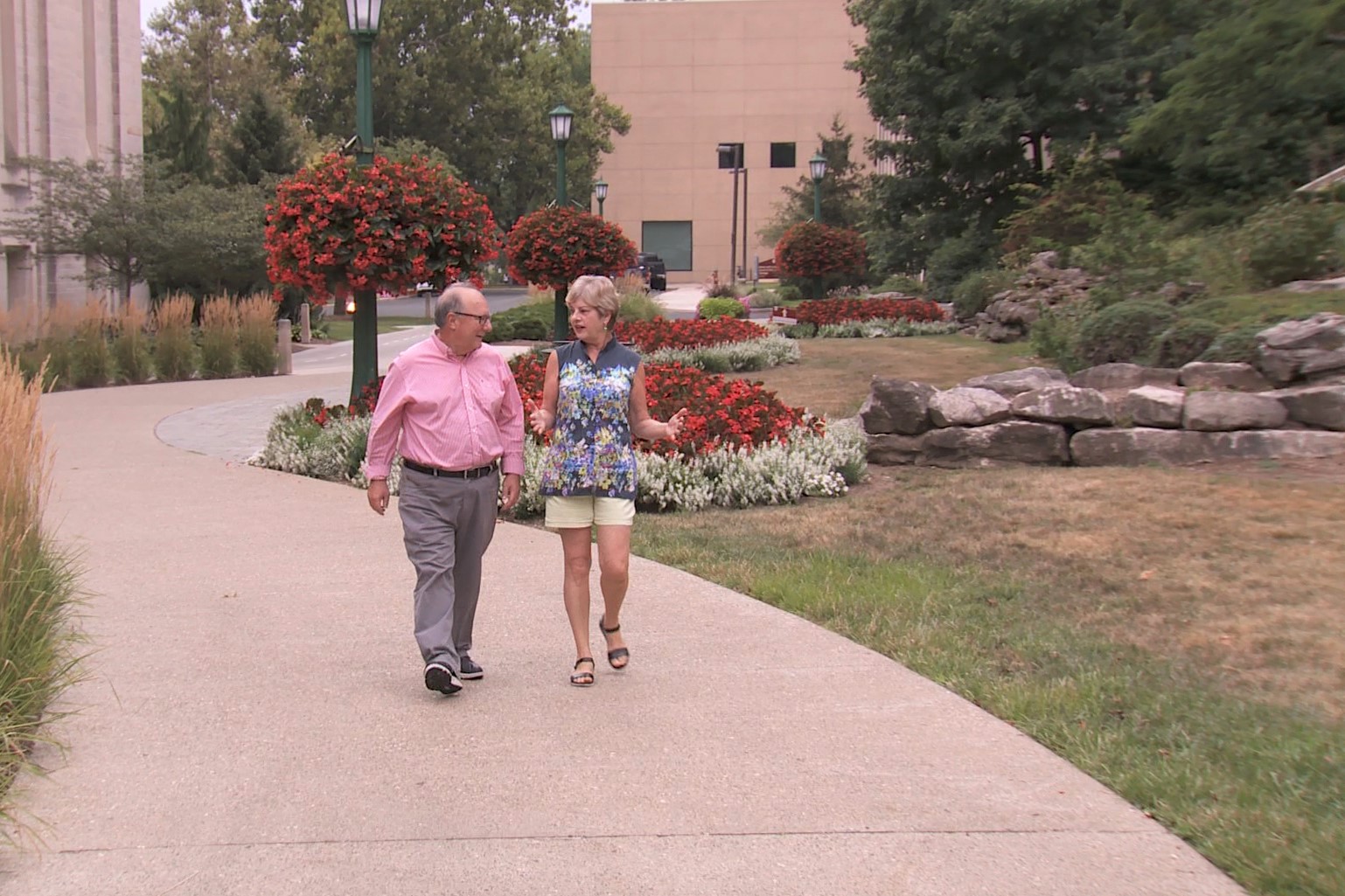 This is an issue discussed in many cities that are home to major universities. It's so common that Congress even got into the act a few years ago, focusing on private institutions.
House and Senate committees asked 56 private universities with billion-dollar-plus endowments to report how much money they were giving their cities for services as payments in lieu of taxes, called PILOTS.
Results varied wildly.
Harvard reported paying Cambridge $5.9 million a year for 25 million square feet of property, while Duke reported paying Durham $750,000 for 14.6 million square feet of property. Columbia paid $7,500 and NYU paid nothing to New York City for their combined 27 million square feet of property.
IU owns about 2,000 acres of Bloomington, roughly 9 million square feet of surface property, although about half the acreage is not developable at this time.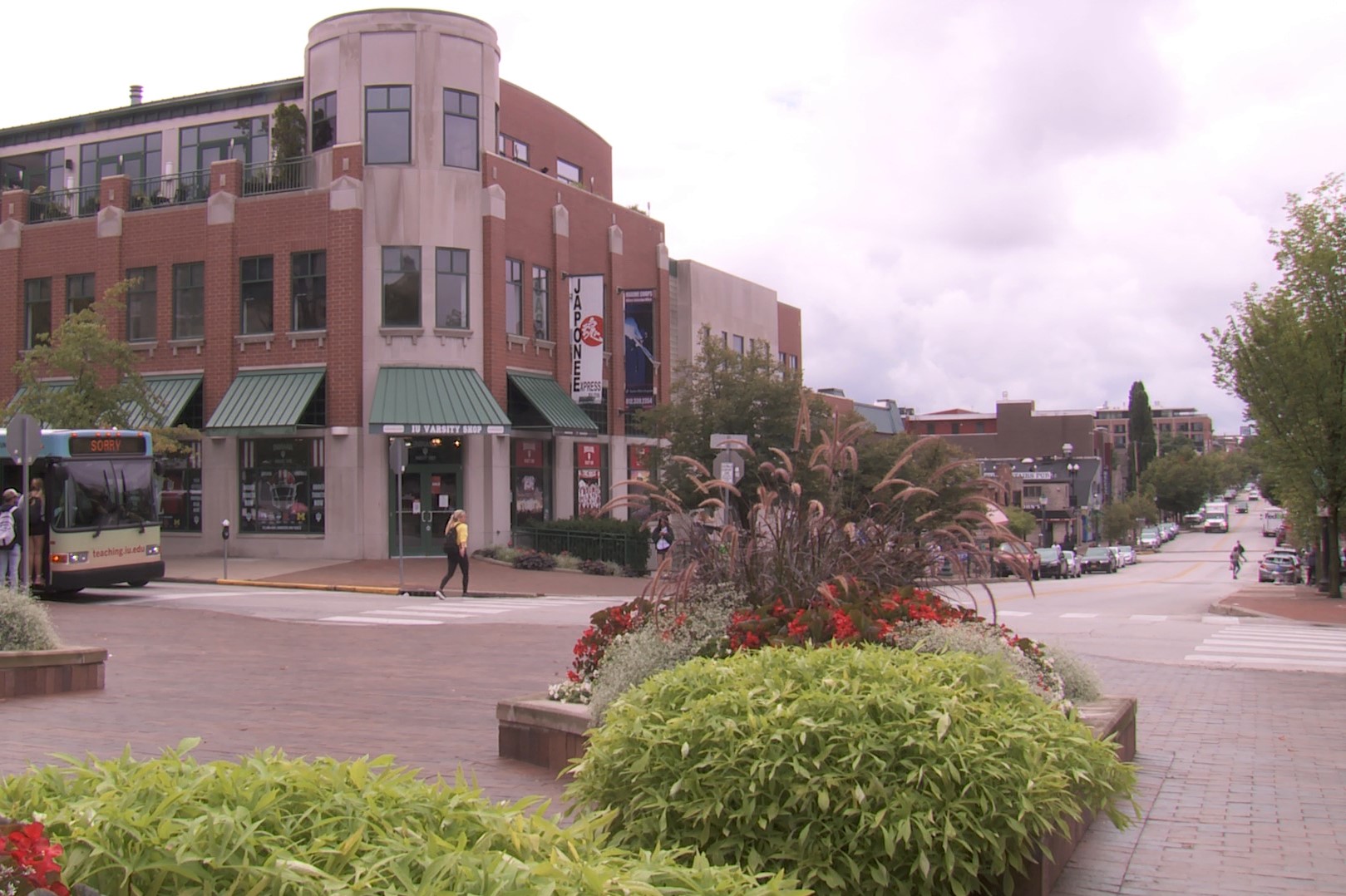 In Bloomington, representatives from both IU and the city say the relationship between the two is excellent and that many people work to make sure the two entities coexist productively.
"The relationship between the university and the city of Bloomington is quite strong," says Tom Morrison, vice president of capital planning and facilities for IU. He sees IU as largely self-sufficient and a good neighbor to Bloomington.
"Essentially, we're a city that's surrounded by another city," he says. "And most of our public services you might find in a city we provide ourselves."
Morrison says he and other university officials talk regularly with city counterparts. A monthly meeting includes about five leaders from each side. In addition, Morrison meets monthly and talks weekly with Deputy Mayor Mick Renneisen.
Renneisen says IU does make a direct payment for a service the university doesn't provide for itself – fire protection, specifically for one fire station on Woodlawn Avenue.
"IU provides the land and the facility and pays for the firefighters and any improvements to the facility on an annual basis," Renneisen says. "That's about $1.3 million per year and that escalates based on what fire union costs are."
Morrison says that's a PILOT the university has entered into voluntarily.
It also merits note that IU paid the construction cost of extending Woodlawn from 10th Street to 17th Street. That connects the core academic campus to IU's athletics complex. It also makes the fire station there more available to a wider area of the city.
A second financial agreement involves fire equipment. IU has most of the tall buildings in Bloomington, so the university pays most of the cost to buy a ladder truck about every 10 years. The price last year for a 100-foot ladder truck was $1.2 million and the university is covering $1 million of that in three annual payments.
IU has its own police department, as does the City of Bloomington. IU's direct payments to Bloomington come for special events that require extra officers. IU pays overtime for officers who work during football weekends, Little 500 and other events that call for extra police presence.
IU also pays for enhancement projects on some city streets, such as widening and adding traffic islands on Jordan Avenue near the Jacobs School of Music and the Musical Arts Center.
In addition, Morrison notes thousands of university employees are taxpayers who contribute to the tax base. Students are taxpayers as well, he says, noting particularly that those who live off-campus are paying rent to property owners who transform some of that payment to property taxes. In that context, students should be afforded the rights and privileges of all taxpayers in areas such as access to health care, ambulance service, streets, sidewalks and more.
IU officials point out economic benefits go way beyond direct payments to the city.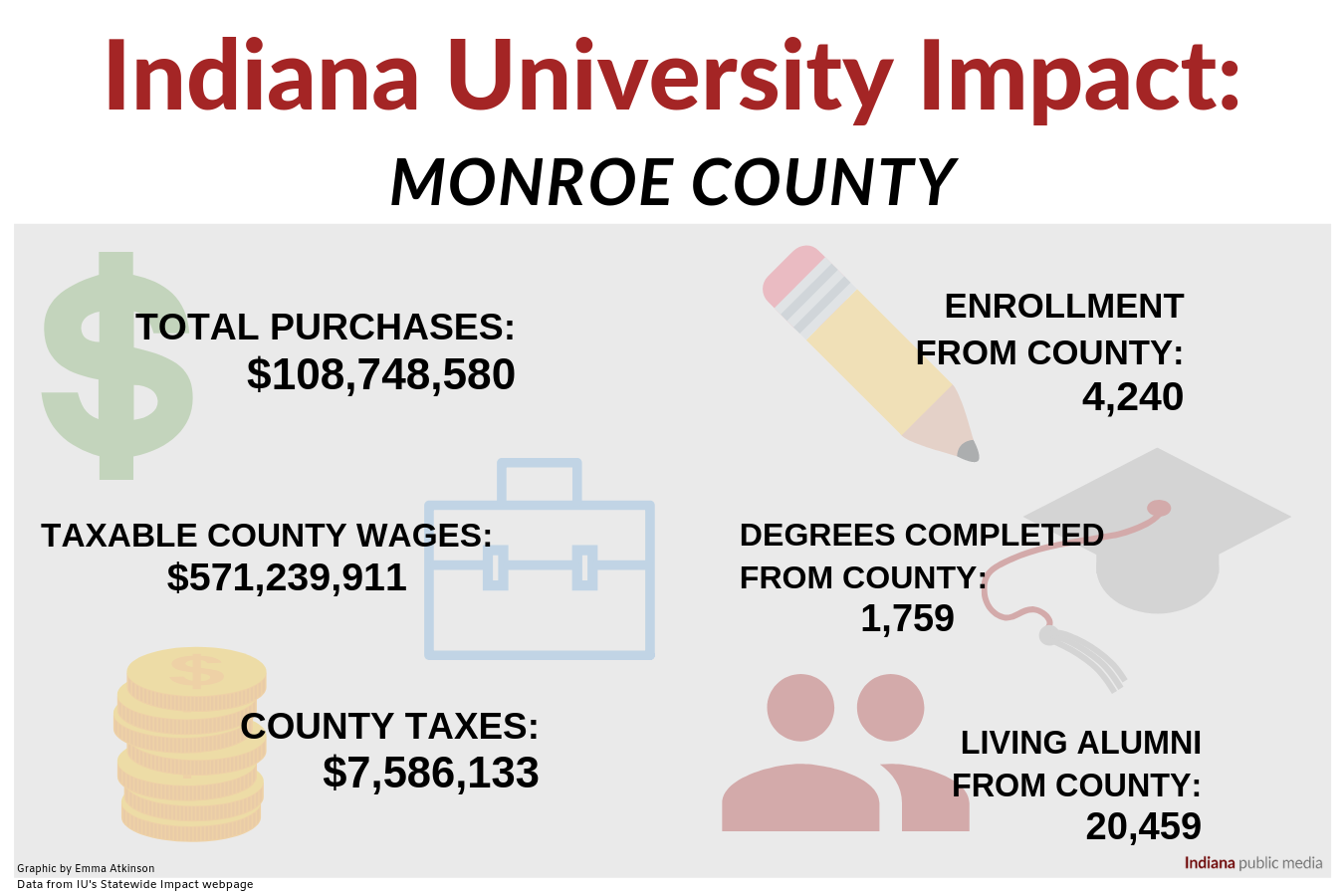 Estimates made for 2018 show IU pays more than $571 million in wages subject to the county option income tax, which means about $7.6 million in tax paid to local governments – Bloomington, Monroe County, Ellettsville and Stinesville. Renneisen said the city receives 49 percent of that, which would mean university salaries fund city government services at over $3.5 million a year.
Transportation is another area of cooperation. University buses have 3 million riders a year, city buses have 3.5 million riders a year, and IU pays the city to maintain its buses. Morrison says the millions of student riders help Bloomington Transit attract more federal funding, which is based on ridership.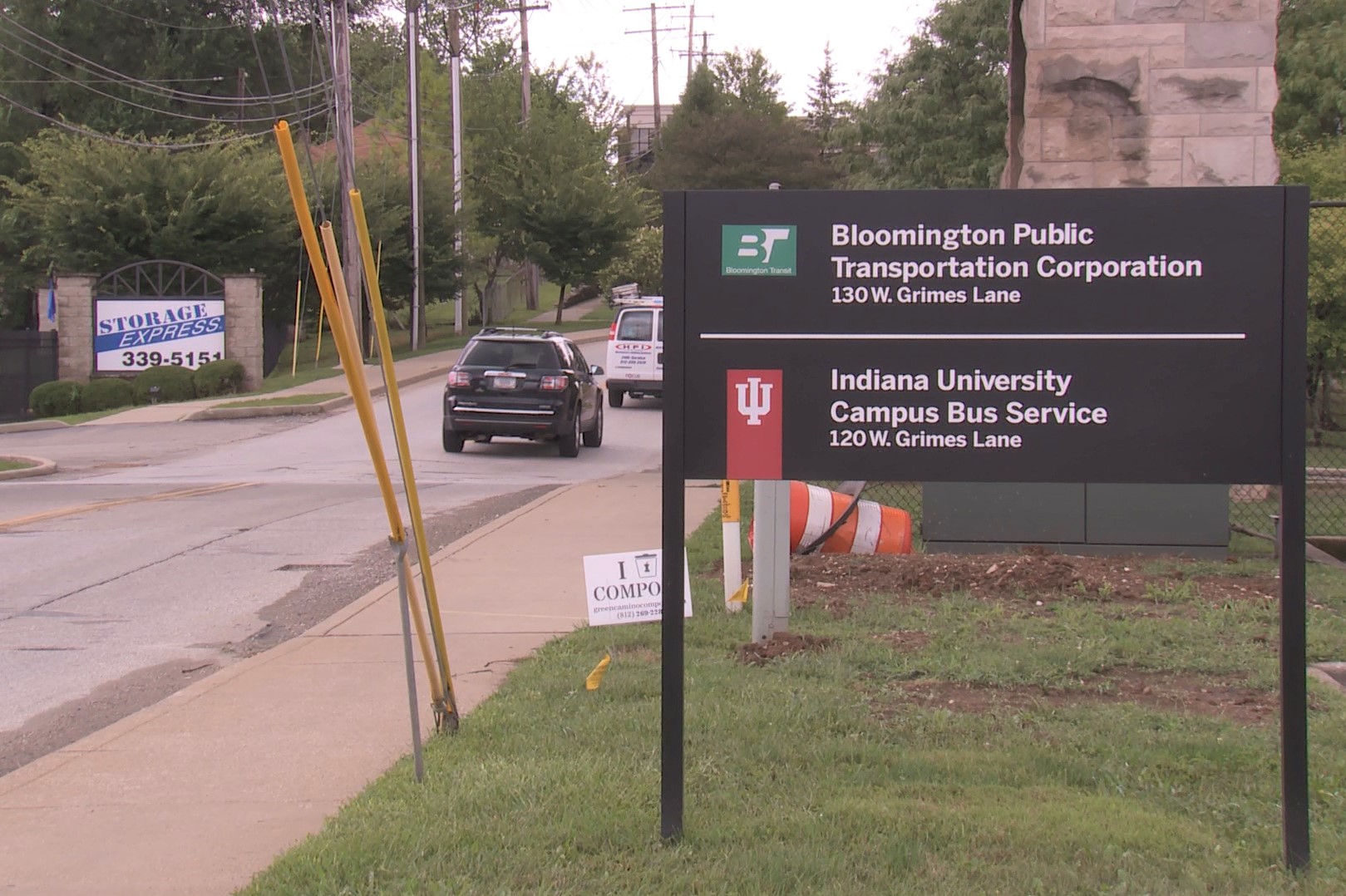 IU contributes in many other ways, according to economic impact reports done by the university. IU purchases more than $100 million worth of goods and services annually in Monroe. The IU Bloomington Impact Report done in 2008 says members of the IU Bloomington community that year made more than $4 million in charitable contributions to Bloomington organizations. Contributions through service learning and volunteerism tops $10 million a year, and those amounts have risen in the last decade.
But Morrison concedes that tensions persist.
"There are always cultural issues, issues of public safety," he says. "That's where we are one community."
Tens of thousands of 18-to-23-year-old students drink a lot of alcohol, make a lot of noise, damage a lot of property and otherwise engage in behaviors irksome to permanent residents.
Bloomington has company in dealing with these issues. Renneisen just returned from a meeting of Big Ten City Managers and he says this town-gown issue around payments and services was a common theme. Other common issues were affordable housing, sustainability practices, impact of student housing on neighborhoods and transportation/mobility.
Land use issues can be sticky, because IU is governed by the state of Indiana and is not bound by city zoning laws. But history gives Bloomington officials comfort, Renneisen says.
"When the university wants to build something we really don't worry too much," he says. "Their standards are pretty high. They probably exceed anything we would put in our building code."
Beyond these tensions, major universities make cities much more interesting and livable, say everyone interviewed for this story. IU also drives the Bloomington economy.
"The benefit of having an institution like Indiana University in our community is it's a tourist attraction," Renneisen says. "So people who come here for arts or culture or sports or continuing education when they're here they're spending money on all kinds of things."
Morrison says just consider what would happen if IU were in the private sector.
"We often joke within a university, imagine if a university could pick itself up like a corporate headquarters and move to a different community, what would the bidding be like?" he says. "To have a university in your home town? And of course we can't and we're not, but in today's world of economic development, a university is a crown jewel in any community that has one."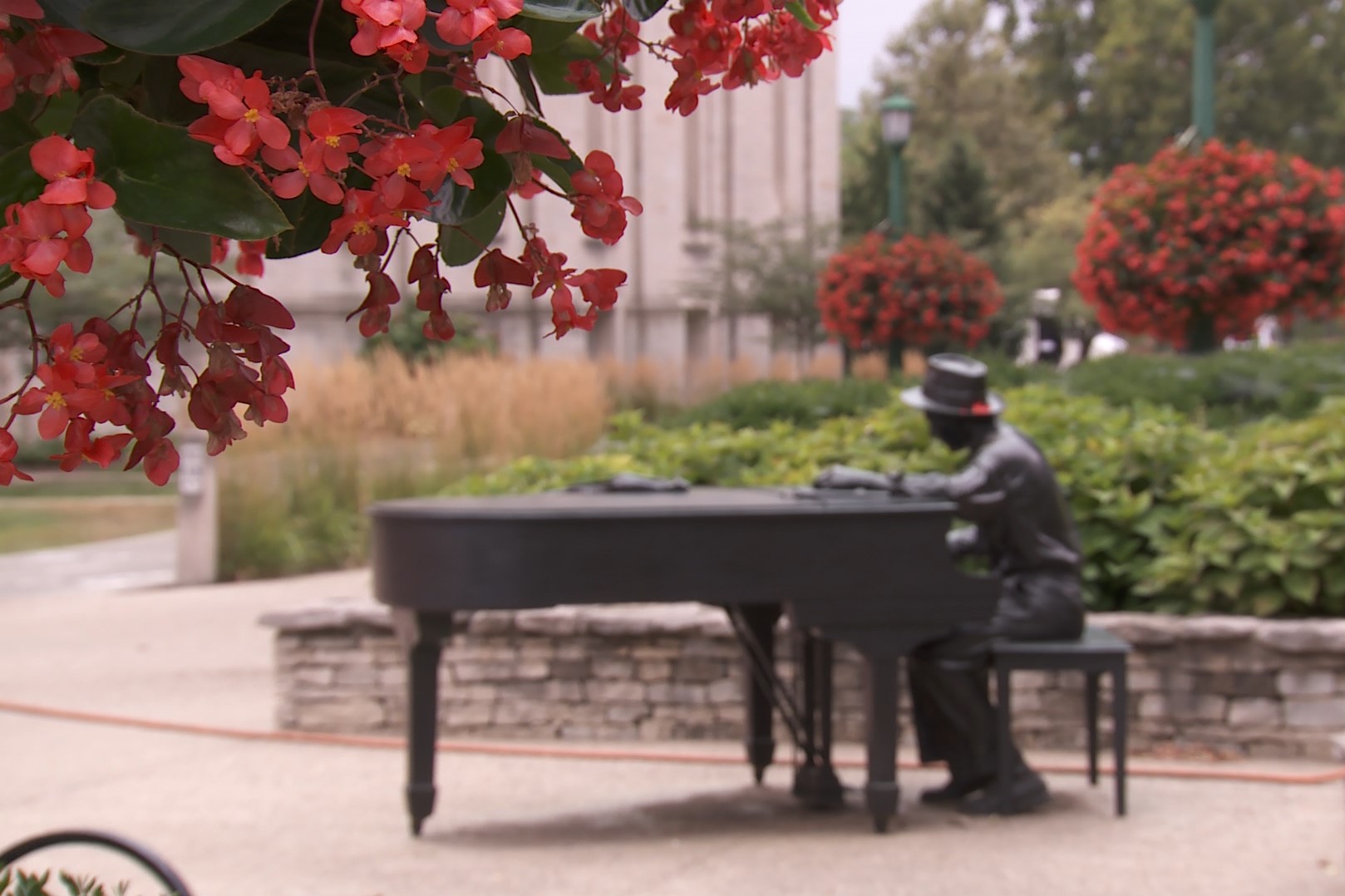 Morrison adds that he believes IU and Bloomington have managed their unique relationship very positively.
"I think we are that very special college town and I think Bloomington embraces itself as a major college town and not all communities do that," he says. "There are other communities that have universities that have strained relationships and I'm proud to say that we don't here."
Still, Morrison knows questions will continue about IU's tax-free status.
"Somebody looks at a balance sheet and says that's an awful lot of land that the university has that's not taxable," he says. "I would contend that long ago state and federal governments figured out that certain things were of more benefit to society than they were a cost and higher education is one of those things.
"In terms of dollars and cents, it's not just about the appraised value of the property, it's about financially looking at what all those people bring." 
Our community is changing, from closing businesses to traffic and road construction to affordable housing, and we see the impact of these changes all around us.
We want to know: What questions do you have about how the Bloomington of tomorrow will impact your work, your personal life, your community and your future?
Here's how it works: You submit a question you'd like us to explore about how Bloomington has changed over the past few decades, what you want to see for the city in the future and how ties with IU continue to shape the community.  
So: What do you wonder about how Bloomington is changing and how it impacts your life?
Interested in an ongoing conversation how Bloomington is changing? Join our Facebook group!