Who is impacted?
More than just farmers are impacted. Anyone who consumes animal or grain products are likely to see higher prices this fall as producers dip into reserves. Industries who serve farmers like grain elevators and seed providers are also working to adjust the crops or seed varieties farmers are using.  
The impact from federal relief isn't likely to come before this fall. That's despite politicians like U.S. Senator Todd Young (R-IN) urging the United States Department of Agriculture to quickly outline the procedures farmers should follow to apply for federal aid.
How much land is left unplanted?
While the most recent estimates show nearly all Indiana corn and three quarters of soybeans have been planted, there is still uncertainty those numbers are correct. Jim Benham is the President of the Indiana State Farmers Union. He says estimates might not be telling a true story of the progress farmers have made this year.  
"I think we've got less crop in the ground than what's being reported right now," Benham said last week. "In my area—now I can't speak for the whole state—in my area, I think we're about 50 percent done."
The total number of unplanted acres is still unknown because fields that were planted before heavy rainfall last week might need to be replanted, others will be a total loss. A number of fields are still under water which means farmers will have to survey damage after flooding recedes.
What is the impact on the food supply?
A food shortage is extremely unlikely.
"We actually have a significant inventory built up now, so I don't think we need to worry about any kind of food shortage," Purdue Extension Educator Bob Bruner says. "I think that right now, we just need to worry about how do we support our farmers because right now is a tough time for them."
However, there's a high probability that food prices and the prices of other products that rely on corn and soybeans—like beef and dairy—will increase.
If grain prices are increasing, why are farmers worried about their finances?
Mother Nature is driving up the price farmers will likely get for corn and soybeans – but that's not necessarily a good thing.
Recent wet weather is preventing farmers from planting their fields, which could limit how many acres they harvest in the fall. Yields on those acres will likely be less than what they were last year and in past years.
Farmers usually only make money on the amount of grain they produce and sell. Prices have increased because projected yields are less than they have been in past years. However, most observers agree the cause of decreased prices have led to a decrease in supply.
Jim Mintert is the Director at Purdue's Center for Commercial Agriculture. He believes there aren't many farmers who are not looking at the skies.
"I can't emphasize enough that every farmer in Indiana is looking at the weather forecast and trying to ascertain what's likely to happen and what's the impact going to be on the land that I farm," he says.
While the lower supply of crops could push prices higher per bushel, Mintert says many farmers likely won't get the returns they're used to getting.
How are tariffs involved?
Tariffs have impacted prices and farmer's profits by limiting the export market. In years like 2018's harvest, when yields are strong the surplus of grain on the market pushes the cost lower. Farmers have to produce more in order to make a profit. Last year's harvest produced a surplus and grain elevators were running out of space to store grain farmers dropped off.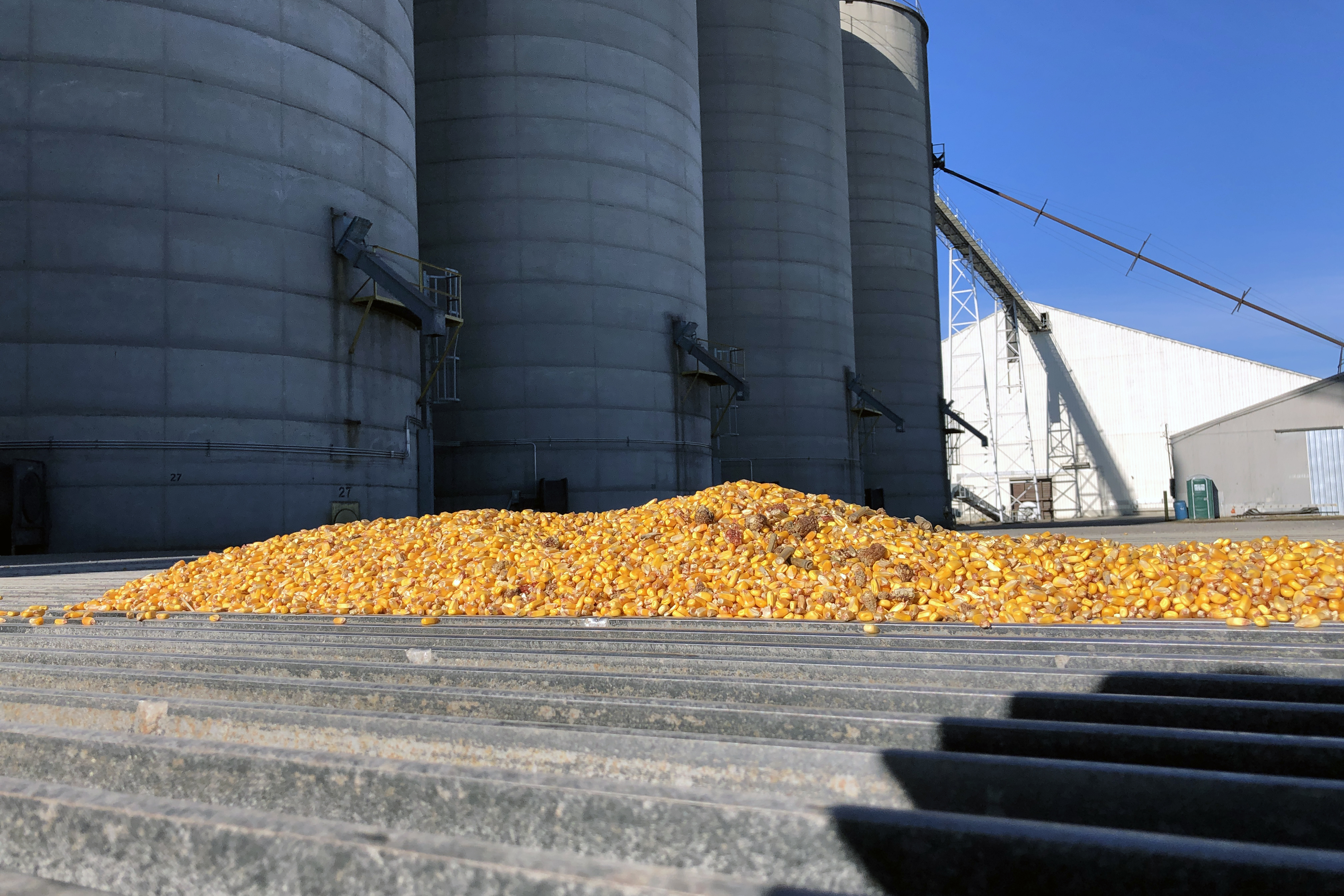 The projected decline in production could help farmers who have limited flood damages, but could be extremely detrimental to those who are already hurting financially.
What's next?
Depending on the location and the specific type of crop planted, the deadlines for when an individual farmer can plant and still receive crop insurance coverage is variable. Some have decided not to plant.
Bob White is the Director of National Government Relations at the Indiana Farm Bureau. He says the USDA won't provide tariff relief payments to farmers who also take insurance money. 
There are other ways the federal government could funnel relief to farmers, but it's unclear how much or how soon that could happen. 
"There are several points of no return, and each one has a different set of assumptions to it," White says. "Our farmers out there are struggling with trying to figure out what to do."
Matt Johnson farms about 2,500 acres in four northern Indiana counties.  
He will leave 900 acres of what would have been popcorn empty.
"We've got nothing period in the ground other than the wheat that was planted last fall," he said earlier this month. "We are still almost too wet to hardly do anything but spray at this point."
While he plans to switch to other crops in some fields, Johnson says it's not always economical to keep planting.
He says about 85 percent of his losses will be covered on fields he doesn't plant.
Farmers purchase an amount of protection and then decide whether or not to take that percent of coverage. It's like other types of insurance, but rarely covers all losses. Typical coverage amounts range from 60 to 70 percent.  
Crop insurance providers like Aaron Morris, a market manager at Rabo Agrifinance, say they've spoken with nearly all of their customers to help them figure out the most economical decision.
"I've joked I've talked to my customers more in the last three weeks than I have in the last three years," he says. "We've been conversing a lot lately."
Farmers not planting a crop will not be eligible for federal dollars from USDA.
Have A Question You Want Answered?
WFIU/WTIU News wants to explore the questions you have about Indiana, and you could even be part of the process as we find the answers.
What about the Hoosier State, it's culture, or people do you want us to explore? Go to indianapublicmedia.org/inquireindiana and let us know.