For most Hoosier farmers, the harvest season is over. Many now face a complicated question: should they try to sell their crop now? Or hang onto it and hope prices increase?
Mike Brocksmith raises about 1,500 acres on his family farm in Knox County.
About half of that is beans, and right now, most of them are sitting in storage while Brocksmith debates when to sell.
Across the country soybean farmers are hurting; a record setting crop paired with eroding opportunities to export in China have dropped prices about $2 per bushel. 
"$2 per bushel is huge," Brocksmith says. "Basically it took the profitability out of soybeans this year even if you had a good crop. And if you had a short crop, it could've really hurt."
Fluctuation is nothing new. Corn and soybeans prices usually decrease right after harvest because the supply is so plentiful, but the market usually rebounds. A lot of farmers hang onto their crop while they wait for that to happen.
But this year, that increase might not come.
Chris Hurt is a professor of agricultural economics at Purdue University. He spoke before a number of farmers last week at the Indiana Farm and Technology Expo in Indianapolis. He says projections of a strong harvest in South America paired with current prices could push some farmers to sell.
Having such a large storage stock and current market prices around $9 per bushel would still push the majority of famers into the red. However, a subsidy on the way from the federal government's Market Facilitation Program may help farmers break even.
"There's a lot of bushels [in storage]," Tyner says. "I'm sure many of you had the same sort of situation."
Bob White is the Director of National Government Relations for the Indiana Farm Bureau. He believes more farmers will hang onto their grain in hopes of better prices.
"Typically, the basis narrows, the price goes up a little bit, and that's when farmers decide to let go of the grain," he says. 
White called China's recent purchase of American grain "a drop in the bucket." He says it was signficantly less than in years past and only helped them avoid additional tariffs.
Storage Space Ripe With Challenges
Brocksmith stores his grain at his own farm. Others turn to grain elevators for storage while they watch the market.
Kokomo Grain is one the largest elevators in the country. It operates locations across Indiana as well as in Tennessee. This year space is at a premium.
"There were some logistics challenges in the industry," Michael Silver, Manger of Grain Originations and Risk Services says. "There was a larger than normal carry-in—in other words—beginning stocks in storage at elevators. So, space was a challenge in anticipation of large crops. Our company went to extraordinary means."
Kokomo Grain and a number of farmers are doing everything in their power to store this year's crop. Barns that usually house equipment during the winter months are now holding soy beans and some are using Ag Bags to temporarily store grain for a few months.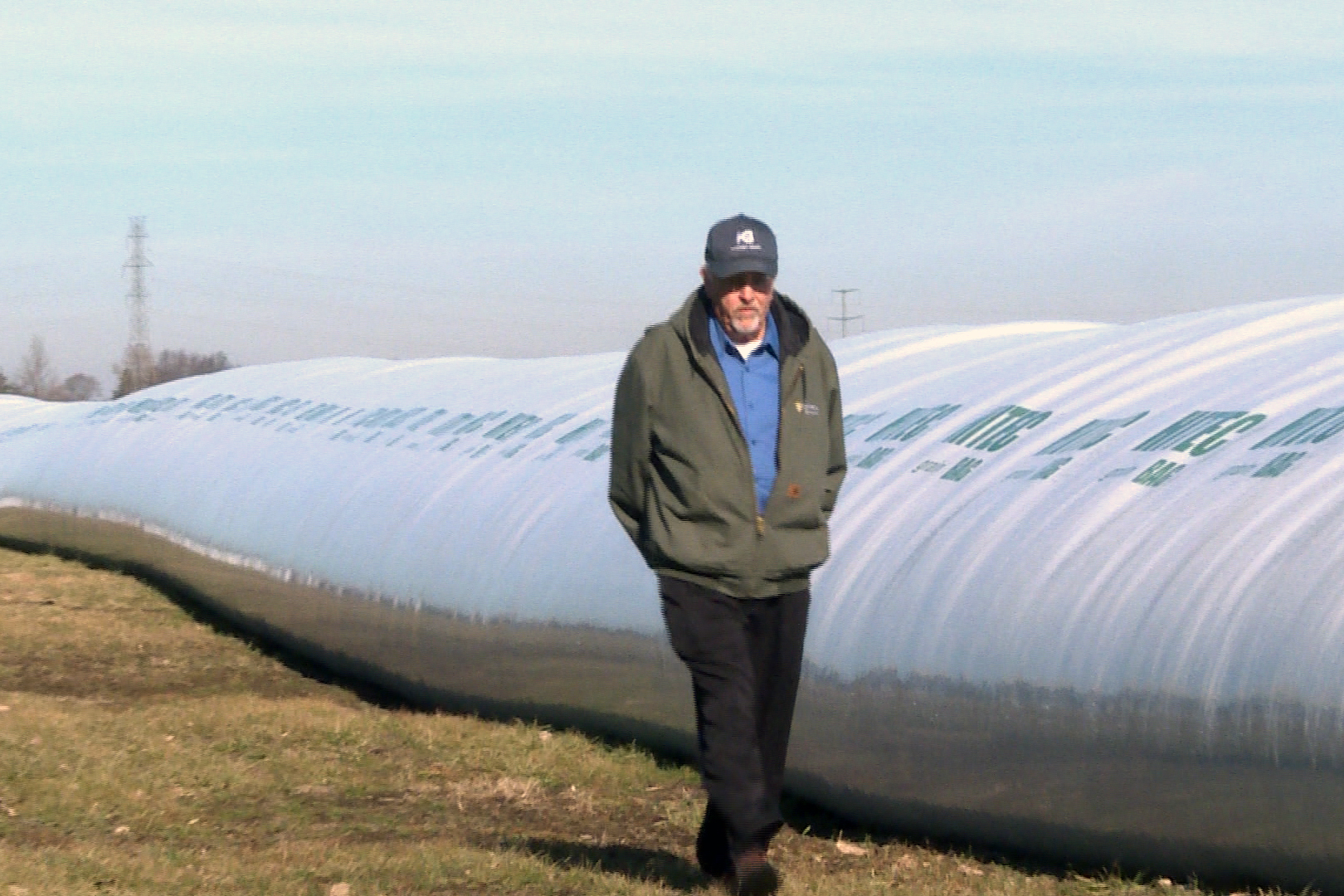 And even before the chapter on 2018's harvest is complete, farmers have to start planning now for 2019.
Brocksmith says that's even more of a daunting task this year.
"The concern is what happens from here forward," he says. "It's really hard to plan when you don't know if you're talking about $8 soybeans or $10 soybeans for next year. It could be either. It could be $8 soybeans and that's probably the biggest concern as far as economics go."
Correction: A previous version of this story named Wally Tyner as the agricultural economist quoted, the quote should be attributed to Chris Hurt.