Last week was News Literacy Week, a time for news outlets to interact with readers, listeners and audiences to help clarify the newsgathering process and answer questions about journalism and reporting.
We asked for your questions, and you responded! Here's what four of our reporters had to say:
On Telling Compelling Stories Without Compromising The Facts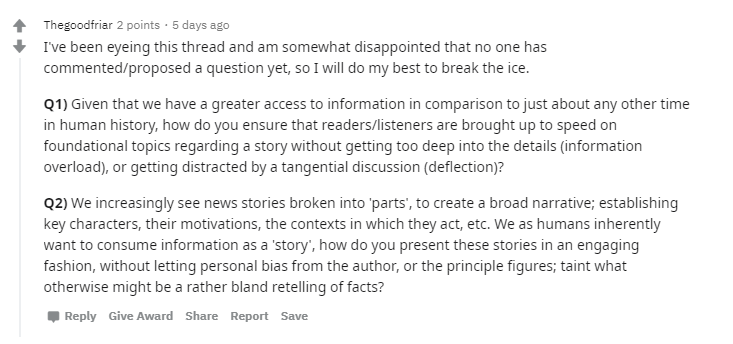 "One of the really important things is word choice. The example I am thinking of is I cover teacher pay a lot, and instead of saying 'better pay,' we say things like 'higher pay,' because that is fact. But when it comes to feature reporting, we really look for characters: people who are examples of situations that we can talk about the facts around and give people that context through the lens of what people's lives are like. That's how we approach it and build in these compelling narratives of the shared human experience while we talk about things like policy and data and things like that." - Jeanie Lindsay, IPBS Education Reporter, @jeanjeanielindz
Education reporter @jeanjeanielindz talks about how she tells fair and engaging stories. pic.twitter.com/4DKfOwZjbc

— WFIU News (@WFIUNews) February 3, 2020
On The Future Of News Media -- On Air And Online
"I don't think that radio news or print news is becoming irrelevant. I do know that fewer people are reading the newspaper and I know that radio has its own set of issues. But if you go to the internet, most of the news you're finding there comes from print reporters, or radio or television reporters. So the idea that print is becoming irrelevant or that radio is becoming irrelevant is something I just disagree with, wholly." - Bob Zaltsberg, WFIU City Limits Editor, @BobZaltsberg
City Limits editor and former @theheraldtimes editor @BobZaltsberg speaks about the future of print and radio news. pic.twitter.com/qTr49cr5tp

— WFIU News (@WFIUNews) February 3, 2020
On Research Methods

"So Tony, basically, how I do my research is someone will give me a story tip and I have to go confirm that. So I might look at government websites, I might look at University websites to make sure the information is correct. I might do a lot of cold calling to different agencies and different people to make sure that those who know their stuff say that this is, in fact, true." - Rebecca Thiele, IPBS Energy & Environment Reporter, @beckythiele
Energy & environment reporter @beckythiele tells us how she does her research and reporting. pic.twitter.com/I0hjLyv25p

— WFIU News (@WFIUNews) February 3, 2020
On The Differences Between Radio And Television Reporting
"So I would say probably the biggest difference between the two is just how we put them together -- like, what kind of sound we are looking for. A lot of times with TV, we're looking at what's the most visual scene that we can show that can really drive home what the story is. Then, with an audio broadcast radio piece, we're really looking at who's going to give us engaging sounds. For a radio broadcast, you might be looking for people talking in a room or different natural sounds that can help show the story, whereas in a TV story you're really looking at creating a scene and showing something that is visually appealing that really helps drive that message home." - Brock Turner, WFIU/WTIU Rural Affairs Reporter, @BrockEWTurner
Rural affairs reporter @BrockEWTurner speaks about the differences in radio and TV reporting. pic.twitter.com/7qf7BXJAw9

— WFIU News (@WFIUNews) February 3, 2020
Have More Questions? Our Inbox Is Open
You can reach anyone in our newsroom by sending an email to news@indianapublicmedia.org, or leave a message for our digital editor, Emma Atkinson, at (812) 856-1249.
Our newsroom is located on the Indiana University-Bloomington campus, at 1229 E. Seventh Street. Come say hi!
Want To Know Even More About Bloomington?
Ask City Limits, our Bloomington-based reporting project meant to answer your questions about the Indiana college town in which we're based.
Our community is changing, from closing businesses to traffic and road construction to affordable housing, and we see the impact of these changes all around us.
We want to know: What questions do you have about how the Bloomington of tomorrow will impact your work, your personal life, your community and your future?
Here's how it works: You submit a question you'd like us to explore about how Bloomington has changed over the past few decades, what you want to see for the city in the future and how ties with IU continue to shape the community.  
So: What do you wonder about how Bloomington is changing and how it impacts your life?
Interested in an ongoing conversation how Bloomington is changing? Join our Facebook group!