In 2008, the state of Indiana allocated nearly $2 billion to colleges and universities. The very next year, spending dropped by more than six and a half percent — a result of the beginnings of the Great Recession.
But the steep decrease didn't last.
Between 2008 and 2018, Indiana's spending per full-time student dropped by only 1.2 percent. That's according to a 2018 report by the Center On Budget and Policy Priorities, which shows compared to other states Indiana's higher education spending didn't drop all that much in the wake of the recession.
Indiana Higher Education Commissioner Teresa Lubbers says that's because Indiana's story of higher education funding is a partnership between schools and the state.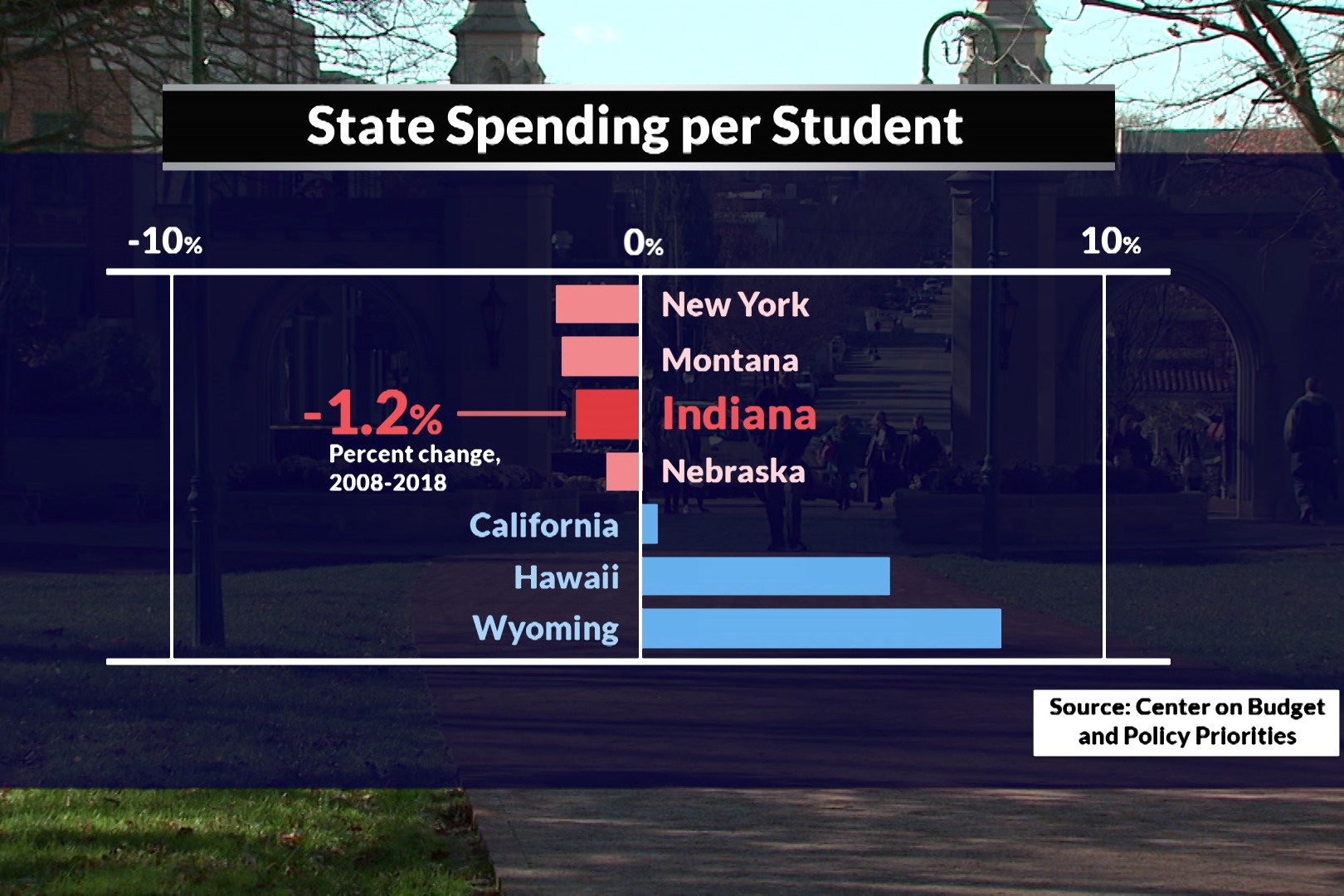 "So I think it speaks to both what the schools are doing, in terms of their budgets, and what we're doing in terms of financial literacy and financial aid," she says.
Lubbers says Indiana's relative consistency is due to the state's commitment to avoid wide swings. 
Most states cut spending as a way to replace some of the revenue lost in the beginning of the recession. Center On Budget and Policy Priorities policy analyst Michael Mitchell says there's one reason why lawmakers looked to higher education as the place to make those cuts.
"It's because it has another revenue stream, in tuition," he says.
Thus, as states allocated less money to colleges and universities, tuition prices went up. Since Indiana's higher education funding didn't drop as much as in other states, tuition prices didn't rise as much, which meant the cost of attendance at Hoosier schools didn't rise as much, either.
In 2009, the Indiana Commission for Higher Education set non-binding targets for tuition and fees. These targets restricted colleges and universities from raising tuition above an inflationary index.
Tuition at public, four-year colleges and universities in Indiana has increased only about 15-percent over the last decade.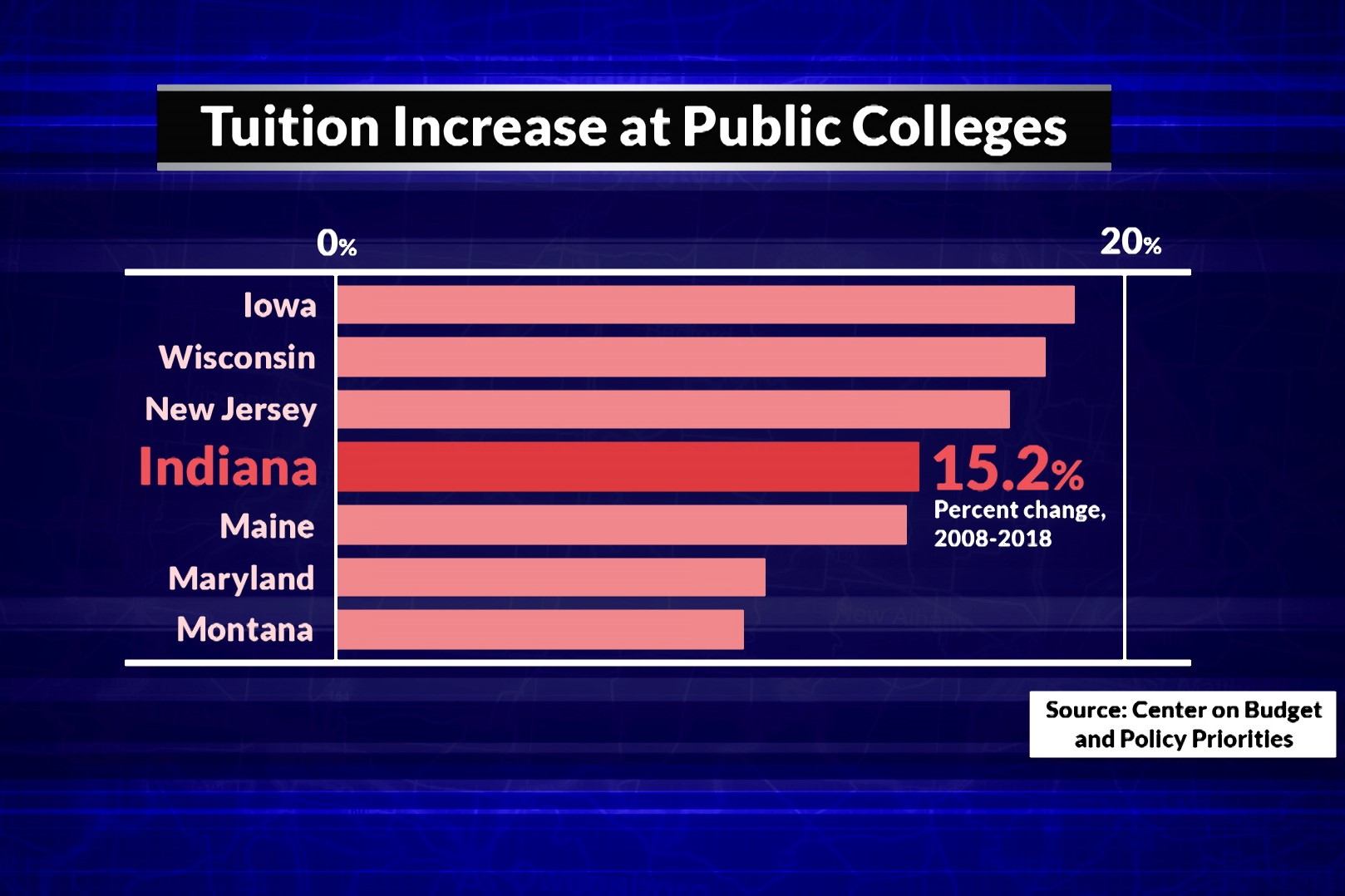 Commissioner Lubbers says keeping tuition prices low is one of the benefits of continuing to fund higher education. 
"If we're telling students that higher education is more important than ever, they have to be able to afford it," she says.
And tuition prices matter – especially to the students and families who are paying.
Connor Jones is a junior studying secondary social studies education at Indiana University-Purdue University Indianapolis. He says he chose IUPUI in large part because of its reduced cost.
"My dad was like, 'I need to know where you're going to school and your mom can pay for three years at IUPUI or she can pay for one at Purdue,'" he says. "And I was like, man, it's kind of a no-brainer at a certain point."
Indiana uses a metric called the performance funding formula to measure degree completion and progress statistics to determine how much money schools receive.
Mitchell says states that use the performance funding formula can open themselves up to problems. In some cases the formula can lead to schools seeking out students who are historically more likely to succeed, rather than changing internal policies to support students who may be less likely to graduate.
"If I'm being graded on how many students graduate, well then, why don't I take in – if I'm a school – why don't I take in students that are just more likely to graduate?" he says.
And schools have gotten choosier--- at IUPUI the average incoming freshman GPA is 3.48. And as of fall 2017, the university accepts 80 percent of all applicants.
The 2019 state budget allocates $4.18 billion to higher education over the next biennium. That includes financial aid and funding for the Commission for Higher Education.
IU's Board of Trustees approved increasing the university's in-state tuition and fees by 2.5 percent yearly for the next two years. It also approved an increase of 3 percent for out-of-state students at the Bloomington campus.
This comes after the Commission for Higher Education recommended schools increase those costs by no more than 1.65 percent.
Indiana colleges and universities have until June 28 to set their tuition and fees for the next biennium.