The Hoosiers open their 60th season at Memorial Stadium Saturday afternoon. Here's four new things to look for during IU's contest with Eastern Illinois.
Beer And Wine Debuts
IU Athletics is retaining Upland Brewery for a pilot program to sell beer and wine at Memorial Stadium this season.
-Sales end at the conclusion of the third quarter
-Purchases are limited to two drinks per transaction
-No beer or wine will be sold to a visibly intoxicated person
Sales points include most of the existing concession stands, a temporary stand near the North End Zone facility, a concession trailer in the northeast concourse, and new specialty kiosks located throughout the concourse.
Prices include $7 for Bud Light and Coors Light, $8 for Champagne Velvet, Dragonfly IPA, and Corona Lager, and $9 for Sauvignon Blanc and Red Blend. Other Upland beer brands may be available at the kiosk concourse locations.
Ten percent of sales will support alcohol safety programming at the university. IU Athletic Director Fred Glass says the department expects some revenue, but it was not the main motivation for introducing alcohol sales this season.
"Our focus has been improving the game day experience and reducing the alcohol related incidents which has been the experience at all the other schools that have implemented that, we expect that to be the case here as well," Glass says.
Tiered Ticket Prices
Football fans can now buy tiered single-game tickets. The new pricing structure includes four price points starting as low as $20. Prices increase based on opponent and seat location.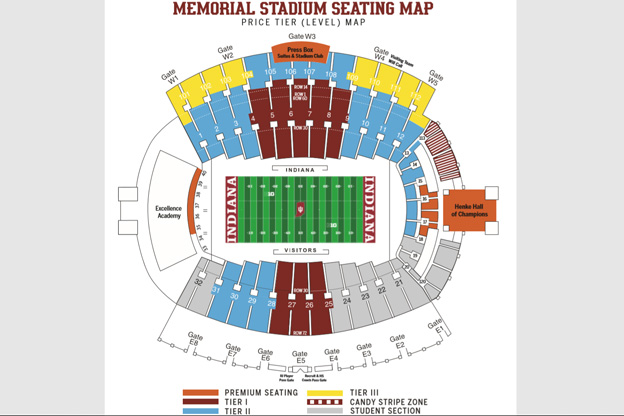 Honoring George Taliaferro
Memorial Stadium's north end plaza is now the George Taliaferro Plaza. A statue of the famed athlete and plaque honoring his legacy will be dedicated November 1. Taliaferro helped shatter racial barriers during his time at IU. He was the first African American drafted by an NFL team in 1949.
Indiana University's Bicentennial
IU Athletics plans to honor IU's 200th anniversary with a bicentennial flag, banners, commemorative patches, and a special tent outside the stadium. The homecoming game October 12 will serve as the official IU bicentennial game with special uniforms.
Glass also says the stadium restrooms have been renovated, new wayfinding signs are up, and player's names return to the back of IU football jerseys.
The Hoosiers are coming off a 34 to 24 victory over Ball State last Saturday at Lucas Oil Stadium in Indianapolis. Game time is 3:30 p.m. Parking lots open at 9:00 a.m.