Like many industries across Indiana, the craft brewing business was booming until the coronavirus forced it to shut down for three months.
On June 15,  Switchyard Brewery opened its doors to walk-in customers for the first time since March 17, when Gov. Eric Holcomb ordered all bars and restaurants be closed because of the COVID-19 pandemic.
"In less than 12 hours we reinvented our business model, and we became a delivery and curbside service," Switchyard co-owner Kurtis Cummings said.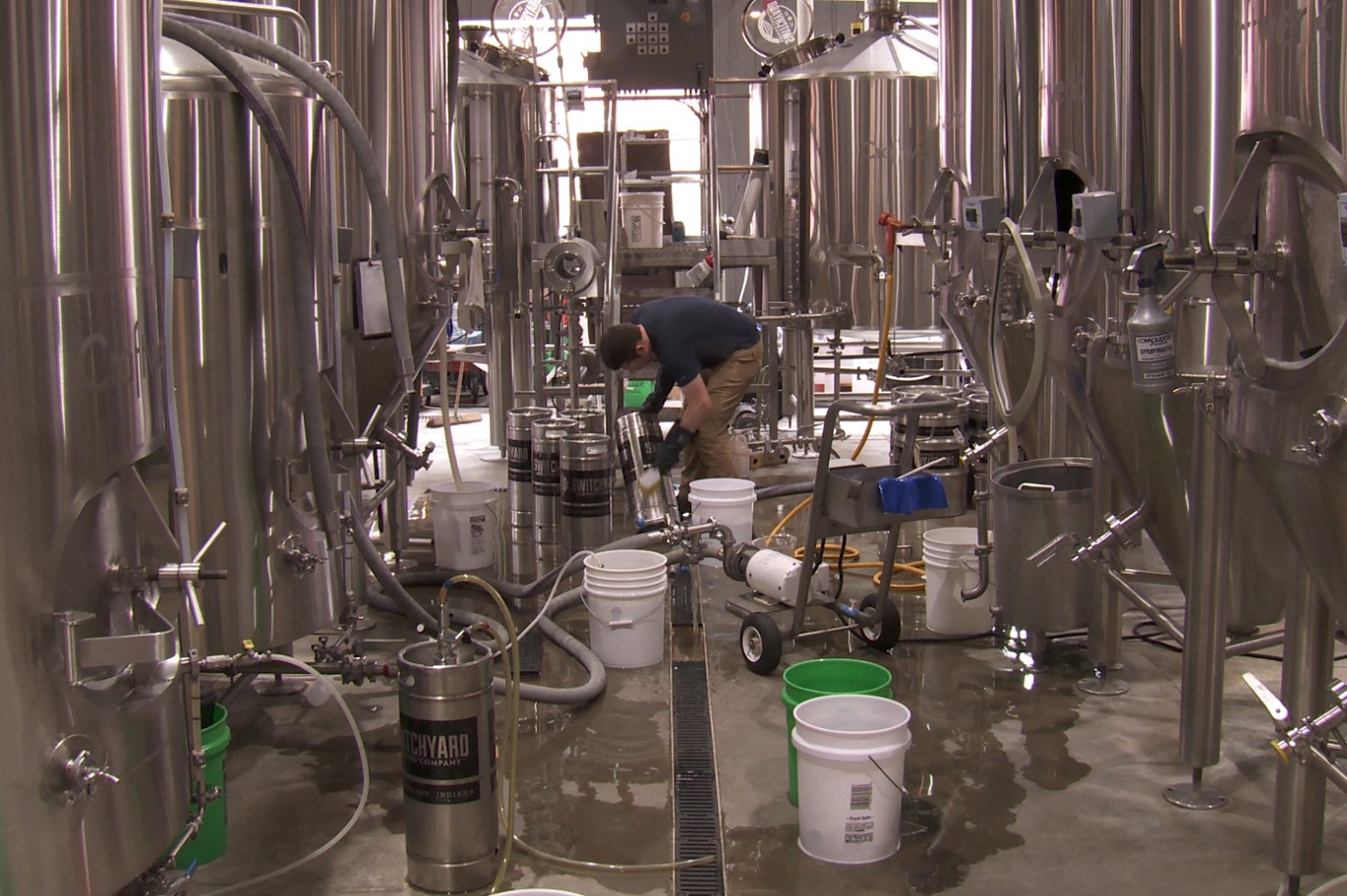 But sales from to-go beer service started to dry up after restaurants began reopening around Monroe County in late May.
"Because switchyard does not have a kitchen, we were classified by the state of Indiana as a bar, so we were put into Phase 4 of reopening," Cummings said.
So Cummings decided to diversify, by purchasing equipment to can beer and sell six-packs in addition to the crowlers he was already selling.
Industry experts say fallout from the COVID-19 pandemic could remake the craft brewing industry altogether.
"Sixty percent of our members don't have a restaurant, it's not a brewpub, and it's not a whatever," Executive Director of the Brewer's Guild of Indiana Rob Caputo said.
"Then we have a bunch that have small kitchens. I think you are going to see some folks make a decision to put a kitchen in, maybe not," Caputo added.
Caputo said in order to survive, breweries may find themselves doing events like virtual trivia, or opening on Mondays and Tuesdays, days these establishments are typically closed.
"I think it's going to be a challenge to see how things come back, and will folks feel comfortable going out into large crowds," Caputo said.
It's a different story at Our Lady of Perpetual Hops brewery in New Albany, Ind. The brewery was able to open in mid-May because it serves enough food, but getting business back on track hasn't been easy.
"The first two weeks were pretty strong, but these last two weeks have gotten pretty soft, to be honest," co-owner Greg Wortham said.
Wortham's brewery also got into the canning game to generate some extra revenue, and because there was such a shortage of crowlers.
He believes the recent slow down in business is due to restaurants and bars opening up across the Ohio River in Louisville.
"At first Kentucky was not open, Indiana was, so I think we were getting some people from Kentucky too," Wortham said.
With 10,000 square feet at his disposal, plus an outdoor patio, Wortham doesn't anticipate social distancing being an issue.
But he worries that other, non-COVID-19-related problems could hurt his business.
"They've closed the main artery, Grantline Road, to get to us, so that's going to be closed for two months.  You can still get to us, but you've got all the detours," Wortham said.
Caputo, with the brewer's guild says Indiana breweries may face more pandemic-related roadblocks in the near future, especially if there isn't yet a vaccine.
"I think the fall and the winter are probably going to dictate, you know that social distancing, if it's still heavily required, I think that's going to be the challenge, when there's not people sitting outdoors," Caputo said.
At Switchyard in Bloomington, Cummings is already adapting to the changing climate by retaining beer pickup and delivery, for those not comfortable with visiting his business.
The brewery also teamed up with Indianapolis pizzeria King Dough to add pizza to the kitchen.
READ MORE: Switchyard Brewing Co. Partners With King Dough To Bring Pizza To Taproom
"This is kind of a wakeup call to a lot of us, in terms of beer quality, customer experience, and your position in the community," he said.
For the latest news and resources about COVID-19, bookmark our Coronavirus In Indiana page here.