A Bloomington restaurant owner says an announcement about reopening tomorrow morning – before the governor's stay at order expires – was premature.
One of the owners of Cloverleaf West posted on the restaurant's Facebook page last night, "It's time to get back to business."
The post said the restaurant would begin welcoming dine-in customers May 1.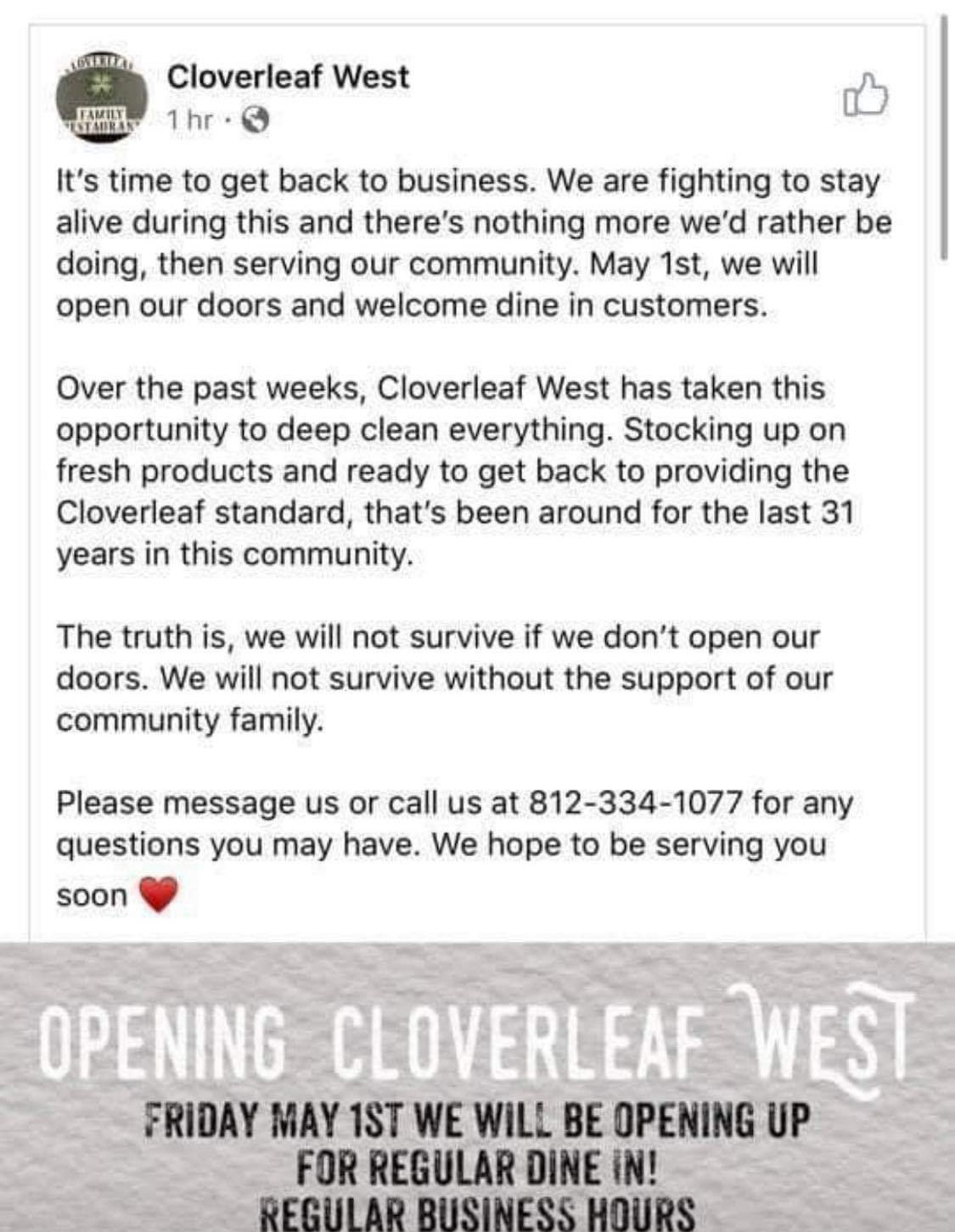 Governor Eric Holcomb's stay-at-home order doesn't expire until 11:59 p.m. Friday, and the governor hasn't said whether he'll extend the order.
Some commenters questioned the opening date listed by Chelsea Byers, one of the owners of Cloverleaf West. In response, she wrote, "We will be using disposable gloves to run food and clean tables. We've also got it set up where every other table is blocked off. If people think it will be safer in one week when our governor says it's ok. What will change in a week? If people don't feel healthy or safe we recommend staying home. Seems safer to eat off a sanitized plate rather from a takeout box that was packaged in China."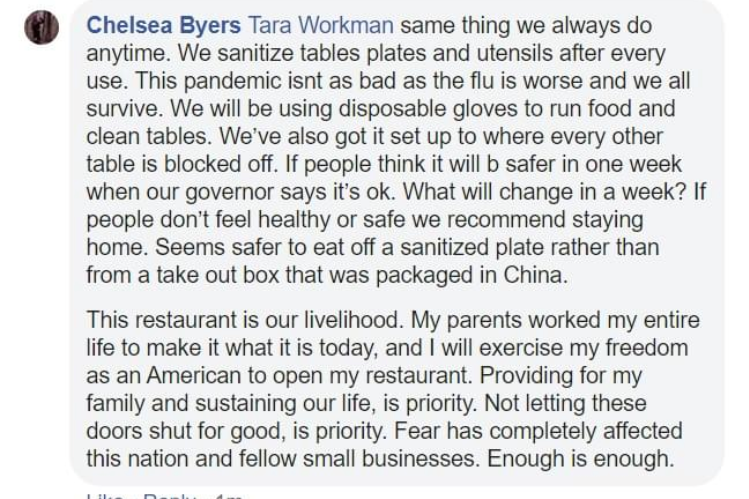 Many reacted to Byers' comments by calling them racist and saying they would no longer eat at the restaurant. 
This morning, all of the posts were removed and Cloverleaf West took down its restaurant page.
In an interview this morning, Byers said, "We have our own opinions as far as what is going on. We're struggling. We've been struggling since the first week of this happening, financially, and we are on the verge of losing this place."
"The place that we love so much and care about so much so we are very eager to get back to business so we can sustain our lives. So we can sustain this place that's been established and we're doing the best we can," she says.
"But you know, we're human and we're going to make mistakes, too, and that post was definitely a mistake."
Facebook commenters tagged Monroe County Health Department Chief Food Sanitarian Nicole Wagner.
In an email today Wagner didn't specifically name Cloverleaf West but wrote, "The Monroe County Health Department has been granted authority to enforce the current Governor's Executive orders if/when it is deemed necessary or appropriate. It is never our first choice to suspend or revoke anyone's Retail Food Establishment License. However, if a facility fails to comply with current laws/orders, we do reserve the right to do so. We will always first rely on communication and cooperation from the facility."
Byers says Cloverleaf West has been open for carry-out orders since the stay-at-home order took effect. She says without any financial support or help from the government, the restaurant won't be able to keep its doors open for much longer.
She says Cloverleaf West applied for a small business loan and is still waiting to hear.
"My husband Stanley has had this restaurant for 30 years," Byers says. "It's a staple in this town. We love this place with all of our heart. We love all of our customers. We love all of our staff and for people to assume that we don't care about our community and the health of our community and our staff is crazy. Absurd."
---
There is another Cloverleaf Restaurant in Bloomington. That restaurant, Cloverleaf South, is not affiliated with Cloverleaf West.
Cloverleaf South posted this morning on its Facebook page, "WE ARE INDEPENDENTLY OWNED ON THE SOUTH SIDE. WE HAVE NO AFFILIATION WITH THE WEST SIDE. PLEASE contact us directly if you have questions about our SOUTHSIDE location. We hope this clears up some confusion between the two locations plans for opening back up.
"We (south side) have different hours, specials & plans for our restaurant during these times. Thank you all for your support!!!"
For the latest news and resources about COVID-19, bookmark our Coronavirus In Indiana page here.