Update Oct. 18, 5:10 p.m.
Indiana University spokesman Chuck Carney says the tenants of the IU-owned house where the incident originated missed their 5 p.m. deadline Friday to agree to a non-penalizing lease termination with IU. 
Original story
A Monroe County circuit judge revoked bond Friday for Gabriel Alsman, who is accused of firing a stolen gun multiple times outside a Bloomington house party.
Alsman is charged with reckless use of a firearm and resisting law enforcement, among other charges, stemming from the Oct. 13 incident.
Bloomington police arrested Alsman after he fired his gun several times after being thrown out of a house party near the Indiana University campus. Two people were struck and taken to the hospital.
READ MORE: Police: Victims Of Weekend Shooting In Critical But Stable Condition
The incident isn't Alsman's first brush with law enforcement.
In May 2018, Alsman was arrested and charged with shooting a firearm into a building.
Bloomington Police say Alsman fired a gun into someone's apartment, injuring the person inside.
Court records show Alsman pleaded not guilty to that charge as well, and he'll next appear in court on Nov. 19.
He was arrested in December of last year on a marijuana charge and pleaded not guilty.  A change of plea hearing for that case is also scheduled for Nov. 19.
Other fallout from the house party, which police say was attended by hundreds of people, includes IU's announcement that it would offer the tenants of the house a termination agreement. IU owns the house and the tenants are subject to the terms of IU Real Estate's lease.
The tenants have until 5 p.m. Friday to agree to the termination, which would mean they move out immediately and break their lease with no penalty. 
IU spokesman Chuck Carney says the university offered the agreement because of concerns about matters relating to the tenants' upkeeping of the terms of the lease.
Carney says IU will offer the tenants emergency housing should they choose to sign the agreement, as well as counseling services and access to the student legal clinic.
As of Friday afternoon, a Change.org petition titled "JUSTICE FOR THE BRICKHOUSE: IU, we want active shooter alerts for events off campus!" had almost 400 signatures.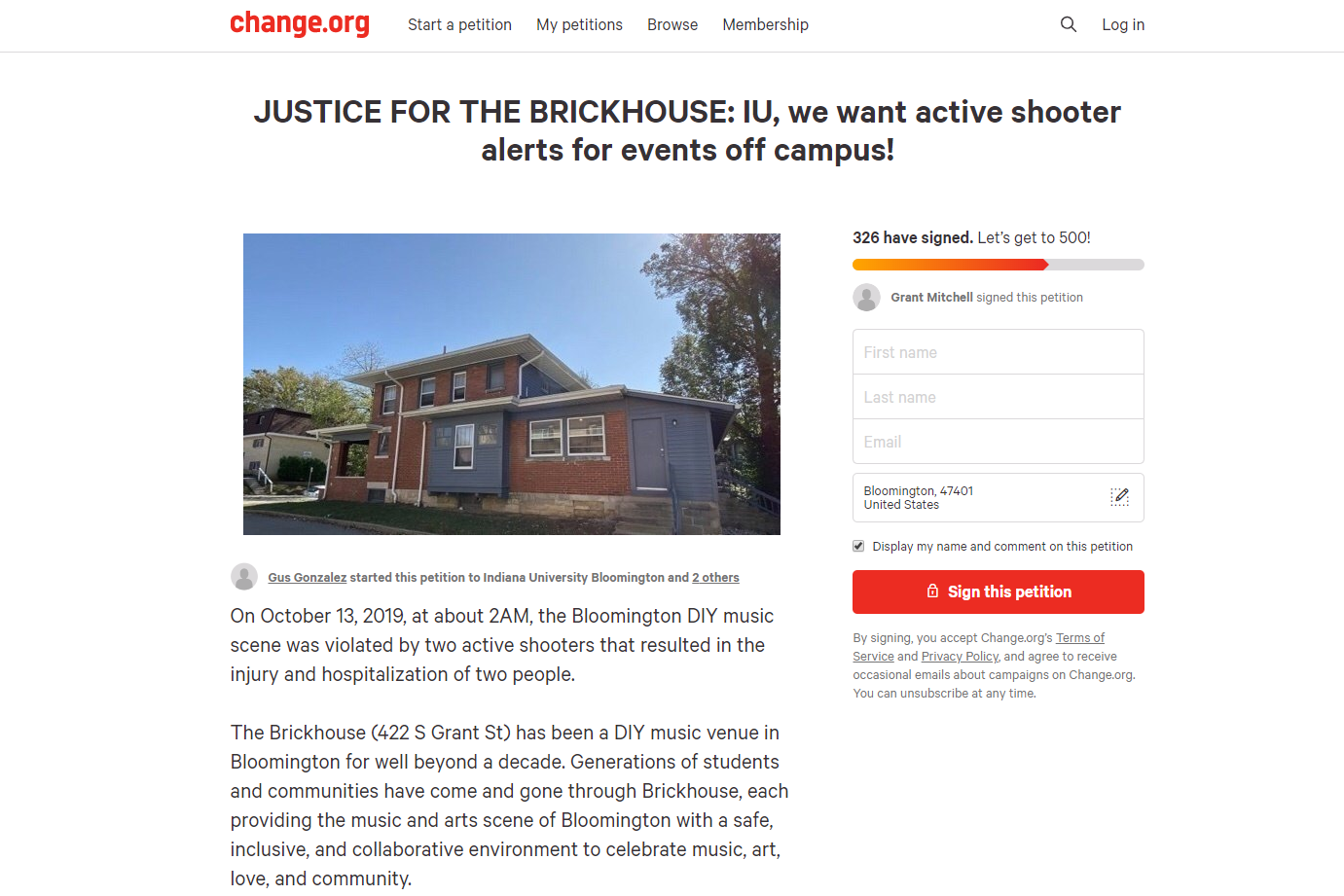 Students questioned the lack of response from IU's campus police department after no emergency alert was sent out after the incident.
READ MORE: IUPD Defends Lack Of Notification About Weekend Shooting
IUPD officials have said that there was no point in sending a notification intended to keep people safe after the danger had passed.
5:10 p.m.: This story has been updated to reflect that the tenants missed their 5 p.m. deadline to sign IU's lease termination agreement.