It's our last time in Columbus in 2018... we get updates on the $4 million city purchase of Fair Oaks Mall, the city's vision on the development of downtown and the mayor's year in review.
On this week's installment of Ask The Mayor, Columbus Mayor Jim Lienhoop addresses these issues and more. Listen to the full conversation with Indiana Newsdesk anchor Joe Hren by clicking on the play button above, or read some of the questions and answers below. A portion of this segment airs 6:45 and 8:45 a.m. Wednesday on WFIU.
This conversation has been edited for clarity and conciseness.
Hren: The city is moving forward with the purchase of Fair Oaks Mall with the approval of $4 million, what's the next step?
Lienhoop: That's the city's portion of the purchase. We're on track to complete the purchase by December 14. We had a phase two environmental study completed and it came back negative. We've completed a structural analysis, there's no asbestos to be concerned about, we have a few roof leaks, but nothing of any signifigance. We now need to hire people for mall management activity.
Our vision is it will become an extention of the parks system that we have. We intend to find homes for some of the activities for Donner Center. We intend to build an indoor sports complex. Columbus Regional Health will also have some decisions to make about what it puts up there and where. Those decision will be fleshed out here in 2019.
Hren: How about an update on Envision Columbus, your long-term downtown plan, and where has that progressed since we last talked?
Lienhoop: We had our final public meeting November 28 and presented it to the public. There were about 16 different projects the consultant thought would be beneficial for Columbus. We narrowed down the list to four we want to pursue in 2019. We view this as a ten year program. He talked about a grocery store downtown, a hotel conference center to bring more visitors to downtown, talked about townhomes to get more dense housing, and then neighborhood revitalization to get folks to buy older homes and fix them up.
Maybe one way to distill all of this is to talk about the fact that Columbus needs a product it doesn't offer today. And that product is a walkable residential area. The ability to live someplace, walk to work, walk to your recreation and walk to a grocery store.
The second part to this is to get more foot traffic. The hotel conference center would provide more volume for the retail and restaurants and such.
Hren: We've talked about the conference center and where it would go downtown, and a consultant has narrowed that down to a couple places as well.
Lienhoop: The preferred location is a parking lot across the street from our jail. We'll see, at the end of the day it's going to depend heavily on the developer that comes to down and puts his money down than we will, so we will probably get an outside say on where this goes. But the consultant says there's a demand and an adequate local economic demand.
They're looking at 140 rooms, a 9,000 square foot ball room with four or five breakout rooms so it would approximate what we lost at the Clarion.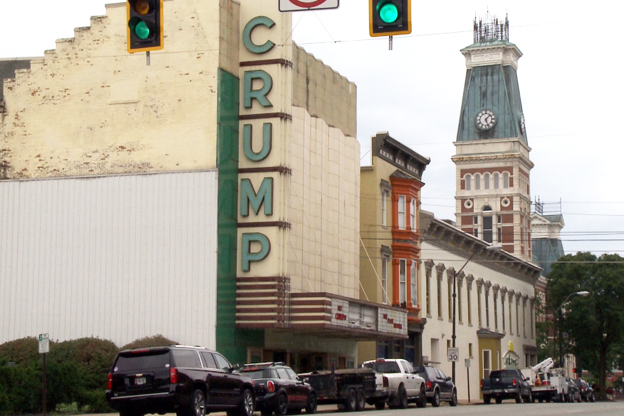 Joe: I saw a headline in The Republic that the city contributed $1.1 million for programs with the Alliance for Substance Abuse Progress. Officials are still combatting the opioid epidemic even though those overdoes numbers are starting to decrease.
Lienhoop: Yes, that's in combination with the county. There are more treatment centers thatn you may realize, and there are other opportunities for treatment that people may not understand about. So what we want is a place folks can go and  get some help. So we've called it the hub - which is like the center of a wheel. This will be located at the United Way Center with a separate public entrance.
Joe: I have to ask about any plans or announcements yet about re-election?
Lienhoop: Well, the filing season starts in January and we'll have an announcement then.