Amtrak officials say Indiana is jumping ship on the Hoosier State Line before it has a chance to be successful.

The federal rail company says June 30th will be the last day of service to Chicago on the Hoosier Line, after the state yanked funding for it.

Under federal law, states must provide a majority of funding to Amtrak for lines shorter than 750 miles.

They point to Michigan as a state that is reaping the benefits of a long term investment in rail.

The Pere Marquette runs daily from Grand Rapids to Chicago's Union Station. That's 181 miles, exactly the same distance between Indianapolis and Chicago via the Hoosier line.
"Right now we go to Chicago, and change trains there," says St. Joseph Michigan resident Camellia Pisegna.

She's heading to see family in Truckee, California. A 2,000 mile journey.

She's among a couple dozen passengers waiting to catch the Chicago bound Pere Marquette.

She lives just 15 minutes from the station, so taking the train was much more convenient than driving or flying from the nearest airport in South Bend.

"It's just a nice way to travel, we have a sleeper car, you just sit back, meals are provided, you can walk around," Pisegna says.

Once in Chicago, passengers can connect to destinations all over the Midwest and beyond.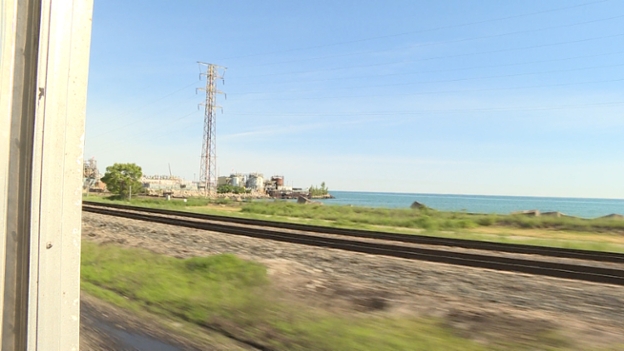 Amtrak spokesperson Marc Magliari says the amenities on the Pere Marquette and the Hoosier Line are identical.

"We have the same seat size on the Pere Marquette that you saw on the Hoosier Line, the same food service that you saw on the Hoosier Line, is on the Pere Marquette, and the same Wi-Fi," Magliari says.

The state of Michigan spent $4 million on the Pere Marquette last fiscal year. Indiana allocates $3 million on the Hoosier Line annually enough to discontinue the service once the budget cut takes effect July 1.

Michigan Transit officials say their funding of the Pere Marquette line equals out to about $41 per passenger per year, but they make some of that money back through ticket sales and concessions.

Janele Vogel of Michigan says it's hard to beat the convenience of the service.

"It's evident with the amount of people who are on the train and that a lot of people are using it to get to Chicago," Vogel says. "I hope it stays available and it's a reasonable travel price."
It isn't just vacationers, Tammy Woodring takes the Pere Marquette line because driving isn't an option.

"I had a brain injury 7 years ago, so it keeps me from driving in busy city traffic," Woodring says.

Magliari says the investment state officials make into Amtrak is more than just the operating costs and train upgrades.

The money goes to rail and station improvements that can last decades.

"No matter how wide you make the highway, it will probably get filled up," Magliari says. "It's cheaper to put money into rails than it is highway, rail improvements can last 10 or 20 years, you can see how long it takes for pavement to wear out."

Magliari says while Michigan's partnership with Amtrak is a success story, he wonders if Amtrak under estimated how difficult it would be to keep Indiana on board with its deal.

"People don't understand how this works, because culturally the Cardinal comes through there late at night or early in the morning, people don't see it. People don't have a picture of how this works."