Images from Indiana University Archives, WFIU's Directions in Sound, WFIU's photo archive, and NPR.
1921
First Demonstration of Radio at IU
Professor R. R. Ramsey, of the Indiana University physics department, demonstrates radio technology at IU for the first time. The audience listens to Amelita Galli-Curci performing in the opera Lackme, originating from radio station KDKA in Pittsburgh.

The demonstration was an introduction to a novel method of music education for students in a modern opera course.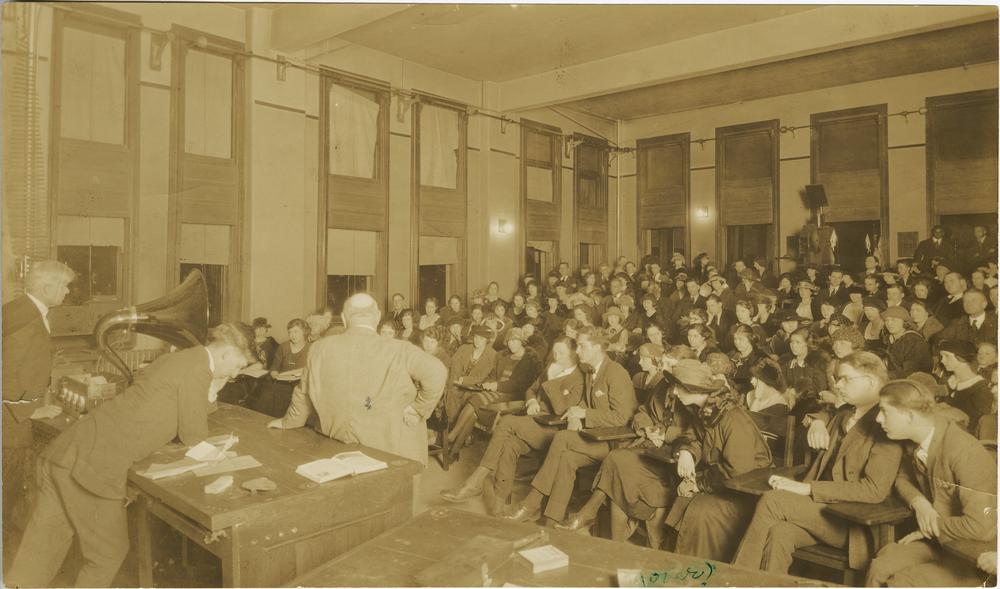 1947
School of the Sky
October 6 sees the debut of Indiana School of the Sky, a 15-minute program aired each weekday as an "education supplement" in public schools. The shows are distributed by what was called a "bicycle network" – the physical transportation of tapes among stations. The program originally is carried by 12 stations; by the next year, nearly a quarter of Indiana's high schools are tuning in to local stations that run the show.
1950
WFIU Goes Live, and Dark, and Live
The FCC approves construction of a station licensed to the Trustees of Indiana University, to broadcast at 90.9 FM. The University offers the FCC a list of preferred call letters, including WIU, WIUB, WVIU (Voice of Indiana University), and WIFM (Indiana's FM station), and is granted its fifth choice, WFIU.

Tower construction is completed on September 26, and a "full" (five-hour) schedule delivered on October 1. The studio is initially located in an old army barracks near IU's Read Hall. Following complaints of interference with an Indianapolis television station – and then a voluntary restriction of its broadcast day to times when the TV station is not on the air – WFIU signs off at 90.9 in June 1951 in wait of a frequency reassignment from the FCC. In September, the station lands at a permanent home, 103.7 FM.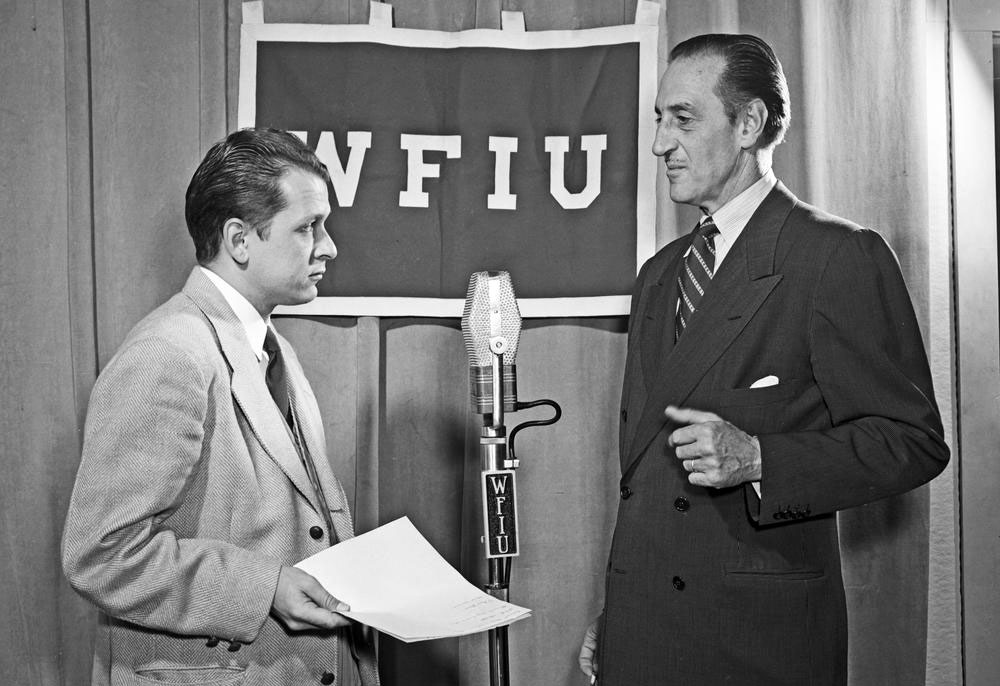 WFIU's George Willeford interviews British actor Basil Rathbone in 1951
1953
Your Sunday Opera
The premiere of Your Sunday Opera, hosted by IU School of Music professor Ross Allen.

Allen becomes renowned not only for his deep knowledge of the music, but also for not missing a Sunday – in the wake of a surgery in 1980, he records a program from his hospital bed. The series continues until his retirement in 1997.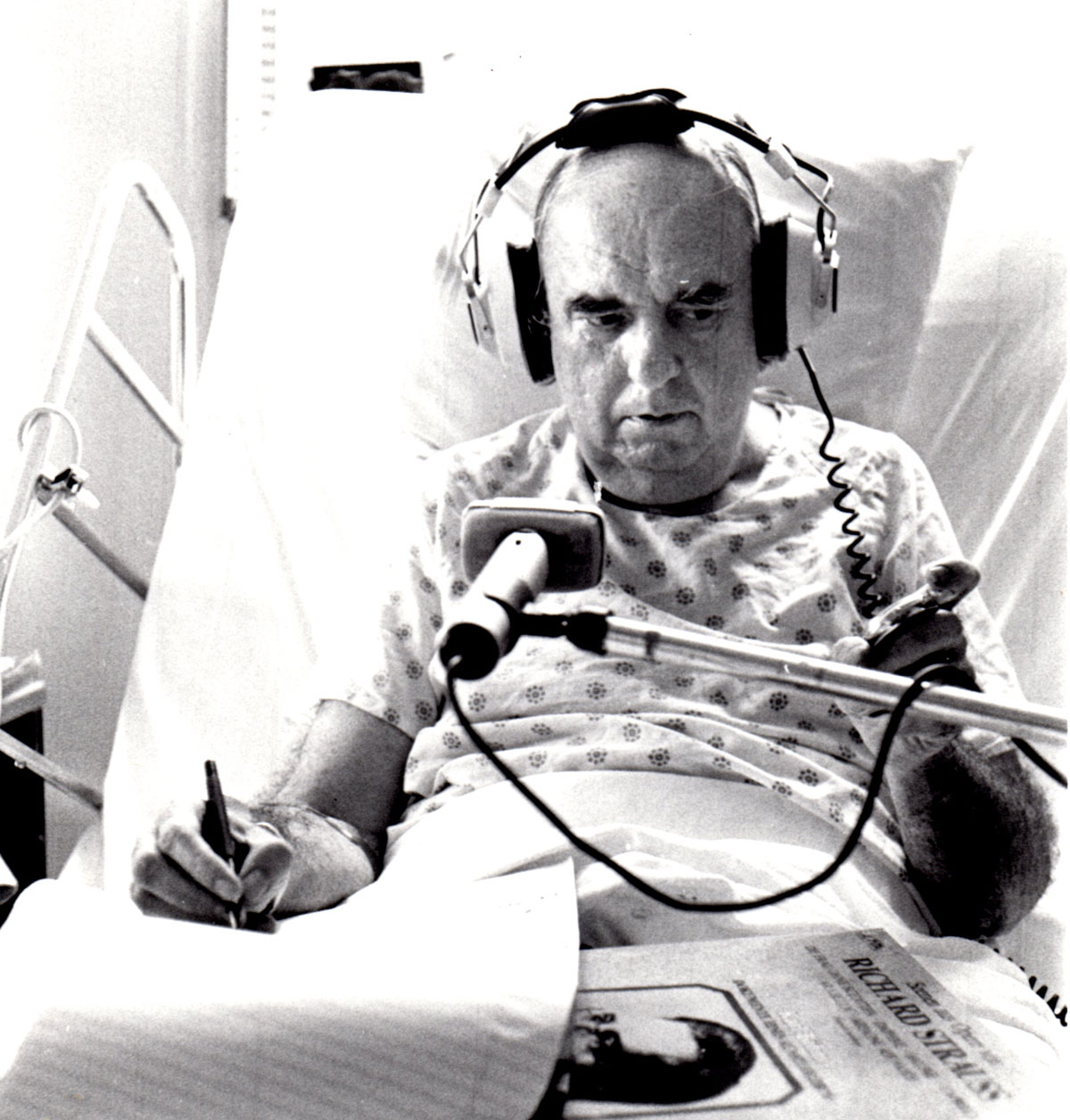 1958
IU Football Comes to WFIU
WFIU launches the Indiana University Sports Network with a remote broadcast of an IU football loss to Notre Dame in South Bend. For its first three years, the primary play-by-play host is IU graduate student Dick Enberg. Enberg will go on to broadcast sports professionally for nearly 60 years, garnering awards from the baseball, football, and basketball halls of fame.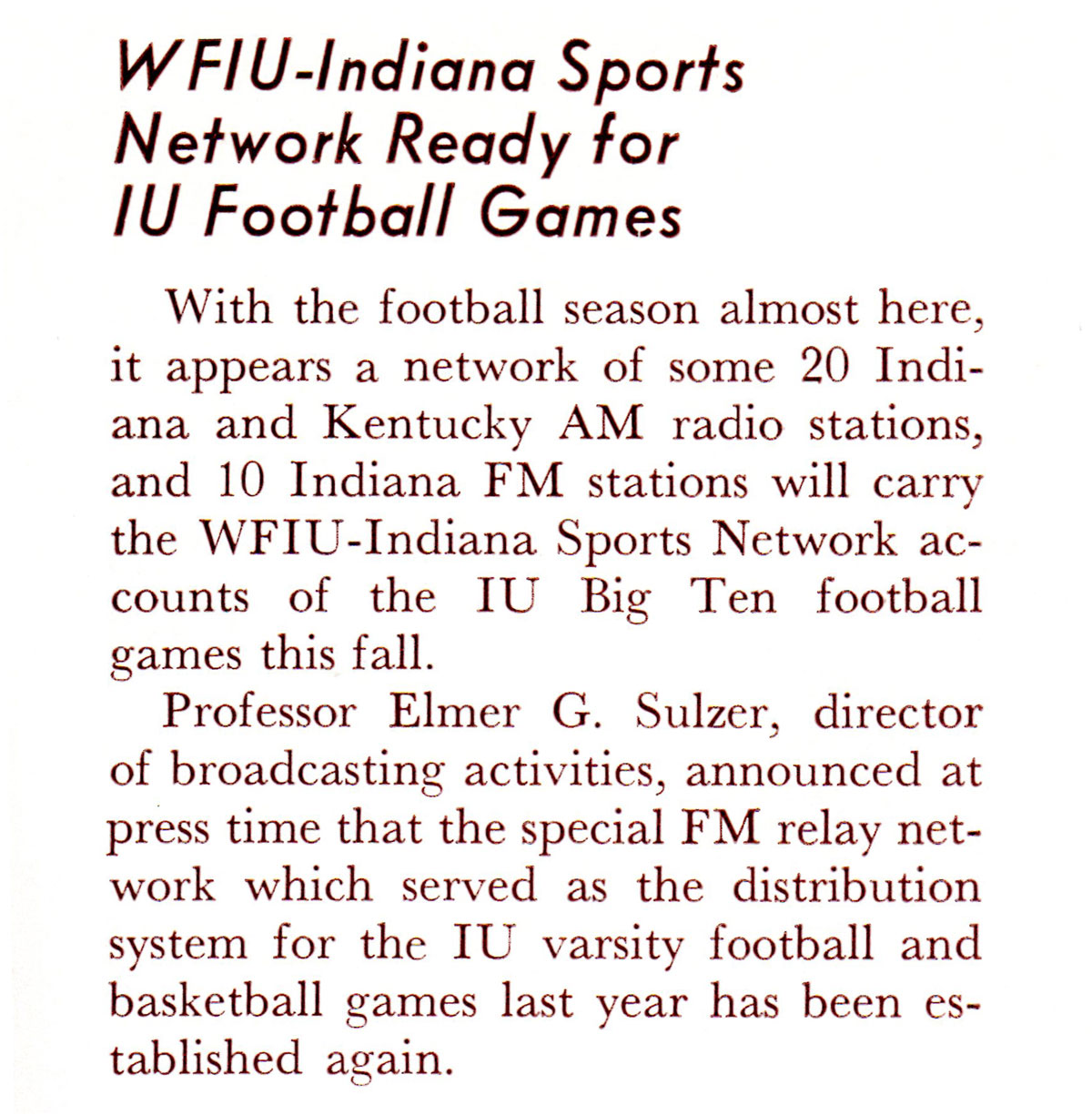 1959
WFIU Swings
Jazz Review, a 15-minute late afternoon program, debuts. The hosts are two IU students, Phillip Jones and Dick Bishop.

Bishop would go on in the late '60s to create the program Afterglow, which airs today. He would also serve as the station's development director in the early '80s, and host Standards by Starlight in the 2010s.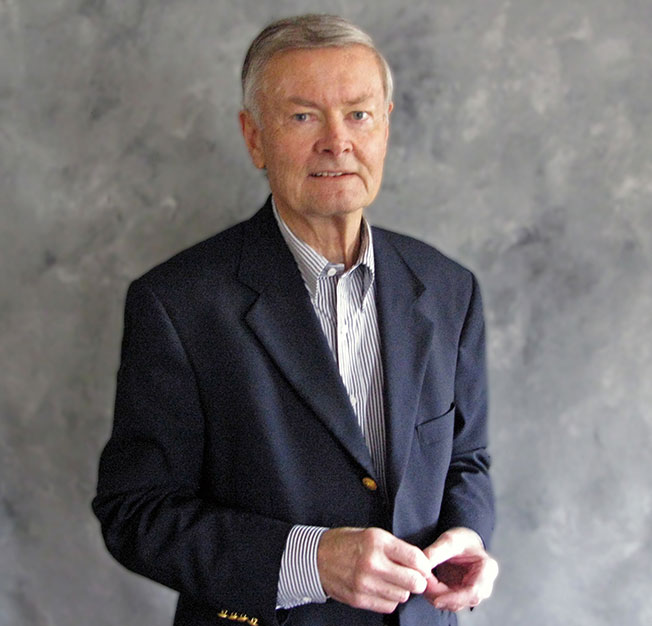 1963
IU Radio & TV Center Opens
In summer 1963, IU Radio-TV Services moves out of the Quonset huts, and into the newly-built Radio & TV Center, adjoining the Fine Arts building. The facility still houses WFIU and WTIU today.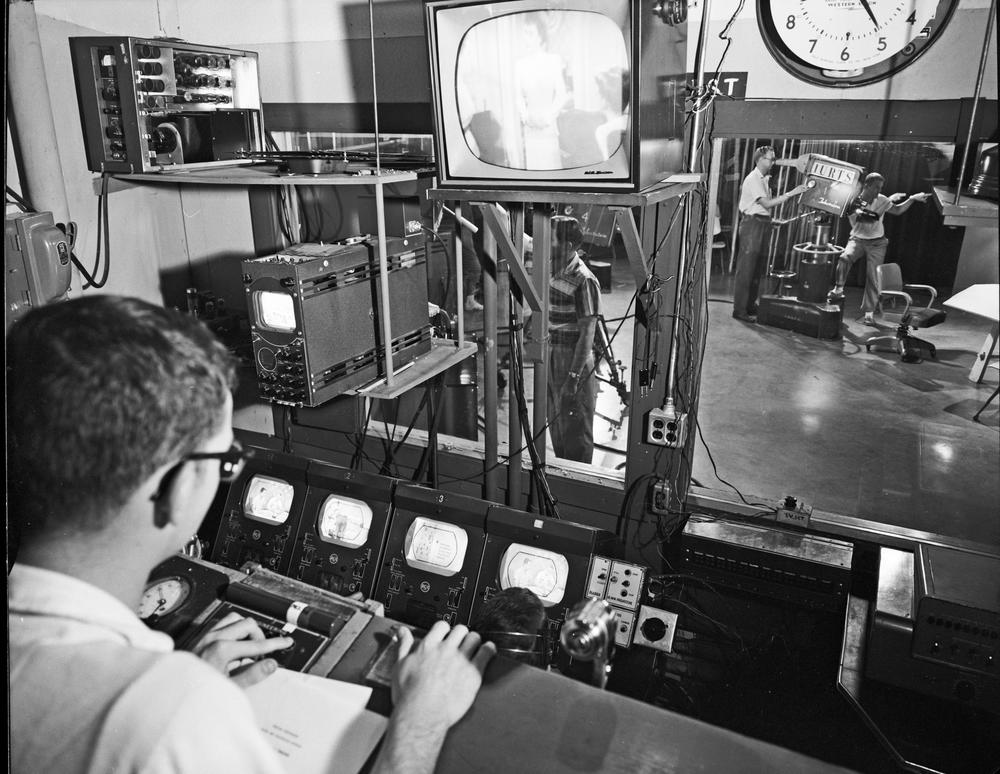 1967
Public Broadcasting Act
President Lyndon Baines Johnson signs the Public Broadcasting Act of 1967, establishing the Corporation for Public Broadcasting (CPB) and, eventually, the Public Broadcasting Service (PBS), and National Public Radio (NPR).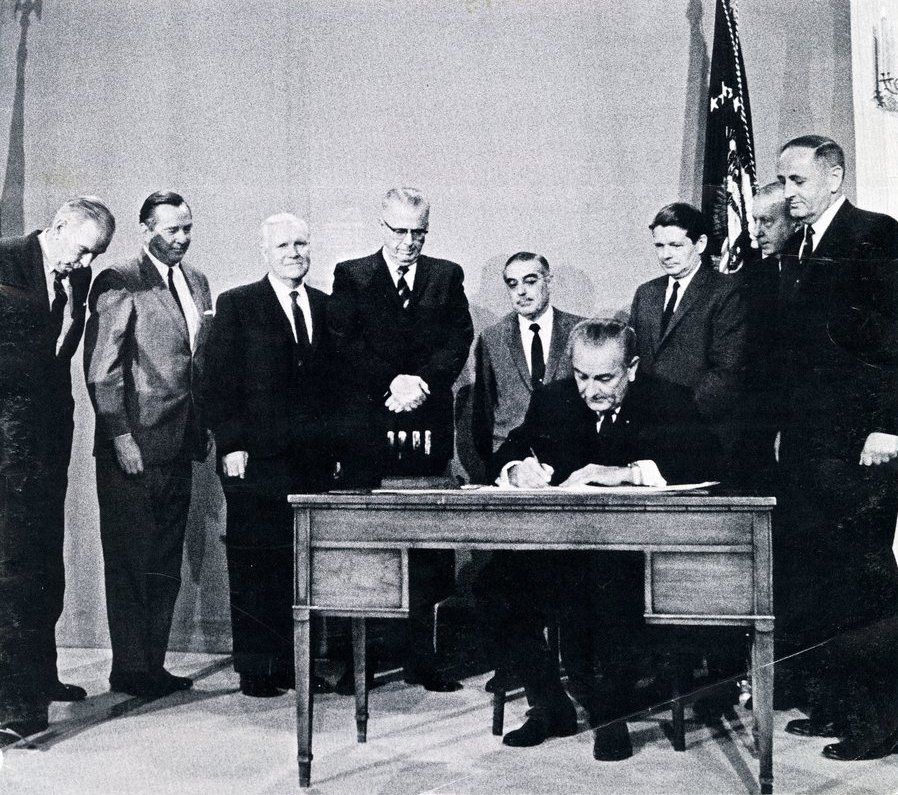 WFIU staff in 1967
1971
All Things Considered
WFIU becomes one of the 90 charter members of National Public Radio, picking up the flagship newsmagazine All Things Considered upon its May 3 debut. Host Susan Stamberg is the first woman to anchor a daily national broadcast.

Also bowing this year: Ether Game, the weekly music trivia show that continues to air on Tuesday nights; and Rapline, WFIU's first call-in public affairs program, which would be succeeded in 1986 by Friday Edition, and then in 1998 by Noon Edition, which airs today.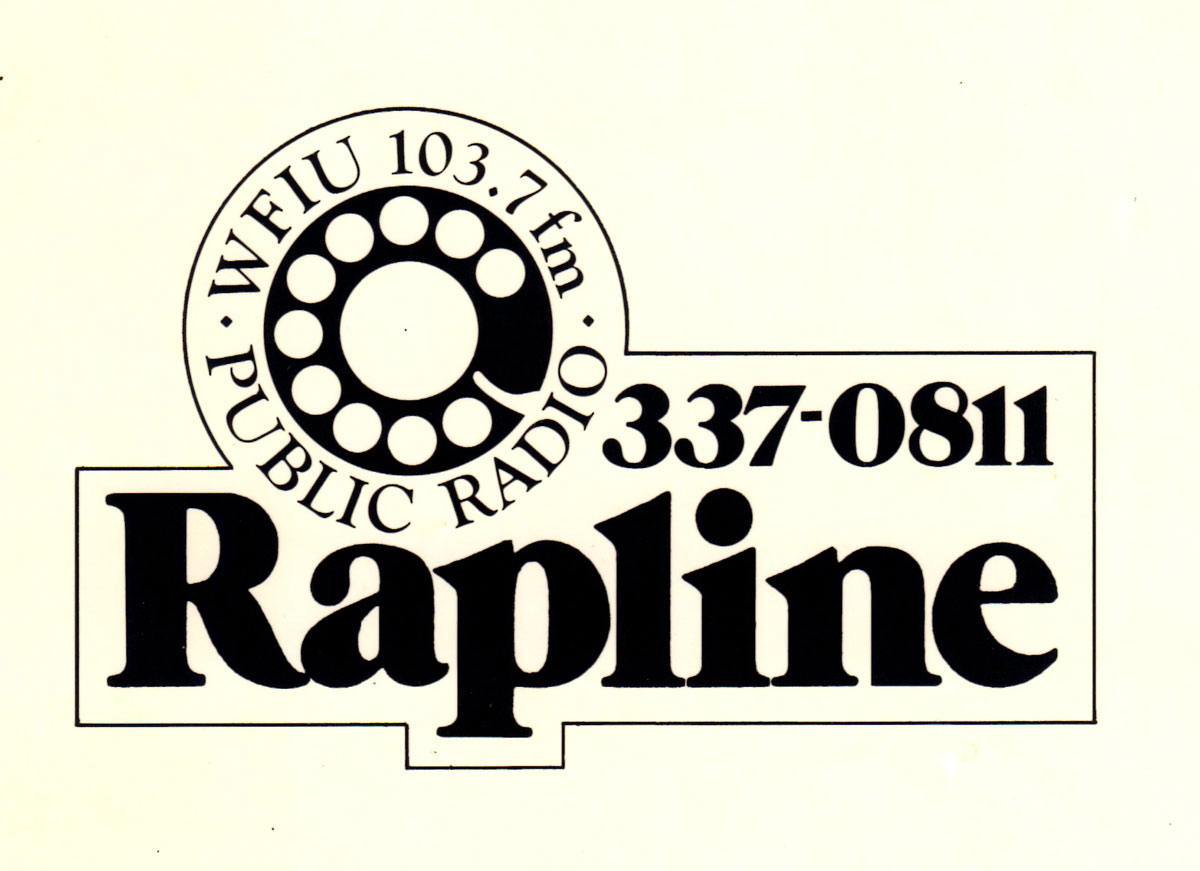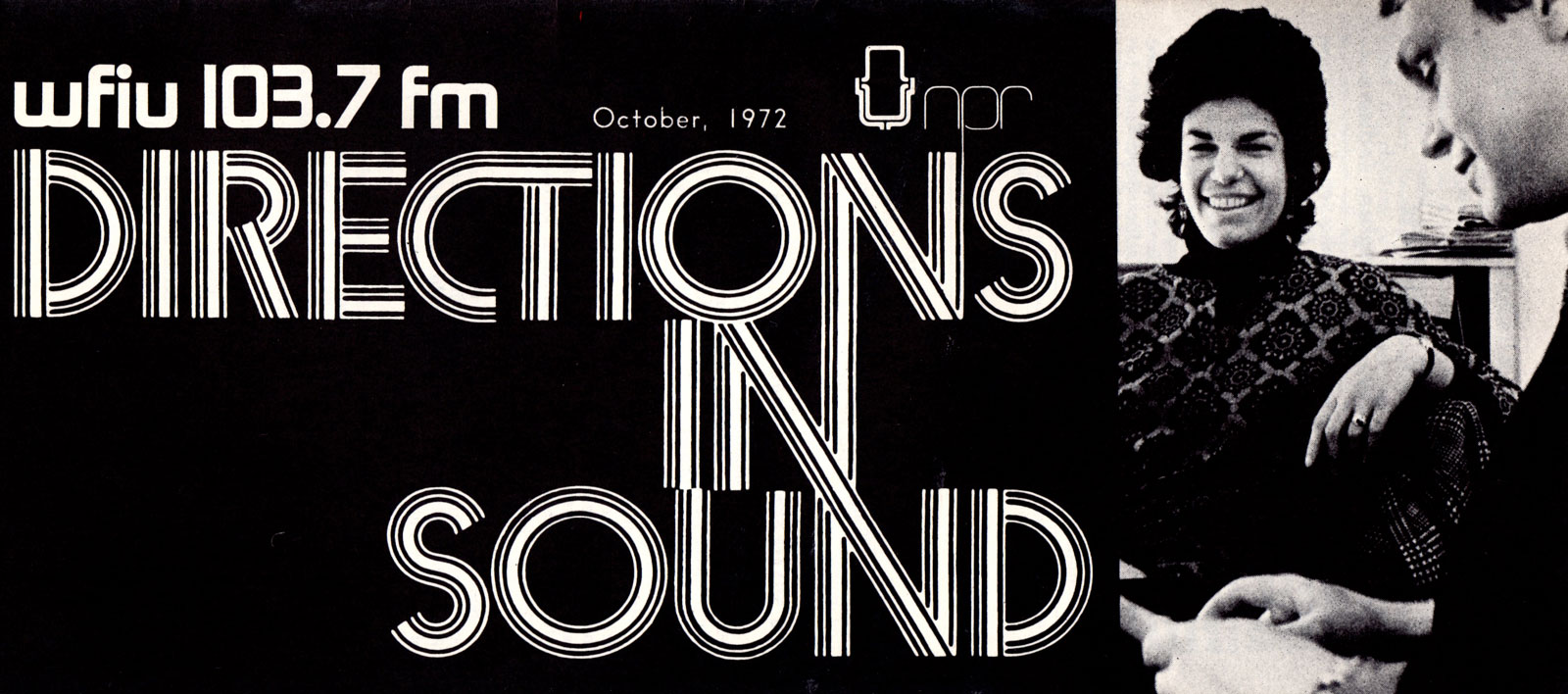 October 1972 cover of Directions in Sound
1976
Listeners Become Supporters
WFIU makes its first fundraising appeal – with a note in the April issue of the listener guide Directions in Sound, asking listeners to help finance equipment that would let the station broadcast in stereo. Eighty donors come through with a total of $1,472.50. The first on-air fund drive as we now know them occurs in the fall of 1977. On the Fourth of July, 1978, the station debuts its new stereo signal with an airing of Beethoven's Ninth Symphony.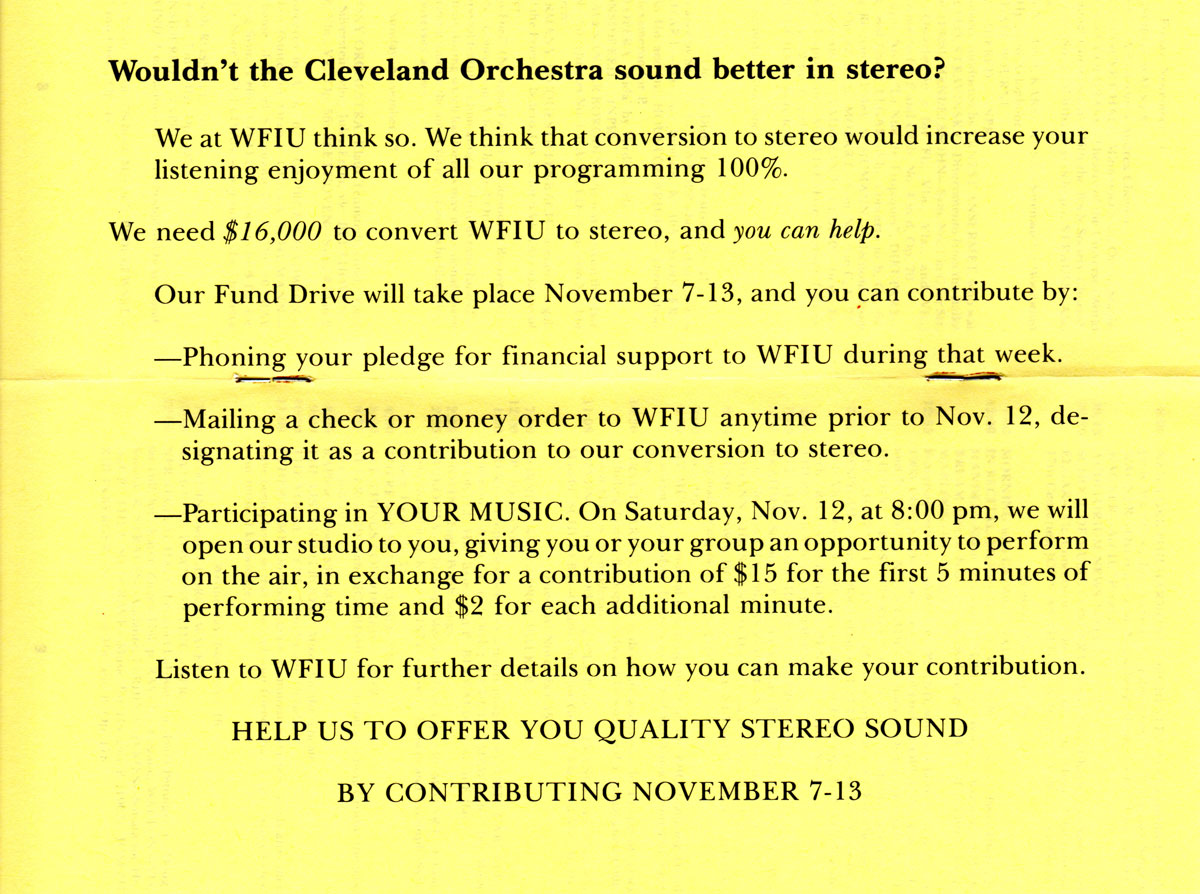 1979
Crossing the Channel
In September, WFIU briefly goes live in the overnight hours for the first time – the occasion is IU swimming coach Doc Counsilman's successful, 13-hour attempt to become the oldest person to swim the English Channel. A WFIU reporter traveling alongside uses a ship-to-shore radio to offer round-the-clock updates. At the time, WFIU's regular broadcast day spans 6:30 a.m. to 1 a.m. – the station does not adopt a 24-hour schedule until 1990.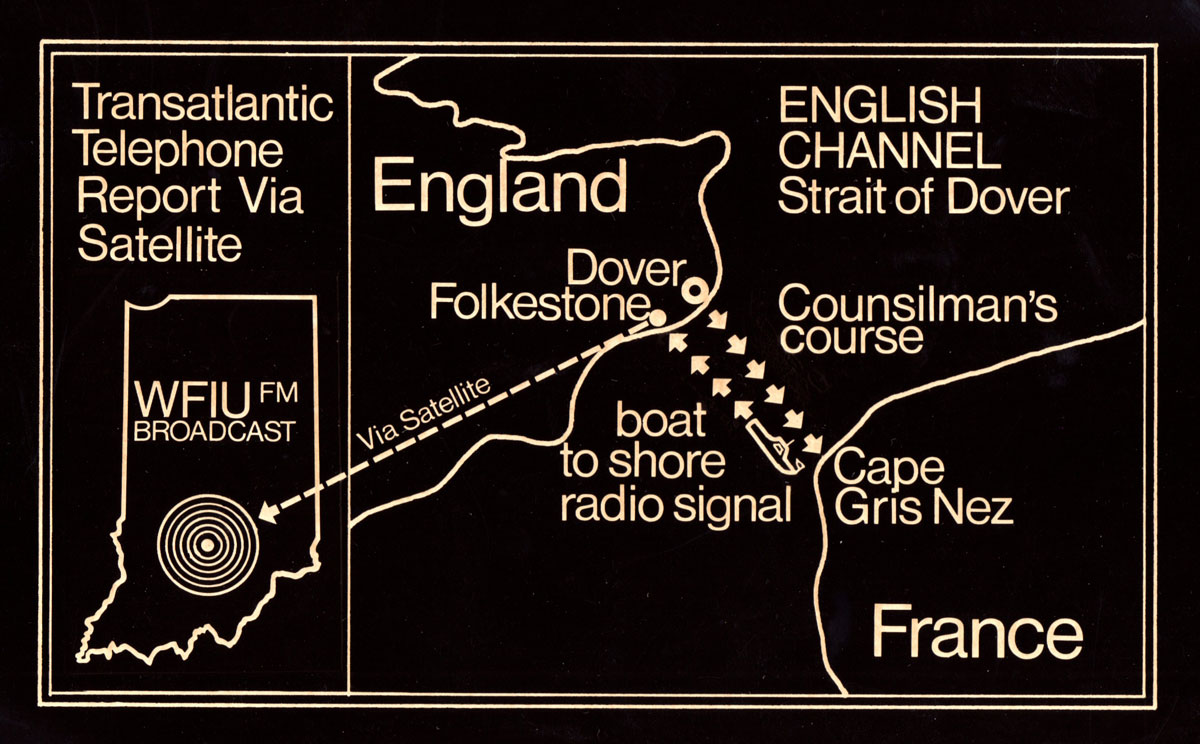 WFIU's system to live-broadcast Doc Counsilman's swim of the English Channel
1979
A New Morning
In November, NPR rolls out its newsmagazine Morning Edition. WFIU initially rolls selected features from the program into George Walker's music show, Morning, finally adding an hour of the show in 1983, and the full two hours in 1986.
1981
WFIU Goes National
A year after NPR launches a satellite system that links public radio producers and stations across the nation, WFIU uplinks its first program, a live performance by the IU Philharmonic.

The next year, American Public Radio picks up Music from Indiana, an IU School of Music showcase, for national distribution. By 1983, the series is on 60 stations across America.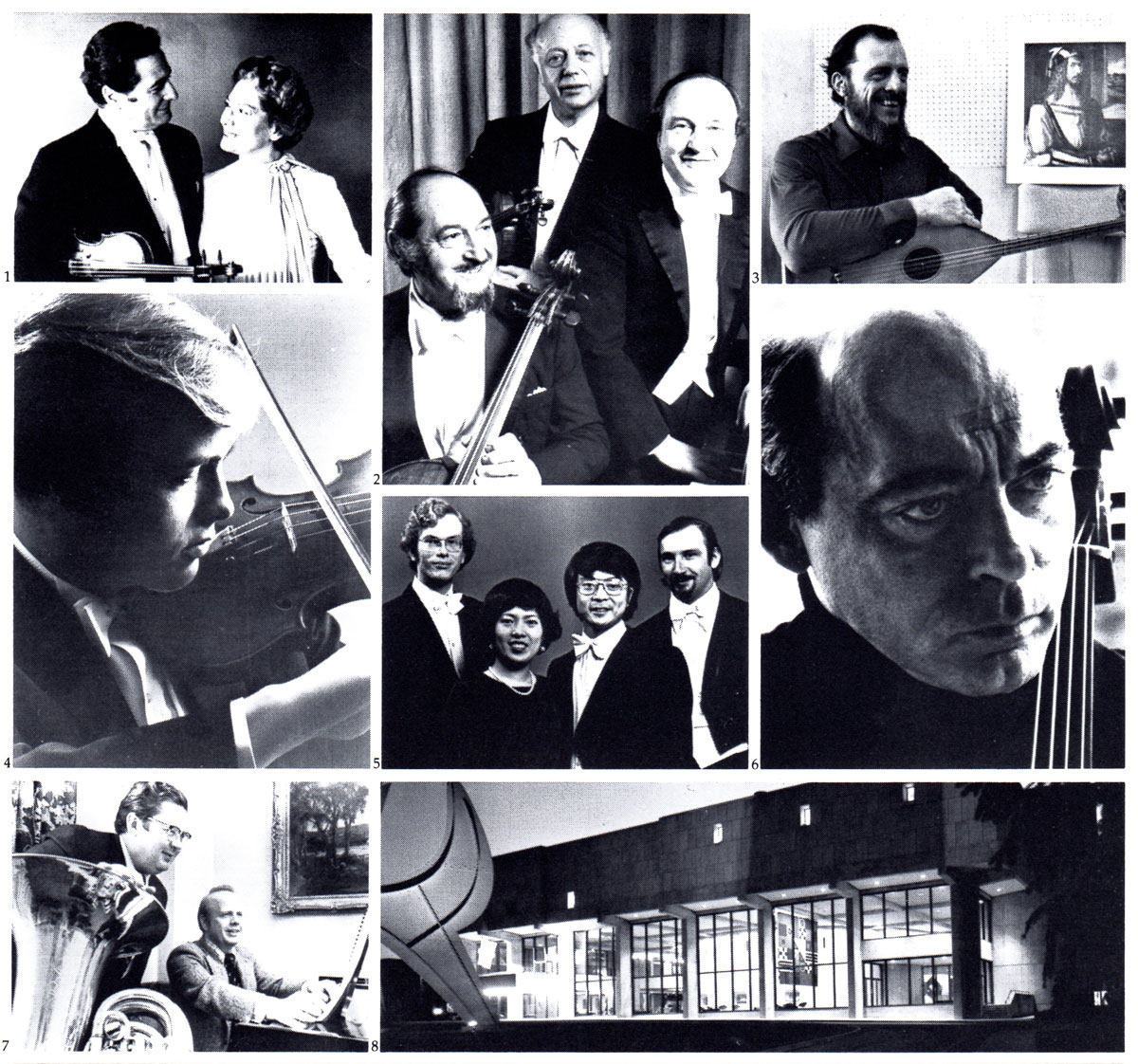 1984
One Bourne Era Ends, Another Is Bourne
WFIU's ninth annual pledge drive wraps up on November 18 with a three-hour on-air going-away party for the weekday jazz program There with Michael Bourne – its host is, after 12 years at the station, off to New York City. His successor is Joe Bourne (no relation), who brings listeners Just You & Me daily until his retirement in 2011.
1988
The First of Many Moments
Prompted by an IU professor's question about why the radio station doesn't use a little airtime to address scientific curiosities, program manager Don Glass creates A Moment of Science. It bows February 28 under original host Steve Fentress. Glass himself succeeds him, joined by a series of co-hosts including Angela Mariani and Yael Ksander. The daily two-minute segment is distributed to stations nationally, and comes to enjoy a second life online. Currently, its web archive of thousands of "moments" is enjoyed by about two million visitors each year.
1988
Click and Clack Attack
July brings the debut on WFIU of a new public radio phenomenon, Car Talk, led by two boisterous mechanic brothers from Boston, Tom and Ray Magliozzi, who sound like anything but NPR.

It's an immediate hit, and remains a fixture of the Saturday morning lineup until the show ends production in 2017.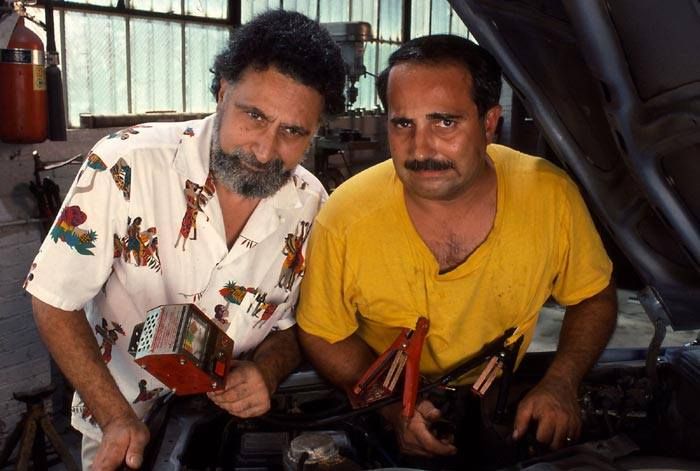 1991
It's Time for Early Music
October sees the debut of Harmonia, a weekly hour filled with Renaissance and Baroque music. The program, hosted by then-graduate student at IU Angela Mariani, is seen as filling a gap in WFIU's music lineup.

Before long, listeners to stations across the country begin to feel the same: when the show is nationally syndicated in 1995, 80 stations sign on in the first week. Within five years, the show can be heard on more than 150 signals in the United States.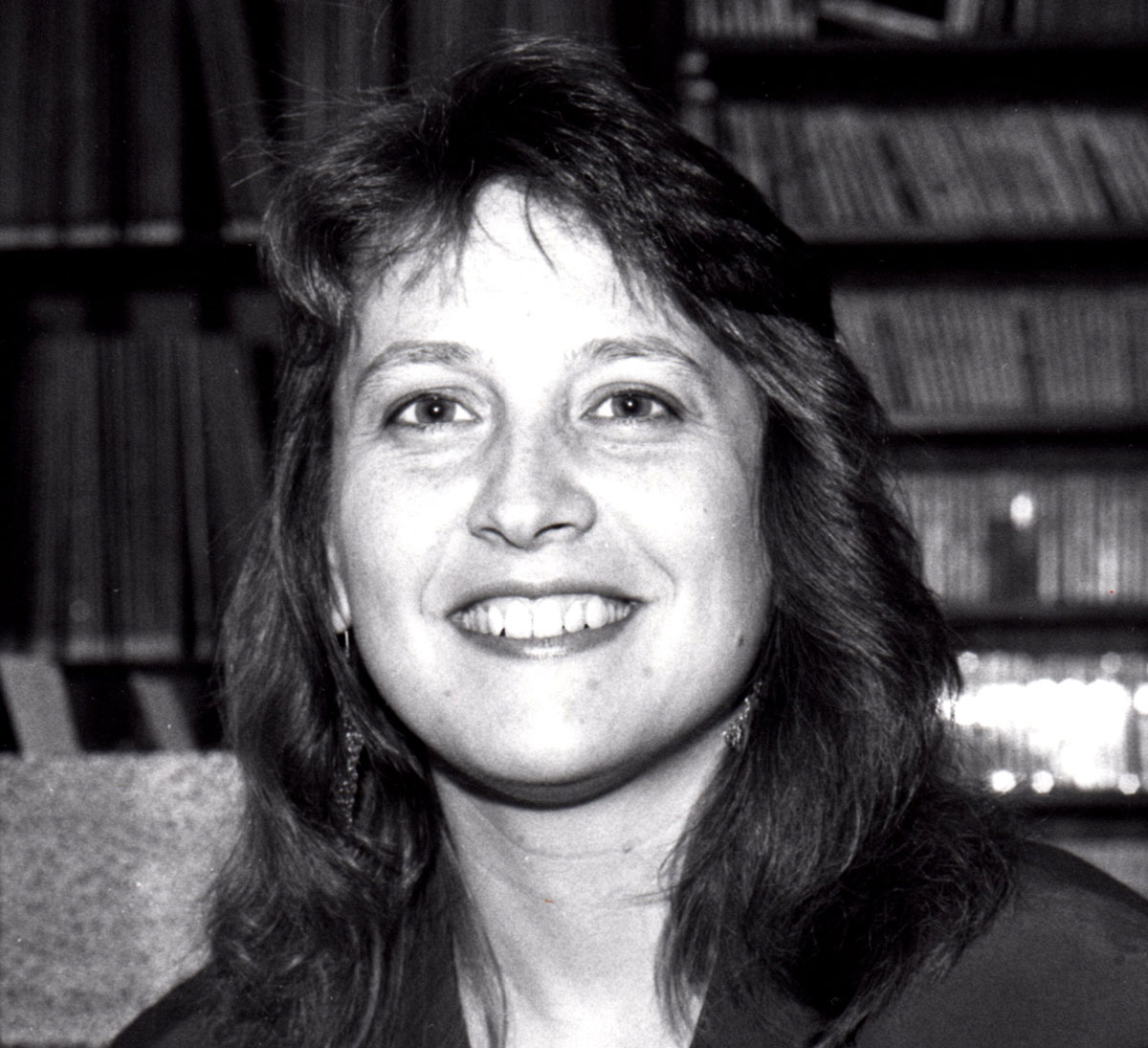 1995
Entering the Online Age
Cary Boyce, then WFIU marketing director, designs the station's first website, wfiu.indiana.edu. In October 1999, the station becomes one of the first 30 in the country to offer live audio streaming, using RealAudio Player. The site would move to wfiu.org in 2006.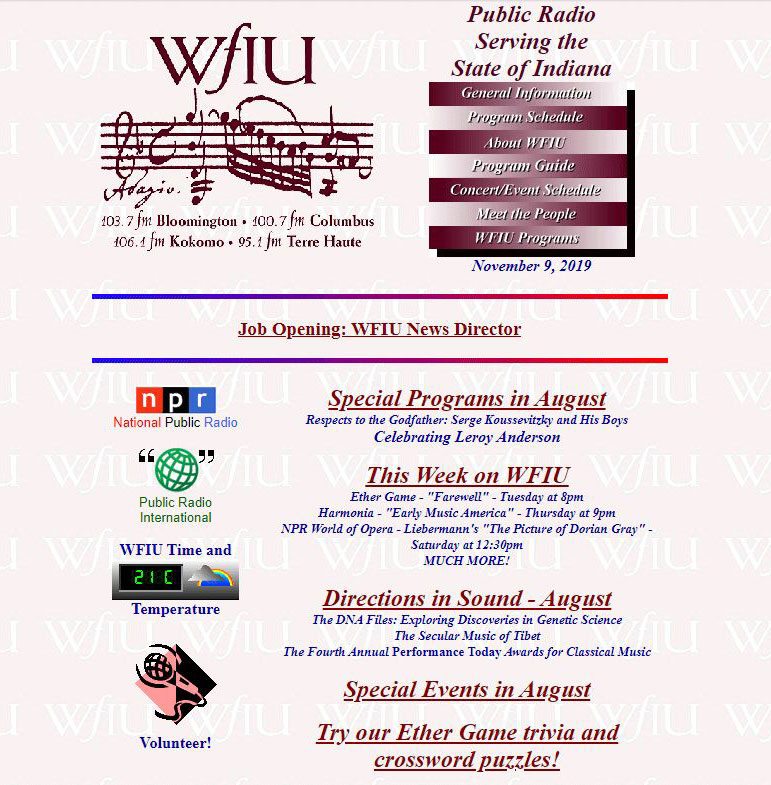 1996
Expanding Our Reach
WFIU acquires its first translator, at 95.1 FM in Terre Haute, designed to boost the signal in Vigo County.

Within two years, the station has additional frequencies in Columbus and Kokomo. French Lick and Greensburg would follow in the decade to come.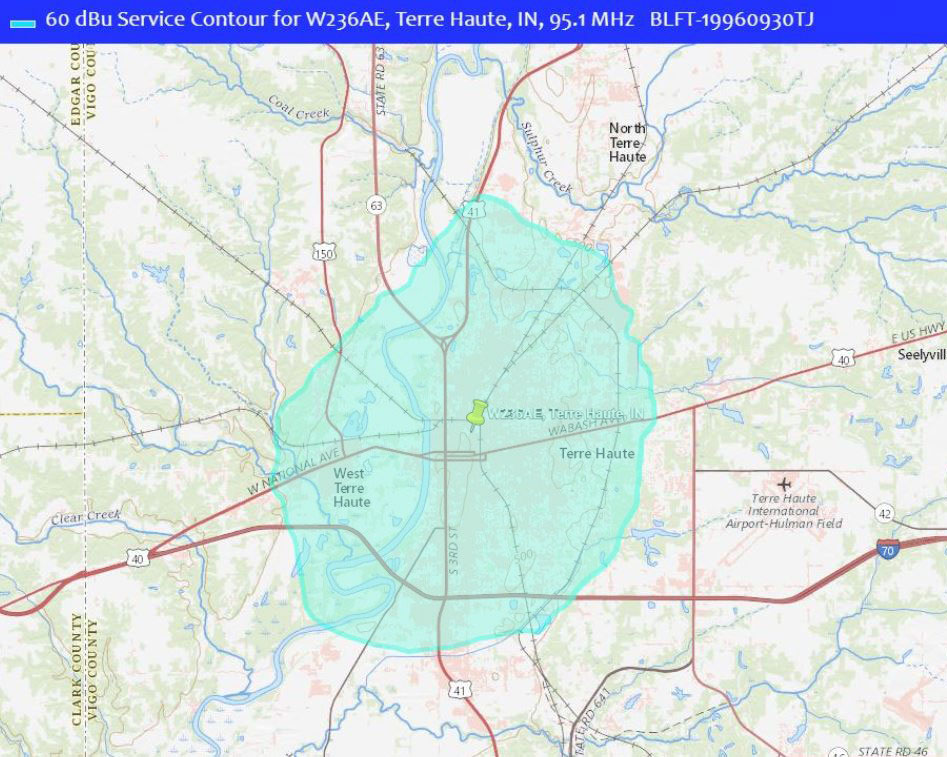 1997
A Weekly Conversation
WFIU turns an occasional series of long-form one-on-one interviews into a weekly series. In December, Profiles officially debuts with an hour-long conversation with poet Scott Russell Sanders. The program's original weekly host, Bob Willard, eventually is replaced by a rotating cast of interviewers.

The roster of guests has remained a mix of area notables (e.g. community activist Charlotte Zietlow, pianist Menahem Pressler) and visiting luminaries (NPR host Steve Inskeep, actress Meryl Streep).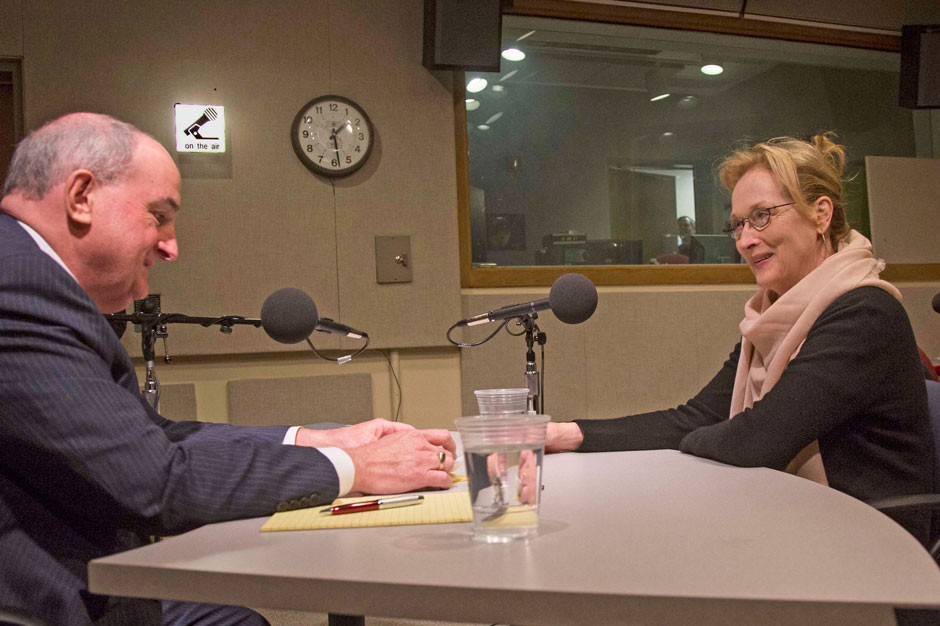 2003
Once Around in the Hometown
Singer-songwriter Tom Roznowski, "The Gentleman from Indiana," completes an eight-year, 400-episode run of a four-minute Saturday evening feature, Hometown, each installment of which tells a story from 1920s Terre Haute. The full series would rerun through 2011. Roznowski will renew his WFIU ties in 2018 with the launch of an hourlong show, PorchLight, that explores a theme in story and song.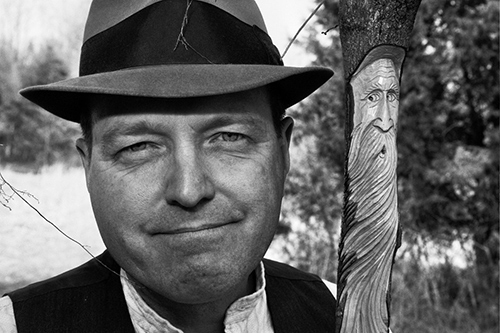 2006
Losing a Friend
In April, the station says goodbye to one of its own, as 24-year-old Robert Samels, host of the vocal music program Cantabile and writer for music quiz show Ether Game, perishes in a plane crash with four fellow IU music students.

Chris Carducci, Garth Eppley, Georgina Joshi, Zachary Novak, and Robert Samels were accomplished musical performers with brilliant careers ahead of them when their lives were cut short.

The station maintains a place in its main studio for his substantial collection of records, donated to WFIU by Robert's family.
2008
More Music, More Talk
WFIU adds a digital side channel in July. Initially known as WFIU-HD2, the second signal offers a counterpoint to the main channel's split schedule of news and music at each turn. The WFIU audience gains access to staple programs from NPR such as The Diane Rehm Show and Talk of the Nation that the main channel does not carry, as well as music in the early-morning and late-afternoon hours.

The service is available on HD Radio in the 103.7 Bloomington listening area, and streaming online at wfiu.org. In 2016, WFIU renames its second channel WFIU2, and adds translators in Bloomington and Seymour that allow listeners to hear the channel on analog FM.
2009
Real Food, Green Living
Earth Eats begins to grow organically, as a humble online experiment. The primary ingredient is a weekly audio recipe; to it eventually is added a podcast full of sound-rich features, a weekly half-hour radio presence, and a Twitter following that swells well beyond 300,000. Founding producer Annie Corrigan leaves in 2017 and is replaced by Kayte Young.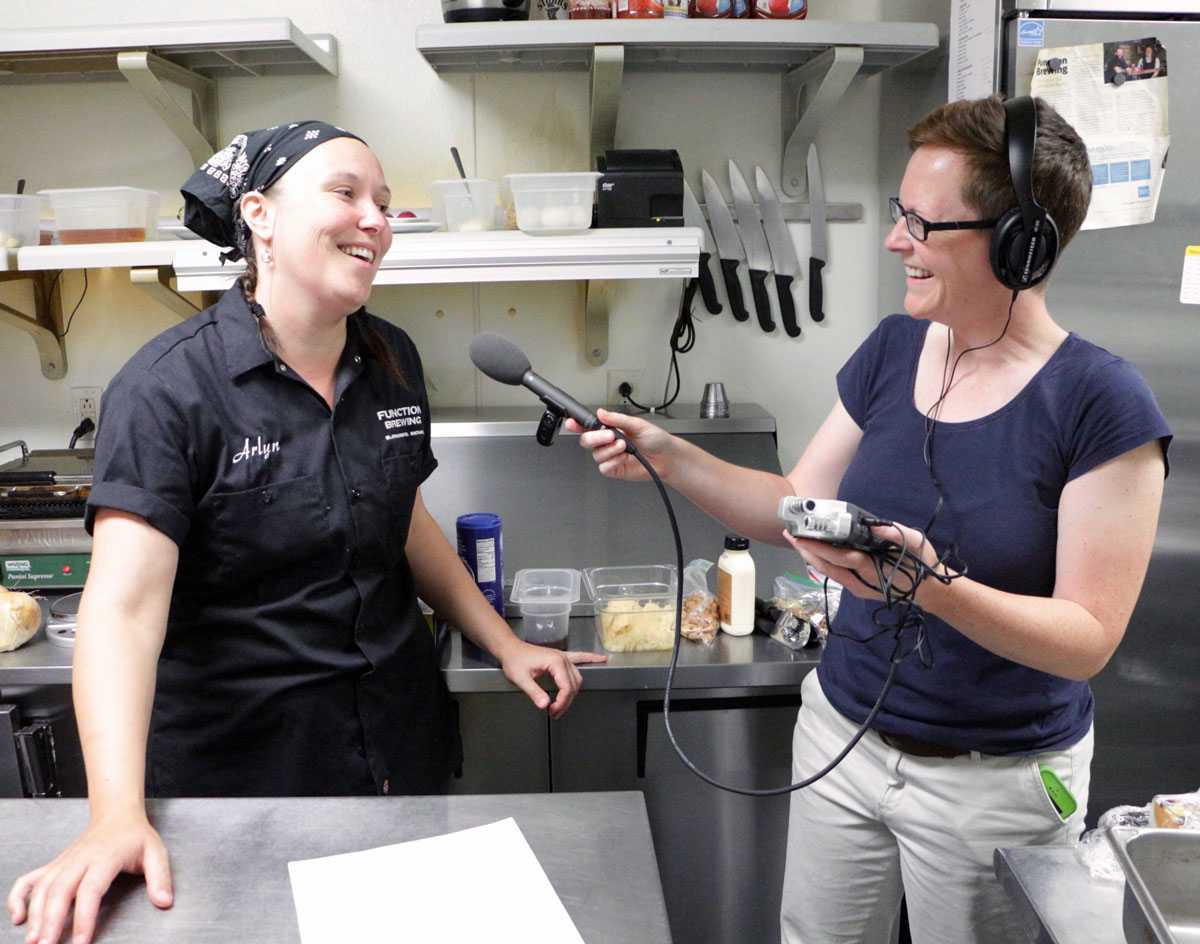 2013
Good Night, and Good Luck
The WFIU news team wins its first national Edward R. Murrow Award. The award is for Progress Report: Education in Indiana, in the category of best radio news documentary. The team would win five more in the following five years, for its newscast, feature reporting, website, social media, and overall excellence.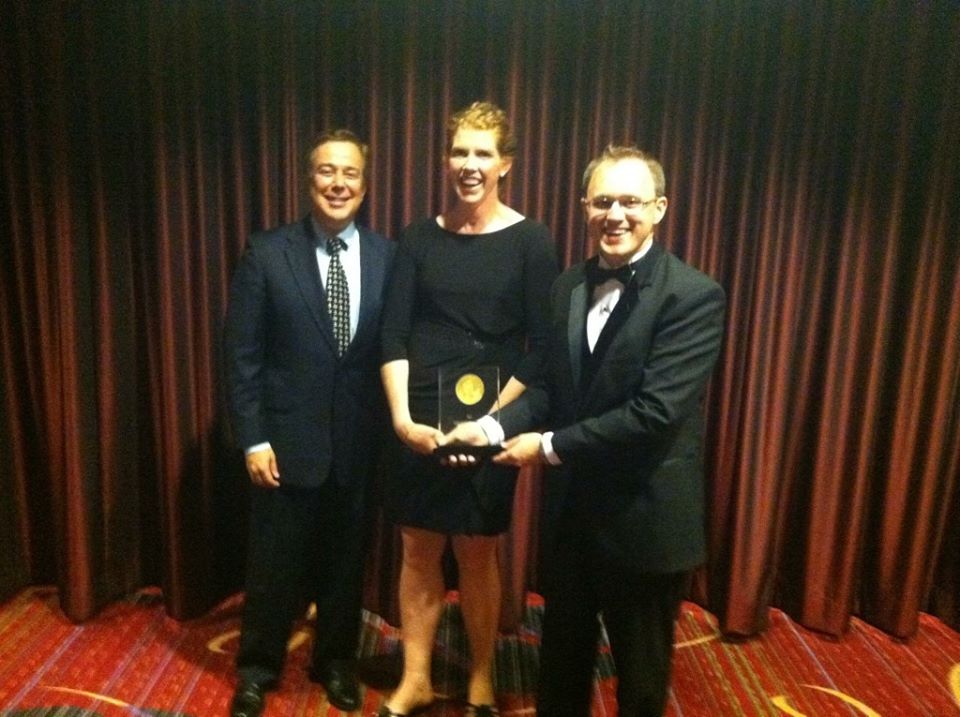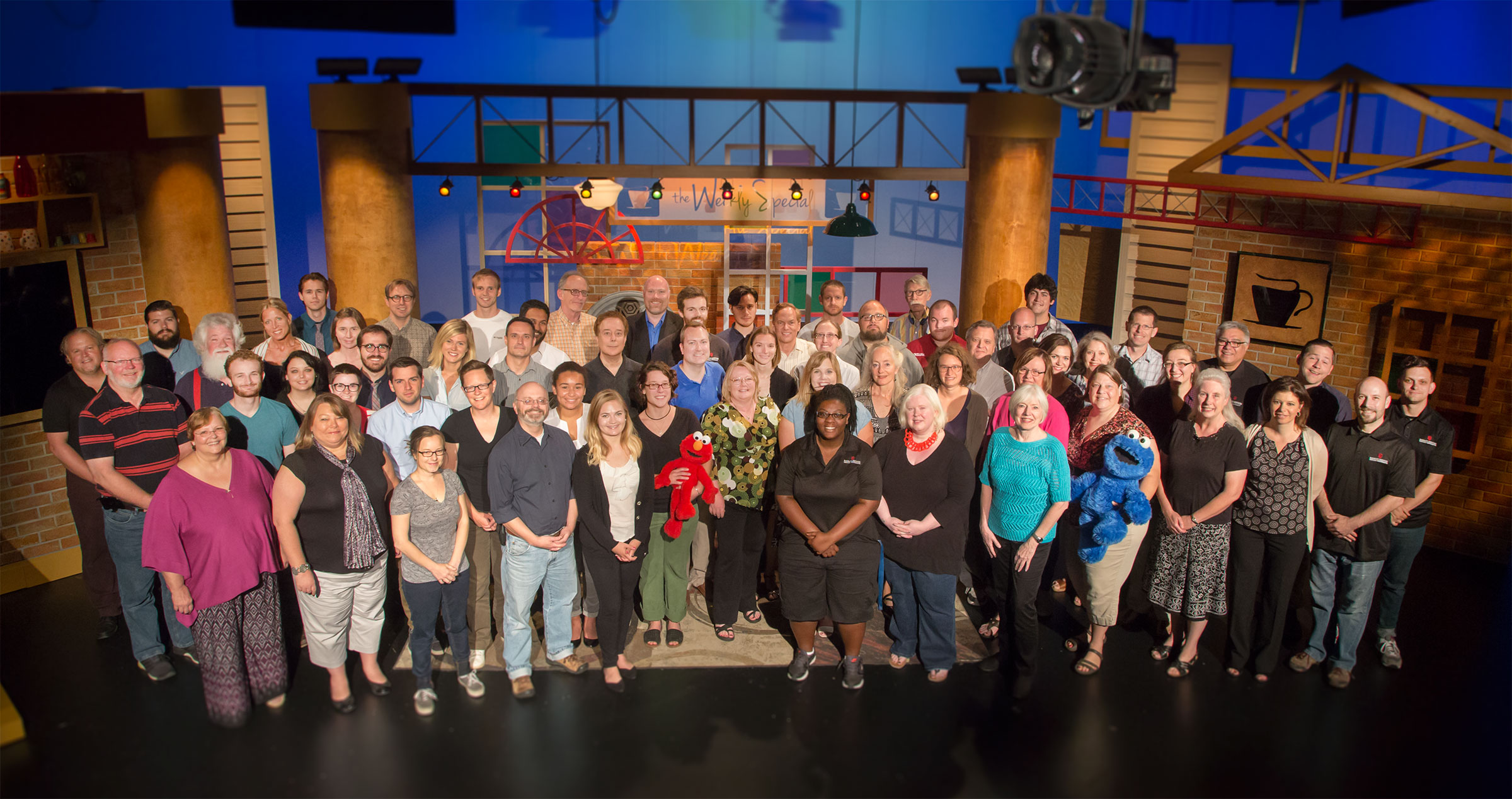 2016 IU Radio/TV Staff Photo
2019
A Homecoming
In January, Grammy-winning vocalist Sylvia McNair becomes the host of Sylvia and Friends, three hours of classical music and conversation each Saturday on WFIU2. It represents a return to radio after a substantial gap – she had been a staff announcer at WFIU during graduate school, ending in 1982. Her new program is well received, and offered to stations across the country beginning in 2020.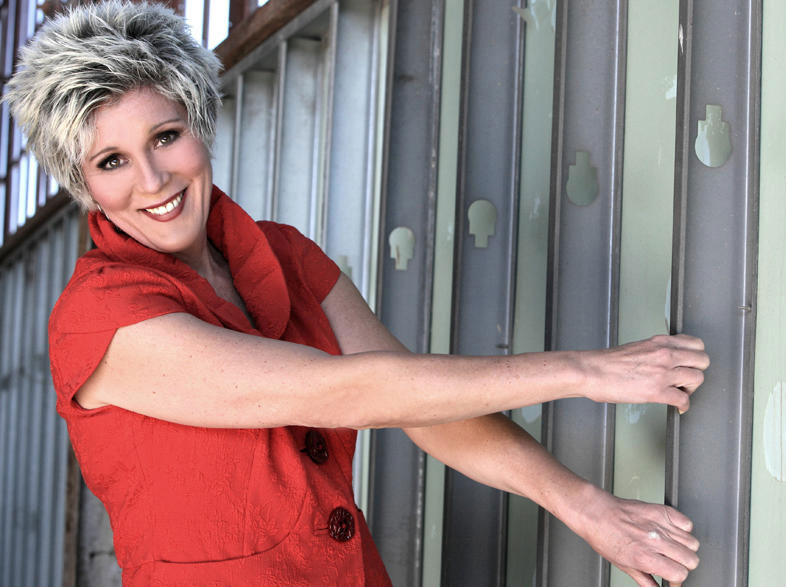 2020
70th Anniversary
WFIU signed on the air in 1950 and immediately found itself in the vanguard. Those few in southern Indiana who owned an FM receiver were able to pick up little else on the dial, and the station had to be exceptionally creative in developing programming for those listeners.

Not only was there no Morning Edition, there would be no NPR for two decades to come! "Educational stations," as public radio stations then were known, were entirely on their own.

As much as broadcasting has matured and the content has changed across 70 years, the fundamental mission has remained the same: to inform, to teach, to enlighten and entertain, to deliver culture, and to strengthen our community and our democracy. If those who were present at the creation could be here now, they might be surprised by the places technology has allowed us to go, and, we hope, would be pleased by what they hear.

John Bailey
WFIU Station Operations Director