If someone tells you they're a Kurt Vonnegut fan, there's usually a follow-up waiting to be asked: What got them into his work?
For Chris Lafave, curator at the Kurt Vonnegut Museum and Library in Indianapolis, it was a blend of reading "Breakfast of Champions" in college, diving into "Welcome to the Monkey House" after Vonnegut's death and finding comfort in "Cat's Cradle" while working through the 2008 recession in Chicago.
"That was a weird thing to jive with all of our liberal arts degrees: we're all begging Subway for a job, so it was nice to have a book that was funny about the end of the world," he said.
For Indiana University Arts and Humanities Council Associate Director Joe Hiland, it was an older friend in college coming home to visit with "Breakfast of Champions" and "Slaughterhouse Five" in tow and demanding Hiland catch up before he saw him next.
"I think I read probably two-thirds of what Vonnegut had written over the next year and a half."
Granfalloon, the music, arts and academics festival centered around Vonnegut, wants to take those personal connections and fashion them into a celebration of the writer, through concerts, live performances and an academic conference. It returns this weekend for its second year.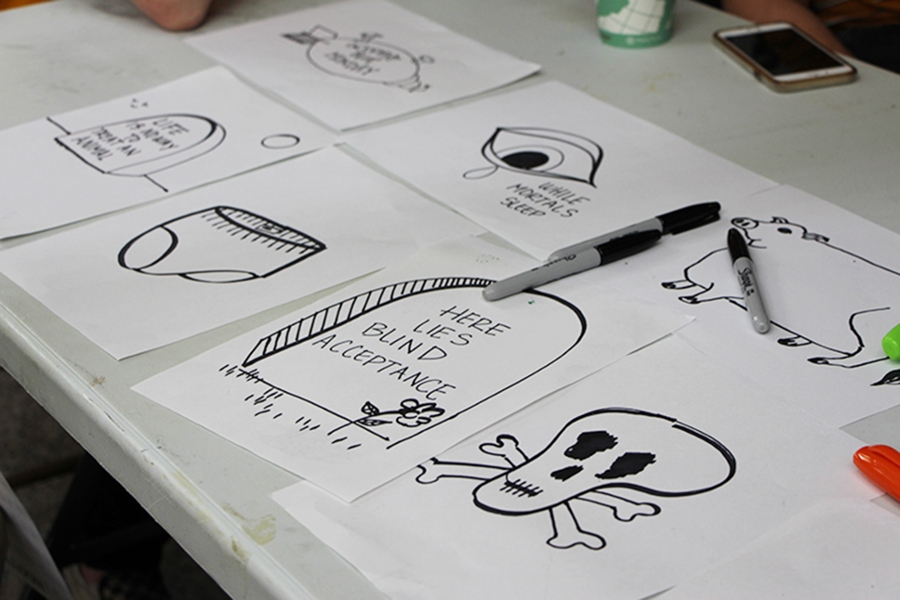 And while Vonnegut is front and center, IU Arts and Humanities Council Director Ed Comentale emphasized that the festival isn't all Vonnegut and only Vonnegut, but rather an extension of the writer's ethos.
"We selected Vonnegut as our kind of patron saint of the festival," Comentale said. "We think Vonnegut's a Hoosier hero. He really believed that practicing an art was an everyday, democratic [act]…almost a right."
Comentale said Granfalloon is a reason to celebrate Bloomington and its arts scene, as well as the contemporary arts and humanities in the state at large. And that manifests itself in a wide array of ways at Granfalloon.
At the top of the lineup this year is Grammy-nominated indie rocker Neko Case, who will take the stage Saturday, May 11, at Upland Brewing Company. She'll be joined by New York City punk band Parquet Courts and Durand Jones & The Indications, a Bloomington-native soul group. Other acts on the weekend's lineup include Sudan Archives, Khruangbin, Barrie and Huckleberry Funk.
Other stage productions include performances of teleplays adapted from Vonnegut's short stories presented by Cardinal Stage, plus a performance by Bloomington chamber choir Voces Novae of Vonnegut's "Requiem," a secular, humanist version he wrote in response to Andrew Lloyd Webber's "Requiem." The group commissioned eight different composers to bring the project to life.
But before the concerts and conferences start, WonderLab will be hosting its After Dark series, this time focused on the science behind Kurt Vonnegut's fiction.
And on Friday, writer Dave Eggers will be on hand to give the festival's keynote at the Buskirk-Chumley Theater. Eggers is a bestselling writer, founder of literary journal McSweeney's and a journalist whose work has been featured in outlets like The Guardian and The New Yorker. He'll also be on a panel on Writing, Incarceration and Social Justice as part of Granfallon's accompanying academic conference.
"I don't recall us inviting a writer to campus with the explicit intention of them talking about another writer," Hiland remarked.
Hiland added that the academic conference feels like a "running two-day conversation." Throughout Friday and Saturday of the festival, the conference is free and open for the public to hear speakers, attend panels and even participate in a few activities, like one this year that invites guests to invent their own religion.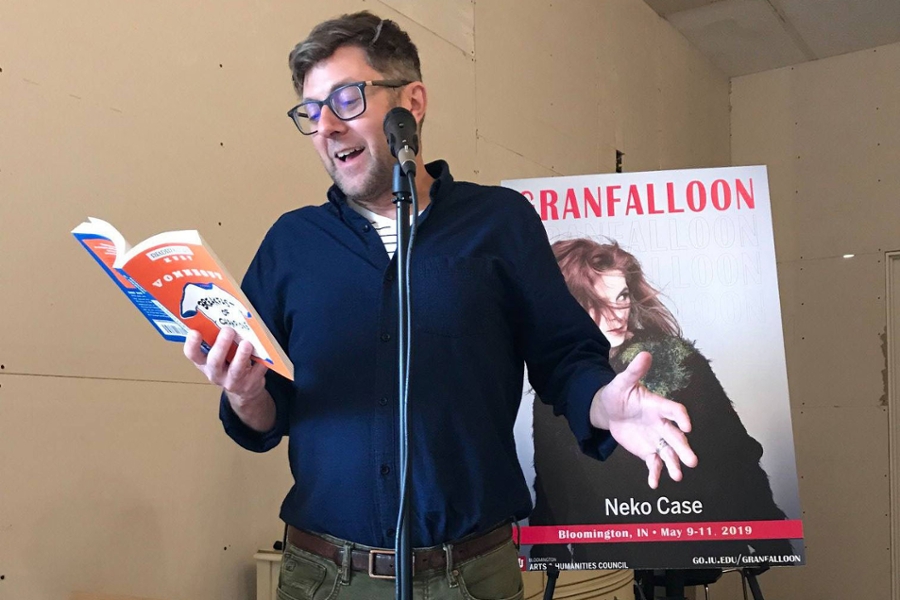 The concept behind Granfalloon didn't immediately begin and end with Vonnegut. As Comentale recounted, the Arts and Humanities Council was already spearheading community events like First Thursdays and Mexico Remixed, but they needed a flagship summer festival that could act as a bridge between the campus and community art scenes.
Both Comentale and Hiland had crossed paths with Vonnegut's writing through their academic work, and coupled with the Lilly Library's Vonnegut Archive, there was a whole well of interest right in IU's backyard.
"We think that he represents the best and most interesting writing and thought in the state," Comentale said, "so we really wanted to advance his reputation and his work as a way of being a thoughtful Hoosier."
From there came the challenge of programming the first Granfalloon, but it all fell into place when Father John Misty, a noted Vonnegut fan, jumped at the opportunity to headline the festival. Comentale said having Misty on the billing set the tone for what kind of festival Granfalloon would be. Getting picked up in outlets like Pitchfork didn't hurt, either.
View this post on Instagram
"We cross a lot of genres intentionally with the festival so that there's something for everybody, and hopefully something new for people to discover," Hiland said. The strategy behind the festival would be to begin with Vonnegut and move outward.
No matter how big in scale Granfalloon gets, Vonnegut's legacy is at the core. And as Comentale, Hiland and Lafave shared, that legacy endures because of the personal connection the author was able to strike with his readers.
"He's a lovable failure. He failed out of pretty much every institution that he signed up for, and he was notoriously bombed by his own government during World War II," Commentale said. "Through all that, he persevered and became a famous writer, and there's a lot of comfort in that story, especially for young people who have an artistic streak."
"The more work we do on Vonnegut, the more we realize that he is addressing issues that are either ahead of his time or are timeless," Hiland said. "What ['Breakfast of Champions'] has to say about American culture, particularly things like racial tensions and the legacy of Jim Crow and slavery, and what it has to say about corporate America and environmental degradation…[it] feels like it could have been written last year."
Comentale added, "Last year at the conference we decided that he was the best non-living writer of the Trump era."
"A lot of it has to come from the fact that some people…could really use a laugh, and Vonnegut could produce those. He had a rare ability to accomplish those goals without sounding overtly cranky or mean," Lafave said. "There was a cynicism in his work, but so many people could see past that to a certain kind of joy and humor."
Granfalloon 2019 runs from Thursday, May 9, to Saturday, May 11, with an encore performance of Vonnegut: Requiem on May 12. The academic conference is free and open to the public. Tickets for onstage performances and more information on the festival is available at the IU Arts and Humanities website.