In the early 20th century, Terre Haute garnered a reputation as a city full of vices. Sex, gambling and gangs ran rampant, and now a new book by a Terre Haute local is breaking down the city's dark past.
Tim Crumrin's "Wicked Terre Haute" looks back at the town's early to mid-20th century history, which was muddled with violence, drinking and sex work. 
Crumrin has given presentations and even taught classes at Indiana State University about Terre Haute's tumultuous past. He says people often ask him about rumors surrounding the city's history, wanting him to differentiate between fact and fiction.
"If you're over 50, you know it. It went on until the 70s. But I found that younger people had heard bits and pieces and rumors about it," Crumrin said. "Was it true? Was it exaggerated?"
How exactly did he piece together the history of his hometown? Crumrin said it didn't take very long.
"It was a lot of shifting through newspapers and things like that. Talking with some of the older residents in town, it came together pretty quickly actually," Crumrin said.
In "Wicked Terre Haute," Crumrin explores stories that are sometimes hard to imagine happening in the streets of the city as we know it today.
---
Gang warfare in the streets
The Prohibition Era created a number of problems for Terre Haute, beginning with gang violence. At the crossroads of St. Louis and Chicago, Crumrin notes that Terre Haute was a hotspot for high-profile gang members, which even included John Dillinger and Al Capone.
Frank "Buster" Clark and George "Eddie" Gosnell were some of the city's most notorious organized crime leaders. With abundant distilleries and breweries, Terre Haute was prime territory for underground business.
"There was a lot of gang warfare, sparked by whether you were working with the Saint Louis gang, or whether you were working with Capone and Chicago gangs up there," Crumrin said. "There were literally gun battles in the streets of Terre Haute."
At one point, the National Guard received word that John Dillinger was in town. By the time guardsmen made it to the house he was staying at, Dillinger had already been tipped off that they were coming, and he fled.
Crumrin says the tip to Dillinger likely came from a Terre Haute police officer.
Bad cop, bad mayor
Corruption in Terre Haute politics and law enforcement was abundant in the early 20th century. Officers like Ray Foncannon, who started off as a straight-edge law enforcer, later found himself protecting a liquor ring for a payoff.
Mayor Donn Roberts was indicted for tampering with the 1913 elections. And then he was arrested for assault in 1926...and 1929.
"Let's just say corruption was almost in the genes of various generations of Terre Haute politicians," Crumrin said.
In a city full of vices, it was easy for people in power to get caught up in the underhanded dealings.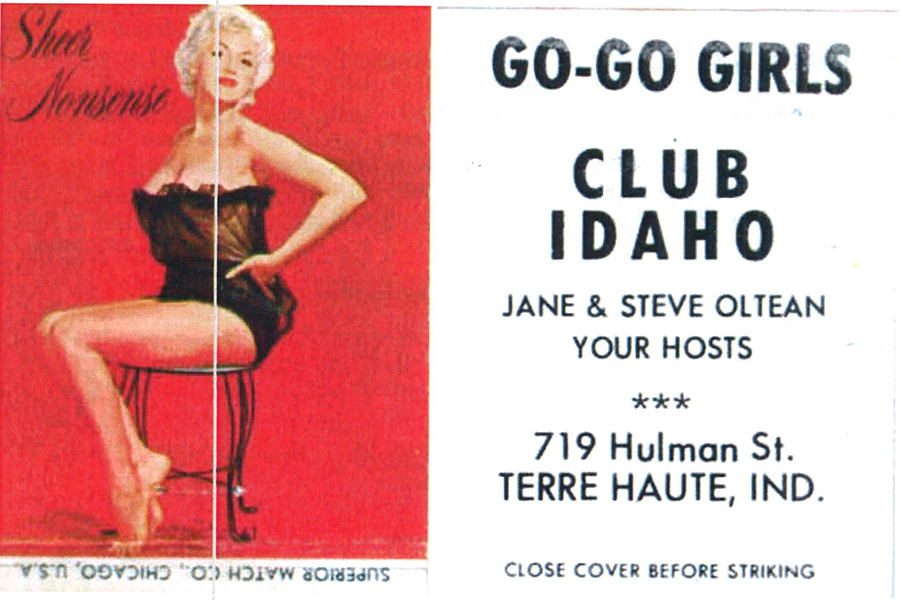 Gambling problem
Speaking of the city's biggest attractions, slot machines were easy to come by in the old days of Terre Haute. In fact, both Clark and Gosnell owned "slot machine trusts," renting out machines to saloons and retaliating against those who bought their own.
Support For Indiana Public Media Comes From
Gambling in Terre Haute outlived many of its sister vices. 
According to a May 2001 piece in The Terre Haute Tribune-Star, the city became known as "the home of the largest international gambling ring ever uncovered in the U.S." in 1957. The ring's headquarters was accused of collecting more than $3 million in bets over a three-month period.
"Even after the brothels closed down, gambling went on big time here," Crumrin said.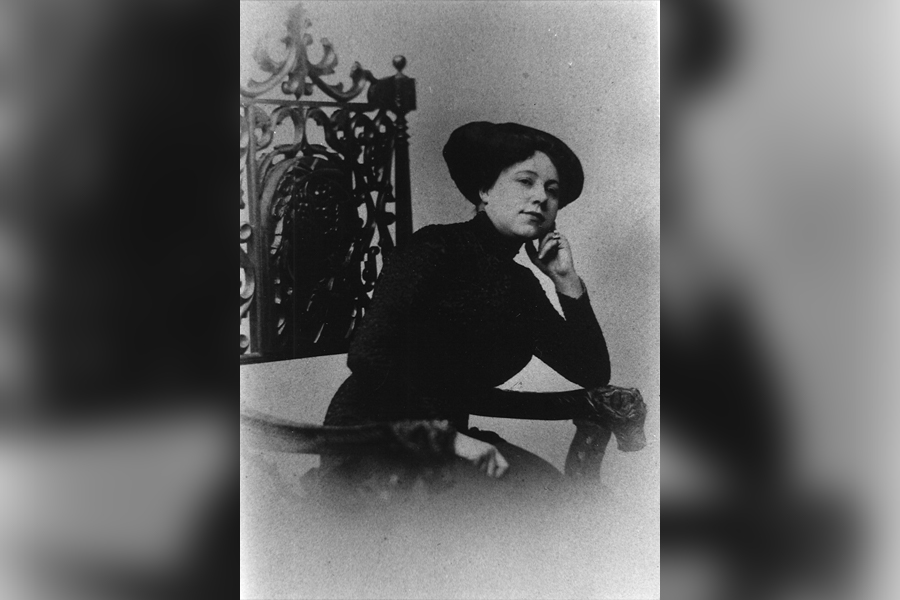 Sex work as a tourist attraction
At one point, Terre Haute was home to nearly 60 brothels and almost 1,000 sex workers. The town's prostitution industry even drew people in, as it became a hotspot for "sex tourism." In fact, Crumrin says the majority of the men who visited the city's red-light district were from out of town. 
"You'd come over, spend the day drinking, and eventually end up going to one of the brothels," Crumrin said.
The brothels, which were typically operated by "madams" of the city, actually played a major role in the economy of Terre Haute, bringing in thousands of dollars every year. When the West End and the red-light district were temporarily shut down during World War I, the city lost an estimated million dollars in today's value.
Another 2001 article from the Tribune-Star's "Historical Perspectives" column notes that the red-light district vanished after city developments in the 60s.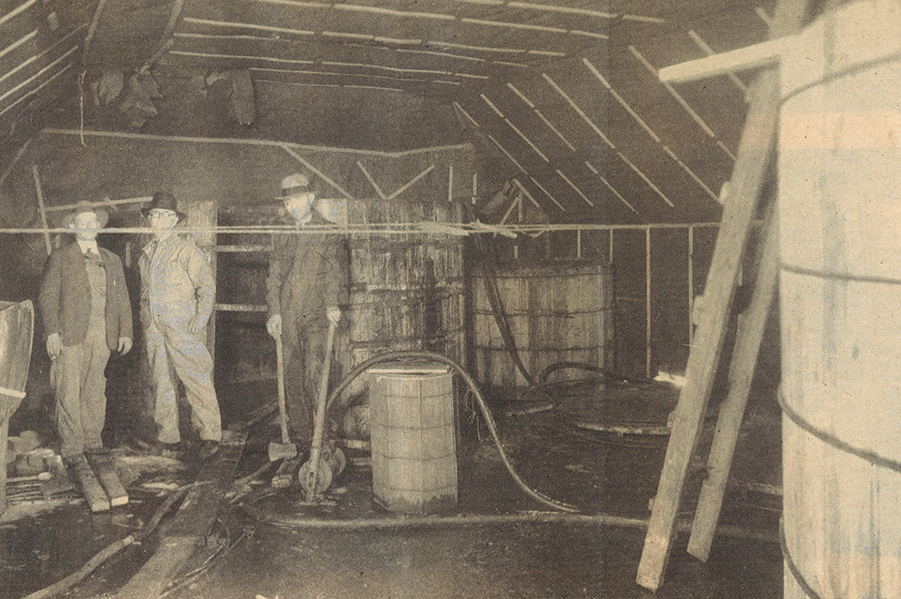 A town built on a garbage dump
A stretch of land on the west side of the Wabash River, known as Taylorville, was founded quite literally on a dump. The tent city was home to hardship and poverty and found itself riddled with drugs and disease during the peak of "Sin City" Terre Haute.
"You're talking families who were literally digging through the city dump for their daily meals," he explained.
In 1907, groups made efforts to completely raze Taylorville and move its residents elsewhere to make room for more brothels.
According to Crumrin, as the century neared its midpoint, Taylorville gradually made its way out of being a "third world slum" and instead was just an impoverished neighborhood in the city.
By the 70s and 80s, Terre Haute had shed its reputation as a "sin city." The end of Prohibition brought along local efforts to clean up the city and change its course. 
"The push that really helped take care of it was a group of women called the Housewives Effort for Local Progress. Their main goal was not to close down the West End. Their main goal was to start urban renewal of Terre Haute," Crumrin said.
The cleanup of Terre Haute transformed the city and left its wild adolescence behind.
Today, Terre Haute may not seem quite as "wicked" as it was a century ago, but Crumrin hopes to keep its stories alive as he shares them with a new generation.
Those who want to learn more about the city's dark past can check out Tim Crumrin's "
Wicked Terre Haute
," which is available now.