Between 1954 and 1957, Josiah Kirby Lilly Jr., a businessman and collector, donated his extensive, private collection to Indiana University. His collection consisted of around 20,000 rare books and 17,000 manuscripts, making it one of the most robust private collections in the world.
The IU library, at that point, was in Franklin Hall, which housed a small special collections department. J.K. Lilly's generous donation provided IU's president at the time, Herman B Wells, with an opportunity to create a separate space solely dedicated to housing these items.
Construction for this new building began in 1957 and plans fully came to fruition with the grand opening of The Lilly Library in 1960.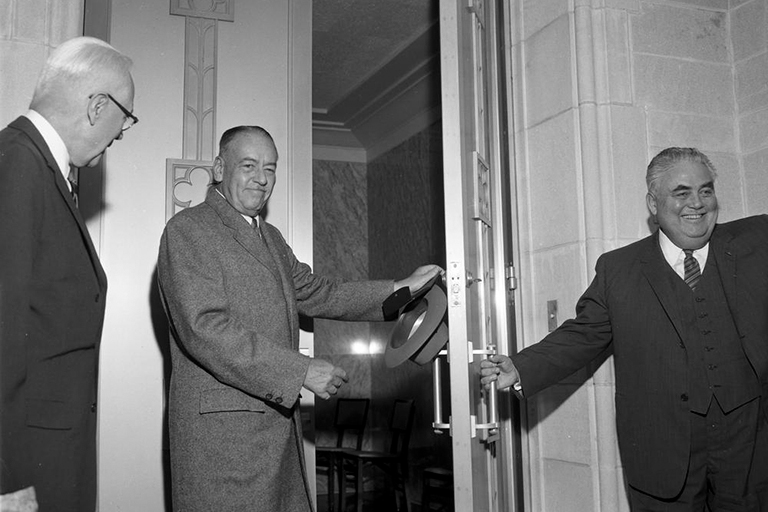 Lilly only visited the library twice: once for the groundbreaking, and again for the opening. But he never came back to view his collection.
Support For Indiana Public Media Comes From
"Mr. Lilly just handed his collection over and then stepped back," Education and Outreach Librarian Maureen Maryanski said. "And I find that to be a wonderful, generous thing that he did."
We don't often think of libraries housing anything but paper materials, but the Lilly Library stands seven stories tall and is filled with incredibly varied content collected over the years. Exhibitions in the gallery offer a chance for the curators to feature the not-so-typical collectibles that have been acquired.
"We have two locks of Edgar Allan Poe's hair," Maryanski said. "One is in a little broach - as it was very common in the 19th century to have locks of people's hair as a love token or during mourning. And then we also have another lock of hair that he had sent to his fiance at the time."
The library's collections have grown since its grand opening almost 60 years ago. The private stacks now hold 450,000 rare books, 8.5 million manuscripts and naturally, even more hair.
"Most of the hair we have comes from the 19th century collections but we also have several locks of [author] Sylvia Plath's hair," Maryanski said. "The collection we have on Sylvia Plath came from her mother...so it was as she was growing up. It's a fascinating thing, specifically with manuscript collections, to see what people saved from their own lives.
Hair isn't the only unique collection at the Lilly Library. Ruth Adomeit, a collector from Cleveland, donated her collection of 16,000 miniature books to the library as well. (A book must be two and a half inches or smaller to be considered miniature.)
Sometimes the librarians are the ones sharing those stories by curating an exhibition, but the higher purpose of the library has always been through helping anyone with a curious mind have access to these materials.
An interesting position within the library is called the "Curator of Puzzles" held by Andrew Rhoda, which is an important role considering the collection consists of around 35,000 mechanical puzzles. Many rotate on display and are open for the public to try and solve in the Slocum Room.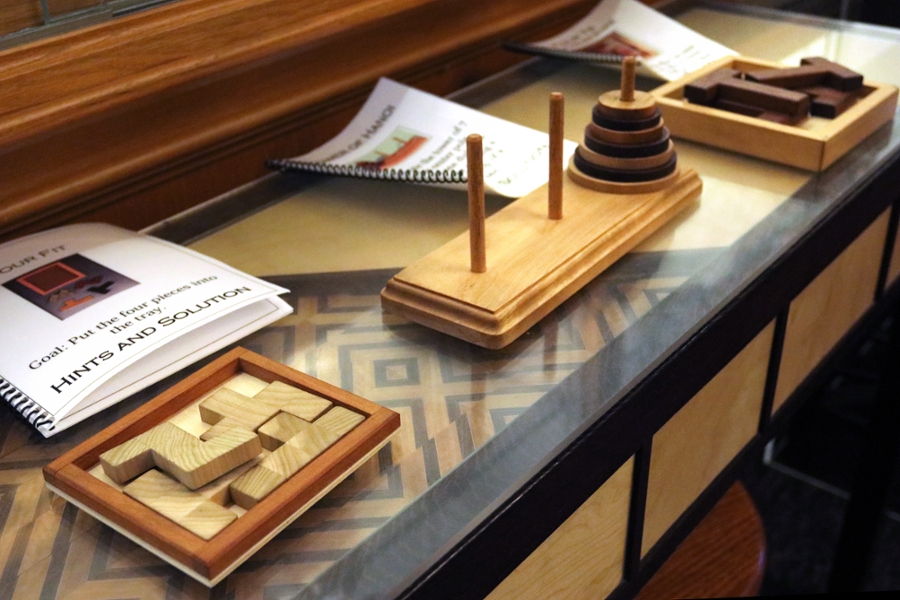 While IU students and faculty members make up the biggest group to frequent the library, it also receives visits from researchers all over the world. Anywhere from 4,000 to 5,000 people visit each year, which can make the day-to-day life of a Lilly librarian pretty varied.
Exhibitions have a limited display time in order to properly preserve the collections. Aged documents like the copy of the Declaration of Independence are sensitive to light, and it's the library's job to consider this balance of preservation.
Two items are on permanent exhibition at the Lilly Library. The first is The Gutenberg Bible, printed between 1450 and 1455. There are less than 50 copies that survived, and the Lilly Library holds the New Testament. Its corresponding Old Testament was tracked down in Belgium.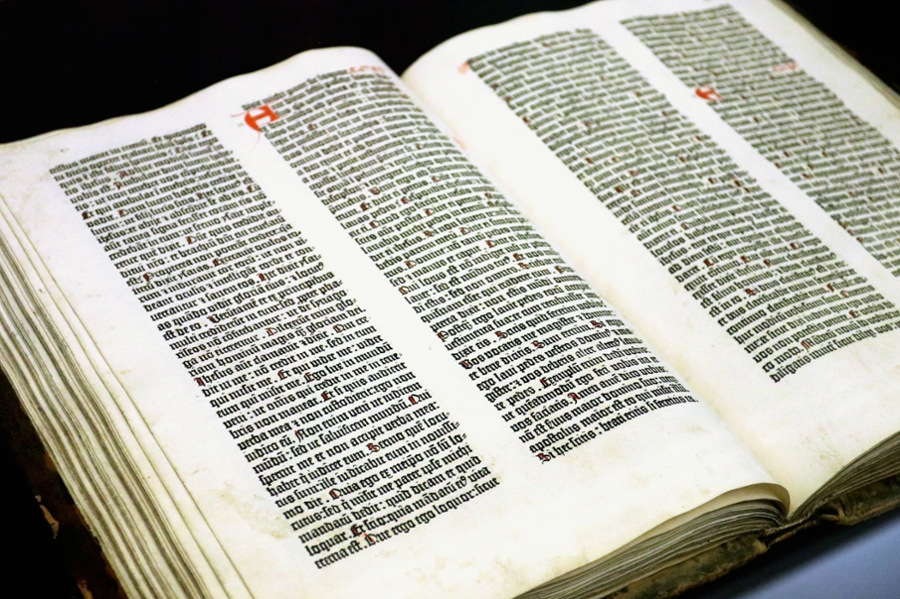 The other permanent exhibition is John James Audubon's book, "The Birds of America" from the early 19th century. It is a Double Elephant Folio, the largest sized paper being produced at the time. It's made up of four volumes and consists of 435 plates displaying realistic watercolor images of the birds in North America, all represented in life-size form.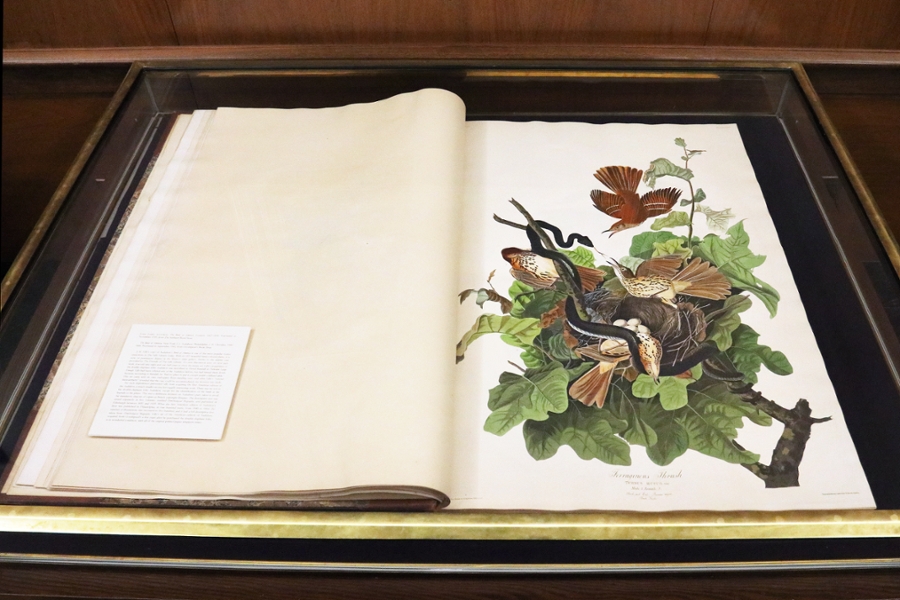 Light damage isn't the only concern for old books. An open displayed book causes stress on the spine. With Audubon's book laying 39.5 inches tall and 28.5 inches wide, it becomes important that the pages get turned periodically.
"On our social media we have started the hashtag #FlippingtheBird," Maryanski said, "where people can stay current with each new page turned whether they can enter the library or not."
#flippingthebird #audubon Mississippi Kite #goflyakite #taketheredeye #spanishmoss #highasakite #swamplife pic.twitter.com/KNaGaI4tDG

— IU Lilly Library (@IULillyLibrary) May 15, 2019
The rooms throughout the Lilly Library are themed after certain donors and each space holds a specific purpose. However, the rooms are open to the public when not in use. An online tour allows people to explore the history and content of each room.
A vault lies somewhere in the Lilly Library. It was designed during the construction of the building as a civil defense shelter in the chance of an air raid. Librarians aren't allowed to divulge its hidden location.
There's also a door in the gallery that leads to nothing. Behind it's tinted glass panels is a stone wall. It's rumored to have been built there just for the sake of symmetry.
"I think it is incredible that a place like this exists in the Midwest," Maryanski said. "It's common for us to bring things out and for people to ask 'How did this make it to the middle of Indiana?' We have such unique items and we're excited to be able to share them."
In April of this year, the library was awarded a $10.9 million grant supporting major improvements to the building, including lighting, technology, and security upgrades. Visit The Lilly Library F.A.Q page to stay up to date on the status of closures.