When you first walk into the Mill, Bloomington's newest co-work space for budding businesses, you're greeted with rows of desks packed with people furiously typing away at laptops, within a perimeter of windowed office spaces and even more people…furiously typing away at laptops. And they're all there for a similar reason: to get their startups off the ground.
The Mill is the epicenter for the Trades District, Bloomington's multi-million-dollar small-town-as-Silicon-Valley effort to bring new talent and new business into the city. But a few of The Mill's startups aren't waiting for a parking garage to get built before they make a splash.
One business tucked in the back of The Mill's offices has already garnered plenty of (don't say it, don't say it) buzz. (I'm so sorry.)
With just four full-timers on the roster, The Bee Corp has firmly announced its presence both in the Bloomington startup space and around the country. Though its methodology of getting from A to B has changed several times, its mission has largely stayed the same: use technology to bridge the gap between beekeepers and food growers to ensure better food security.
"We see it as food security because if we don't put metrics to this, you're going to see – the price is not going to stop climbing for honeybees," said Ellie Symes, CEO of The Bee Corp. "[It's] going to give the beekeepers better information to help them."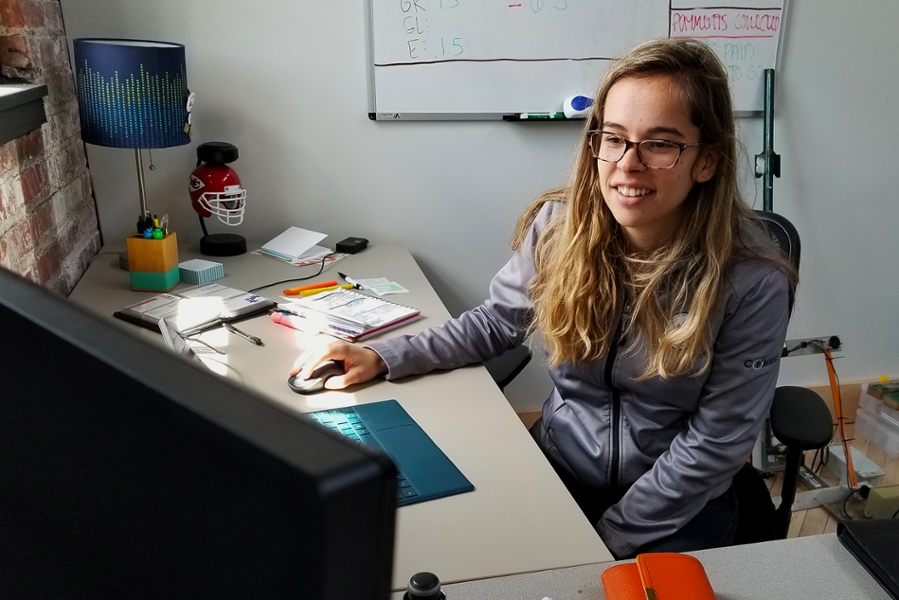 Each new season, growers will order new colonies from beekeepers to compensate for bees that have died off, so their new rotation of crops can get properly pollinated. But up to this point, those orders were based off a rough, inaccurate manual inspection. Scale that up to larger operations, and the orders were even more inaccurate.
The Bee Corp addresses those inaccuracies through Verifli, an app/hardware bundle that uses infrared imaging to accurately estimate the size of a bee colony within a hive. Launched in February of this year, it's a small attachment that fits easily in your palm plugs into your smartphone and transforms its camera into an infrared camera.
Simply snap a photo of a hive, and Verifli's software analyzes the image and applies algorithms to determine an estimated size.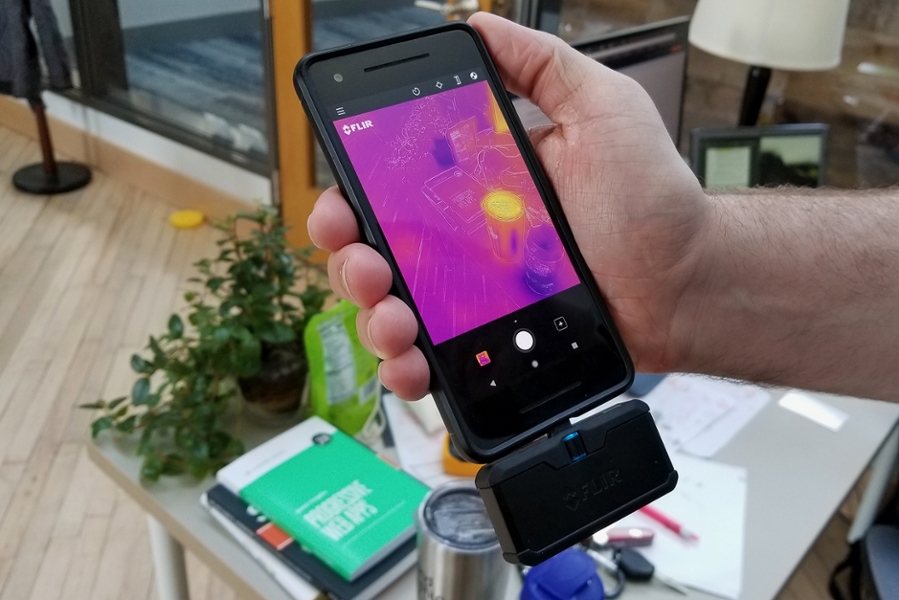 Even in The Bee Corp's office, Symes showed that Verifli is accurate to the point where it can identify the heat signature left by a handprint on a table.
"It's a validation tool for both sides to assess the quality of the hives, so they can have a business relationship with something that's measurable," Symes said. "With more metrics and measurement over time, hopefully we can actually reduce the number of colonies that are used in pollination, but increase the overall health and strength in colonies."
Since honeybees pollinate around a third of our food, there's plenty of work to be done in that sector. But as Symes notes, The Bee Corp has set its sights specifically on the almond industry, the crop that requires the most bees to grow.
It's worth noting that The Bee Corp's mission is not to "save the bees," a common cultural refrain referencing colony collapse disorder, or the phenomenon where most of a hive will leave behind a queen with too few other bees to take care of it. While native pollinators like bumblebees, carpenter and mason bees are in trouble, honeybees – the species the Bee Corp works with – are a globally distributed livestock animal, and they're doing just fine.
A 2015 Wired piece by Gwen Pearson states, "The bees you should be concerned about are the 3,999 other bee species living in North America, most of which are solitary, stingless, ground-nesting bees you've never heard of."
"There is not a 'hive honeybees are going to be off the board' issue," Symes said, although honeybees are vulnerable to health issues of their own. Natural pollinators fall more under the purview of nonprofits, not the Bee Corp.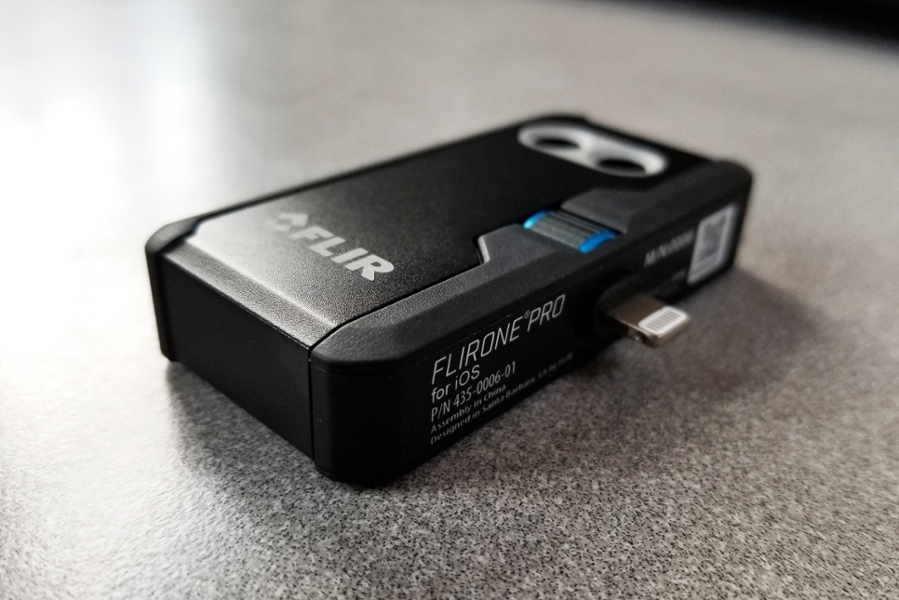 The Bee Corp has evolved significantly since the company launched a couple years ago, while Symes was still a student at Indiana University. What began as an intersection of her interests in beekeeping (even leading her to launch the Beekeeping Club at IU) and environmental management is now at the juncture where the Bee Corp is being courted by major partners like the Almond Board of California.
"We've received inbound interest from several major players in both the agricultural space and beyond, that see both the hive strength analysis and infrared image analysis as a tool to solve other problems," Symes said.
That kind of attention might lead one to assume that the Bee Corp would be headed out west to be nearer to growers or similar startups. But Symes says that move would be counterintuitive to the progress they've made in Bloomington.
Staying in Bloomington is not only cheaper than moving shop to California, but it's "easy for us to recruit newer, younger talent," Symes said. "As a business, you need a lot of support around you, with your service providers, investors, advisors – and that's here in Bloomington, and in Indiana."
This thinking may be indicative of where Bloomington startup culture is headed. The goal for a place like the Trades District is that, as the Mill and other incubators grow, companies and investors will take note. For Symes, that growth is already in a good place.
"There's a lot going on in Bloomington," she said. "It really is a good ecosystem. I'm really proud of where it's at, and I think it has really grown in the past three years."
5/13/19 UPDATE: In an impressive coincidence of timing, The Bee Corp announced on their website Friday that it will soon be relocating to Indianapolis.
"Bloomington is an excellent place to launch a startup, build early traction, raise capital and access key resources," CMO Wyatt Wells said in the release.
Symes added that the decision to move was determined by the local talent available in Bloomington versus Indianapolis.
"The university offers an excellent pipeline for hiring interns and entry-level roles, but the pool of experienced developers is more mature in Indianapolis," she said.
In our interview, Symes discussed the choice to remain in Bloomington versus moving to California to be closer to almond growers, but the possibility of an Indianapolis move did not come up. Symes told The INbox Monday that the change was not public at the time of the interview.