At the Runcible Spoon in Bloomington, a place where Sunday brunches and college students Instagramming their food are the norm, the sight of plaid kilts and tweed caps can stick out like a sore thumb. But once a month, the Scottish Highlands take over and the coffee house music is replaced by bagpipes. A Scottish accent can even be heard above the scraping of silverware and clinking of glasses.
The Bloomington Pipers' Society has been performing at festivals and competitions in and around town since 2015. The organization welcomes professional and amateur bagpipers, as well as anyone interested in the art of bagpiping. In addition to 12 dues-paying members, several other musicians attend their monthly meetings to back them up.
Founder Angus Burke, an accounts associate for Indiana University's Department of Folklore and Ethnomusicology, grew up playing the bagpipes in the Oregon Pipers Society in Portland. After moving to Indiana, he noticed the surprising amount of Scottish history in southern Indiana.
For example, several cities within the Hoosier state are named after well-known Scottish cities. You may have heard of Edinburg, Indiana which was named after Scotland's capital city, though the Scottish pronunciation of "ed-in-bruh" is quite different than the rough Hoosier pronunciation of, "ed-in-burg". In Ronald L. Baker's book "From Needmore to Prosperity," he mentions that Perth is a northwestern Indiana city in Clay County, located about an hour and 15 minutes from Indianapolis, and is also the name of the city in Scotland, located on the banks of the River Tay.
"The idea of me playing the bagpipes didn't come up until my father came home with a practice chanter and told me I was learning to play the bagpipes," Burke said. A chanter is a woodwind instrument whose main function is to help an individual adjust to the more traditional Great Highland bagpipe.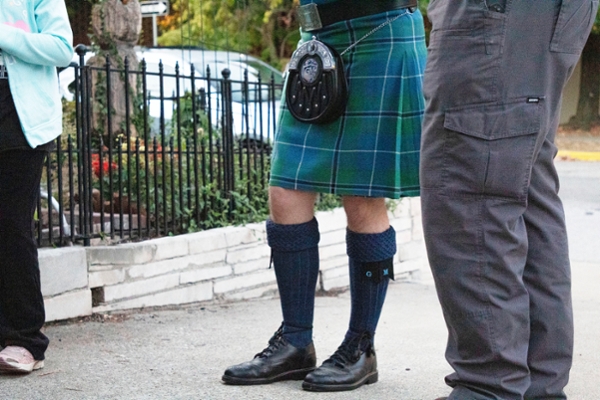 "Playing the bagpipes gave a space for me to see young and old pipers - beginners and the very best in the world - come together, support each other and play music. It was hugely impactful on my musical journey," Burke said. Now he's paying it back by mentoring several of the group's newest bagpipers, such as Marc Henderson.
Support For Indiana Public Media Comes From
While taking in the sights and sounds at the annual Columbus Scottish Festival, Henderson heard the sound of instruments from his past. It was the sound of bagpipes.
"That kind of perked me up a bit," Henderson said in his distinct Scottish accent. He grew up in Glasgow, Scotland where playing the bagpipes is a tradition. "When people in your family play the bagpipes, you tend to get grandfathered into it. My dad played in a local pipe band. My grandfather played and his father played, so it was kind of an expected move for me to learn how to play the pipes."
Once he moved to the United States in 2001, Henderson's hobby was put on hold as he adjusted to the American lifestyle and became increasingly busy. It wasn't until he started talking to a few of the pipe majors (an individual who plays both their own bagpipe and conducts the pipe and drum sections by tapping their foot) that Henderson yearned to get back into playing his homeland's instrument. Soon after, he joined a competition band in Covington, Indiana, where he met Burke, who invited him to join the Bloomington Pipers' Society.
Learning to play the bagpipes is often a lengthy process. Bagpipe students can spend anywhere between six months to two years learning on a practice chanter. A practice chanter is a double reed woodwind instrument shaped like a recorder which is practiced on before moving on to the traditional Highland pipes.
Once a student has mastered the basic pipe fingerwork, they will then get the approval of their instructor to purchase a full set of pipes (a decent set can cost anywhere from $900 to $1600). From there, playing the bagpipes is a lifelong journey that develops with more time and effort.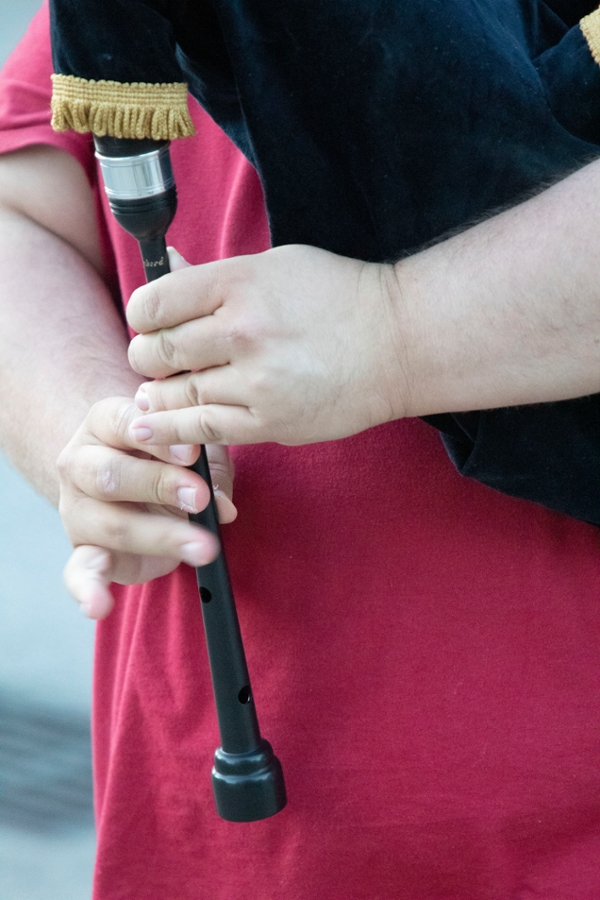 As far as competitions go, pipers compete in regional pipe band association contests in various parts of the United States. Fourteen states including Indiana all belong to the Midwest Pipe Band Association. There are five grades (or levels) for pipers, with grade one being the highest. Burke is a rare grade-one piper.
During their monthly events at the Runcible Spoon, the Bloomington Pipers' Society play two types of bagpipe music: light and piobaireachd. Light music is just how it sounds, with emphasis on jigs and tunes. Piobaireachd (pronounced "peeb-air-och") is an ancient form of bagpipe music with many emotions like sadness, anger and happiness evoked from it.
Joe Diodata never had any interest in playing the bagpipes, and always wanted to learn how to play the drums. While in graduate school at IU, he heard about the Bloomington Pipers' Society and attended his first bagpipe night at the Runcible Spoon in January.
He started off by playing for the group's drumline, which was fun for a while.
"It turned out to be the pipes that captured my interest. From there, I ordered a practice chanter and began lessons with Angus in February" Diodata said.
Diodata was surprised at the instant connection to community he felt. "I'm Facebook friends with some of the best pipers in the country," he said. "Connecting with folks that you have a common bond with, that's really what it's all about."
Currently, BPS mostly performs in and around Bloomington, with most of its members also performing with other groups and working full-time jobs. Clancy Clements splits his time between BPS, the Southern Indiana pipes and drums organization, and his Celtic progressive band, Celtica.
"The bagpipe is little known generally, but people have an odd fascination with it," Clements said. "It is great to have other pipers to interact with, even if they are from other traditions."
David McDonald, a member of the BPS, an IU ethnomusicology professor and a volunteer firefighter and EMT, is passionate about the art of bagpiping.
"Regardless of your past experience or musical training, BPS allows people the chance to explore Celtic music and culture in a welcoming environment," McDonald said. "BPS brings people from all around. Angus is an incredible bagpiper, a rare talent. I'm constantly learning new tricks and practices."
While the society does not currently hold bagpiping instructional workshops, it's a goal in the near future. Currently, prospective students are sent to private instructors for one-on-one tuition and Angus says there are plans to organize a 12-week beginner courses for up to ten students. The Bloomington Pipers' Society meet once a month to showcase their talents at the Runcible Spoon at 412 E. 6th Street in Bloomington. You can also find them performing at most local Bloomington musical festivals and events.
For more information on all of the Bloomington Pipers' Society events, or to find out how you can get involved, visit their website.