A Bloomington-based group is seeking funding to memorialize a fan-favorite Star Trek captain - technically, one who hasn't been born yet.
The Captain Janeway Bloomington Collective is currently in the planning process for erecting a bronze and limestone statue celebrating the "future birthplace" of Captain Kathryn Janeway, Kate Mulgrew's character from 1995's Star Trek: Voyager.
In the world of Voyager, Janeway was born – or will be born, rather – on May 20, 2336 in Bloomington. The series follows the captain as she works to unite two disparate crews and get them home after their ship is displaced 70,000 lightyears. Quite the stone's throw from the Hoosier State.
"2020 is the 25th anniversary [of the show], which is why we're excited to do this now," said Peter Kaczmarczyk, president of the Janeway Collective.
Kaczmarczyk, a Hoosier of almost 30 years, grew up watching reruns of the original in the 70s and fell back in love with the series after taking a Trek-themed cruise with his wife a couple years ago. Before he even made it back home to Bloomington, Kaczmarczyk was reaching out to city leaders about his idea for the statue.
Support For Indiana Public Media Comes From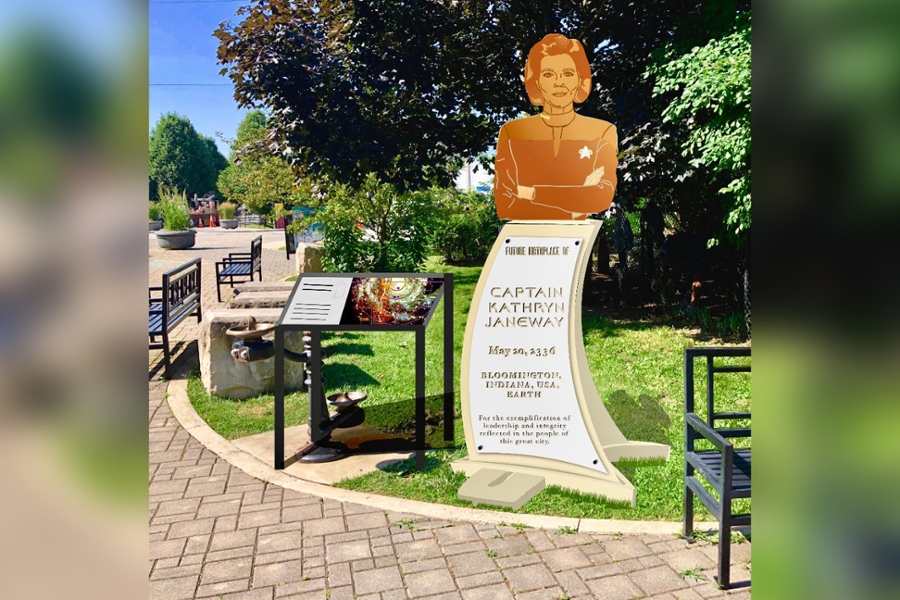 Voyager's Indiana roots go behind the camera as well. Jeri Taylor, a longtime Trek writer and Star Trek: Voyager co-creator and executive producer, was born in Evansville and grew up in Bloomington. She received her Bachelor's degree from Indiana University in 1959 and later received an honorary doctorate from IU in 2007.
But to local Voyager fans like Kaczmarczyk, Janeway's impact goes way beyond a lore shoutout to Bloomington.
"If you are a fan of Star Trek, you're a fan of strong women… She was a strong leader who showed integrity, consistency and managed to maintain her humanity through the entire seven years and all the different crises she had to deal with," Kaczmarczyk said.
Captain Janeway is often cited as an inspiration for women working in STEM fields as well as politicians like Stacey Abrams and Alexandria Ocasio-Cortez.
What an amazing woman! I urge NY's 14th Congressional District to #vote for @Ocasio2018 and make history! We need more candidates like Alexandria. #BlueWave2018 (Do you like our #startrek badges?) pic.twitter.com/70IvVtTcJN

— Kate Mulgrew (@TheKateMulgrew) November 3, 2018
Mulgrew told TrekMovie.com in May, "Being the first female captain was seismic, there were tidal waves of publicity and reaction and response because a girl had been put in command. And I had to wrestle with that for at least a season, maybe a season and a half."
When Kaczmarczyk first approached city officials, they liked the idea, but they also informed him that the Janeway Collective wasn't the first group to present a monument to the captain. In previous iterations, the concept was floated but never really explored. To succeed, the Collective would need a solid, community-driven push.
About two months later, Kaczmarczyk returned to Bloomington Assistant Director for the Arts Sean Starowitz with a sizable following on Facebook and just what they needed to see it through – the same thing that makes a ship like the Voyager run: A solid crew.
"We have a steering committee of nine," he said. "That's really what it takes: A bunch of people who say, 'We are going to make this happen. We are going to follow through and we're going to do whatever work it takes.'"
The group convinced the city that they were serious, and in return, Bloomington gave them their future site: A spot on the B-Line Trail between WonderLab and the new Trades District.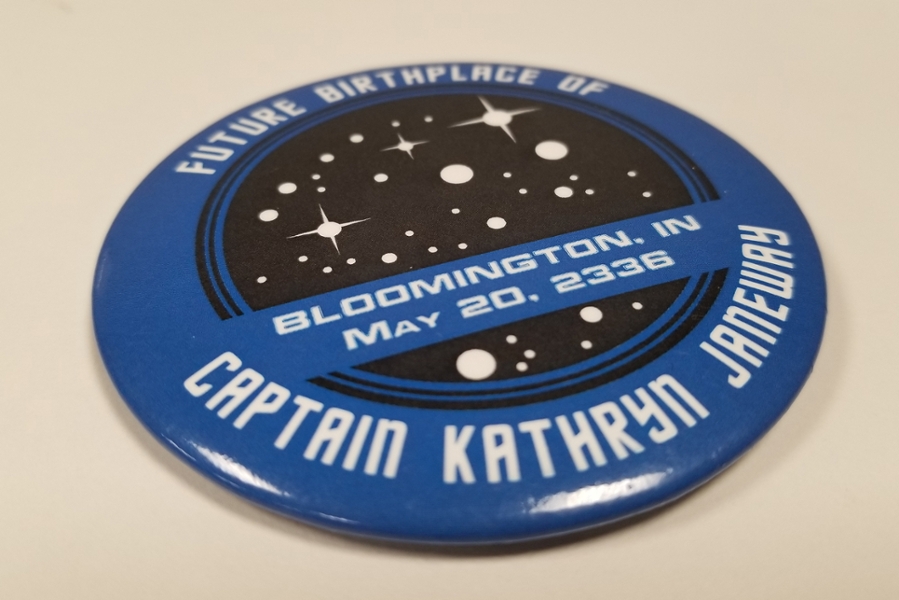 Apart from community organizing, the Janeway Collective has a formal partnership with Artisan Alley, a Bloomington arts co-op that offers studio space, classes and tools for local artists.
"When I realized they needed help with more than the monument, and that we could help this emerging community group out in a bigger and better way, I jumped at the opportunity to offer them our spaces, resources and our charitable status under Artisan Alley's umbrella," said Artisan Alley Executive Director Adam Nahas.
Artisan Alley is handling much of the logistical work with the Janeway Collective, like donation efforts, a project timeline and grant proposals.
"I think if there is a demand for any art – whether pop culture, traditional or experimental – from the community, not only would we do our best to support it, but also if we can help facilitate these ideas, then we are fulfilling our mission," Nahas said.
Aside from cost and logistics, there's still one variable hanging over the project: The Star Trek brand. There's a very real chance that CBS could step in to stop the use of its brand, or even that Mulgrew herself could object to the use of her likeness. Kaczmarczyk said the Collective is working on reaching both parties through official channels.
"Star Trek has always been very protective of its copyrights. They've been known to take down fan films online and things like that," he said. "We have done a pretty good job of only using symbols that are in the public domain or tweaking them a bit, and we're pretty sure that we can continue to not step on any of their rights until such time that they give us permission."
Kaczmarczyk also believes that the strength of the fandom will give the installation the longevity it needs.
"The Star Trek part is great. Star Trek fans do travel. They will come here and spend money," he added.
The monument is currently projected to cost $30,000. The Janeway Collective is taking donations through PayPal, but they plan on launching a crowdfunding campaign in earnest later this year. Any extra money collected will go toward the monument's maintenance fund.
More than anything, Kaczmarczyk and the Janeway Collective want the statue to be a celebration of what her character has meant.
"Be a scientist and be strong," he said. "We think that part of her character is really worth honoring, and that's the part that reaches beyond Star Trek. You don't have to be a Star Trek fan to say this character inspired a generation."
For more information on the Janeway Collective and the statue, you can head to 
their website
.