When people think about recycling, plastic water bottles cardboard boxes, and tin cans might be the first things that come to mind.
But one Bloomington resident, Elspeth Hayden, got to thinking about other types of recycling and reuse in the community and spoke about her question and perspective with City Limits.
She's a long-time runner, and it's important to her to have clear sidewalks and paths so she can keep her footing.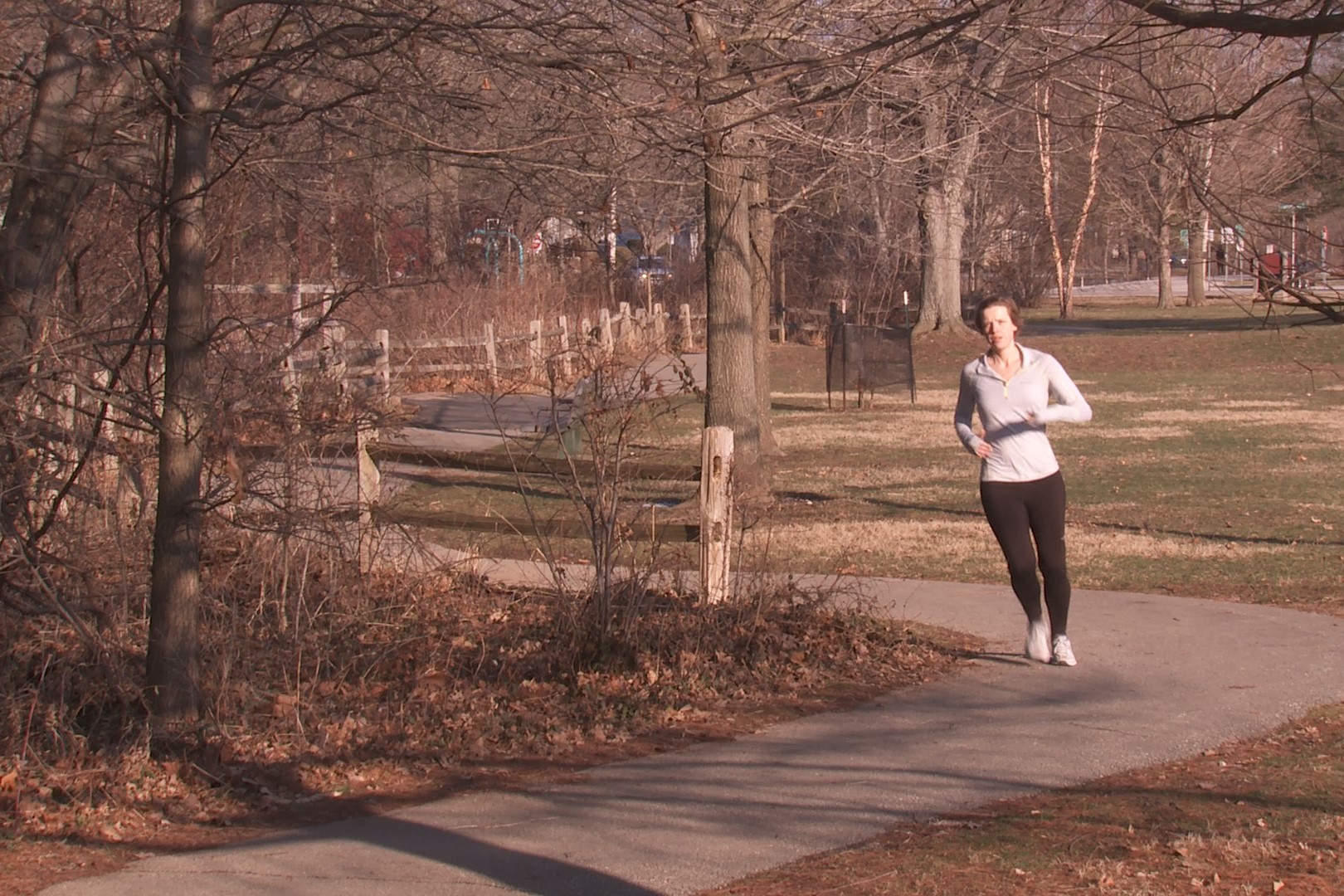 Her runs take her though campus, downtown, south of town and through Bryan Park. She's noticed in some areas, debris accumulates, making it difficult for her to stay on the path.
"It's more in the neighborhoods that I see a lot of debris from people's yards, the lovely trees that people have, and it accumulates on sidewalks especially where sidewalks are narrow in some of the older neighborhoods," Hayden says.
She says in some areas without a sidewalk, she has to run in the bike lane, and cars often kick debris into this area.
But she's also aware of the imminent threat climate change poses, and started to wonder: What happens to all the leaves and debris once they've been cleared?
She says she's read a lot of studies about how some matter doesn't decompose in landfills because of a lack of oxygen.
"So yard waste is pretty much the same thing, it's also organic matter. So, if all the leaves and yard waste is just getting dumped in landfills, then it's causing huge C02 emissions," Hayden says. "So, I was just wondering, does it go to a landfill? Would it be better to do something else with my yard waste?"
The short answer is the yard debris collected by the city does get composted.
The city's Street Department collects yard debris in a large pick-up that runs from the beginning of November to Christmas. The Sanitation Department also does yard waste pick-up from April to December every other week.
Materials are transported to a few locations.
Kevin Huntley owns Green Earth Composting, one of the locations where yard waste is sent. He turns yard waste into either mulch or compost at his facility.
"The city picks up, they pick up stuff in their packer truck, yard waste for people," he says. "They come out at least once a week with that, and then they bring all the leaves here in the fall, and they're just finishing that process up now."
Huntley says this has been a heavy year, but the average is about 200 industrial leaf vacuum loads of leaves from the city a year.
Bloomington Street Department officials say they sent around 340 loads of leaves and debris to Green Earth this year. It costs $20 per load to dump the leaves and debris at Green Earth.
Processing for the materials collected depends on the purity and type.
Huntley has a machine that turns materials like food waste and leaves to compost and a grinder that turns wood and other yard waste into mulch.
"When we take anything of any size and re-compost it, I heat with wood, so I take anything I can make firewood," he says,"and I'll cut it into firewood, anything that's clean, left over I'll grind into mulch, and then the stuff that's not so clean, I'll regrind and put it into windrows for compost."
The machine he uses to make mulch is called a 4680T Bandit Beast Grinder.
"You can put a stump the size of a car in it and it comes out in little bitty pieces in just a few seconds" Huntley says. "It's earned its name 'The Beast.'"
There are different sizes of this machine. Huntley says his model is the biggest one.
Wood and yard debris have to go through the machine multiple times to get down to the size of woodchips for mulch.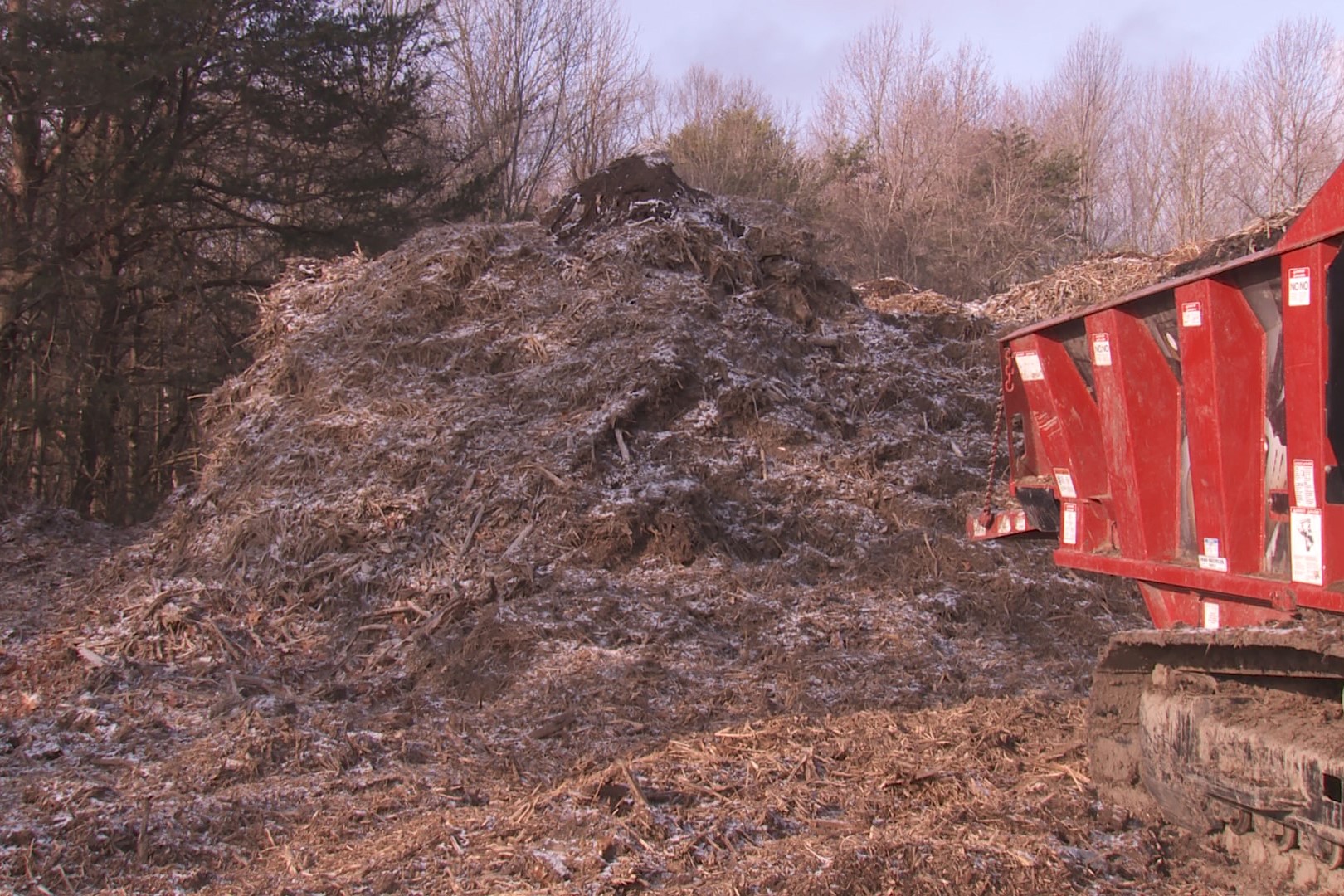 Huntley says running an operation like this isn't easy or cheap.
He says The Bandit, which grinds mulch, costs almost $1 million and can burn through its 500-gallon fuel tank in about two days if he's running it continuously.
Some weeks he will run The Bandit every day; other weeks he doesn't run it at all.
One of the biggest challenges to making mulch and compost is contamination, because it's harmful to his machines.
Huntley says the worst contaminant is glass. If any glass in put through the mulch or compost grinders, he can't use those materials because glass breaks into pieces too small to filter out.
"Glass is a number one enemy," he says.
He says he uses some of the mulch and compost in the excavating business he runs, Koons Excavating. Using the recycled materials in the sites he excavates makes running Green Earth more affordable.
"If it wasn't for my construction business, there's no way I could survive doing it right now," he says.
He also sells a lot of the mulch back to the city.
"I sell the mulch to a lot of people," Huntley says. "The city buys it back and uses it for all of their projects. They take quite a bit."
One place you can see the mulch he produces is in the islands on West Third Street. 
Huntley agrees with Hayden's concern about making sure materials don't go to waste or end up in the landfill.
"But as far as if you're concerned about the environment and want to do what's right, you should compost or take it some place to be composted," Huntley says. "If you take it to the landfill, it just creates more methane gas." 
Our community is changing, from closing businesses to traffic and road construction to affordable housing, and we see the impact of these changes all around us.
We want to know: What questions do you have about how the Bloomington of tomorrow will impact your work, your personal life, your community and your future?
Here's how it works: You submit a question you'd like us to explore about how Bloomington has changed over the past few decades, what you want to see for the city in the future and how ties with IU continue to shape the community.  
So: What do you wonder about how Bloomington is changing and how it impacts your life?
Interested in an ongoing conversation how Bloomington is changing? Join our Facebook group!