For years they were the first people you saw when you entered one of their discount stores.
Walmart says it decided to eliminate greeters in favor of a position it calls a customer host. In addition to greeting shoppers, these workers are supposed to help deter would be shoplifters.
The new requirements for these positions such as being able to stand for long periods of time and life up to 25 pounds aren't tasks many people with disabilities can do.
For more than 20 years, Bonnie Hasemeyer worked part time greeting people at the entrance to a Walmart in Fishers.
"All I want to do is work," she says.
But Hasemeyer, who has cerebral palsy, was afraid her career with the retail giant would end after Walmart eliminated the greeter position.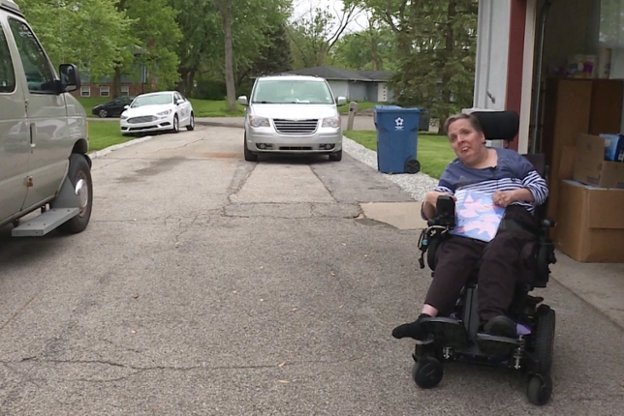 "I went immediately to my manager and asked them if they were going to let me go, or what they were going to do about it," Hasemeyer says when recounting her experience.
After some cajoling by Hasemeyer, the store manager reassigned her.
"In garden center for the spring, and then in in the winter time in electronics as a security person." Hasemeyer says she's lucky Walmart was able to accommodate her despite her disability.
The Walmart greeter positions were usually filled by seniors or people with disabilities, so advocates say losing that position means there is one less option for them.
Manager of vocational services for New Hope of Indiana, Patrick Mitchell says his organization provided job coaches to help disabled people find work.
"The unemployment rate for people with disabilities tends to be double that of people without disabilities," he says.
Mitchell also adds, "Sometimes it's easier to look at the more mom and pop operations because there's not so much of the corporate structure in place that would keep barriers in place for those individuals to get hired."
Like New Hope, Stonebelt provides resources for people with disabilities.
Director of Development, Bitta Dewees says many local businesses in Bloomington have gone out of their way to put disabled people to work.
"Rolling silverware at a restaurant, we've had many places over the years where restaurants have done that, someone would come in a few hours a day and do that, typically in the past that was part of the waitresses' job when they weren't busy," she says.
Dewees says working is not just a source of income, but a source of pride for people with physical and intellectual disabilities.
When she isn't working at Walmart, Bonnie retreats to her study in her north Indianapolis home and paints. She sells some of her artwork on the weekends.
"I like proving people wrong," says Bonnie.
Hasemeyer says she hopes employers out there don't underestimate the ability and work ethic of disabled people like herself.
"Before I started this, I had people tell me, I can't work. Like I said, take 'the can't' out of the idea," she says.
There aren't a whole lot of options for displaced Walmart greeters. The American Disabilities Act does not prohibit companies for changing job descriptions or job functions to meet the needs of their business.
The ADA's requirement is for companies to provide "reasonable accommodations" for workers with disabilities facing changing job demands, as long as the worker can perform the "essential functions" of the job.
Walmart says at least during the pilot phase of this change from greeters to customer hosts, 80 percent of affected workers were reassigned. Those who didn't stay were offered severance pay.