When Mike Hayes got home from work a while back, his 9-year-old dog Hank, a lab-mastiff mix, didn't look right. A lump had formed under the dog's left eye, causing it to become bloodshot and nearly swell shut.
"My first call was to the vet that we have always taken [the dogs] to," Hayes said. "Unfortunately, the earliest appointment that they had available was the end of September. So that really wasn't going to work."
Calls to vets around the area had the same results, with one earliest availability at the end of December. They lucked out when the Monroe County Humane Association (MCHA) was able to fit them in.
"It's a naive expectation, probably," Hayes said. "But my expectation was when I explained to them what the situation was that we'd be able to get him in somewhere to have somebody just take a look at it."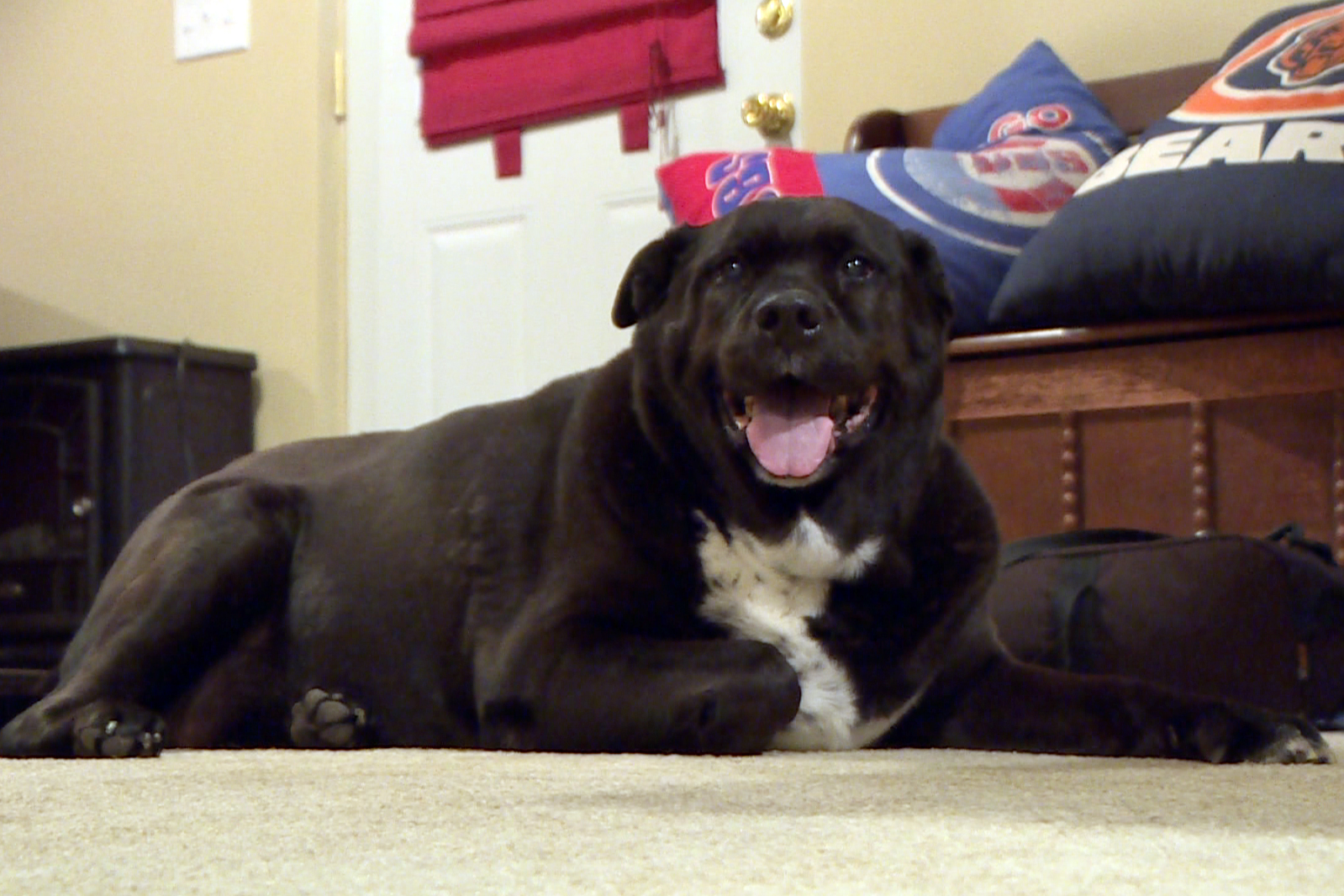 It's a scenario that's playing out across the United States. While many human hospitals have struggled financially during the pandemic, especially early on, veterinary hospitals are currently busy as ever – with no signs of things slowing down anytime soon.
"It's insane right now," said Monroe County Humane Association executive director Rebecca Warren, who's spent the last 15 years in veterinary care. "Tensions are high. I feel like pets are feeling the tension of their family as well. I've never seen demand like this for vet care."
At the MCHA Animal Care Campus, July visits were up by nearly a hundred compared to last year. The clinic still leaves slots open for potential emergencies, but demand for general wellness visits is so high that the schedule is filling up through October and may be stretching into November.
"In June, we added on a second doctor," Warren said. "So we basically doubled our practice by adding on an additional doctor and two more technicians. Now we have two vet teams running all day, four days a week."
When the federal government originally declared a public health emergency in March, the American Veterinary Medical Association recommended against providing routine wellness checks, which were considered elective.
"We were still seeing sick and injured [pets]," Warren said. "We were then allowed to extend into anything that needed a booster or for a rabies vaccine that was expiring, but for so many other pets, they got left out of that window. So it started about the end of May, early June, was when we really started seeing an overwhelming demand for services. And it's just continued."
Another reason? The pandemic means people are spending much more time at home, which also caused pet sales to spike.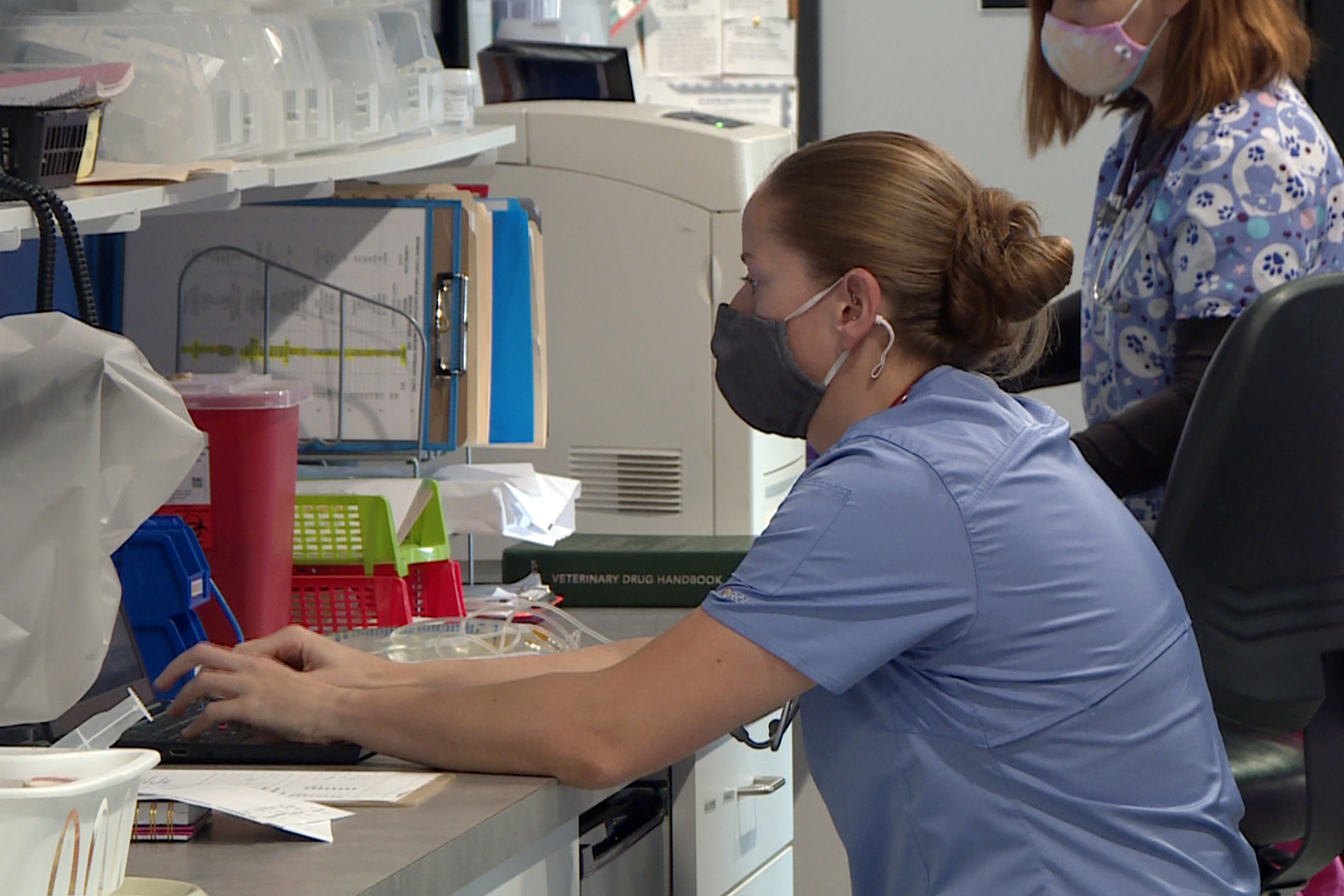 "With people being at home more, they're watching their animals more," said Dr. Jessica Gilliatt, who works at the MCHA clinic. "They're picking up, 'Hey, he's drinking a lot.' Or, 'Hey, Fluffy's trying to go to the bathroom a lot. I think there might be a problem there.' And now they are at home and they're able to come in any time."
And just like with humans, that delay in pet care means some animals have fallen behind on vaccinations. That can be dangerous not only to pets, but also to their human companions.
"A lot of the viruses and diseases that they're vaccinated for and against can be zoonotic, meaning you or I could be exposed and fall sick to them," Warren said. "If we have a parvo outbreak, it would be terrible. Lepto you or I could be exposed to; rabies is state-mandated and is fatal. So if we miss so many booster series or re-booster series, it will start to affect the human population."
The MCHA held a pair of its monthly mobile clinic outings in June. Under normal circumstances, the mobile clinic sees an average of 20 to 30 clients.  
"In June, we saw over 200 pets just at vaccine clinics," Warren said. "So people are trying to catch up on their vaccine series. Beginning in August, we had to limit it because in one Sunday, we saw 80 pets come through in two hours."
While the CDC and other medical experts say pets aren't spreading the coronavirus to people, the pandemic is having more indirect effects on the human-animal relationship.
"[We're seeing] a lot more behavioral issues – new pets that are at home and now maybe people are starting to go back to work," Dr. Gilliatt said. "So potty training issues, behavioral issues, separation anxiety. And the other thing I'm noticing is a lot more puppies and kittens that are gotten not from the shelter."
"We will see some very aggressive dogs in six months if we don't start actively working on socializing our dogs," Warren added. "Which doesn't seem like a community crisis, but when you're that family that gets that lab puppy [and] doesn't expose it to anything and you take it out into the community, six months later, it ends up at a shelter. Now you have an 80-pound, 1-year-old dog who's not been socialized. And it can be a crisis very quickly."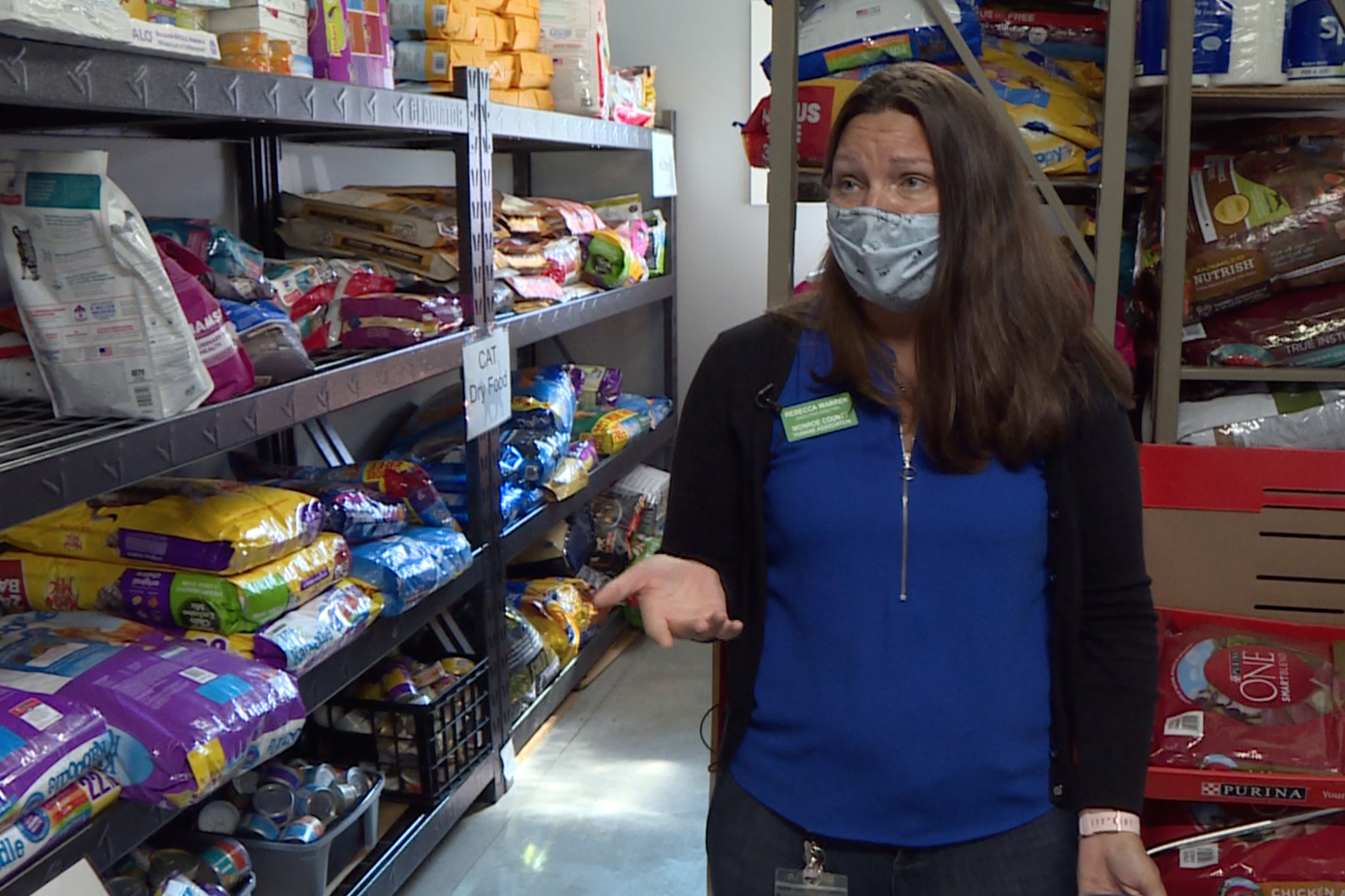 What makes matters even more difficult for the Humane Association is that the pandemic has affected finances for just about everyone. As a nonprofit veterinary clinic with a focus on expanding access to care, it was often the last stop for pet owners in the first place. The increased demand for veterinary services has led many clinics to stop taking on new clients, which just enhances the strain on the MCHA.
"I've talked to some of my colleagues in town and they are actually sending them our way, whether it's because of financial constraints – as hard as it was financially before to take care of pets, I think it's now doubled in terms of how hard it is," Dr. Gilliatt said.
There's hope that the winter will help slow things down, since many harmful parasites can't survive the cold. But there's still a ways to go until the temperatures start to drop.
"Can we keep up? Yeah. Is it exhausting? Yes. But it's why we're here. This is our hearts' calling. Everyone here loves what we do," Warren said. "We pride ourselves on being accessible, and having that tiered pricing structure, business never really tapers. We have clients that come from up to four hours away. So for us, it's gonna be business as normal for a while."
For the latest news and resources about COVID-19, bookmark our Coronavirus In Indiana page here.