There's a pizza place just about every Hoosier has heard of, which is pretty remarkable considering many locations have no advertising budget. It offers a simple menu and hasn't changed much over the years.
For Pizza King, that appears to be the recipe for success.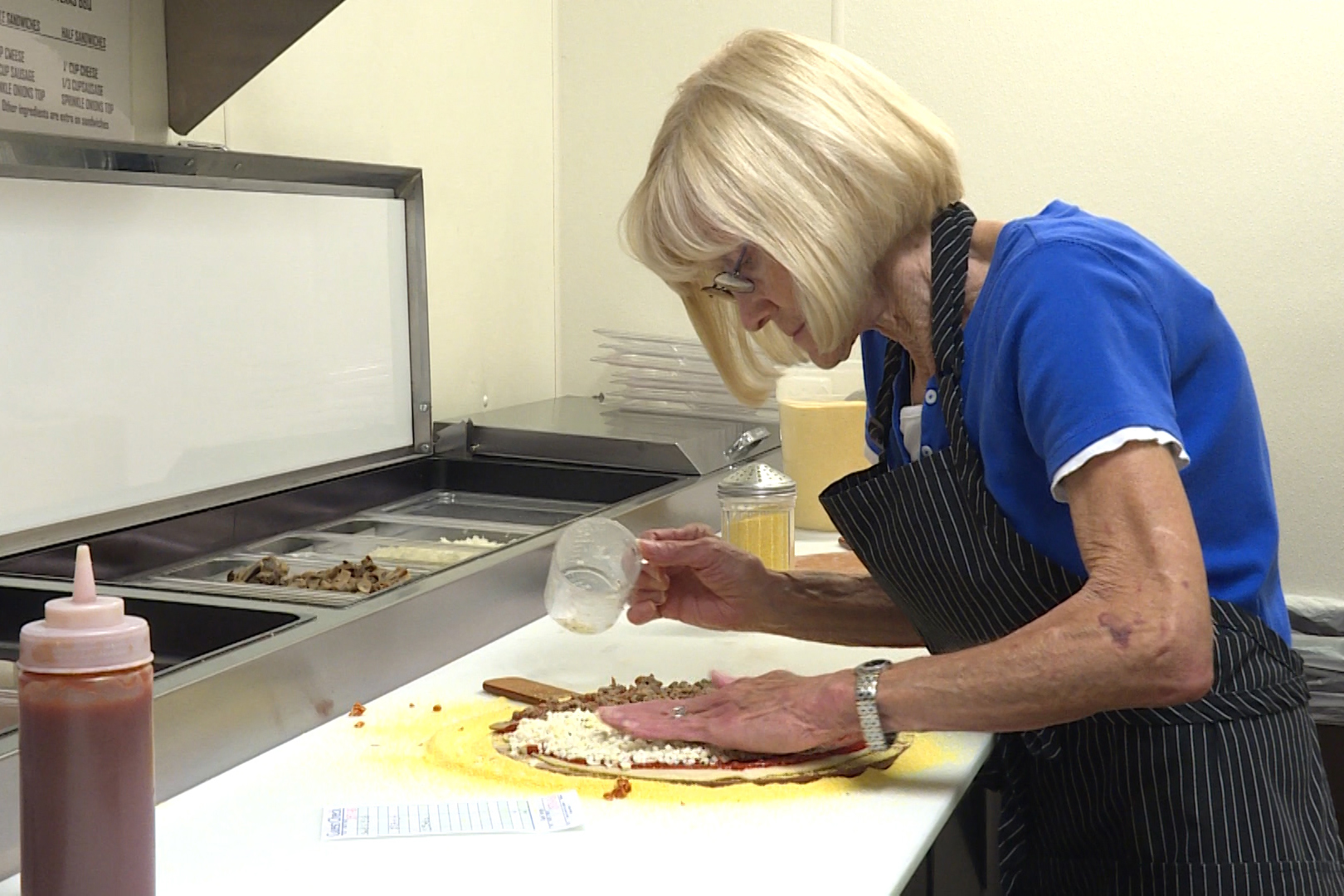 Pizza King Serves Generations Of Hoosiers
Pizza King got its start as a small business in 1956. Wendell Swartz and his brother Bob opened the first location in Lafayette, Ind., where they developed the signature crust, sauce and toppings the restaurant is still known for today. 
But, after just a year, Wendell's brother decided he wanted to use a different business model. 
"So what they did was they divided the state," says Edward Bogan, growth and logistics director for Pizza King Inc. "Wendell took three-quarters of the state, and then his brother ended up getting roughly a quarter of it."
Bob took the eastern portion of the state, and the company headquarters are in Muncie. Those Pizza Kings are where you can "ring the king" by using a phone to place a pizza order from your table. He also expanded the brand to other states as the Sir Pizza franchise. The company declined to do an interview for this story. 
The remainder of the state is Pizza King Inc. territory. There is just one store outside of Indiana, in Hoopeston, Ill. Some of the locations famously feature a train that delivers drinks to people's tables.
Longtime employee Don Schutz bought the business from Wendell in 1966 and dramatically increased its reach. Now you'll find dozens of Pizza King Inc. restaurants across the state, but no two are quite the same.
That's because Pizza King Inc. has a supply-and-license agreement, which isn't very common. It gives owners more freedom than a franchise. 
"We can't tell you how to run your business," Bogan says. "The only thing you do is you buy core products from us. So, then, what will happen is you're still your own boss and you get to use all the Pizza King memorabilia, the catchphrases, logos and also the recognition of the Pizza King man. Everybody knows what it is." 
Pizza King Inc. locations get their crust, tomato paste, cheese, and signature chopped sausage and pepperoni from the corporate commissary every week.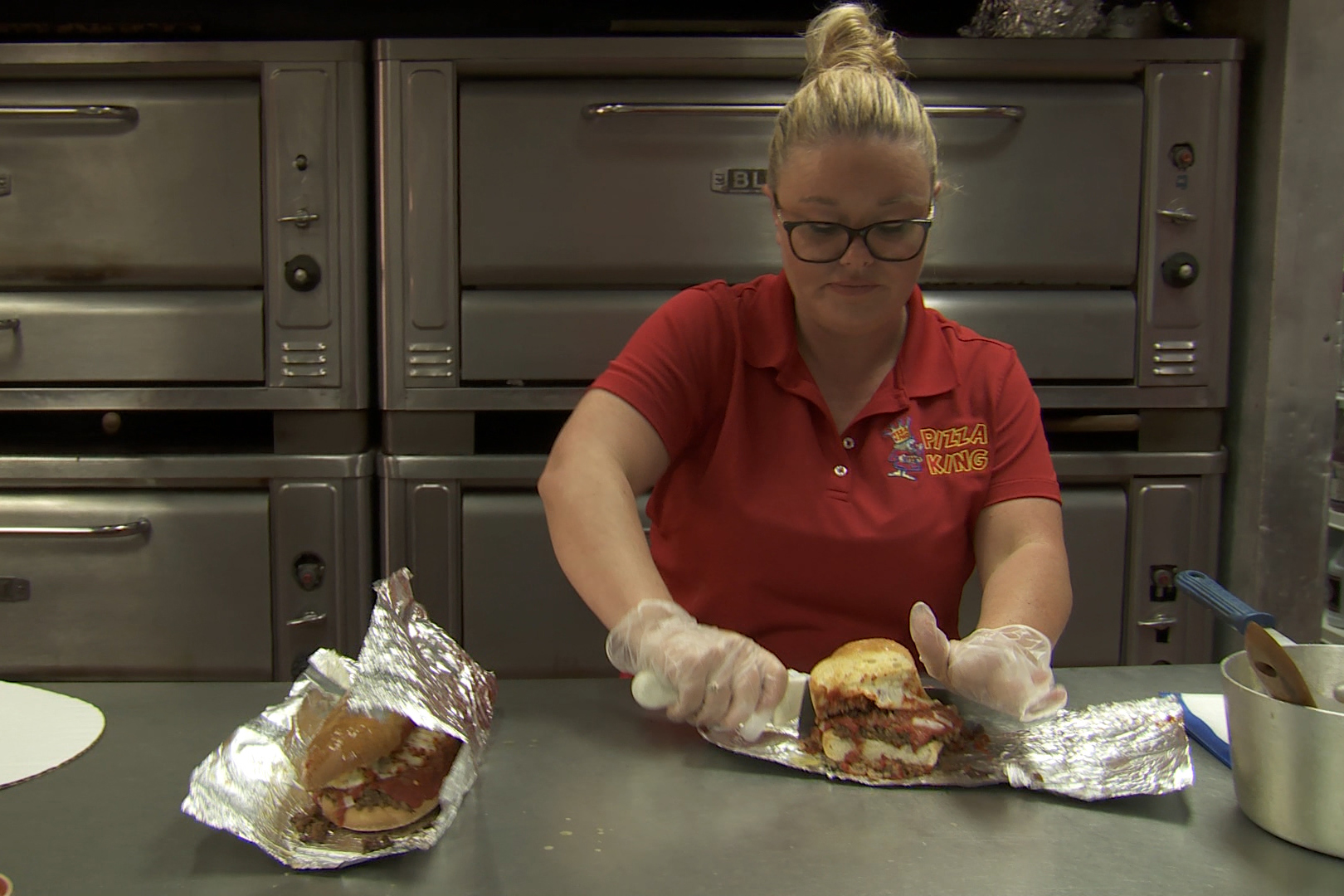 No Two Pizza Kings The Same
The unique Pizza King Inc. business model means you'll find different variations on how the pizza is prepared and what other items are on the menu across the state. 
Amore Pizza King in Rockville has a look that's all its own. Amy and Parke Swaim decided to make significant changes to the restaurant's decor when they bought it from the previous owner in 2011. Pictures of the Rat Pack line the walls, and there's an Italian-themed mural painted on the outside of the building. 
But, the pizza hasn't changed for decades. 

"Corn meal is one thing we do that we prep the doughs on and I just don't know that there's many out there doing it anymore," Parke says. 
The restaurant also offers some specials, like baked spaghetti. But, it's the pizza that keeps customers loyal. 
"We've had people ask us to ship them pizzas," Amy says. "Our friends who graduate and move away, the first thing they do when they come back to town is come here."
At the Pizza King on N. St. Joseph Avenue in Evansville, stromboli is what wins over customers. The baked sandwiches account for 70 percent of the location's business. 
"We are probably starting to serve our fourth generation of strombolis to people right now," says Co-Owner Dan Nix. "We have a lot of people come back from vacation or people come in from the holidays, they always have to come by and get a stromboli."
Larry Commens drives from Mt. Vernon at least three times a week to eat at Pizza King. He says he's been coming to the restaurant for years His son lives out of state, and Commens says it's always his first stop when he comes back to Indiana. 
"It's just something you don't get everywhere, so it makes it special," Commens says. 
And, that's likely what's helped the no-frills pizza place remain enormously popular in Indiana throughout the decades. It's not just the special ingredients or the consistency of the food. For many Hoosiers, Pizza King just takes like home.