The Grassroots Conservatives group moved its Thursday night meeting from the Monroe County Public Library's downtown Bloomington location to Ellettsville. Leaders said they didn't want to draw attention to their speaker, controversial Farmers' Market vendor Sarah Dye.
Demonstrators protested Saturday against Schooner Creek Farm, which is owned by self-proclaimed Identitarian Dye. Thursday's meeting brought out just under a dozen protesters, some already on hand for a Pride rally.
Grassroots Conservatives leader Robert Hall says they wanted to address how to respond to radical left protesters harassing Schooner Creek Farm.
"We need to discuss why weren't the police called," Hall says. "Maybe if enough of us go to the market officials, or go to the police, they will do something."
He says a group supporting Schooner Creek Farm will gather at the market at 10 a.m. this Saturday and invited members to be there.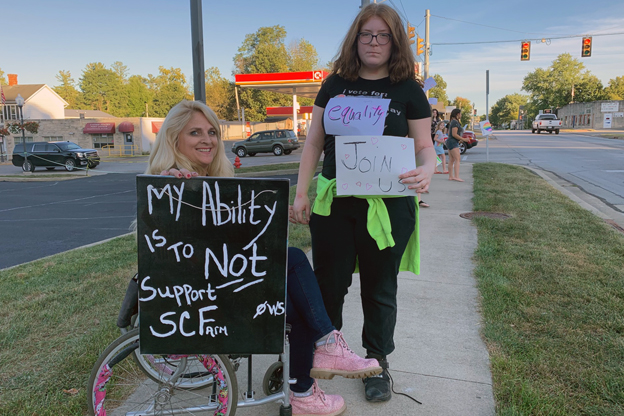 Dye used her speech to defend herself.
"Chats have been taken out of context by radical far leftists, anarchists, and communists in order to fit their agenda and my family has endured a summer long smear of our goodwill and character in our community," Dye says.
She also blamed former acquaintances for leading activism against her.
"During 2015 things changed and I began to awaken out of the liberal leftist mind control cult. I also began to realize, liberalism wasn't what I thought it was."
Dye says Schooner Creek Farm has been denied a permit to sell at the Bloomington Winter Farmers' Market.
She says her family has secured Indianapolis Attorney Michael Bruzzese through donations and will now consider future legal action.